These most luxurious bedrooms in the world of 2023 will blow your mind away with a touch of modern luxury. The environment of a bedroom is always a person's first priority as we always come to this room for relaxation of our mind and physical body.
Expensive luxury bedrooms in the world 2023 come to count because a rich person loves to show his luxuriousness everywhere through his/her lifestyle. Even in the most personal place, the bedroom is also included in the list. Now the question is how we can make our bedroom more special or we can say luxurious. Then what are we waiting for? Let us enter into the luxurious world of bedrooms.
Let's see some expensive luxury bedrooms in 2023 of some famous persons that will give you a complete view of luxury lifestyle.
01. Alec Baldwin's Bedroom
Location: Long island
Attraction: customized blue bed and chair, super large space, white glassy false ceiling, chunky selenite chandelier
Materials: a silken wool Moroccan rug, Glassy false ceiling, restoration hardware chairs, Spanish tile
Expense: $2 Million USD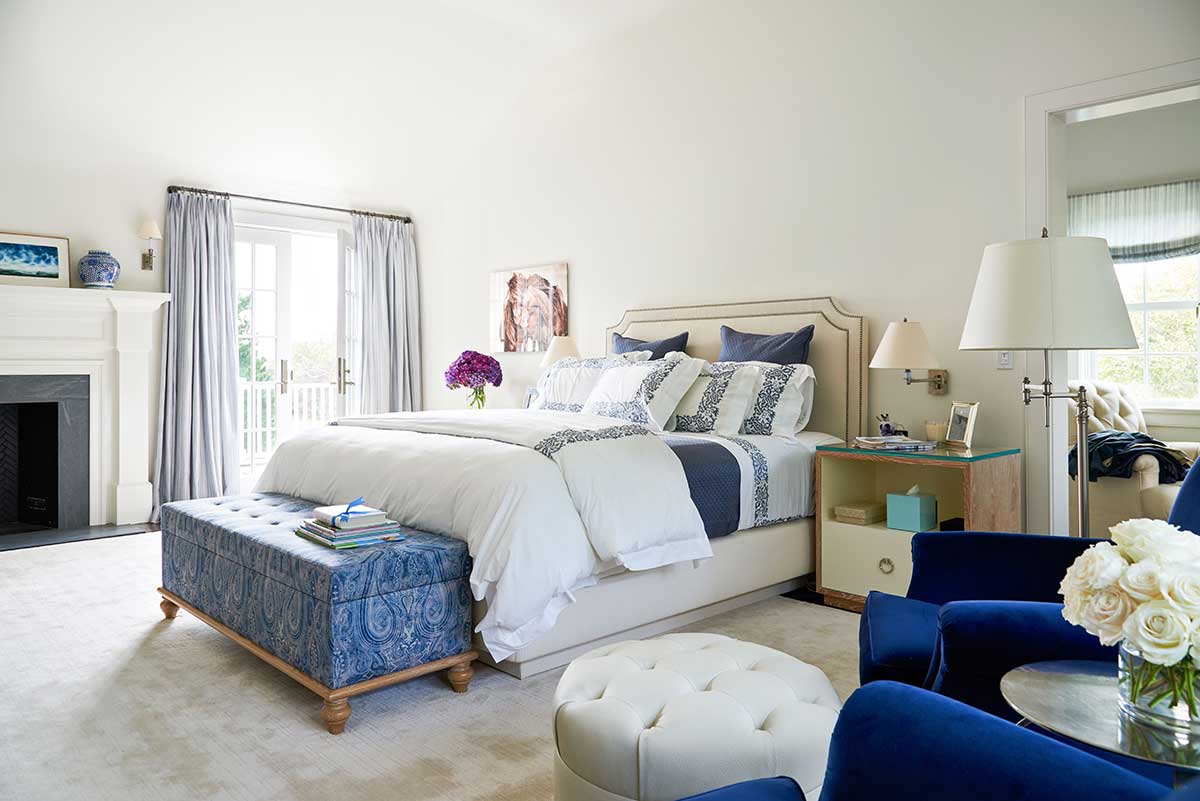 Alec and Hilaria Baldwin's private bedroom will tell you how simple and gorgeous a bedroom can be. This all off-white bedroom is customized by different designers. For example, the off-white box bed of $10000 USD is customized by Charles Beckley, and its bedding has come from Sferra and Frette.
They have two nights stand in a corner of the room, which has come from Profiles. The left side of the room is decorated with blue velvet club chairs, which are customized for them by Daniel Romanoff. There is a big fireplace on the right side of the room whose upper part is decorated with many expensive showpieces, including some antique pieces. Besides, there is a large door, which opens a way to the balcony. The room's floor is made up of Spanish off-white matt tiles and they have used glasses in the ceiling. The customized chandelier is hanging on the ceiling done by Ron dier.
02. Michael Bay's Bedroom
Location: USA
Attraction: interior design by oak
Materials: velvet finish floor, modern bed, large space, large led, expensive ceiling design, attached balcony, attached bath, diamond shape glass furniture, expensive painting, high-end glass walls, light clothing, etc.
Expense: $430k USD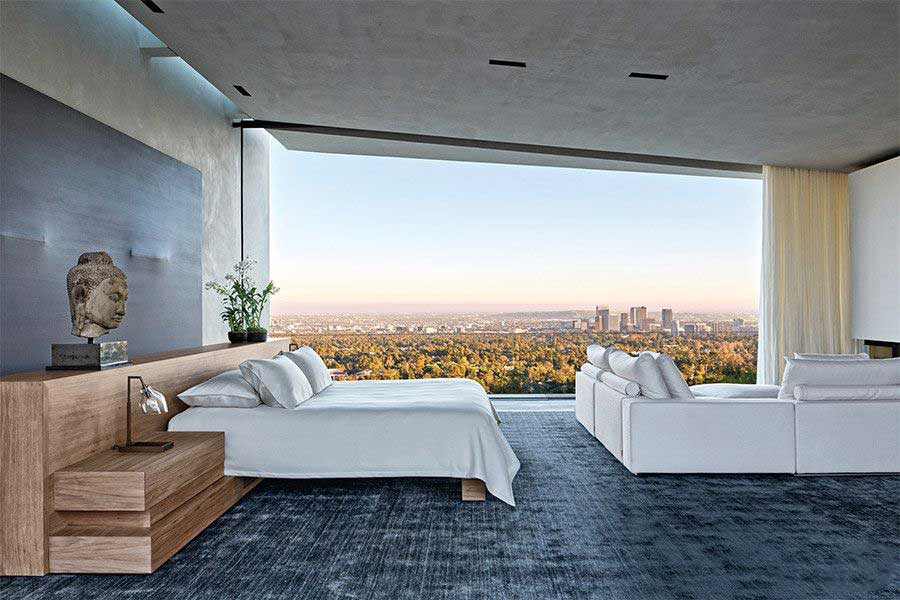 This person's bedroom is decorated with oak, which is highly expensive. A total black wall is separating the area of the bath, which is a part of his bedroom. Michael customizes the dark bed of this room, which is also made of oak. This room does not have much furniture but if you ever enter this room for once, you will feel what serenity is. The designer brand worked very hard to make this room quite different. If you open the curtain from the left side of the room, where there is a full glassy wall. You can see the whole town from the room.
03. Kourtney Kardashian's bedroom
Designer: Jeff Andrews
Location: California
Expense: $1 Million USD
Materials: Loro Piana wool linen, natural wool, wood, wallpaper
Attraction: Patterned curtains, Sentimental showpieces, Neon sign behind the bed, hotel vibe in the room, comfortable space, and wallpaper on the ceiling

Kourtney says that Comfort is less important to her than luxuriousness. Her California's homes interior design can stop your breath. Jeff Andrews is her interior designer. She has used patterned curtains of Loro Piana wool linen in her bedroom. A large black bed with full white bedding is placed in the middle of the room, however, on the left side of that bed, there is a wooden shelf in her room, which has an old little red shoe, some old books of law, and some other old things related with her late father.
The right wall is decorated with a large flat TV. Interesting thing is that on the back- a wall of her bed there is a red neon sign. Moreover, she has a fleecy floor with black and white print, which is very soft. On the other hand, the wall is painted in lite black color. Her ceiling is another wonderful thing, which has wallpaper on it. Her bedroom is very big and she always maintains her room in such a way that it gives us a hotel-like vibe.
04. The Underwater Bedroom
Location: Maldives
Attraction: Sleep with fishes
Materials: High end glass finish, king bed, waterproof floor carpet, large 4k led, expensive bed clothing, etc.
Expense: $15 million USD

This is an expensive thing to have. You can make your room under the water, as this is no more a dream. Some people like to use a number of TV screens on the wall of an underwater room, which shows underwater scenery always. On the other hand, only the High tech glasses can be used excluding the TV screen.
This will make you able to see clearly under the water and you can enjoy the real view. Maldives Murakha hotel has underwater rooms. You can make an aquarium bed in your underwater room where you can actually sleep with the fishes. Sounds weird right? The soft plastic will separate you from the water, and in that water, you can actually keep different fishes. Alternatively, you can make a pool also in your bedroom.
05. Brian Atwood
Location: Milan
Expense: $300k USD
Attraction: Dramatic black wall, vintage hand chair, large space, simplicity
Materials: wood, wallpaper
Designer: Nate Berkus

This man has decorated his bedroom with lots of old things in a modern way. His bed, which is white in color, is an antique but modified one. This is very thin and simple in its bedding. On the back – wall, he has made a photo gallery. In another corner of his room, there is a hand-shaped chair, which is another antique thing from the seventeenth century. His bedroom has a white matt floor and walls with different expensive wallpapers.
06. Roberto Cavalli's Bedroom
Attraction: Art collection
Location: Tuscan villa
Materials: Master bed, animal print, gilt-wood mirror, artwork, fur made duvet, excellent wall & floor finish, etc.
Expense: $55k USD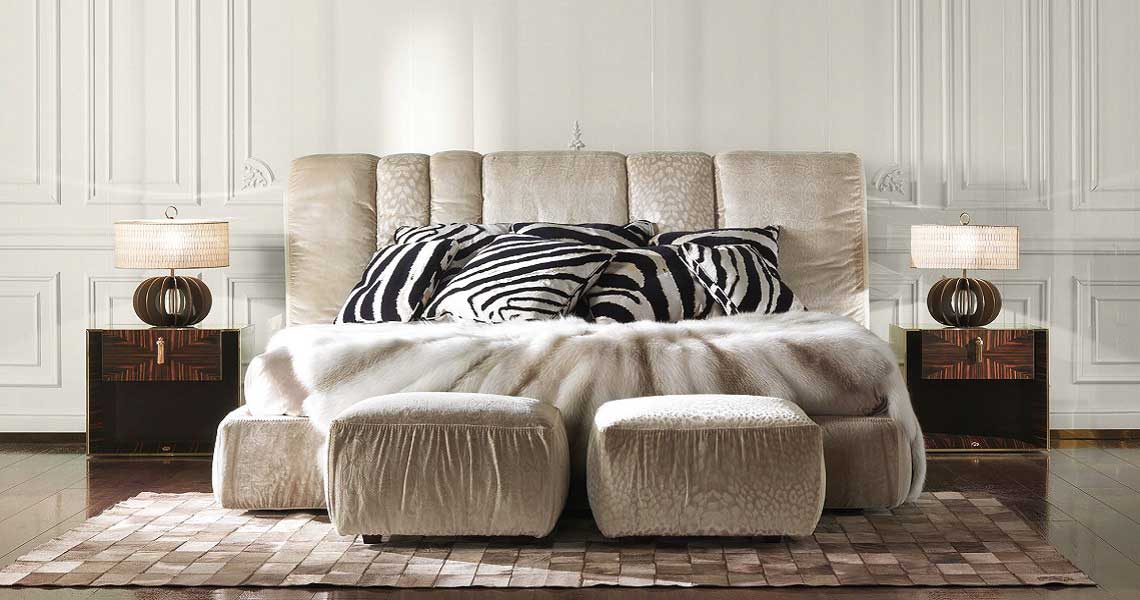 You can easily understand by looking at Roberto's bedroom that how much luxurious a man he is. Roberto has used animal print in his bedroom, which is very rare. In this bedroom there is a 19th-century gilt-wood mirror in the backside of the bed as a headboard, this mirror is reflecting some expensive and beautiful artwork of his collection, which is hanging on the wall, which is opposite to the mirror. A fur-made duvet with zebra print has added an extraordinary look to this room.
Let's see: Bathroom Design Ideas for 2023
07. Lindsey Buckinghum's bedroom
Location: USA
Attraction: antique finish
Materials: antique floor, curtains, mirror, queen bed, glass finish, wardrobe, fireplace, yellow gold print electronics, sofa, etc.
Expense: $59k USD

Where most people nowadays like to have modern things in their collection, Lindsey likes antique things in his bedroom. Such as, he has an antique ballroom chair, a neoclassical desk, a 20th-century chandelier, and curtains of benison fabrics in his room. These things are very old but the price is very high. An antique look of your room can cost you million dollars.
08. Angelina Jolie's Bedroom
Color: White and Peace
Attraction: Simplicity
Materials: bed, expensive furniture, attached bath, high curtains, fireplace, attached balcony, lights, sofa, marble tiles, off white ceiling, etc.
Expense: $40k USD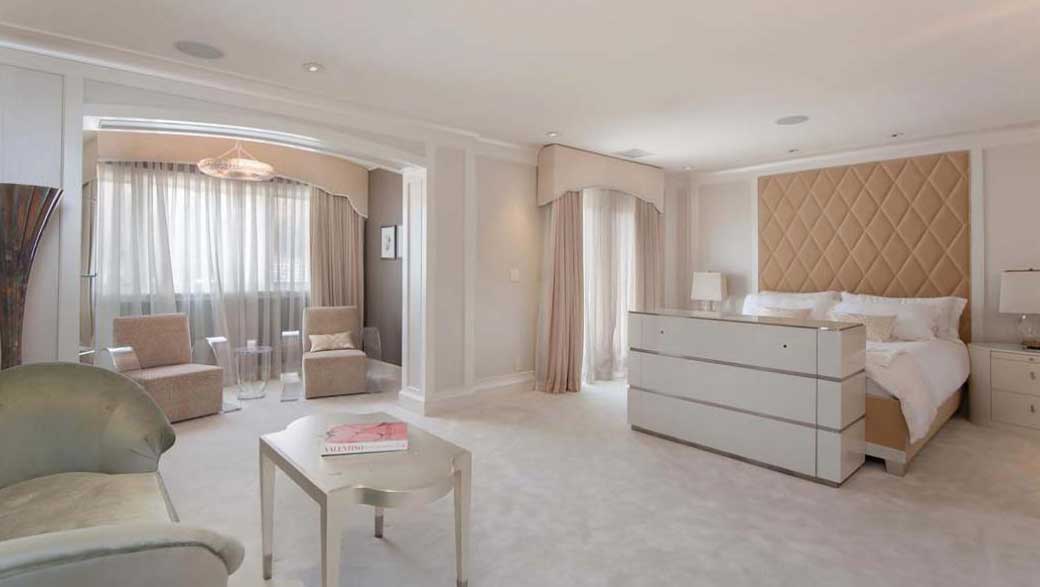 Angelina is a famous Hollywood actor who loves soft colors in her bedroom. She thinks a bedroom is a place where our soul relaxes so she filled her room with soft pastel. She used lite peace color and white color in her bedroom. As for the curtain, she used soft synthetic cloth of the previously mentioned color.
Not much furniture is there in her room. She has a medium size white bed, which has a design of peace color in its background. In front of the bed, there are three little-sized lounges and a small tea table of the same color combination. Moreover, there is a big window. The room's beauty has been increased by different expensive artworks.
09. Lady Gaga's Bedroom
Attraction: Private terrace
Location: Malibu estate
Materials: Queen bed, sea view balcony, antic furniture, antic lighting, high end glass door, expensive carpet, exceptional ceiling finish, etc.
Expense: $32k USD

Lady gaga's bedroom has a specialty. It has a small private terrace with it, from where you can enjoy the view of the sea. Gaga has a king-sized white bed, and the bed is decorated with a fury blanket and bed sheet. The ceiling is decorated with an expensive chandelier with a golden border in it. Additionally, she has an expensive white bedside table on which there is a lamp. A lounge is standing in front of the bed, for watching the TV, which makes the room more elegant.
10. Mark Badgley and James Mischka's bedroom
Designer: Kentucky getaways design team
Expense: $100k USD
Materials: leather, wood, expensive lights, limited edition room color
Attraction: Needle point pillow, 19th century's painting, Customized bed, antique door, antique room decorating things etc

This couple has a bedroom with a customized bed by Shaka studios and bedding by Badgley Mischka Home. Their bedroom is full of antique things, which is giving the room a modern look. The right wall of the room is entirely a mirror. Their floor is made up of wood, which looks very glossy. Interestingly their room's wall is not painted or wallpapered but it is simply colored in modern grey color. This gives the room a different level, where a 19th-century painting by Laurin Copen Antiques is hanging on it.
11. The Light Bedroom
Many people like to play with the lights and shadows in their rooms. It will give a minimalistic look to your room. There is a different organization to do the work. You can use different colors of light in different places. Such as under the bed or in your ceiling or behind your furniture.

We have more ideas that you can't imagine how we can make our bedroom more special with some unique design ideas. Gradually we will be publishing newer ideas in this post to give you the luxury views in your bedroom.
12. Grass Bedroom
This bedroom looks like a field, covered with green grass. The bedsheet, blanket, and everything else look like grass. You can use a big mirror on the backside of the bed. It will make your room look bigger than it is. Moreover, you can decorate your room with fake flower plants to make your bedroom look like a garden.

13. Space Saving Bedrooms
Attraction: Convertible furniture
If you do not have much space in your home, you can go for this kind of bedroom, which can be converted into the living room or something else also. Interestingly, here a single piece of furniture can be transformed into different things like your bed can be a chair or a wardrobe with several compartments. Walls can be used as different things such as a wall scabbard.

14. The Bubble Bedroom
Attraction: bubble bed

First of all the bedroom itself looks like a bubble. Not only the room but also the bed looks like bubbles. These bubble beds are made up of soft round cotton balls. You can literally shape your bed in any way you want. Even if you want it to look like a couch, it will look like that. You can give your bedroom a luxurious look with a bubble bed but if you want to try it first, for once or twice, you have to book a room in hotel Aire de Cardenas, Spain or in the Forest Dome, Northern Ireland, etc.
In conclusion, I hope that you have become amazed enough by knowing about some luxurious bedrooms. Hotels have always maintained luxurious rooms but nowadays it has become a trend to maintain a super luxurious private bedroom.
# Top 10 Luxurious Bedrooms in the World 2023
Alec Baldwin's Bedroom – Expense: $2 Million
Michael Bay's Bedroom – Expense: $430k USD
Kourtney Kardashian's bedroom – Expense: $1 Million
The Underwater Bedroom – Expense: $15 Million
Brian Atwood – Expense: $300k USD
Roberto Cavalli's Bedroom – Expense: $55k USD
Lindsey Buckingham's bedroom – Expense: $59k USD
Angelina Jolie's Bedroom – Expense: $40k USD
Lady Gaga's Bedroom – Expense: $32k USD
Mark Badgley and James Mischka's bedroom – Expense: $100k USD