Expensive and luxury tv brands are now becoming the modern trend in each apartment in 2023. Television, the mystery box today, in the 21st century is not just a medium of watching drama series or news sports but a doorway to experience the visions, to roam around the world, explore beyond the four walls while sitting in your living room. You may also see: Luxury TV 2023 in the World
The top luxury television brands 2023 are now in the competition of releasing supremacy in uncompromising experience to your visuals. For any great media room or private home theater, the more majestic mystery box you are desiring comes in proportion to higher price tags. You may also like: Luxury TV Stands 2023 in the World
#Let's see the top 20 luxury TV brands 2023 in the world
01. LG – South Korea
Net Worth: $55.91 Billion
Brand Country: South Korea
Founded: 5 January 1947
Founder: Koo In-hwoi
CEO: Koo Kwang-mo
Headquarters: LG Twin Tower 128, Yeouido-dong, Yeongdeungpo District, Seoul, South Korea
Products: LG SIGNATURE W9 OLED, E9 OLED, TFT-LCD panels, OLEDs, flexible displays, etc.
Best Creation: OLED 88Z9P (88-inch 8K)
Price: $30,000 (Buy now)
LG is the most popular luxury tv brand in the world in 2023 with an expensive lavish design. Formerly known as Lucky-Goldstar, LG Corporation is a multinational company that manufactures a wide variety of products from the most expensive ones to the most cost-effective ones.
It's the most popular brand in the world. LG holds the pride of manufacturing the largest and highest-resolution OLED TV, OLED88Z9P. This 88-inch behemoth is just available for pre-orders. You may also like: Worlds Expensive Car Brands
02. Sony – Japan
Net Worth: $190 Billion
Brand Country: Japan
Founded: 7 May 1946
Founders: Masaru Ibuka, Akio Morita
CEO: Kenichiro Yoshida
Headquarters: Sony City, Minato, Tokyo, Japan
Products: Consumer electronics, Semiconductors, Video games, Films, TV shows, Music, Computer hardware, Telecommunications equipment, Robots
Best Creation: Sony Z9G (85-inch 8K HDR)
Price: $70,000 USD (Buy now)

Sony is the most reliable and top class television brand in the world that has huge expensive luxury tv collections. Sony is one of the most comprehensive entertainment companies in the world.
SONY is the 2nd luxury tv brand in the world till 2023. Most people in the world know SONY as a permanent TV-making company.
It has always made a remarkable significance in every door it entered from motion pictures to video games, televisions to cell phones, etc. As television manufacturers, from cost-effective to the most expensive ones, most stylish to smartest ones Sony has got them all. You may also like: World's Expensive Jewellery Brands
03. Samsung Electronics – South Korea
Net Worth: $500 Billion
Brand Country: South Korea
Founded: 1 March 1938
Founder: Lee Byung-chul
CEO: Kwon Oh-hyun
Headquarters: Samsung Digital City, Samsungno 129, Maetan-dong, Yeongtong District, Suwon, South Korea
Products: Samsung QN55Q8F QLED 4K, Samsung UN32N5300AFXZA LED, etc.
Best Creation: Samsung 146-inch UHD 8K)
Price: $152,000 (Buy now)

Samsung is one of the luxury tv brands in the world 2023. It always stands in the first row of the top 10 tv brands in the world. Samsung produces varieties of televisions including most expensive to most luxurious tvs.
This name doesn't need any introduction. From mobile phones to televisions, shipbuilding to life insurance this company has always been at the top numbers of the list for popularity.
The Korean Samsung word means Tristar. Naturally, it has a remarkable influence on South Korea's economic development, media, culture, and politics. The televisions they make come to life. The iconic frame stand design, HD sounds, and lively feeling inserted within its televisions attract its buyers with the confidence of the purpose being served to its full extent.
Its most expensive creation has got a voice and facial recognition and can read gestures. With so much to offer the price tag seems more than appropriate for its clients. This is certainly a brand one must look up to, surely it has a lot more to offer. Let's see: World's Expensive Furniture Brands
04. Sharp – Taiwan
Net Worth: $14.10 Billion
Brand Country: Taiwan
Founded: 15 September 1912
Founder: Tokuji Hayakawa
CEO: Jeng-wu Tai
Headquarters: Sakai-ku, Sakai, Osaka Prefecture, Japan
Products: Televisions, audiovisual, home appliances, information equipment, ICs, solar cells, mobile phones, etc.
Best Creation: Sharp LB-1085 LCD (108-inch OLED)
Price: $160,000 (Buy now)

Sharp is the most reliable & luxury tv brand in the world 2023. Many people consider SHARP the number one top tv brand in the world. Of all the impressive brands on this list, this one offers more durability, unlike others that overheat or degrade.
It was ranked in 11th place by Green peace's re-launched guide to Greener electronics and was the tenth-largest television manufacturer in the world by market share in 2013. It ensures the utmost energy efficiency with all of its televisions to meet the latest Energy Star standard. At a glance: Worlds Expensive Watch Brands
05. Panasonic – Japan
Net Worth: $36.61 Billion
Brand Country: Japan
Founded: 1918
Founder: Kōnosuke Matsushita
CEO: Shusaku Nagae
Headquarters: Kadoma, Osaka, Japan
Products: Electronics, home appliances, rechargeable batteries, software, real estate
Best Creation: Panasonic 152″ Plasma 4K2KTH-152UX1W
Price: $770,000 (Buy now)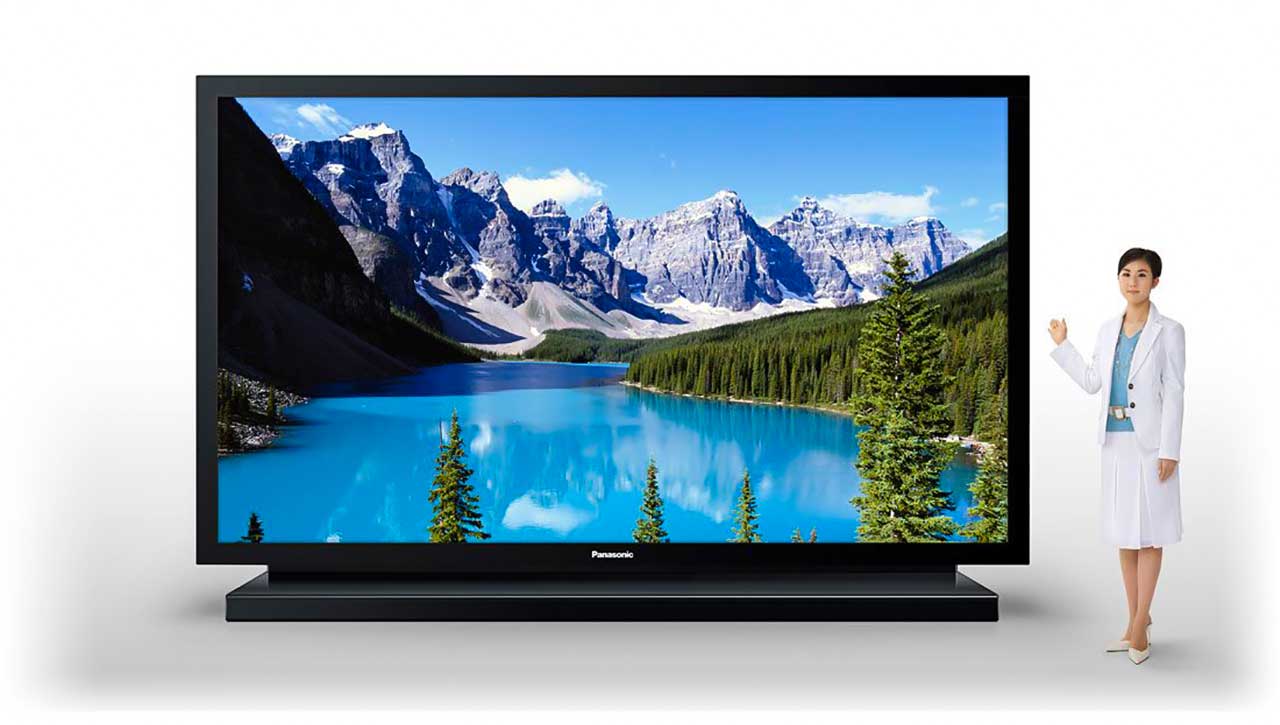 Panasonic is one of the most expensive luxury and top tv brands in the world in 2023. This brand is the largest Japanese electronics producer alongside Sony, Hitachi, etc. By 2012 Panasonic was the fourth-largest television manufacturer in the world.
Once it held the privilege of producing the world's largest TV and it also had what the other oversize televisions didn't have, 3d capability which makes you feel that you can step into the screen. In this ever-going race, this is a brand you can always look up to from amazing specs to the most expensive price tags they have a lot to offer.
06. Vizio – United States
Net Worth: $1 Billion
Brand Country: United States
Founded: October 2002
Founder: William Wang
CEO: William Wang
Headquarters: Irvine, California, United States
Products: OLED TV, 4K UHD TVs, LCD TVs, LED TVs, soundbars, surround sound systems, QLED TV, Platform+
Best Creation: Vizio reference series 4k TV (65-inch 4K)
Price: $1,271 (Buy now)

This California-based privately held brand designs and manufactures televisions, speakers, etc through retailers and online. They just made what could be one of the most expensive television sets in the world.
Vizio is one of the luxury tv manufacturers in the world till 2023. Their best creation Vizio Reference Series 4K 120 inch TV set price is equivalent to almost six Camrys. People look forward to their upcoming masterpieces.
07. Hitachi – Japan
Net Worth: $52.11 Billion
Brand Country: Japan
Founded: 1910
Founders: Namihei Odaira
CEO: Toshiaki Higashihara
Headquarters: Chiyoda City, Tokyo, Japan
Products: Television, Telecoms, Electronics, Industrial machinery, equipment, Power plants, Information system, etc.
Employees: 307,275
Best Product: Hitachi Alpha LE A6R9
Price: $940 USD

The brand is common to all the late twentieth-century people. Hitachi provides really good TV sets with all the latest facilities. Voice guidance mode is one of those blessed facilities. But the sad news is, many people do not know that Japan has stopped manufacturing TV since 2012. Obviously, you can still get Hitachi tv from a Turkish company named Vestel. In 2012 Vestel got its ownership.
The company Vestel is certainly successful in fulfilling the requirements of the customers and therefore still is one of the luxurious brands in the market. You can buy Hitachi TVs from Amazon, Argos, and from eBay Or by personal services.
08. Philips – Netherlands
Net Worth: $26.88 Billion
Brand Country: Netherlands
Founded: 1891
Founders: Gerard Philips, Anton Philips
CEO: Frans van Houten
Headquarters: Amsterdam, Netherlands
Products: Electronics, Audio system, Lighting, Medical equipment
Employees: 77,400
Best Product: 5704 series Android TV
Price: 899 USD

The brand has a grandeur in itself. The smart TVs of this brand are so tech-friendly Along with all the smart abilities. Here you can use Google Assistant very smoothly. If you are a lazy one, this TV is perfect for you. You do not have to do anything, the Google assistant will follow all your demands regarding Channel changing, volume setup, brightness, switching on /of, and whatnot.
You can even do streaming with this TV. Their most popular model Is Philips 4k Ultra HD TV. The model has most of the latest features in it. The HD screen quality will melt your heart like butter on a hot toast.
09. Toshiba – Japan
Net Worth: $25.96 Billion
Brand Country: Japan
Founded: 1875
Founders: Tanaka Hisashige
CEO: Satoshi Tsunakawa
Headquarters: Minato City, Tokyo, Japan
Products: Electronics, Semiconductors, Social infrastructure
Employees: 141,256
Best Product: Toshiba LF711 4k
Price: $499 USD

Toshiba is also an ancient and top tv brand in the world till 2023. The brand is known for its high quality and unparalleled picture quality. They add new models to provide up-to-date television sets.
Their UHD TVs have a huge color range. All the TVs cover a screen detail which is very helpful for the users. Though some of the customers will not like the feature. Toshiba TVs are no longer a one-brand product. After facing a huge loss a few years back, they are now a subsidiary of Vestel manufacturers.
10. TCL – China
Net Worth: $14.42 Billion
Brand Country: China
Founded: 1981
Founders: Li Dongsheng
CEO: Li Dongsheng
Headquarters: Huizhou, Guangdong, China
Products: Television sets, smartphones, mobile phones, refrigerators, air conditioning, washing machines
Employees: 79,293
Best Product: TCL 75″ Class 8-Series 4K QLED
Price: $2,999 USD

The manufacturer provides quality smart TVs within the baritone of the price range. Their latest model is EP68, the main attraction of the model is the ultra-slim Frameless body. The feature gives an intense look in the outer line of the TV. The 4K HDR PRO picture quality is 4 times better than the ultra HD mode. The Android Assistant is built-in on it. The picture quality of TCL is so vivid. They have won the heart of their customers.
11. Hisense – China
Net Worth: $12 Billion
Brand Country: China
Founded: September 1969
Founders: Zhou Houjian
CEO: Liu Hongxin
Headquarters: Qingdao, Shandong, China
Products: Televisions, mobile phones, smartphones, refrigerators, air conditioners, washing machines
Employees: 20,176
Best Product: 120″ Class – L10 Series 4k Ultra HD
Price: $12,999 USD

This Chinese brand tries to provide the latest technology within the minimum price range. If you are looking for a budget-friendly at the same time semi Luxurious TV set, definitely go for the Hisense brand. Their Hd version is not as realistic as the high-end brands. Certainly the more sugar you add the sweeter it becomes. But the resolution is obviously good at this price range. Their OLEDTvs are the best option for those who want quality and affordability both.
12. Bang & Olufsen – Denmark
Net Worth: $250 Million
Brand Country: Denmark
Founded: 1925
Founder: Peter Bang
CEO: Kristian Teär
Headquarters: Struer, Denmark
Products: BeoVision Eclipse (4K), BeoVision Horizon (4K), BeoVision Harmony (OLED) etc.
Best Creation: BeoVision 4-103 ( Plasma , 103-inch Full HD)
Price: $140,000
Did you see? 10 Richest Hollywood Celebrities in the World

This Danish consumer electronic company designs and manufactures not only television sets but also audio products and telephones. Bang and Olufsen make its products maintaining the owner's preferences whether it is placed on a stand or wall, to make you experience the best visuals on its extravagant televisions.
13. C Seed – Austria
Net Worth: $20 Million
Brand Country: Austria
Founded: 2009
Products: C Seed 144, C Seed 201, C Seed 262 etc.
Best Creation: C Seed 201 (270-inch 4K Widescreen Outdoor)
Price: $680,000

The world's biggest TV is a never-ending race. And C Seed will be stepping in 2023 with their long-awaited latest outdoor television 301 to claim the title of ''World's Largest''. Already with achieving the Red Dot design award ''Best of the Best 2012'' everyone is hyped to experience the recently unveiled 301.
This brand is committed to providing leading-edge luxury and an unforgettable experience. Its mega-project doesn't only emphasize size but it's ready to set forth with extremely impressive specs. It will be able to project spectacularly clear images even under direct sunlight. In such a little time C Seed has attracted a lot of attention with its amazing craftsmanship. Let's see: 10 Luxury Kitchen Design Ideas in 2023
14. Scepter – United States
Net Worth: $25 Million
Founded: 1984
Founders: Gail O'Dell Collins
CEO: John Dunton
Brand Country: United States
Headquarters: California, United States
Products: LCD TV
Area Served: United States
Employees: 106
Parent Organization: N/A
Best Product: Scepter U860CV-UMRD (86″ 4K UHD TV)
Price: $2,999 USD

The brand has made a strong empire in the Realm of the television market for more than 39 years. They released the CRT technology in 1984. LCD technology was first improved by their lab named R&D (Research and development) in 1993. The brand is still providing its newbie technologies. Their 50-inch ultra HD television has a huge impact on the customer for the good service. Their three-dimensional displays give vivid and realistic views to enjoy the TV.
15. Polaroid – United States
Net Worth: $3.6 Billion
Brand Country: United States
Founded: 1937
Founders: Edwin H. Land
CEO: Scott W. Hardy
Headquarters: Cambridge, MA, United States
Products: Television, Digital cameras
Employees: 3,000
Parent Organization: Polaroid Originals, Petters Group Worldwide
Best Product: Polaroid 4K UHD Smart TV
Price: Starting $250 USD

Hearing the name of the brand all will think only about cameras. But Polaroid TVs are also famous nowadays. These are actually the cheapest version of real smart TVs. The brand has a huge number of sizes available on their TV sets at the same time the color range is also good. They use Goggle OS connecting to your smartphone or such device to get connected. Even at this budget, their UHD model The P55D600 is really praiseworthy.
16. Skyworth – China
Net Worth: $4 Billion
Brand Country: China
Founded: 1988
Founders: Huang Hongsheng, Stephen Wong
CEO: Zhang Xuebin
Headquarters: Shenzhen, Guangdong, China
Products: Televisions, Set-top boxes, mobile phones, A/V security products, auto electronics, and precision dies
Employees: 30,000
Best Product: SKYWORTH XA9000
Price: $730 USD

The less known brand had the top-selling position in China in the first two months of 2019. You probably have not heard the name of the brand but this is not a new brand. This is a 31-year-old brand. They use technology at their best. The W81 is an amazing set with a slim body and only 4.6 mm. The invisible mount system makes it look more attractive. Some of their TVs have the feature of cameras. Their main fire is OLED and obviously 8K resolution.
17. Haier – China
Net Worth: $16.3 Billion
Brand Country: China
Founded: 1984
Founders: Zhang Ruimin
CEO: Zhang Ruimin
Headquarters: Qingdao, China
Products: Televisions, Major appliances, Small appliances, Commercial heating and cooling systems, Consumer electronics
Employees: 76,400
Best Product: Haier 65UF2505
Price: $500 USD

The brand has a strong position in the TV market. Haier brand's current holy grail is their all-screen bezel-less TV. Most of their TVs are up to date. The technology varies from a different budget range. Recently they have launched Google certified android 9. In a Medium range one can get, energy-saving mode, Al voice Google assistant, built-in Google Chromecast, Google play store, android lot hub, and many more features.
18. Westinghouse – United States
Net Worth: $120 Million
Brand Country: United States
Founded: January 8, 1886
Founders: George Westinghouse
CEO: Jose Emeterio Gutierrez
Headquarters: Pittsburgh, Pennsylvania, United States
Products: televisions, radios, audio/video equipment, etc.
Area Served: Worldwide
Employees: 9,000
Parent Organization: ViacomCBS
Best Product: Westinghouse WU65U4AT11-SC, 65″ 4K UHD, SMART TV
Price: $580 USD

These brands provide Tvs that are simple to use. Their TVs are Hessle free, serving is easy. Most of the TVs feature the Dolby Austin version, automatic software update, earth voice search, Roku app using and more such things. Their Roku Tv is the best seller in Amazon ranking. The TV has collected praise from the customers for our easy-to-use functions and for the realistic views of the picture quality.
19. RCA – United States
Net Worth: $88 Billion (GE)
Brand Country: United States
Founded: October 17, 1919
Founders: Owen D. Young
CEO: Owen D. Young
Headquarters: New York, NY, United States
Products: Televisions, Radios, Vacuum tubes, Phonograph records, Electric Phonograph, RCA Photophone, CED Videodisc, etc.
Parent Organization: General Electric, Technicolor SA
Best Product: 65″ SMART 4K UHD LED RCA ROKU TV
Price: $630 USD

This brand is successfully keeping a fat chunk in the marketplace for more than 100 years. They were the world's first brand that made color consumer videos. From 1954 till now they are upgrading their new to newer inventions. Currently, they have got a high appreciation from the customers for their flat panel and 4k resolution TVs.
20. JVC – Japan
Net Worth: $170 Million
Brand Country: Japan
Founded: September 13, 1927
Founders: Panasonic
CEO: Shoichiro Eguchi
Headquarters: Yokohama, Japan
Products: Tv, Audio, visual, computer-related electronics and software, media products
Employees: 19,044
Parent Organization: Panasonic
Best Product: JVC LT55N550
Price: $590 USD

Japan Victor Company is well known for manufacturing the first TV in Japan. This is also an ancient manufacturing company. From 1927 till now it has invented television according to the demand of the customers. In 2019 April, they launched 6 smart LED TVs. They were budget-friendly and maintained the latest technologies.
Their TVs are made with Quantum backlit technology. Their TV address is enriched with more than 400 licensed applications. The company has now a partnership with the IndianViera Group along with Flipkart.
# Here are the top 10 TV Brands in the World in 2023 (Expensive & Luxury)
| Rank | Company | Country |
| --- | --- | --- |
| 01 | LG Electronics | South Korea |
| 02 | Sony | Japan |
| 03 | Samsung Electronics | South Korea |
| 04 | Sharp | Taiwan |
| 05 | Panasonic | Japan |
| 06 | Vizio | United States |
| 07 | Hitachi | Japan |
| 08 | Philips | Netherlands |
| 09 | Toshiba | Japan |
| 10 | TCL | China |