Let's redesign your small kitchen in a very low budget. Your kitchen can be small or oddly shaped although who doesn't know that working in a small place is often a disturbing thing. If you like to redesign your small kitchen to make it more trendy & modern, these smart renovating ideas will help you a lot.
I am going to share all the kitchen redesign ideas in 2023 but you should follow only  the steps you like most and fit for your kitchen.
01. Turn Every Corner into a Storage
Cost: $500-$1000
What to add: shelves or cabins
Who can do the works: either you or any experienced company
Attraction: simple,more space, neat and clean
Material: woods, small tiles, wallpaper
Best company for the job: Dessentials Inc, BH builders LIc, R & M Quality work, corp, etc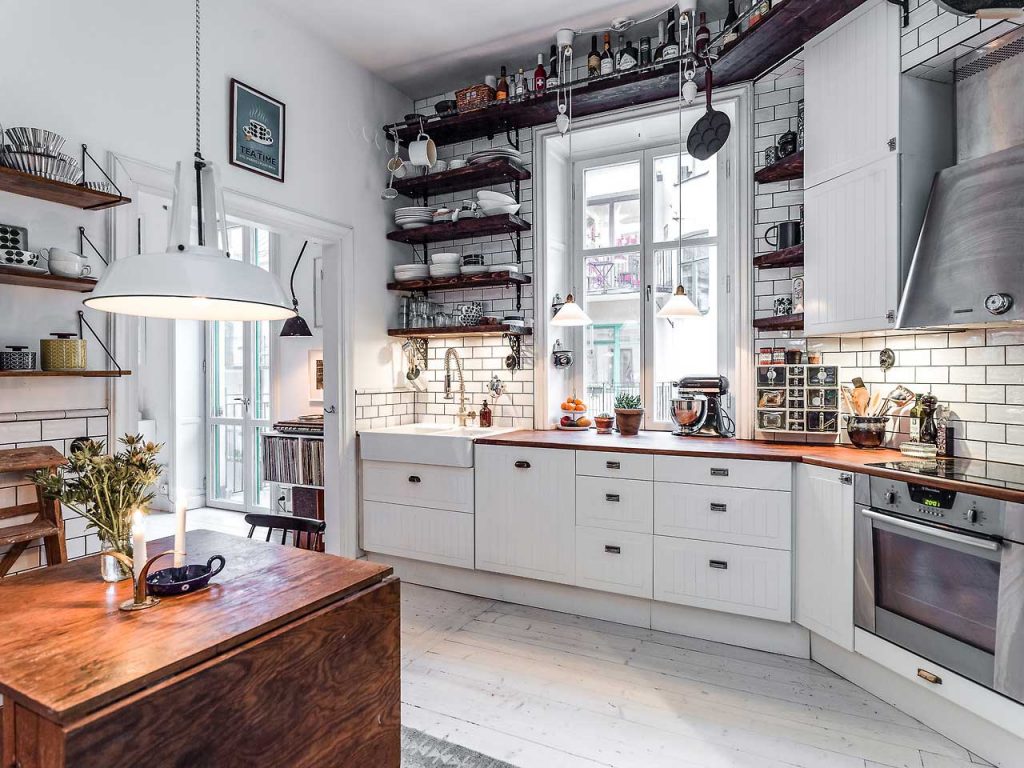 If you are thinking of re- modeling your kitchen. I think you can turn every unused corner of your kitchen into storages. This will definitely give your kitchen a new look. Your kitchen will be looking new and clean when you put everything into storage.If you go for less expensive materials such as fake, woods or hard boards than the total cost will be minimized and you will be able to finish the work within $500. However, if you go for the expensive materials such as tiles, real hard woods, or marble, than it may cost you $1000 or more than this.
Let's see: Luxury Kitchen Design In 2023
02. Go bright
Cost: $1000 to $2000
Who can do the work: House painters
Attraction: Your kitchen will look super colorful even in the low lights, brightness and colorfulness will place a positive impact on your mind
Best color paint brands: PPG, The Sherwin-Williams Co., AkzoNobel, Nippon Paint Holdings, Asian paints, Jotun, etc
Material: colorful curtains, colorful walls, bright kitchen appliances, LED lights, colorful cabinets, etc.
Suitable colors: yellow, orange, red, light blue or green, pink, etc.

If your kitchen doesn't get enough natural light than you can keep your kitchen's color bright. This will make your kitchen look bright in a medium light as well. Research says that our body reacts positively when it is in colorful environment. However, if you have little kids, don't wait much making your kitchen brighter with colors and LED lights.
Let's see: Why Kitchen is the Heart of the Home
Cost: price starts from $39
Attraction: you can keep many things in this kind of storage at the same time it can be used when you are serving your guests as a portable trey
What to add: a portable trey with wheels
Color: any color that goes with your feeling
Where can I find it: online shops like Amazon

This simple, small and inexpensive thing is going to change your kitchen's entire level in a second. You can keep small regular things in this portable storage as a result, when you will be working in your kitchen, it will be very easy for you to move things from one place to another. This is not the only thing, which you can do with this. You can use it as a tray to serve foods to your guests.
04. Install floor to ceiling cabinetry
Cost: $1500 to $3000
Material: glass, wallpaper, hardboard
Who can do the work: workers from home décor company such as R $ M Quality Work
What to add: cabins in your kitchen, Glass, woods and hardboards
Benefits: you can put everything in these cabins, It will give you huge free space in the kitchen
Color: You can simply apply the color of your kitchen or make contrast between two colors
Attraction: a full glassy or wallpapered cabinet in your kitchen room is certainly going to increase your kitchen's value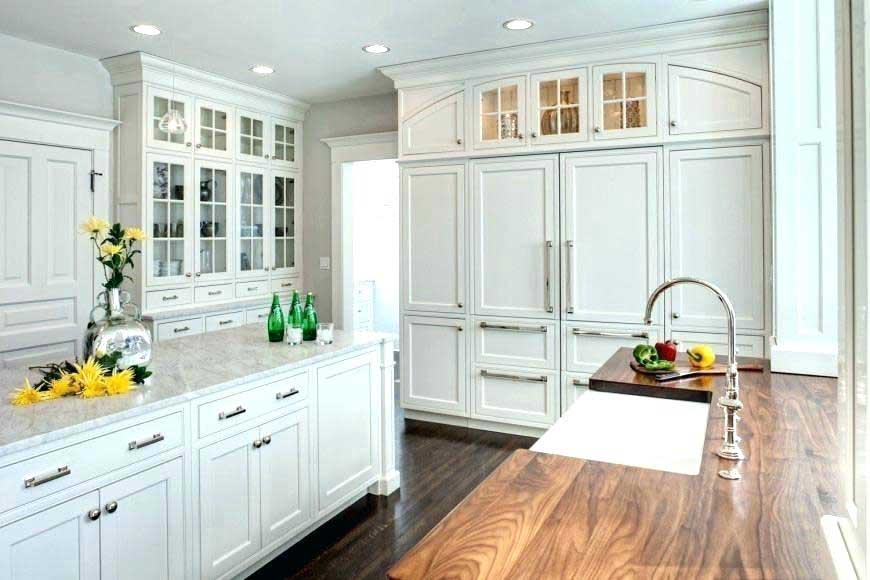 If you think that, your kitchen is a total mess, with huge small coking related things, then go jump on this idea. You can keep almost everything in the cabin. On the other hand, it will make your kitchen smart and you will get a vibe of using new things.
Let's see: Modern Kitchen Elements in 2023
05. Store Things on Top of Cabinets
Cost: $900 to $1200
Benefits: it will make your kitchen trendy and smart, We usually leave this place unused, you can make a shelve over the cabinets that gives you a good place to keep your important cooking related things
Attraction: unused place is going to be used, make your kitchen look fulfill, luxurious look
Who can do the work: you yourself can do this simple work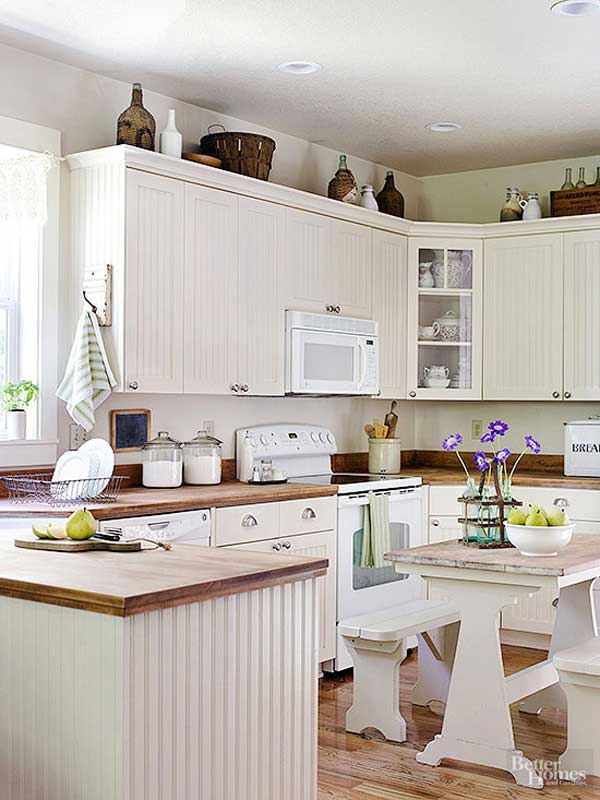 We normally get some places on the top of our cabins, if we don't have a floor to roof cabinet. you can try the idea of keeping things on the top of the cabinets if you also have some places there. You can also drill the wall to hang many things there. Over the cabinets, it is the best place to keep those products which you use the less.
06. Bring Trees
Cost: it depends on how many plants you are bringing and what kind of plants are they. Because the price varies.
Who can do the work: you yourself can do this. However, there are many companies who decorate your home according to their plans. Therefore, if you want it more professional you can call them.
Where can I find: search in google or web directory
Attraction: a natural and fresh vibe will be in your kitchen. If you want, you can grow vegetable plants in your kitchen
Material: you need to contact the company to know what kind of things you need

Trees are always helpful, then why we will not use the chance to keep plants in our kitchen. It can change your kitchen's look totally. It can bring nature into your home. If you keep cactus, it will reduce the temperature of your room.
Cost: $1000 to $2500
Who can do the work: home decor companies can help you in the matter
Cautions: mirror is a sensitive thing, so be careful if you have kids. Regular maintenance is needed. As the mirrors will be in the kitchen room so it's easy to get dirty there
Attraction: it will make your room look bigger than it actually is. On the other hand, light will be reflected on the mirror, which will give you a glossy and gorgeous outlook. In addition, your kitchen will be looking brighter and luxurious
Material: mirror, marble

If you don't have any partition between leaving room and kitchen and your kitchen is small, then it is a good choice for you. Mirror will make the room look luxurious and bigger. Maybe then it will be suitable beside your luxurious leaving room.
08. Organize Things According To The Color
Cost: $1500 to $2000
Who can do the work: painting companies
Attraction: the whole room looks very organized and colorful
Benefits: it will help you to find things very easily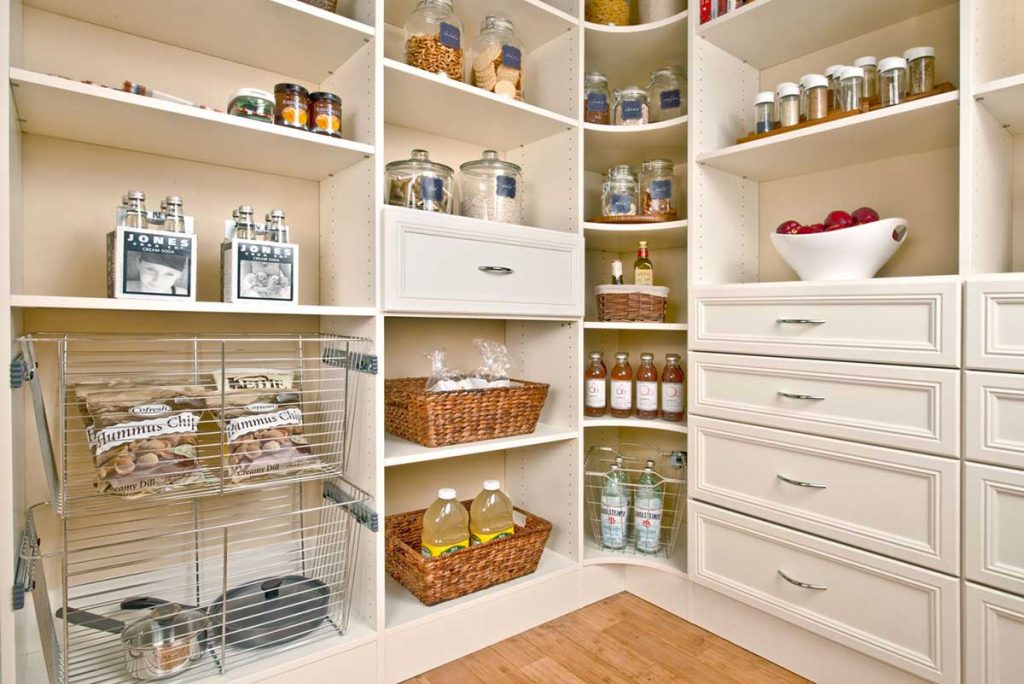 You can organize the room according to the color of things. Put red things in one cabinet, yellow in another different cabinet then next color to another cabinet. A harmony will be in your kitchen. Suppose you have putted a yellow box in the blue box's cabinet, mistakenly, it will not take much to be found out.
09. Expose Your Goods
Cost: $900 to $1000
What to do: don't use blinker on the cabinets
Who can do the work: cabin makers
Attraction: your kitchen appears to be a luxurious showcase. You can put lights into the cabinets to make the commodities look more gorgeous and highlighted

If your collection is rich with luxurious kitchen commodities then you can keep your cabinets open or u can use glasses so that others can see your goods. You can apply the idea if your leaving room and kitchen doesn't have any partition.
Cost: $800 to $900
Who can do the work: you yourself can do the work
Where can I find the material: it's available in every hardware shop
Attraction: your kitchen will look scrappy
Benefits: you will get every important thing close to your hand. You can hang things just over the stove
Materials: holding pin is needed for the work
What can be hanged: spoons, cup, spuds etc

This little step can change the look of your kitchen. You can hang things in an organized way; it is not only a helpful one but also it will decorate your room.
11. Change The Backsplash
Cost: $1500 to $5000
Color: any color that makes good relation with your kitchen room's color
Materials: tiles, wallpaper
Attraction: changing the backsplash can change the whole kitchen's decoration. It highlights the cooking point and makes the room attractive
Who can do the work: decor companies

If you have a back splash focused kitchen, then this idea is for you, backsplash gets dirty soon and looks ugly. To get rid of this problem, you can change the tiles of backsplash. Wallpaper is also a good choice as backsplash.
12. High Gloss Coating
Cost: $2000 at least
Who can do the work: home decorating companies
Best company: Asian paints
Color: Gloss coating does not have any color. It just makes your existing color glossy
Benefits: it will work like mirror; reflections will make your room look bigger
Attraction: make the rooms look royal and luxurious. It will highlight the color of the room

You should highlight your kitchen room existing color. It will give you a vibrant, glossy kitchen room. It makes everything reflective.
13. Hide Everything
Cost: $1500 to $2000
Best designer: Matthew Ferrarini
Who can do the work: designer
Material: Glass, woods, board
Attraction: makes the kitchen look clean and simple
Benefits: helps to move and work more speedily

Put blinkers in every cabinet. Color it according to your rooms color. It will give your room a peaceful outlook with cleanness.
14. Backless Stools
Cost: $500 – $1000
Best model: Rattan bar stools, stainless steel bar stools, padded backless bar stools, etc
Attraction: new design in chairs can give you a total new kitchen
Who can do the work: you have to buy the chairs only
Where can I find the materials: there are thousands of shops for chairs

Backless chairs in your breakfast Bar will give a luxurious and trendy look to your kitchen. The chairs are less weighty so it will be easy to maintain the room. However, backless stools are less comfortable.
15. Re-think The Layout
Cost: $2000 to $4000
Color: use any light color if you want your room look bigger or make contrast of two colors
Attraction: changes your kitchen totally
Material: sinks, cabinets, new chairs, new kitchen island
Benefits: re organization improves your workability
Who can do the work: you need home decor companies

Your old kitchen can become monotones if you work in the same place for years after years. So changing the room wholly is a nice option. You can change the shape and the position of the island, add or remove kitchen cabinets, use new tiles, new appliances, do some light works, hang some arts, bring trees, use dark color, change backsplash , change floor tiles, use chandelier etc.
16. Add As Much Window As You Can
Cost: $900
Who can do the work: workers, kitchen designer
Benefits: you will get plenty of natural light and air and the room will be open to the nature
Attraction: openness is its main attraction

Try to keep many windows in your kitchen. It will reduce odor problems and the open windows will allow light and air to come in. there are many designs of windows you can choose any of them. Windows keeps the room healthy.
17. Use Your Island
Cost: $200 to $1000
Attraction: Many hangers and inbuilt cabins with the island, which maximizes the beauty and luxuriousness
Benefits: you will get more storage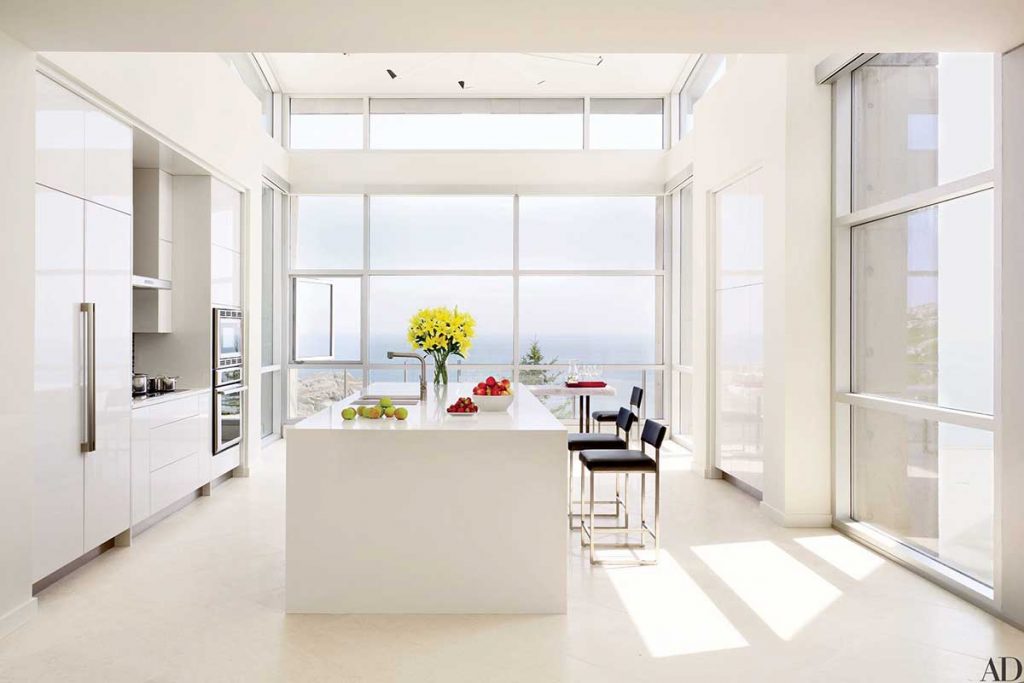 Kitchen Island offers us much usefulness. You can maximize your store and can store amenities here. Many kitchen appliances can be kept here on the island. You can use your islands lower part as an aquarium.
18. Use Bold Colored Tiles In The Floor
Cost: $1000 to $2000
Who can do the work: home décor company
How many times it can take to change the tiles: maximum 2 to 3 weeks
Attraction: Vibrant floor of the kitchen. You can use 3D tiles too
Benefits: when your tiles will get old, the ugliness will be less visible for its dark and vibrant color
Best tiles manufacturing company: Ann sacks, Arizon tiles, Hakatai etc

Changing the design of tiles comes to our mind first, when we talk about redesigning. It can change the whole look. Contact the famous tiles dealers to get the best one.
19. Add A Rolling Kitchen Ladder
Cost: $200-$500
Benefits: you can reach the top cabinet easily and safely
Attractions: rolling ladder with wheels is a trend now. It increases the beauty and smartness of a kitchen
Best model: WE 43e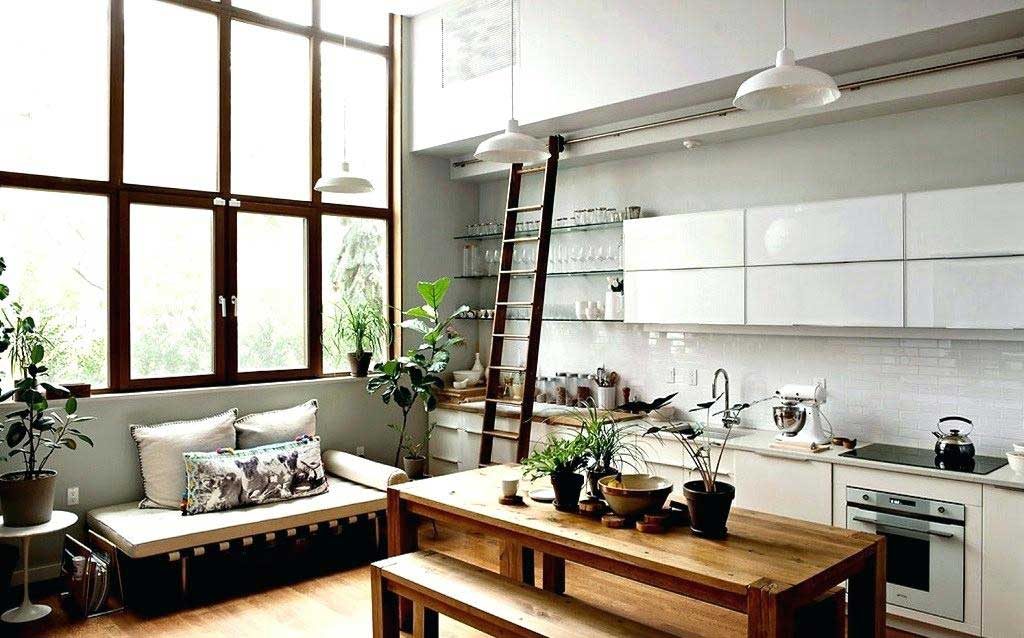 If you have kitchen cabinet from floor to roof, then you really need this one in your home, as sometime it is important to move. On the other hand, it is a very tough job to keep and take something out without a ladder from the top most cabinet. On the other hand, a rolling ladder will help you move the ladder from one side to another side of the room without anyone's help.
20. Appliance Garage
Cost: $1000

Make a big cabinet for your cooker, hitter, blender, toaster and many other electric goods. You should not mess this electric things, as water is a common thing in a kitchen. Make a big cabinet only to keep these goods there.
21. Add Extra LED Lights
Cost: $2000
Models: waterproof IP66,RoHS ETL DLc UL 3fT etc
Attraction: light work is the best thing, which you can do to your kitchen. It increases the level, it help you to work more freely
Who can do the works: electric workers

If you think, your kitchen is as important as your leaving room is. Then go for the light works. It is a very smart thing to do. Try to use LED lights in the edges or the bottom lines of the room. You should choose lights of 60 watts for your kitchen.
22. Add Wallpaper
Cost: $900
Benefit: makes your room colorful and newly
Color: according to the color of your room you can use any color you want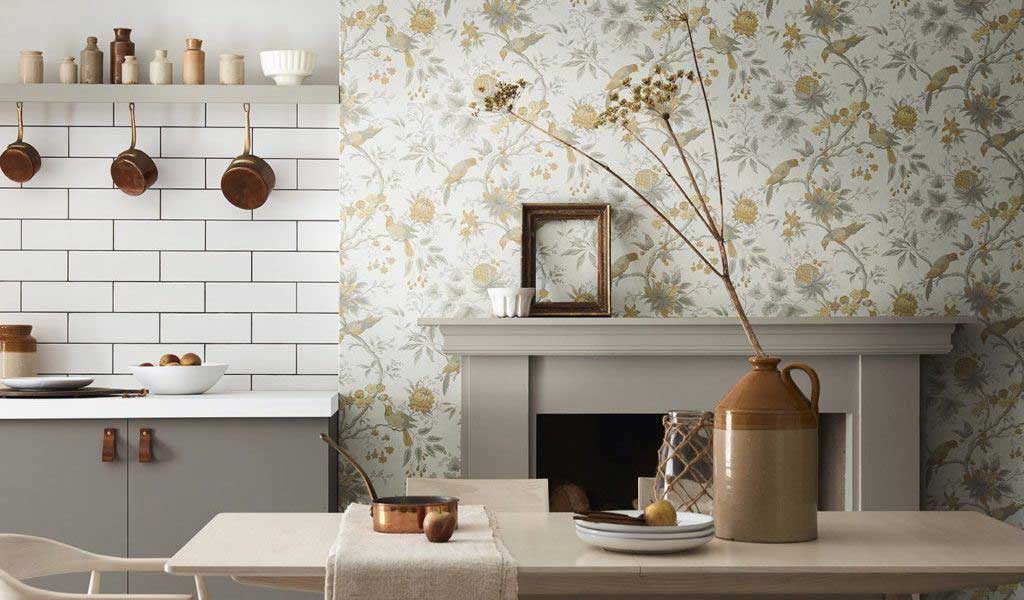 If you want to redesign your kitchen in with a little money, you are welcome to the wallpapers world. Use wallpaper according to your fancy. It will give your kitchen room a total new look
See more: Redesign a Small kitchen
23. Add Glass Doors
Cost: $1000
Benefits: partitions between leaving room and kitchen
Attraction: gives luxurious look

You can use glass door in your kitchen. This will certainly level your kitchen up. Glass doors are environment friendly and glossy which is perfect for a luxurious kitchen.
24. Go Dark And Be Dramatic
Cost: $900 to $1000
Color: black, grey or any dark shades
Who can do the work: company workers
Cautions: you need a great amount of lights in such kind of kitchen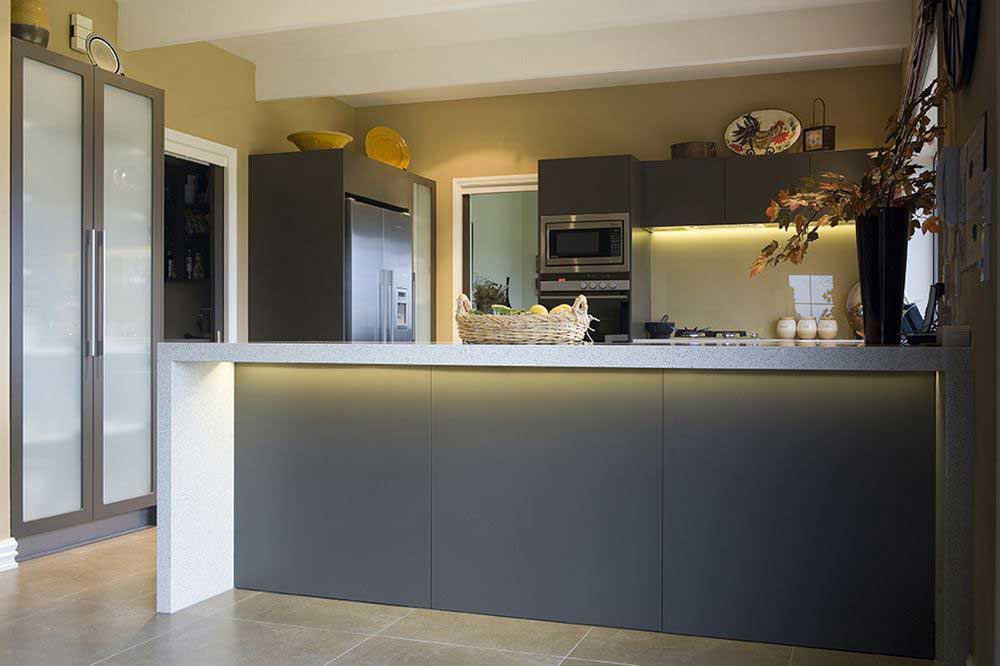 If you had a bright kitchen and you are tired of that go forward for the dark kitchen. Use any dark color with lots of lights in your kitchen. Dark has always been a standard choice. So it will certainly take your kitchen a level up. You can use glass tiles and dark marbles to get a gorgeous effect. Use appliances, which match with the dark room.
25. Make Space By Minimizing Elements
Cost: $200
What to do: Add more storage, dump the duplicates, use hidden storage space, and make sure everything has a place
Attraction: large free space though there is everything in your kitchen it is like a magic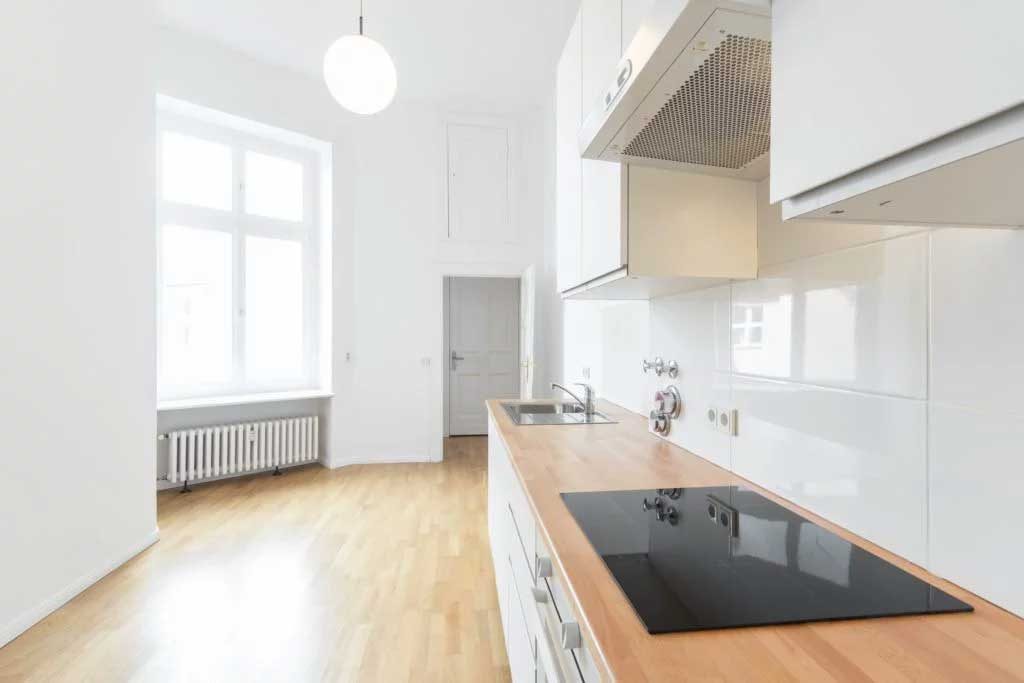 In our kitchen, we have thousands of things. We need large space for keeping things and enough space to move and work. So try to minimize things, try to use more cabinets and hide them behind the blinkers and automatically you are going to get a larger and a free kitchen.
26. Add Pedants Lights
Cost: $100 to $3000
Attraction: This will be jewelry of your kitchen. Lights will be hanging over the kitchen island and the breakfast bar. This is going to add more beauty to your kitchen
Best designs: Cora 11 wide brushed nickel, Charleston 13
Where can I find the light: you can find them in different online shops such as Lamps Plus, along with electric shops next to you

Lights are always a smart choice, pedant lights can be your kitchens face changer. It will provide the best light to your work place. You have to use a chain or rod to hang it from the roof. You have to buy a big pedant light if you want to cover a large area. Pedant light gives less intense lightening. There are many kinds of pedant light. Therefore, you have to choose light according to your needs of illumination. Task lights or Ambient light is perfect for a kitchen.
27. Replace The Old One
Cost: $3000 to $4000
Benefits: replacing things will give your kitchen a new look. Try to renew everything of your old kitchen. Get a large super size sink and basin of new model. Replace the backsplash, and cabinet wallpapers, add one more island if you have that much space or change the type of lights, use open shelving, warm your kitchen with rug, embrace the cozy etc. This little changes can turn your kitchen into a completely new one.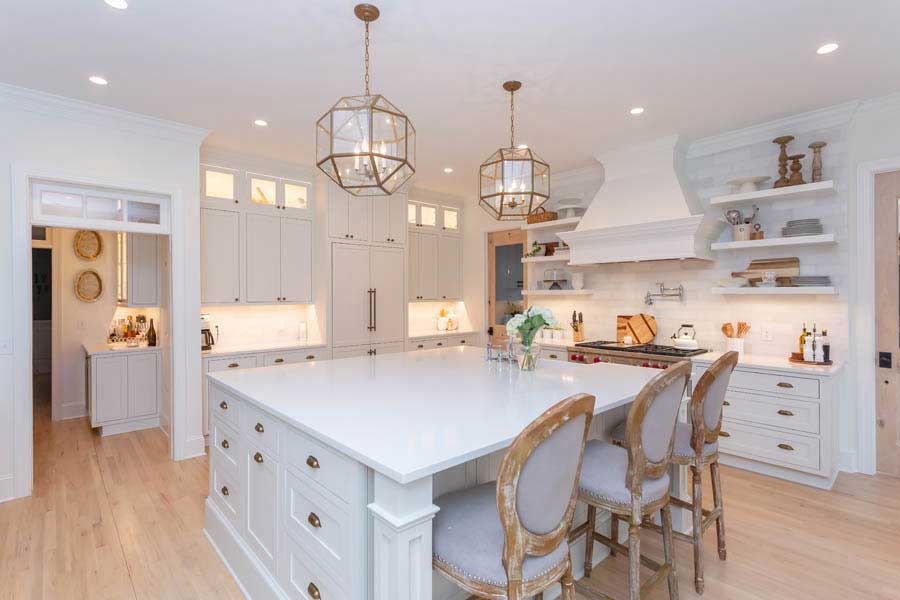 These are some special tricks and ideas for redesigning your kitchen cleverly. If you are thinking of changing the decoration of your kitchen, we hope these will be very helpful to you.