Expensive luxury Dubai Lifestyle in 2023 will blow your mind away. Dubai, the city of luxury lifestyle is adorned with luxury cars, houses, hotels, shopping malls, foods, golds, royalty, diamonds, airlines, updated technologies, skyscrapers, and what's not.
Dubai is a city and emirate of 4,114 km² area and 3.1M people in the United Arab Emirates widely known for luxury shopping, ultramodern architecture, and a lively nightlife scene. Burj Khalifa, a tower of 830m in height dominates the skyscraper-filled skyline. At its bottom lies Dubai Fountain, with jets and lights choreographed to music. You may like: Most Luxurious Cars in the World
Dubai Lifestyle is widely popular for its ultra-luxury way of leading life. Dubai actually is not a country, it's an Emirate of a total of seven Emirates of UAE and the most popular place of UAE.
Dubai Luxury Lifestyle in 2023
Luxury means the enjoyment of special and expensive things, particularly foods, drinks, clothes, livings, gadgets, styles, etc. 23% percent of UAE residents said that they buy luxury items as soon as they think they want to buy. If you look 3-5 years back, you would not expect Dubai to be the city that it is now. But your expectation & thought cannot be as consistent as its luxurious state now in 2023. Even Dubai is considered the lavish metropolis of the world right now. Here are some examples of how their life is being adorned with.
01. Luxury Places in Dubai
Basically, the UAE is a federation of seven emirates. Out of those sevens, Sharjah, Dubai, and the capital of UAE Abu Dhabi are famous for tourist centers. The Burj Khalifa, Palm Jumeirah Gold & Diamond Park & Museum, and the famous sail-shaped Burj Al-Arab are the most luxurious attractions of Dubai city and are renowned all over the world. If you are a tourist, then the Yas Island, Ferrari World, and the Emirates Palace are magnificent enough to satisfy your mind completely. The Burj Al-Arab is the only 7-star hotel on the planet. One needs a reservation to just walk around the ground.
The Palm Islands
Dubai Marina
Dubai Mall
Jumeirah Beach Hotel
Dubai Fountain
Atlantis The Palm Hotel & Resort
Ski Dubai
Dubai Aquarium and Underwater Zoo
The World Islands
Dubai Miracle Garden
Let's see: What you need to lead a Luxurious Life
02. Luxury Airlines in Dubai
You can enjoy the world's first-class suite on Emirates airlines including cush leather which can be reclined into a bed, a sliding door for privacy, a shower stocked with the selection of Bvlgari toiletries, 2000 TV and movie channels along with complimentary door to door chauffeur service and access to the A380 onboard lounge, a private cocktail lounge with its own dedicated bartender. And you can get all these through only $3,000 USD for a round trip ticket from LUX to Dubai.

Emirates
Air Arabia
Etihad Airways
Flydubai
03. Wonders & Building in Dubai
Dubai is famous for its skyscrapers. They are just amazing in words. The architects have created the designs with proper innovation which are really very unique.

Dubai Creek Tower (1345 meters) [Opening: 2021]
Burj Khalifa (828 meters) [158 floor]
Princess Tower (414 meters)
JW Marriott Marquis Dubai Hotel (355 meters)
Burj al Arab (321 meters)
Infinity Tower (305 meters)
04. Luxury Cars in Dubai Lifestyle
Dubai uses the world's most luxurious cars and Dubai police have the supercars ever in the world. Million-dollar customized cars are one of the common passions of Dubai's rich people & kids. Let's see the most common uses of cars in Dubai.

Rolls-Royce Phantom (Price starting USD $292K)
Ferrari 458 Italia (Price starting USD $245K)
Bentley Continental Flying Spur (Price starting USD $216K)
Bentley Continental GT Speed (Price starting USD $202K)
Lamborghini Gallardo (Price starting USD $175K)
BMW M5 (Price starting USD $161K)
Lexus LX-570 (Price starting USD $153K)
BMW X5 5.0 (Price starting USD $107K)
2014 Cadillac ATS (Price starting USD $36K)
Jaguar XFR (Price starting USD $45K)
05. Luxury Shopping Malls & Brands in Dubai
Dubai is mostly famous for its biggest brands. From most expensive bags to luxurious cars, Dubai is at the top of the best brands in the world. All the luxury brands are available in the Dubai Mall, Ibn Battuta Mall, and Mall of the Emirates in Dubai.
There are also some other malls in Abu Dhabi like Yas Mall, Abu Dhabi Mall, and the Marina Mall. A smart shopper is bound to be satisfied with the antiques and local art. You may discover the expensive piece of art in the boutique corner. This is the fact where Dubai's aristocracy is in the top position of leading a high fi lifestyle.

The Dubai Mall is the world's largest shopping center where the world's largest acrylic panel aquarium is situated.
Dubai Outlet Mall (5.0 star)
The Dubai Mall (4.7 star)
Mall of the Emirates (4.6 star)
Dubai Festival City Mall (4.5 star)
Mercato Shopping Mall (4.3 star)
Dubai Outlet Mall (4.1 star)
Luxury Outlet Jlt (2.0 star)
06. Luxury Hotels in Dubai
Dubai has the world's most luxurious hotels. The Burj Al Arab is the ultimate landmark of luxury hotels in the world. It has the feeling of luxury golden touch inside with sea wave emotion. Dubai has so many luxury hotels.

Burj Al Arab Jumeirah ($1,830 USD per night)
One&Only The Palm ($1050 USD per night)
One&Only Royal Mirage, Dubai ($510 USD per night)
Armani Hotel Dubai ($500 USD per night)
Jumeirah Al Naseem ($450 USD per night)
Palazzo Versace Dubai ($300 USD per night)
FIVE Palm Jumeirah Hotel ($290 USD per night)
The Oberoi Dubai ($225 USD per night)
InterContinental Dubai – Festival City ($175 USD per night)
Grand Hyatt Dubai ($150 USD per night)
Taj Dubai ($140 USD per night)
07. Luxury Parks & Gardens in Dubai

Garhoud Garden (tennis court) (5.0 star)
Dubai Miracle Garden (4.5 star)
Kids park discovery garden (4.4 star)
Zabeel Park (4.4 star)
Dubai Garden Glow (4.3 star)
Dubai Butterfly Garden (4.3 star)
GC East Park (4.3 star)
Union Metro Station Garden (4.3 star)
Jebel Ali Gardens Cricket Ground (4.2 star)
08. Luxury Resorts in Dubai
You can easily find out the World's best-ranked resorts most of which remain in the UAE. The St. Regis Saadiyat Island resort is one of the most beautiful resorts in the world situated in Abu Dhabi. The blue ocean beside this resort enhances the beauty as it is a unique place where the splendid view is really very amazing and is different from all other resorts in the world.
The Le Royal Meridien Beach Resort & Spa, Four Seasons, and the Sheraton Jumeirah beach resort are three of the best resorts in Dubai. There is another resort named Ramada resort situated in Sharjah. If you wish to enjoy a spontaneous vacation in such a beautiful place then book your seat on any of these resorts. I hope it will satisfy your mindfully.
One&Only The Palm ($1050 USD per night)
One&Only Royal Mirage, Dubai ($510 USD per night)
Bulgari Hotel & Resorts, Dubai ($510 USD per night)
Four Seasons Resort Dubai at Jumeirah Beach ($390 USD per night)
Anantara The Palm Dubai Resort ($285 USD per night)
Hilton Dubai Jumeirah ($220 USD per night)
Lapita, Dubai Parks and Resorts, Autograph Collection ($225 USD per night)
09. Luxury Restaurants & Food Places in Dubai

Zuma (4.8 star)
Pierchic (4.8 star)
At.mosphere Burj Khalifa (4.8 star)
STAY by Yannick Alléno (4.6 star)
Pai Thai (4.6 star)
Sloane's (4.6 star)
TOMO (4.5 star)
Rhodes W1 (4.4 star)
The Talk Restaurant (4.4 star)
The Cavendish Restaurant (4.2 star)
Asha's Restaurants (4.0 star)
Luxury Dinner Cruise – Floating Restaurant (3.4 star)
10 Luxury Bars & Drinks in Dubai
Alcohol is very much allowed in Dubai for both tourists and the non-Muslims even if you are about to buy it in Dubai, you have to confirm a tourist visa or special card of your own.

Burj Al Arab Jumeirah (4.7 star)
Skyview Bar (4.6 star)
Bar 44 (4.5 star)
Buhayra Lounge (4.5 star)
Uptown Bar (4.5 star)
Pure Sky Lounge (4.5 star)
Jetty Lounge (4.5 star)
The Eloquent Elephant (4.4 star)
Buddha Bar (4.4 star)
At.Mosphere (4.4 star)
Zero Gravity Dubai (4.4 star)
Koubba Bar (4.3 star)
Luna Sky Bar at Four Seasons Hotel Dubai International Financial Centre (4.1 star)
11. Luxury Night Clubs in Dubai

W Club Dubai Khaliji NightClub (4.5 star)
Billionaire Mansion (4.5 star)
WHITE Dubai (4.5 star)
Dhamaal D2, Music.. Masti.. Lounge (4.3 star)
People by Crystal (4.3 star)
Cavalli Club, Restaurant & Lounge, Dubai (4.2 star)
Empire Night Club Dubai – Arabic Khaliji Nightclub (4.1 star)
Byblos Hospitality Group (4.0 star)
Boa Lounge & Club (3.8 star)
XL Dubai (3.8 star)
Solitaire Khaliji Night Club (3.7 star)
Club Boudoir (3.5 star)
12. Aristocratic Casinos in Dubai Lifestyle

Fairmont The Palm (5.0 star)
Meydan Racecourse (4.7 star)
Dubai Camel Racing Club (4.7 star)
Nad Al Sheba Racecourse (4.7 star)
Jebel Ali Racecourse (4.7 star)
Dusit Thani Dubai (4.5 star)
AVANI Deira Dubai Hotel (4.5 star)
Dubai Grand Hotel by Fortune (4.0 star)
Carlton Downtown (4.0 star)
Villa Totana (4.0 star)
Citymax Bur Dubai (3.0 star)
Citymax Hotel Al Barsha at the Mall (3.0 star)
13. Free Higher Education in Dubai
The UAE government pays all the money needed for a student to get higher education in any university in the world. Education is totally free for the citizens here. Even the facility for the workers here is a very high position and a worker can change his work any time.
Let's see: Best Places to visit in Maldives (Updated)
14. Average Income of Dubai People
The average income of a Dubai family is $4500 USD per month. This is been calculated when both the husband and wife work. This is the average phase but obviously, the upper-class job holder earns $10K+ USD per month.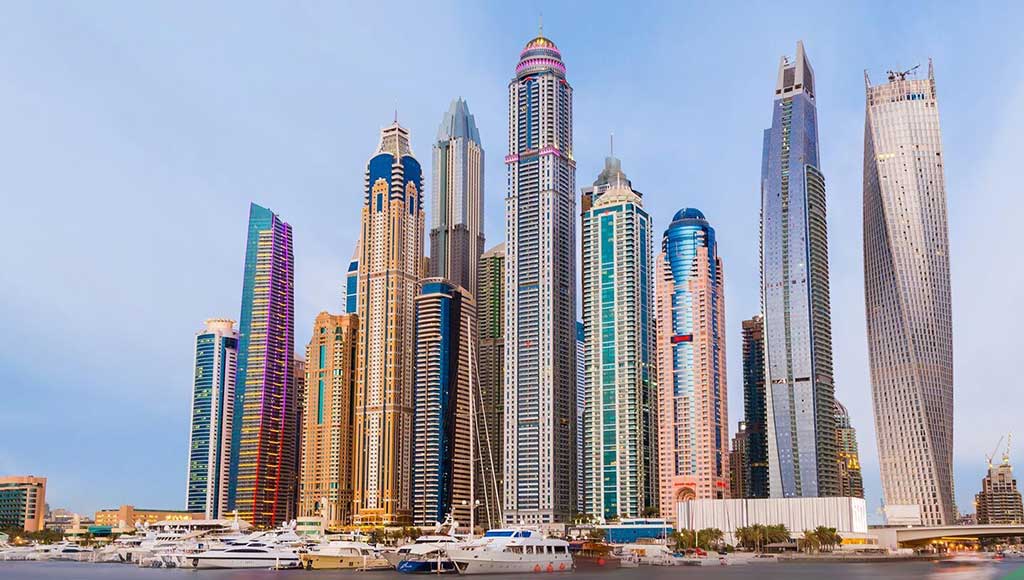 General Dubai Family earns $4500 USD per month
Industrial person earns $100K+ USD per month
Doctors and Engineers earn $60K+ USD per month
Businessman earns $80K + USD per month
15. Top Income Sources of Dubai
Here are the top income sources of Dubai: Natural Oil (10%), Natural Gas (5%), Dubai Airlines (12%), Dubai Malls (8%), Dubai Construction Business (6%), Hotels & Resorts (5%), Tourism (5%), etc.
Let's see: Modern Kitchen Elements (Must Have)
16. Luxurious Homes & Living Cost in Dubai
Single Person ($150 USD per month)
University student ($635 USD per month)
Two person family ($2500 USD per month)
Four person family ($3200 USD per month)

17. Luxurious Games, Sports & Entertainment in Dubai

Inflight Dubai Indoor Skydiving (5 star)
Al Sahra Desert Resort Equestrian Centre (4.5 star)
iFly Dubai Indoor Skydiving (4.5 star)
Adventureland (4.5 star)
VR Park (4.5 star)
Bounce (4.5 star)
Dubai Dolphinarium (4 star)
Hub Zero (4 star)
18. Luxurious Movie Theaters in Dubai

VOX Cinemas (4.4 star)
Reel Cinemas (4.4 star)
Reel Cinemas (4.3 star)
Theatre By Rhodes (4.1 star)
Dolby Cinema (4.0 star)
19. Luxurious Rides & Tours in Dubai
Basically Dubai is a place full of recreational resources through which you can experience a better memory ever. Everybody knows the Emirati's love for high-end cars. Driving Luxury cars around the city like Audi, Mercedes or Cadillac is not less than residents do. Therefore, other means of recreation like private helicopter rides, Gold facial or ocean cruising on a yacht, hot air balloon ride or horse and camel ride everything you will get will be the best one being picked for you.

2-Hour Private Yacht Cruise from Dubai ($360 USD)
Private Dubai Luxury Cruise by Gulf Craft Yacht ($500 USD)
Dubai City Tour by Luxury Stretch Limousine ($465 USD)
Xclusive Cruise – 5* Address Hotel Dinner Cruise ($590 USD)
Platinum Heritage ($550 USD)
Dubai Private Tour ($500 USD)
Yacht Cruises & Boat Rental | EasyYacht (4.4 star $440 USD)
Aquarius Dubai Yacht Rental and Charter (5.0 star $680 USD)
20. Top Luxurious things to do in Dubai

Ultimate Luxury Desert Safaris
Super-Yacht Cruise
Private air charters
Opulent Overland Tour
Supercar tour
Romantic Hot-air balloon for two
Personal Fashion Advisors
Private Stable visit
Ski Dubai, Aquaventure and At The Top – just for you!
Private Dinner on the Burj al Arab Helipad
21. Luxury Foods in Dubai

Dh7,300 Pizza – $2000 USD
Golden Phoenix Cupcake – $1007 USD
Black Diamond Ice Cream – $817 USD
DME Sandwich – $84
DME Pizza – $2000
DME Cupcake – $1,007
DME Ice Cream – $817
DME Cocktail – $7,438
22. Broad Minded Nature in Dubai
The residents of Dubai are mostly broad-minded. Statistics say that about 14% of residents of Dubai mainly value the feeling that ''I have something but my friends do not have". This feeling is enough to make clear that why the poverty rate in too little in Dubai.
23. Dubai Gold Luxury
Another symbol of the aristocracy of Dubai is here for you, the cupcake from Bloomsbury cupcake which is wrapped in 23 carats of edible gold. Due to an ever-expanding metropolis, one out of every five cranes in the world is situated in Dubai.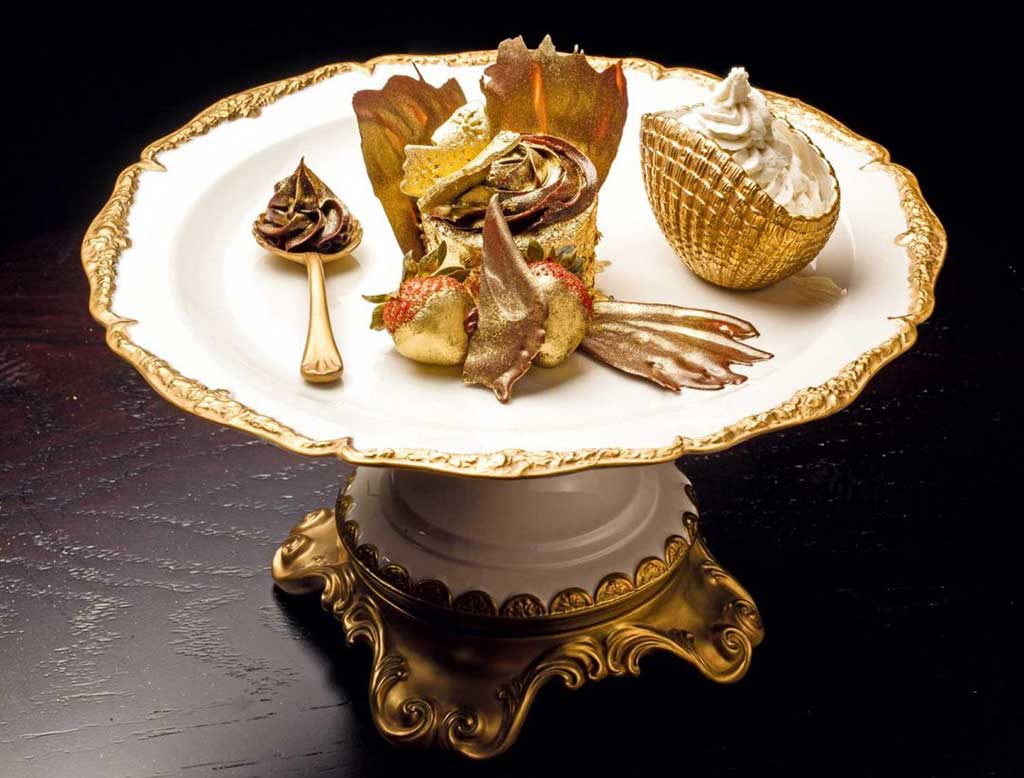 Here's another one. This car is fully made of gold which is the extreme symbol of the highly developed Dubai residents.

Finally it can be said that Dubai is a universal place all about shopping, luxury cars, and hotels. The main highways of it are full of advertising the luxury brands of the world. Even eating out in this Emirate is also a part of their lifestyle with some luxury brands along with their own food and beverage which indicates that they are peculiar in the field of their business also to represent themselves effectively throughout the whole world.
Even they are very conscious of their culture and habits. A survey proved that UAE is in the top positions all the time for their logo branded goods and about 58% of residents of Dubai say that they prefer most of the time their own brand in buying all sorts of goods for their daily livelihood.