Luxury tiny house on wheels is one of the most passionate dreams of the unique luxury lovers. Not only the homeless people buy these tiny houses rather some extensive passionate people collect this for the luxurious vacation. You may also like: Dream Home in the World
Today our cup of tea is the world's most expensive luxurious tiny homes in 2023. Tiny houses are becoming popular due to less cost, shipment facilities, less government issues, lucrative designs and much more.
Let's see the top ten luxury tiny homes in the world in 2023 including price, location, owner, size, specifications, attractions, etc.
01. Escher
Price: $140K USD
Size: 300 Square feet
Owner: New Frontier Tiny Homes
Attraction: Family size tiny home
After the incredible design of the tiny home Alpha this is their new addition for family living with an additional bed room. Garage like doors, high end kitchen application with dishwasher, steel appliances, sliding glass doors and dining for 12 people make the house worth its money. Two bedrooms are separated as one is on the upstairs and the other is in the downstairs.
It has a bathroom with shower, sink, closet and composting toilet. Small office space is also given there. To grab this peace you need $139,900 USD on your pocket.
02. Alpha Tiny House
Price: $95K USD
Size: 240 Square Feet
Owner: Frontier Tiny Homes
Attractions: Jacuzzi bath tub

This Tiny house has almost every facilities that a luxurious home should have. Even it has a Jacuzzi bathtub which shows its luxury. Incredibly it has a dining table of 8 seats. Metal roof, large glass doors with sliding features, double axel trailer, wooden floor and large garage style doors are its speciality.
Along with dining and kitchen it has a hidden storage which leads to the king size bed. The kitchen is enriched with all the modern items including sink, mini dishwasher, cabinets and steel appliances. The bathroom is the main attraction of this tiny palace, as it contains a Jacuzzi tub, composting toilet, high end shower and other fittings. This peace of luxury can be owned by spending $95,000 USD.
Do you know Why Kitchen is the important room in your House?
03. Aurora
Price: $75K USD
Location: Canada
Size: 337 Square feet
Owner: Zero Squared
Attractions: Pushing button for more space

The Zero squared tries to build a house which will provide all the luxury in a tiny amount of space, not build though, the features contain so many things. Including a touch button which will expand the space of the width from 8.6 to 15.1 feet.
In the house everything is nicely organised with a dining space of 4 people pulled down bed, kitchen, metal roof, wooden walls, mini split air conditioner and composting toilet with hot water facilities. The project has solar power system with electricity which is environment friendly. To pre order this Tiny home the spending money will be $75,000 USD
Let's see: All must have Elements in a Modern Kitchen
04. Vintage XL
Price: $73.4K USD
Size: 355 Square feet
Owner: Vintage
Attractions: 8 people's accommodation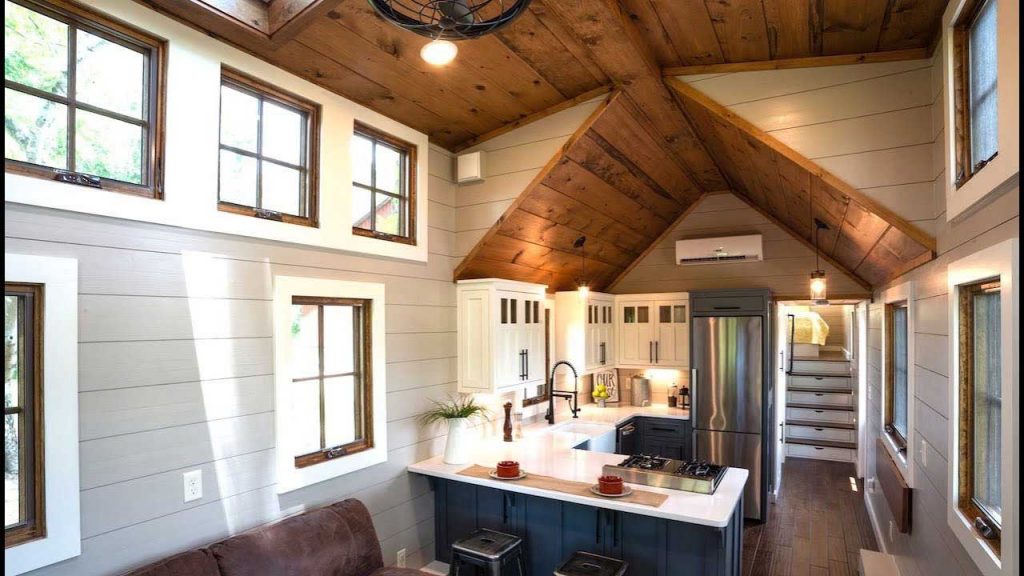 Vintage XL is another project of Vintage which is a place where 8 people can live within the floor space. The lounge area is attached with a couch which can be pulled into double bed. The dine table is fold Down. Kitchen, sink, cooker and refrigerator are also there with mini split air conditioner. The bathroom has tubs, showers and composting toilet. The ground floor contains the Queen size bed and twin cabinets. The structure of this house is R-22, R-30, R-40 for walls, floor and celling respectively. The price is $73,400 USD.
05. Brown Bear
Price: $73K USD
Size: 28 *8*13.6 feet
Owner: Alpine Tiny Homes
Attractions: Solar Generator

It is a perfect tiny house for a family as it has a queen size bed for parents with another loft of two children. The dining space is also suitable for 4 people at a time with seats. A huge cabinet is available on the kitchen with other appliances. Mini split ac, refrigerator, couch, TV, and high end bathrooms with composting toilet are also decorated nicely. The backup system of solar generator is really amazing. The price of this house is $73,000 USD
06. Greenmoxie
Price: $65K USD
Location: Canada
Size: 340 Square feet
Owner: Green living Project
Attractions: Electric drawbridge deck

The Greenmoxie is a luxurious tiny House by green living firm. Instead of its tiny size it is a complete package with 30'10 ton trailer platform. It is a wood frame construction, has electric brakes on triple axle and V-match interior.
Let's see: Expensive Homes in the World
It has a good HVAC system along with 11kw stored energy. The water system is also good with 200L rain barrel with holding tank, drinking purifier in home. The appliances are beautifully arranged with Helium freezer, composting toilet and bath-room doors are made of barn wood. Locks are of metal with combined locks.
The main attraction is its drawbridge deck, which is an additional space which opens like a magic. To win that tiny luxurious world one has to pay $65000 USD.
07. Covo Mio
Price: $60K USD
Size: 330 square feet
Owner: Portland's Covo Tiny Homes
Attraction: Tiny Tech world

It seems like a tiny tech palace along with all the modern touch of technology including Bluetooth sound system, door locked, smart phone control, LED lights with Wink hub and 50 inch Tv. It even has amazon echo and usb charging.
The living room is very simple, the kitchen and the dining table is on the ground floor. A single bed room and a bathroom with composting toilet are neatly arranged. To grab this house you need 100,000 USD for all facilities and 59,900 USD for Standard one.
08. Hawaiian Hillside Cottage
Price: $679K USD
Location: Ohia Forest
Size: 400 Square feet
Attractions: Enjoying a Wildlife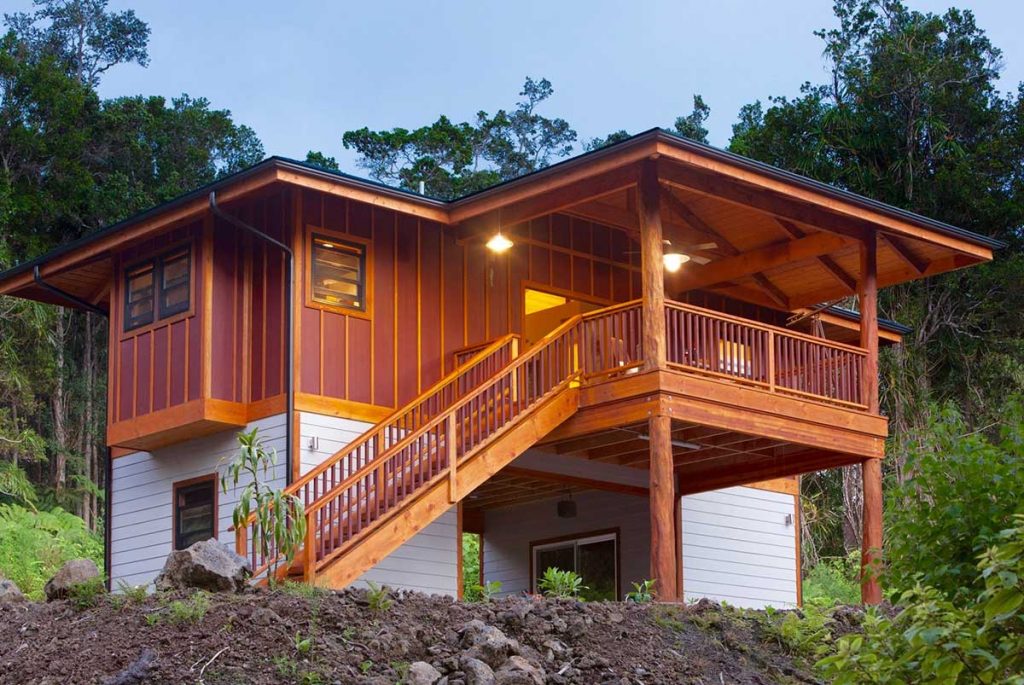 This house is not a movable one instead it is fixed in the hillside giving a beautiful natural vibe. Containing a single bed and washroom it has electric fire place, posh furniture, and high end appliances. Along with all the modern living accessories as AC, TV, Washing machine and what not.
This is totally different from other tiny houses as you get both the experience of luxury and wildlife within a tiny space. The price looks extravagant apparently but the entire feel is worth it. It is $680,000 USD.
09. Tiny Slice in Seattle
Price: $500K USD
Size: 9*14 feet
Owner: Clay Wallace
Attractions: Garden Area

It has a gallery type mint coloured kitchen, dining room, custom build windows and attached garage space. It has incredibly 2 beds with 2 bathrooms. The main attraction is its simple gardening option for those who loves green. The house has perfect home appliances with natural light-penetrating design. To have this house on your name, you have to spend $500,000 USD.
10. Silo Florida
Price: $200K USD
Size: 453 Square Feet
Attraction: house on 75 acre land

The silo is tiny house looks Amazing with its traditional vibes with the touch of modern tech. Stepping inside you will feel the difference. The architecture is round shape as it is a silo shaped house. It is divided into two sets, the first set is of kitchen and living space. The other set contains the main bedroom and the bathroom.
#Top 10 Most Luxurious Tiny Homes in the World 2023
Escher – Price: $140K USD
Alpha Tiny House – Price: $95K USD
Aurora – Price: $75K USD
Vintage XL – Price: $73.4K USD
Brown Bear – Price: $73K USD
Greenmoxie – Price: $65K USD
Covo Mio – Price: $60K USD
Hawaiian Hillside Cottage – Price: $679K USD
Tiny Slice in Seattle – Price: $500K USD
Silo Florida – Price: $200K USD