Imagine how much expensive a bathroom can be viewing this list of top 10 luxurious bathrooms in the world 2020. Bathroom is more than a functional area; it is also a place of relaxation. Luxury bathroom is also one of the most vital part of luxury lifestyle.
Luxury bathroom is not just having a fancy tubs or sink set, it means something beyond them. Deluxe bathrooms are the perfect combination of superb amenity, best quality, implausible interior design and of the very best fixtures. Let's get introduced with some of the expensive luxury bathrooms in the world in 2020.
You may miss: World's Luxurious Bedroom
1. Poseidon Suite Bathroom
Location: Atlantis the Palm, Dubai
Attraction: Underwater bathroom
Owner: Alireza Yahya
Build Cost: $1.5 million usd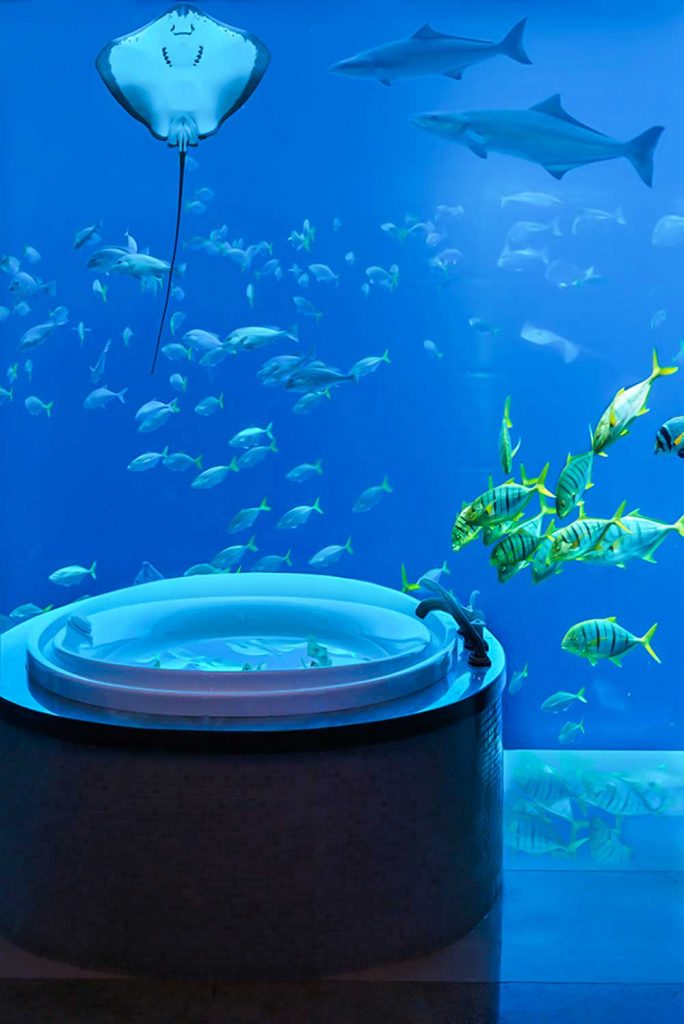 Who will not love to enjoy his/her relaxation period with more than 65,000 sea creatures! Poseidon Suite bathroom brings that dream into reality. Its floor to ceiling windows can stop the heart beat once by providing the panoramic views of marine life included Sharks and Stingrays. It is the only place for enjoying the rare views of Manta Rays while bathing. This thrilled human creature has jetted tubs along with showers and catchy sparking amenities made of 24-karat gold. It also provides twenty-four hours butler service.
At a glance: World's Luxurious Kitchens
2. Million Dollar Bathtub
Location: Dubai
Attraction: Expensive Amazonian Crystal tub
Owner: XXI carat villa
Build Cost: $1.2 million usd
Let's see: Dream Home in the World
It is one of the most expensive property in Dubai. This master bathroom contains expensive crystal tub made of precious rock by the Italian interior specialists. This remarkable tub gives the unique magical experience which removes the stresses of everyday life. It is enriched with best interior design, also has the touch of European elegance. It also provides the relaxing SPA bath. Its luxurious touch brings comfort and relax.
3. Royal Suite Bathroom
Location: Burj Al Arab Hotel, Dubai
Attraction: Veined marble creates eye-popping colour
Owner: Jumeirah Group
Build Cost: $3.2 million USD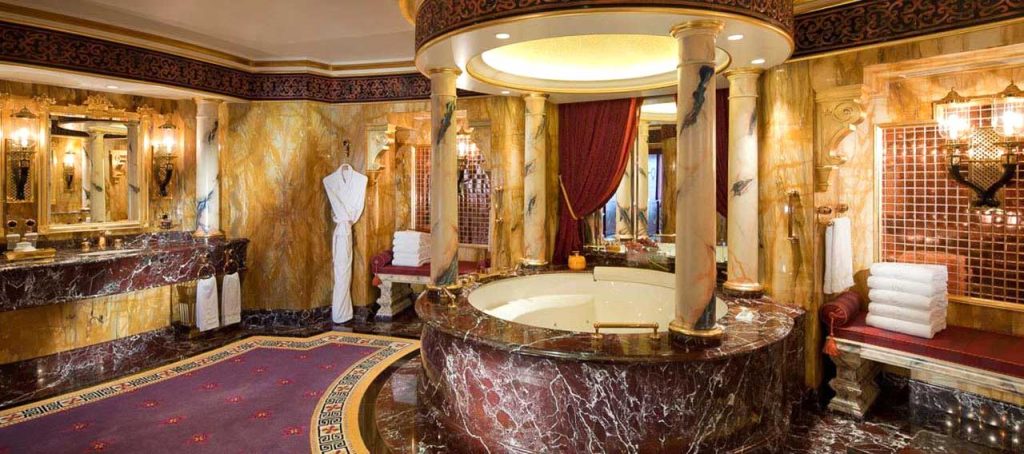 This royal touch includes an immense marble Jacuzzi, five- head rain shower, carpets like cloud along with fixtures made with gold. The reflexion of marbles creates dreamy atmosphere. Its dreamy environment relaxes the body and cradle the mind. This stunning luxury provides the finest and experienced service.Burj Al Arab proved excellent service of complementary amenities and toiletries. Royal Suite offers the real royal touch.
4. Coolest Cafe Bathroom
Location: Hipopo Papa Café, Japan
Attraction: Bathroom surrounded by aquarium
Owner: Hayashizaki Matsue Coast
Build/Design cost: $270,000 for installing aquarium
Such a bathroom which is surrounded by plenty of colourful fish, is just an existing example of bliss in this world. The view of greenish sea water surrounds the white toilet amazed the visitors. The aquarium is behind the three walls of the toilet which makes the restaurant toilet most important for tourist attraction. Because it presents the unique beauty of undersea water to them. Basically, it is designed for women. But people can request the stuffs, if it is not a busy time, they can guide them to see the eye-pooping beauty.
5. Ritz Carlton
Location: Victoria Harbour, Hong Kong
Attraction: Provide the panoramic views of the city skyline.
Owner: Sun Hung Kai
Build Cost: $210,000 usd
Ritz Carlton is full-marble bathroom attached with an oversized bathtub. One can enjoy the complete view of Victoria Harbour and city skyline while soaking into the fine marbled bathtub. This breath-taking bathroom also has rainforest shower, double sink, powder room, separate bathtub and shower, and world class bathroom amenities. It is the excellent combination of luxury and excellent atmosphere.
6. Gold-plated Bathroom
Location: Rutland Gate, London
Attraction: Dazzling combination of Gold and Jewellery.
Owner: Saudi prince
Build/Design cost: $392 million
It was auctioned as most luxurious bathroom in London in 2015. It has most expensive jewellery-embedded bidets and gold-plated fixtures. Semi-precious stones such as malachite accompanied by precious metals are used in decorating the bathroom. It is defined as the bath of jewellery. The eye-pooping surrounding of gold and precious jewellery can soothe the body as well as the soul of a person.
7. Glass-bottomed Bathtub
Location: Anantara Kihavah Sunset Villa, Maldives
Attraction: Lurid infinity pool with glass bottom bathtub
Owner: Minor Hotel Group
Build Cost: $120,000 usd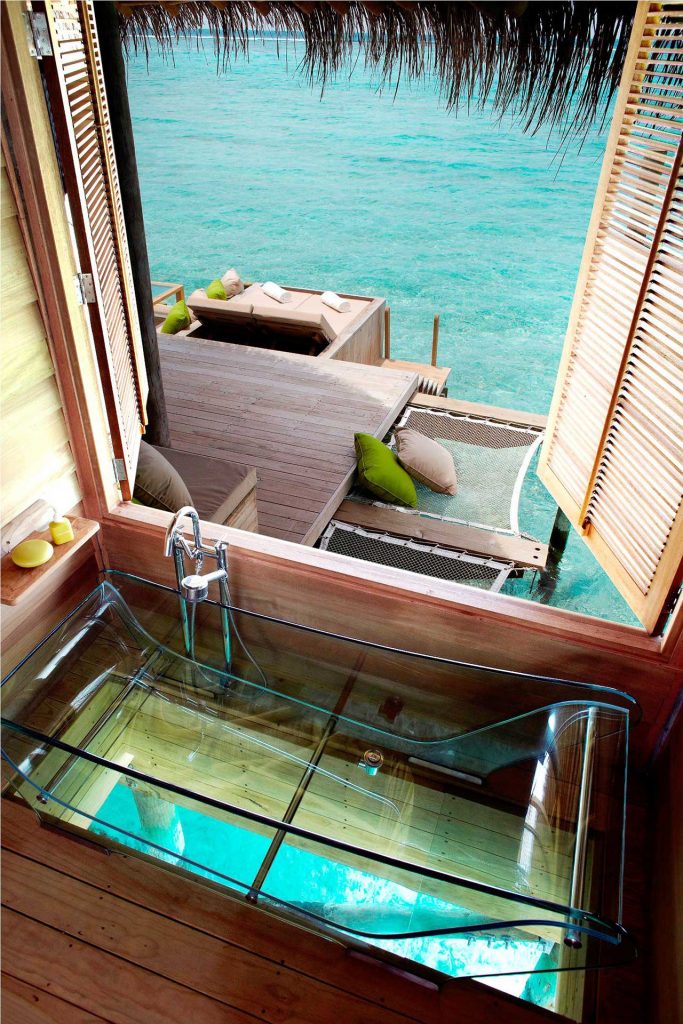 It is absolutely dreamy over water villa, something like heaven are waving to people. This bathroom's special features include private pool with sundeck and glass bottom bathtub. One can cast aside his/her stress into its infinity pool. Guests are waiting to be annihilated into its glass bottomed bathtub. This is also renowned for special SPA bath. So, this luxury helps to relax the body and filled the soul.
8. Warhol Chanel Bathroom
Location: Trump World Tower, New York
Attraction: Very sophisticated building materials with Alabaster wall.
Owner: Donald Trump, The Trump Organization.
Build/Design cost: $2.3 million
It is the number 5 art piece in Andy Warhol Chanel. The Alabaster wall catch the most attraction of this bathroom. In this bathroom, the shower has not less than 10 shower heads. Its wall, sink, taps, tiles, doors, all are made of 24 carat gold which make it the most expensive bathroom. Furthermore, its floors are adorned with gold bars. This is one of the craziest expensive creation of deluxe.
9. Post Ranch Inn bathroom
Location: Big Sur, California
Attraction: Gives the exclusive views of forest and Santa Lucia Mountains.
Owner: Mike Freed
Build Cost: $1.3 million usd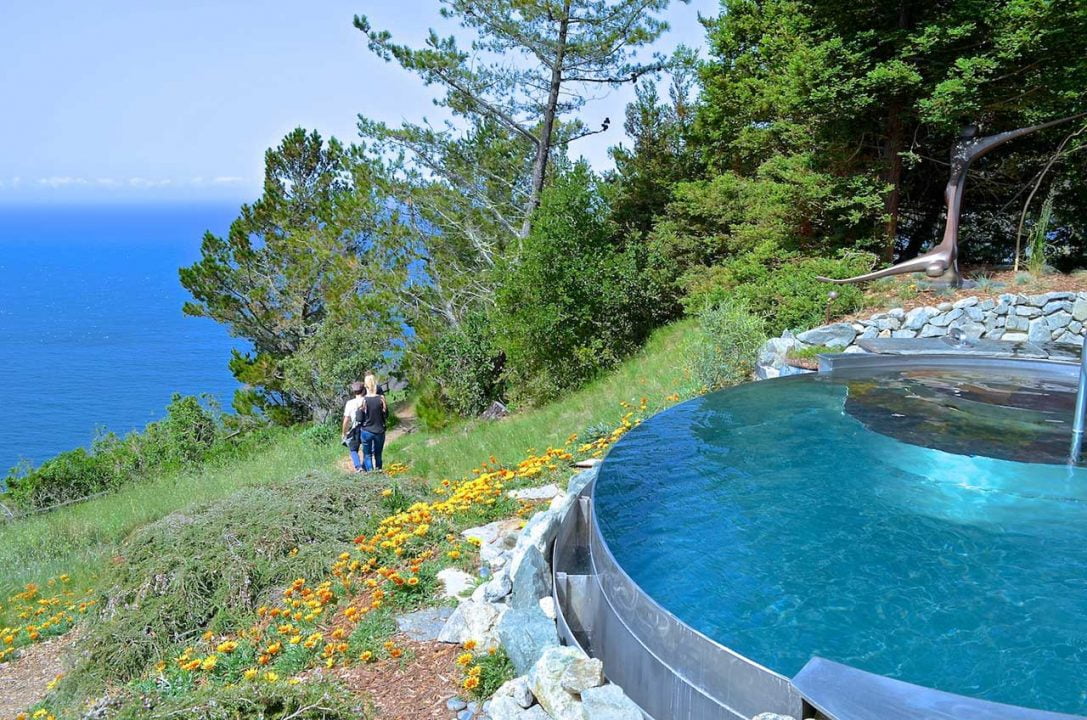 This extraordinary bathroom is situated on high atop of Pacific Ocean, about 1200 feet high, which provides the rare view of the forest and mountains. There is indoor spa tub in this butterfly bathroom. So, one can easily enjoy the view of peaceful nature at the time of soaking in tub. It also gives the excellent sea view which makes someone fall in love with the cruel as well as beautiful ocean.
10. Fresco Bathroom
Location: Hotel II Salviatino, Florence, Italy
Attraction: Work of Art
Owner: Alessandra Rovati Vitali
Build Cost: $1.6 million usd
It is one of the best luxurious bathrooms where one can enjoy its beautiful fresco ceiling while relaxing in its unique freestanding tub made with ancient stone. The most eye-catching site of Fresco Bathroom is a fresco which was the creation of Italian painter Domenico Bruschi. Fresco Bathroom also offers ample living open space and two-tiered swimming pool. It is the place where luxury gets its life with the touch of magnificent art. It is a dreamy place for the history and art loving people. It gives the exceptional views of Florence.