Here you will find world's best bathroom design ideas for 2023 including redesign ideas. If you have a great home, you certainly need a great bathroom in it because your home's quality is going to be dependent on the quality of your bathroom; I mean it is going to expose your personality for sure. Bathroom's design has endless possibilities and freedom, the only thing that you need to keep in your mind is that, who is going to use the bathroom.
Later on, you can design your bathroom 2023 according to your wants. I am here to help you to add more colors to your imagination by giving ideas of some famous bathroom designs.
Let's see some latest bathroom design and redesign ideas for 2023 to make your bathroom look gorgeous and eye catching.
01. Eccentric Bathroom
Expense: $2000 minimum
Attraction: everything fitted in a tiny room , tiles, small tub and furniture, art works, little hanger for keeping regular things
Appliances: mirror, ceramic toilet, steel hanger , glass case
Dimensions: minimum 25 to 30 square
Color: Color: It's totally upon you. As an eccentric bathroom is separated by a wall from the main house, you have the freedom to apply any color you want. However, as it is a small but gorgeous bathroom, you should choose color, which will contrast well and make the room bright such as Simon's. He made a contrast between blue and white color with tiles from Artistic Tile. You can also add colors in a more budget friendly way with the help of flowers from this online flower shop.
Specialty: maintaining a luxurious bathroom in a small place
This kind of bathroom usually takes small space and this is the most attractive thing in this bathroom because you are fitting everything in such a tiny place. However, its features will increase the smartness of your home. Actually how much attractive your bathroom will be, is completely upon you. Because you can customize almost everything. As an example, I can say about Simon Doonan's Greenwich Village master bathroom. He spent $2000 for the bathroom.
Appliance: A single small bathtub is a good choice for this kind of bathroom, for example, you can go for Apaiser's tub. Apaiser's tube will cost you about $850 at least. A vintage table will also go nicely here. Where you can keep your regular things. To make your bathroom more gorgeous, do not forget about hanging artistic things like drawings or any antique pieces. When you will not get much space but your bathroom has to be gorgeous, you should go for the wall- mounted toilets. It will certainly save your space and make your bathroom very gorgeous.

Color: It's totally upon you. As an eccentric bathroom is separated, by a wall from the main house, so you have the freedom to apply any color you want. However, as it is a small but gorgeous bathroom, you should choose color, which will contrast well and make the room bright such as Simon's. He made a contrast between blue and white color with tiles from Artistic Tile.
Expense: approximately $2000 is needed. But the cost can be increased .if you want to add more things such as a glass partition between shower and toilet, a new expensive vanity cabin, mirror to reflect the whole space or light-colored flooring, light works on the wall, maximize storage etc.

In case, you want to make the space look bigger: you can use only one single color and many mirror to make the room look bigger. Just remember whatever you add in your room it has to be in that color. Only this single step will make your room bigger than it actually is.
A survey says that almost 90% home has the Eccentric bathroom. As it takes very little place, people worldwide are going more for the design.
02. Roll-top Bath
Expense: $3000 or more
Attraction: vive of boutique hotel, large place, bathtub in the center of the room, shower glass enclose
Appliances: long skinny tiles, glassy hanger, mosaic glass.
Dimensions: more than 50 square feet.
Color: any kind of light color.
Specialty: customized shower area with glass wall , large bathtub in the middle and open window will give you a hotel like feeling
Customer's choice: 89%

If you want to make a Roll Top Bathroom, you have to maintain certain rules and regulations. Such as, you have to place the bathtub in the center of the room, in front of the tub there have to be a big window, a chair, flowers for decorating the room, paneled wall, toilet behind a mosaic glass. After maintaining the same decor ideas, you will get a feeling of boutique hotel. Finally that is what, is attractive in such type of bathroom. But this is not the end. You can do many things to increase the beauty. For example, Floor to ceiling shower glass encloser. This is a trend now. You can use long skinny tiles instead of the regular shape tiles or marble as art.
Expense: you need $3000 to build this bathroom. Customization will take some more money if you allow it to do so. Such as highly expensive basins, separate shower area, decoration with painted glass, sound system in the bathroom, toilet with an inbuilt aquarium etc.
Click Here: Luxurious Showers In The World In 2023
03. Bedroom Bath
Expense: $5000 at least
Attraction: bathtub is the part of the bedroom itself, no pipe or water disposing way, open area, no partition  
Appliances: small single bathtub , inbuilt case with the bathtub.
Dimensions: 36 to 45 square feet
Color: any color that goes with the room

Attraction: openness is the main attraction in this bathroom. This is a trend now days to have a bath as a part of your bedroom. In this type, your bathtub will be in your bedroom, there will be no partition and you are completely free from the tension of the position of other things. Such as the toilet, this will give a hotel like feeling in your home. However, the point is that, you have to be very careful about the water because it will always ruin your floor. No matter how much careful you are.
Expense: this bedroom bath will cost you a little more, than the other types. As the tub is in the bedroom, you have to hide all the pipes under the floor or you have to use the walls for the work. This process will take at least $5000 from you.
04. Flood With Natural Light
Expense: $5000 minimum
Attraction: Glassy room, light tunnel, roof lights, built in shelves
Appliances: Steel cases and hangers
Dimensions: 50 to 60 square feet
Color: any color light is good for the room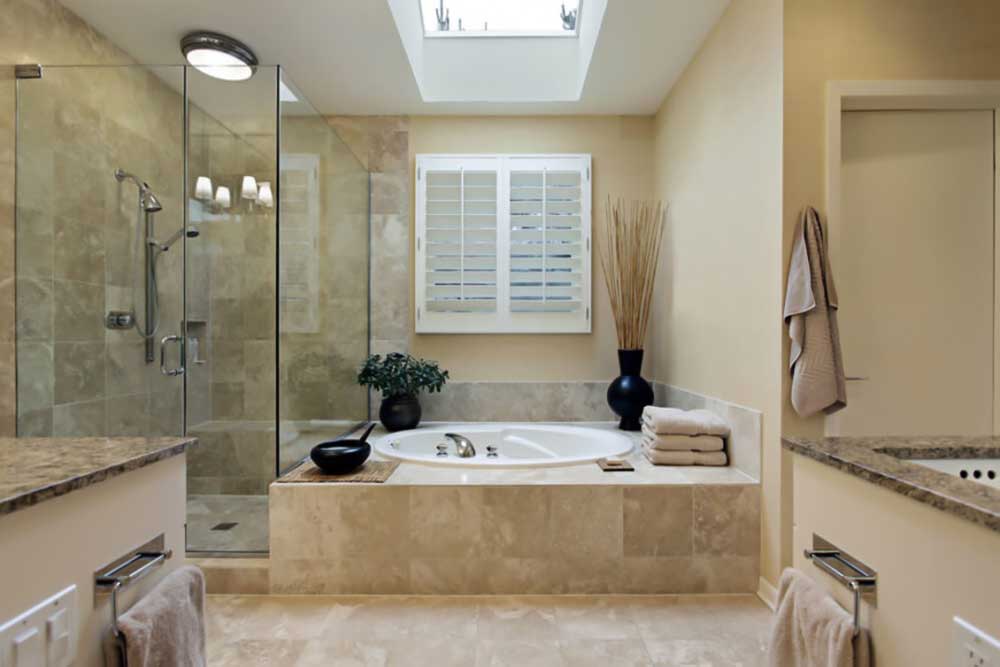 This type of bathroom's main attraction is its openness with privacy and the built-in storage. You have to make walls with glasses. This will allow the sunlight to come in. If you cannot afford sunlight by only making the walls glassy, than you have to use light tunnel or roof lights in your bathroom. The built-in shelves and alcoves will give an extra expensive look to your bathroom.
Expense: $5000 is needed. Nevertheless, if you want to add some more things such as a shower corner by the customizing company Victoria Plum, with a different color's tiles to mark it out or a steam room, it will cost you some more money. You need a big open place for this type of bathroom.

Space: you need a large open place for making this bathroom. Otherwise, you will not understand what is the flood of natural light.
05. Family Bathroom
Expense: $9000 USD
Attraction: Very big place, many shelf, bathtub and basin more than one
Appliances: Things made up with steel glass, ceramic, wood, marble and tiles.
Dimensions: up to 65 square feet
Color: Any bold color will be suitable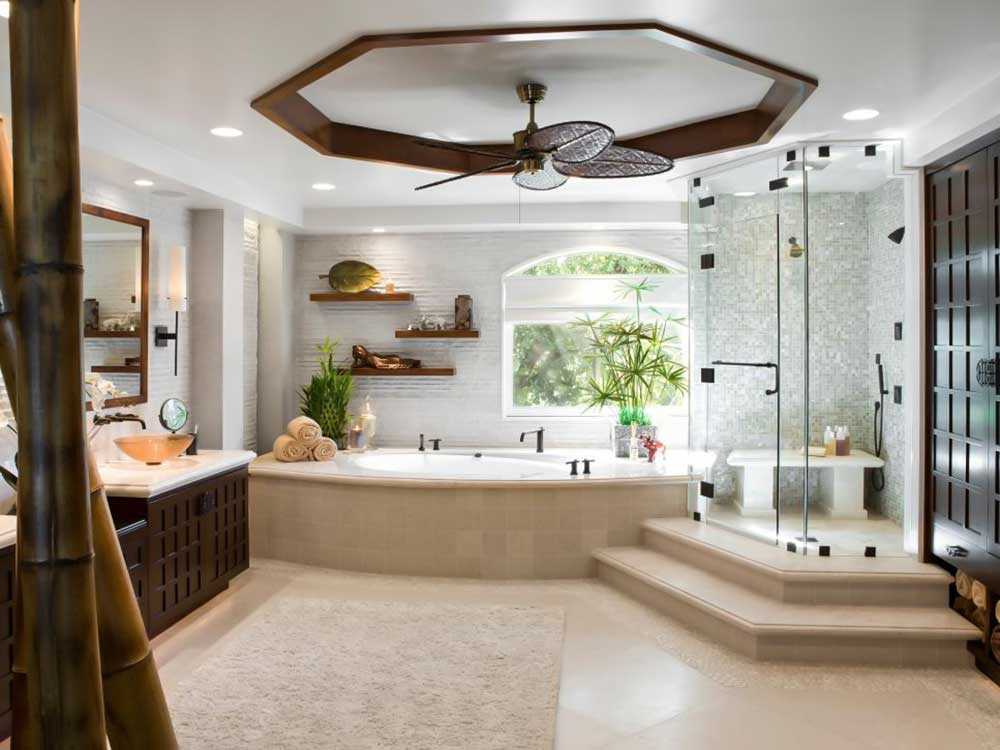 You have to plan carefully to make such a family bathroom. Comfort should be your main concern here. Sanitary ware, layout, storage should get a special attention in this case. You need huge space for storage. As everyone have to keep their personal things in a different shelf.
Cautions: this is going to be a bathroom for everyone of the family. Normally this bathroom will take a large area. In addition, remember one single bathtub will not be enough this time. You have to think about the kids. Therefore, a small child-friendly bathtub, a temperature controller in the tap, non-slip floor, is also important for a family bathroom. In such type of bathroom, you should avoid tight shower enclose.

Space: there are no hard rules. that you have to make your bathroom in this size or that size, you have freedom here. However, if it is your family bathroom, you need to keep a big open area, as this type of bathroom has to serve a safe and relaxing environment for everyone. For bath, steam room, large shower area, twin basins, large walk in-shower, storage, shower tray, you need enough space.

Design: family bathrooms care for usefulness, safety and comfort. Design is a secondary need here. However, it's not a thing that can be avoided. In case of design, you can simply expose the raw material such as the bricks. Burnish your favorite color over that. Bold bathroom tiles in the floor are also a good option. In the special part of the bathroom, such as the shower area or the steam room you can use different color's tiles. This will mark that particular place and increase the beauty.
06. Royal Bathroom
Expense: $5000 USD
Attraction: this bathroom will treat you like a king, gold plated ornaments of bathroom
Appliances: marble case, glassy hangers, chandelier, gold plated basin, tap etc
Dimensions: 45 to 60 square feet
Color: golden or silver color will be suitable

Attraction: Everything is attractive in this bathroom. Floor, sinks, arts on the glassy walls, super expensive toilets everything. Use of marble from ceiling to floor will give a royal look. In this type of bathroom, you have to use all the available space to get the highest result. Alan Faena has such a bathroom in her Miami Beach home. Alan says that she had to count $ 5000 for the bathroom.

07. Dark Bathroom
Expense: $3000 USD
Attraction: dark effect , metallic things, metallic raw bathtub
Appliances: everything made up ofsteel , such as the tap, basin bathtub Dimensions: 38 to 40 square feet is perfect for this bathroom
Color: black, grey or any kind of dark or antique color

This full black bathroom is going to add an extra classy look to your home. You can use black marble or tiles for the dark effect, be more metallic to get the utmost result. You have to remember to bring everything black and raw or metallic for the dark bathroom to get the effect. To make the bathroom darker, you can pick up a black copper tub. Designer Lean Ford is the best for designing dark bathrooms. Remember, in a dark bathroom, you have to take serious care of the color and the shape of the materials.
08. Floral Bathroom
Expense: $2000 usd
Attraction: takes you close to the nature
Appliances: tap, basin, shelves hanger, cases made up ofceramic, glass and marvel
Dimensions: 36 to 40 square feet is enough
Color: Any bright color is suitable here

You have to choose tiles or wallpaper and different bathroom fittings with floral print. Ellie Cashman is famous for making floral wallpapers. This floral effect will give you a romantic outlook in your bathroom. To add some more beauty you can make A shower area partitioned with glass from floor to ceiling. You can use art works in the walls instead of mirror. For making the bathroom more useful, use an Etagera for extra storage. For making it perfect with the room, have a floral design on it too.
09. Outdoor Bath
Expense: $4000
Attraction: Bathtub in the garden
Appliances: bathtub made up of ceramic, steel hangers and cases.
Dimensions: it should be madein an open place
Color: any bright color

An outdoor bath can completely change your homes face. Do not compromise our privacy for making a bath outside of your home, use a little colorful wall to hide your tub. You can place some flower trees around the tub. It will give you a natural vibe. Moreover, you do not have to think much about the water disposal. Akin Atelier is famous for making outside bath area.
10. Reflective Bathroom
Expense: $3000 USD
Attraction: reflects everything, so the room looks very bright and big
Appliances: gold plated accessories will be good for the room
Dimensions: 40 square feet is enough
Color: champagne color will be the best for this bathroom

This bathroom is a real gorgeous thing. You can simply use reflective wallpaper or mirrors to reflect the light. In this case, you should use golden color light so that it will give you an effect of gold plated bathroom. Andy Cohen has such a bathroom in his Greenwich Village apartment.
I hope that these extremely beautiful and smart ideas will be very useful for you. You still have the freedom to make your bathroom according to your imagination.