Can you express a whole life by a single sentence? or is there any language that can express the clear meaning of a known thing from the unknown? Yes, that language exists and that is "Painting". Only painting is such a language that the whole world can understand it without any education. Today I will show you the worlds most expensive paintings of the famous painters.
1. Salvator Mundi
Artist: Leonardo da Vinci
Location: Saudi Arabia
Year of painting: 1500 Ac
Materials: Oil painting on Walnut
Dimension: 25.8*18.2 inch
Year Sold: 2017
Owner: Mohammed bin Salman (Prince of Saudi Arabia)
Price: 450.3 Million USD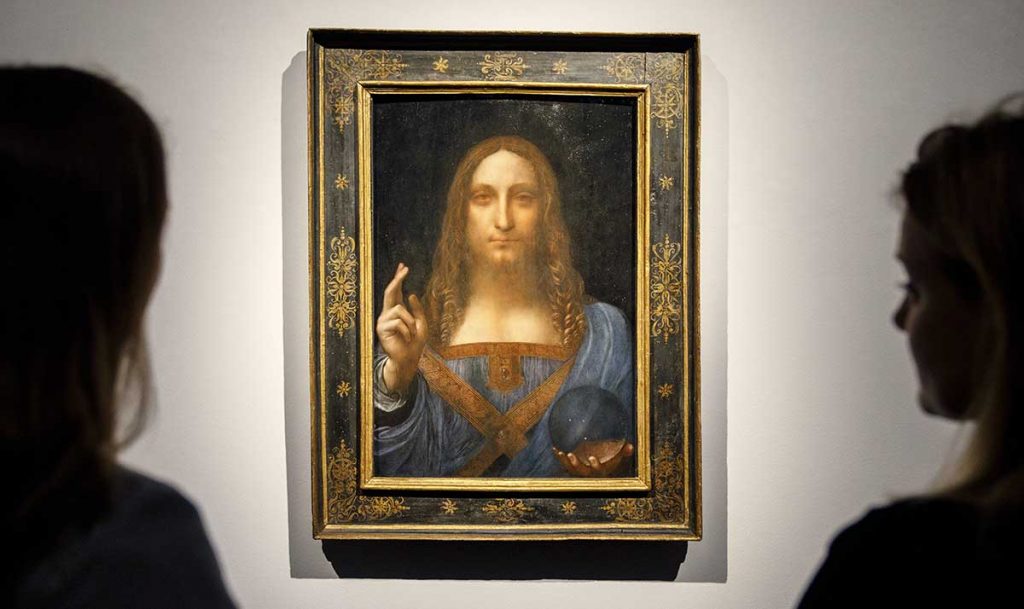 The painting reflects its name Salvator Mundi a Latin phrase which means Saviour of the world theme. Here Christ has a posture of the cross sign in a hand and the other hand is holding a transparent Orb which is crystal clear and the orb seems not so shiny. The attire of Christ here is a renaissances one. Perhaps all Vinci paintings convey a deep message like this one.
Basically all his paintings are stored whether in Museum or in Church but this one has got the private ownership by the crown prince of Saudi Arabia and acquired by the Department of culture and tourism of Abu Dhabi.
2. Interchange
Artist: Willem de kooning
Location: Art Institute of Chicago
Year of Painting: 1995
Dimension: 79 * 69 inch
Material: Oil painting on Canvas
Year sold: 2015
Owner: Kenneth Griffin
Price: $300 million USD
Kooning is famous for his abstract paintings. He used to paint Woman series painting later on in 1955 he had this creation. It has some especial parts as it depicts a transitional period. It was purchased by Kenneth Griffin, a billionaire in 2015 and the price was $300 Million USD.
3. The Card Players
Artist: Paul Cézanne
Location: Qatar
Year of Painting: 1895
Material: Oil painting on Canvas
Year sold: 2011
Owner: Royal Family of Qatar
Price: 250 million USD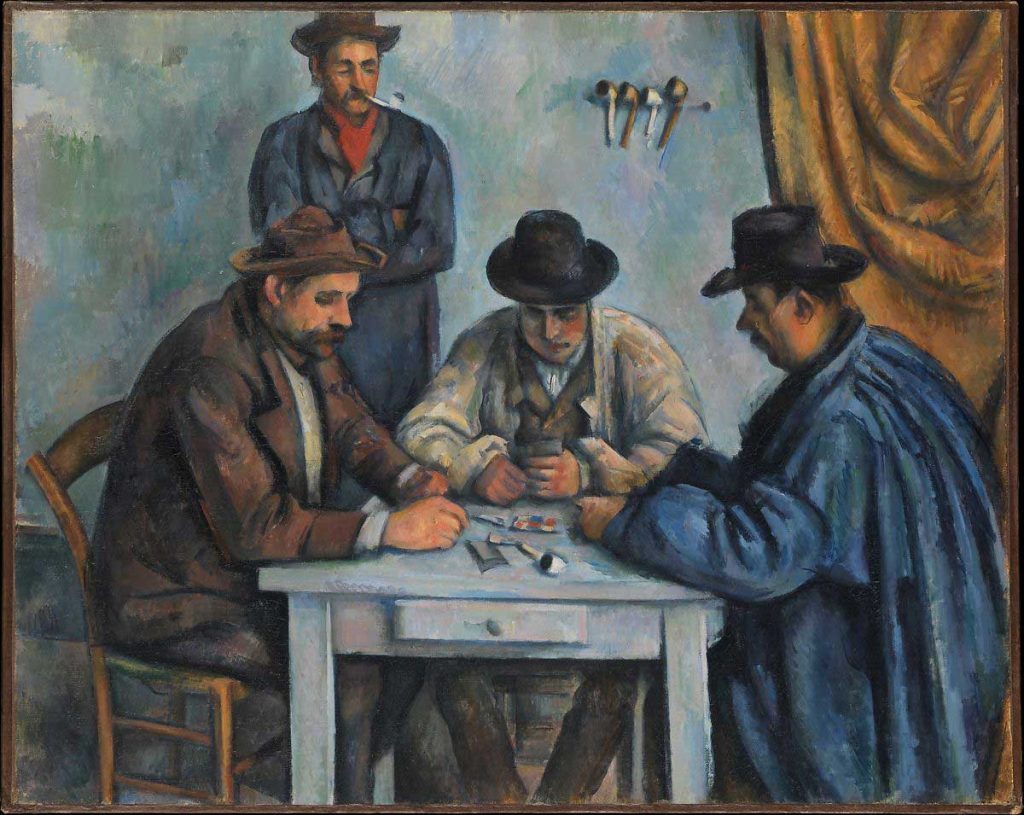 This is a Series of 5 paintings where the other 4 are now in Metropolitan Museum of Art, the Courtauld, the Barnes Foundation and in the Musée d'Orsay. And this one was sold to the Royal Family of Qatar in 2011. The painting shows two scholars in a bending position carefully playing cards. This very painting renders the period of mid-19th century.
4. Nafea Faa Ipoipo
Artist: Paul Gaugain
Location: Qatar
Year of Painting: 1892
Material: Oil on Canvas
Dimension: 30*40 in
Year sold: 2015
Owner: Sheikha Al-Mayassa bint Hamad Al-Thani
Price: $210 Million USD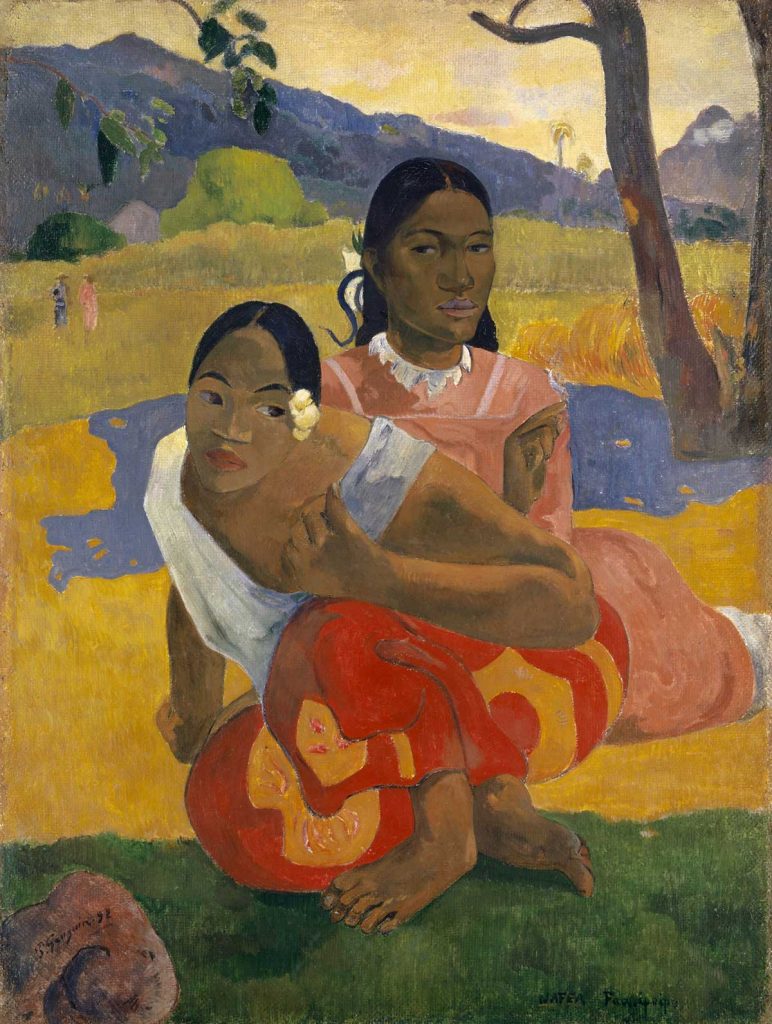 The actual meaning of the name of the painting is "When will you marry?" The name is funny though. Gaugain spent some of the time of his life in Tahiti and this painting is entirely his depiction of Tahiti experiences. In this Painting two Tahitian girls are seen with their traditional outfits. The Royal family of Qatar purchased this piece on 2015 spending $210 million USD.
5. Number 17a' By
Artist: JACKSON Pollock
Location: Private
Year of Painting: 1948
Material: Oil painting on Fibreboard
Year sold: 2015
Owner: Kenneth C. Griffin
Price: $200 Million USD
Unlike Pollocks drip painting series this one has got the honour of one of the most expensive paintings. American artist Pollock is known as an absurd expressionist. This painting is the best example of his absurd series. An ardent art collector Kenneth Griffin bought this masterpiece from David Geffen with the amount of $200 million USD.
6. No. 6 Violet, Green and Red
Artist: Mark Rothko
Location: Private
Year of Painting: 1951
Material: Oil painting on Canvas
Year sold: 2014
Owner: Dmitry Rybolovlev
Price: 186 Million USD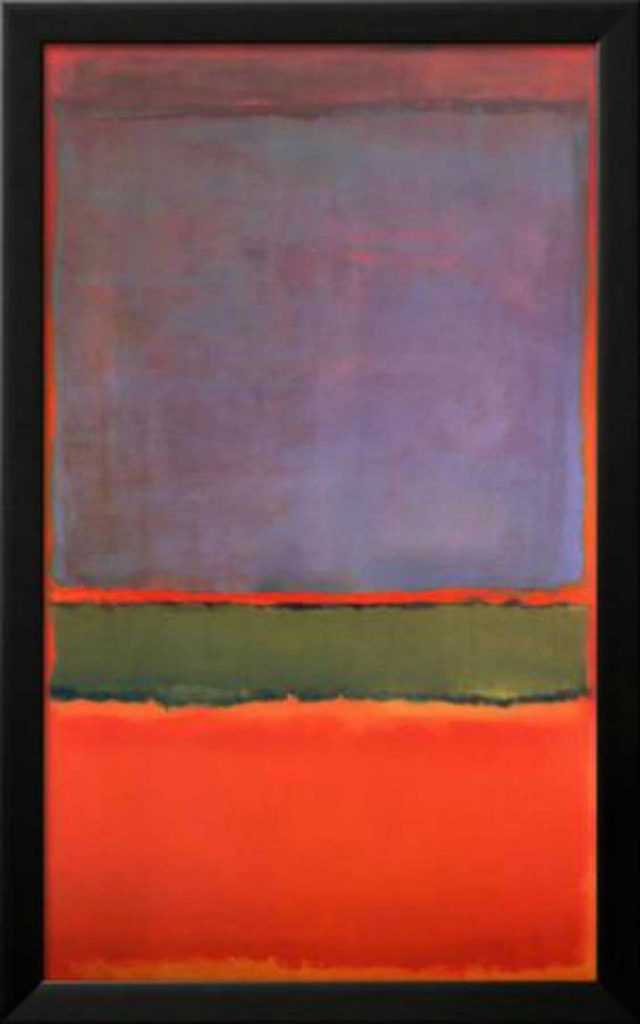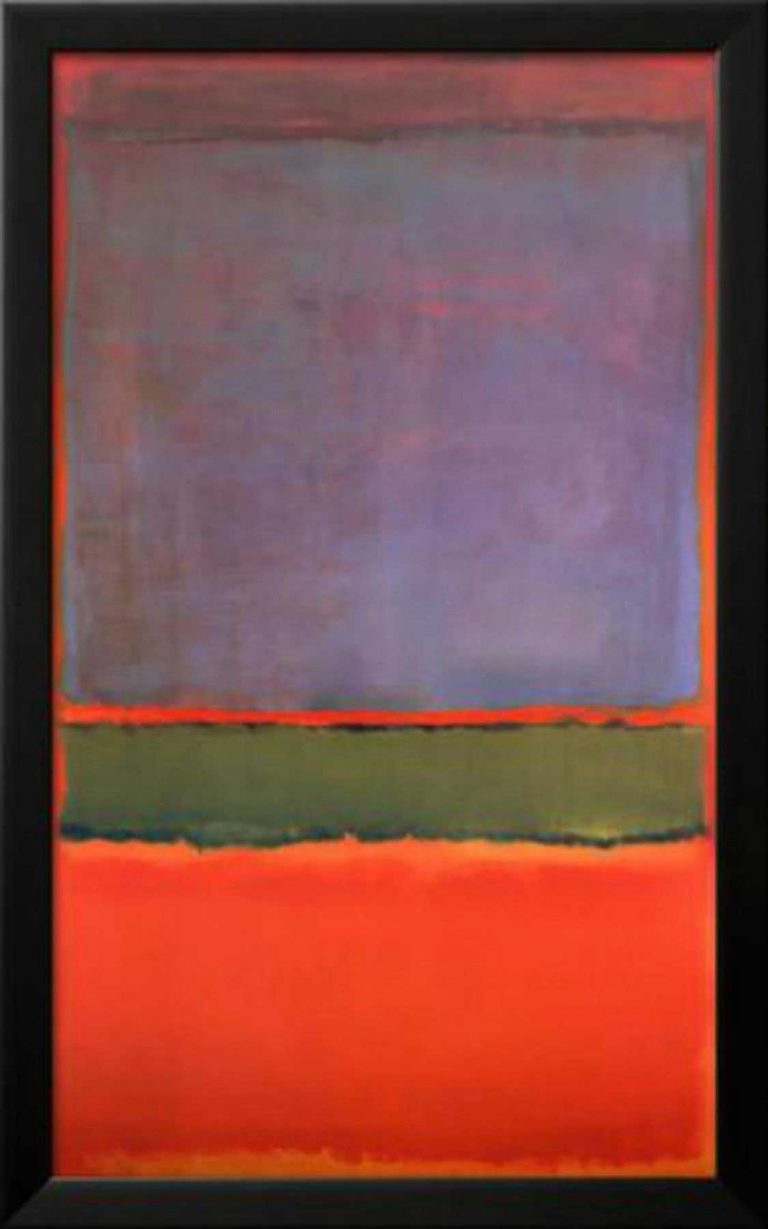 Beauty of the thing lies in the eyes of the beholder and this is the perfect example of this Painting. The painting has only three shades of colour Violate green and red with a hazy tint. But still considered as the sixth most expensive paintings in the world. Dimitry Rybolovlev bought this painting from a Swiss dealer Bouvier, actually later he came to know that Bouvier was not a dealer rather bought this with half of the selling price. Later he fall into his own trap by international lawsuit.
7. Pendant portraits of Maerten Soolmans and Oopjen Coppit
Artist: Rembrandt van Rijn
Dimension: 83*53 in
Location: Paris and Amsterdam
Year of Painting: 1634
Material: Oil painting on Canvas
Year sold: 2016
Owner: Rijksmuseum and the Louvre
Price: $180 Million USD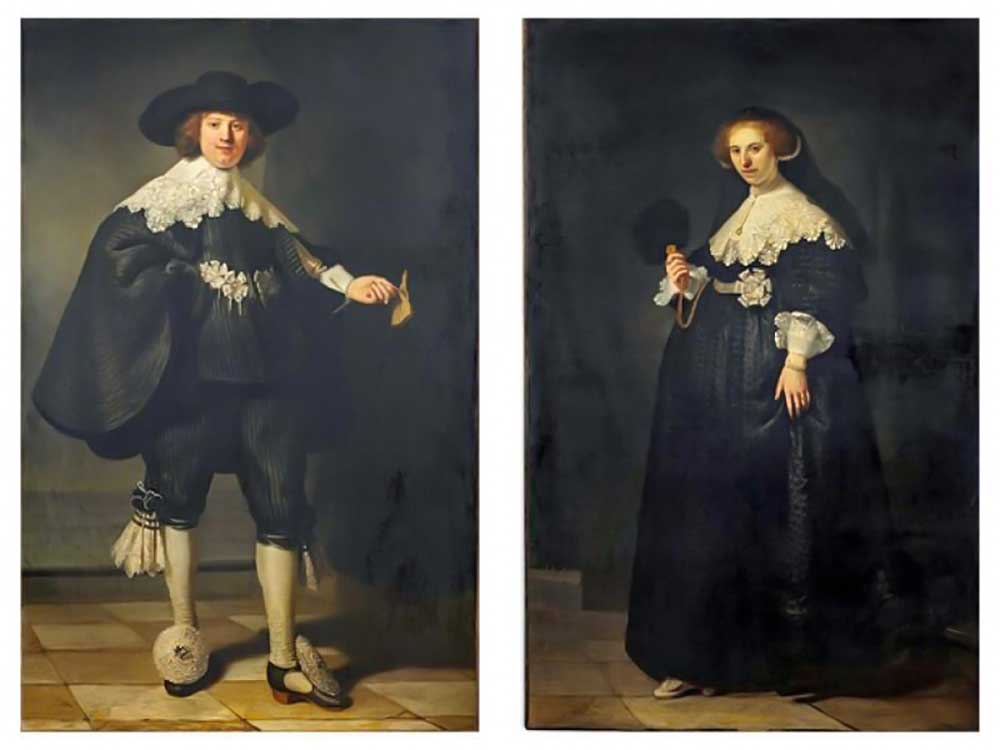 This is the first full length portrait by Rembrandt. It is a High class newly married couples pair portrait. The couple were Soolmans and Coppir and they are representing Dutch wedding. This one was bought jointly by Rijksmuseum and the Louvre and they always display this pair of Painting keeping them aside.
8. Les Femmes d' Alger (Version O)
Artist: Pablo Picasso
Dimension: 45*57.6 in
Location: Doha, Qatar
Year of Painting: 1955
Material: Oil painting on Canvas
Year sold: 2015
Owner: Hamad bin Jassim bin Jaber Al Thani
Price: $179 Million USD
It is a series of 15 paintings and the name of the painting in English is The Women of Algiers. Among all the paintings this one is the most vibrant one. This shows a harem of Algeria with Hookah a female is seating. This one also has taken place in the royal family of Qatar.
9. Wasserschlangen II
Artist: Gustav Klimt
Year of Painting: 1955
Material: Colour painting on Canvas
Year sold: 2012
Owner: Dmitry Rybolovlev
Price: $183 Million USD
Klimt here illustrates sensual woman with water. Certainly this portrait is of a Lesbian couple with gold, green and gold leaf color are vibrated this piece of painting. Klimts forte of painting was without reservations portrait, landscape and allegories. This painting is a series of two paintings Water serpent 1 and 2 repeatedly. This picture is less abstract unlike his other works. This is an allegorical picture Where he has delineated the unadvised truth of lesbian.
10. Nu couché
Artist: Amedeo Modigliani
Year of Painting: 1917
Dimension: 24*36 in
Material: Oil painting on Canvas
Year sold: 2015
Owner: Liu Yiqian
Price: $170.4 Million USD
The mostly exhibited painting of Italian artist Modigliani is this one which means Red nude. The artwork is from his nude series for which he was in trouble by facing cops for obscenity. Here he mainly focuses on the body part of a human instead of sexual urge. The masterpiece was owned by a Chinese Billionaire Liu Yiqian in an auction on 2015 by counting $170 million USD.