Most expensive bicycles 2020 are one of the luxury passion of human beings. Because bicycle is the most affordable private vehicle in the world. There are some excessive bike lovers who had created the world's most expensive bicycles in the history. You can also see: Expensive Bicycle Brands 2020
Let's see the top list of most expensive bicycles in the world in 2020. Cycling is good for the environment as a bicycle does not emit any noxious fumes. Cycling causes lots of benefits for human health. Prevention or management of disease, reduced body fat levels, strengthened bones, improved coordination and posture, decreased stress levels, enhanced joint mobility, increased flexibility and muscle strength, and improved cardiovascular fitness are the benefits of cycling.
Let's see the most expensive bicycles in the world 2020 including price, brands, and specifications.
01. 24k Gold Extreme Mountain Bike
Price: $1 million USD
Brand: Surly Bikes
Made in: USA
Launched: 2014
Specification: 24k Gold,600 Black Diamonds Made
One of the most valuable bicycles in the world is the 24K Gold Extreme Mountain Bike. It is also known as "fat bike". Price is $1 million. The tremendous price enlisted the bike in the most expensive bike in the world.It is gold plated with pure 24k gold and It has a gold plated water bottle. Electroplating process is used to coat the bike. There were only 13 bikes in the market. All of them customizable. Every bike bears a logo of "THSG" (The House of solid Gold). Over 600 Black Diamonds and 500 golden sapphires were used to embellish the logo of THSG.
02. Trek Butterfly Madone
Price: $500k USD
Brand name: Trek Butterfly Madone
Made in: France
Brand Launched: In 2009
Specification: Real butterfly wings on the bike's concrete frame and rim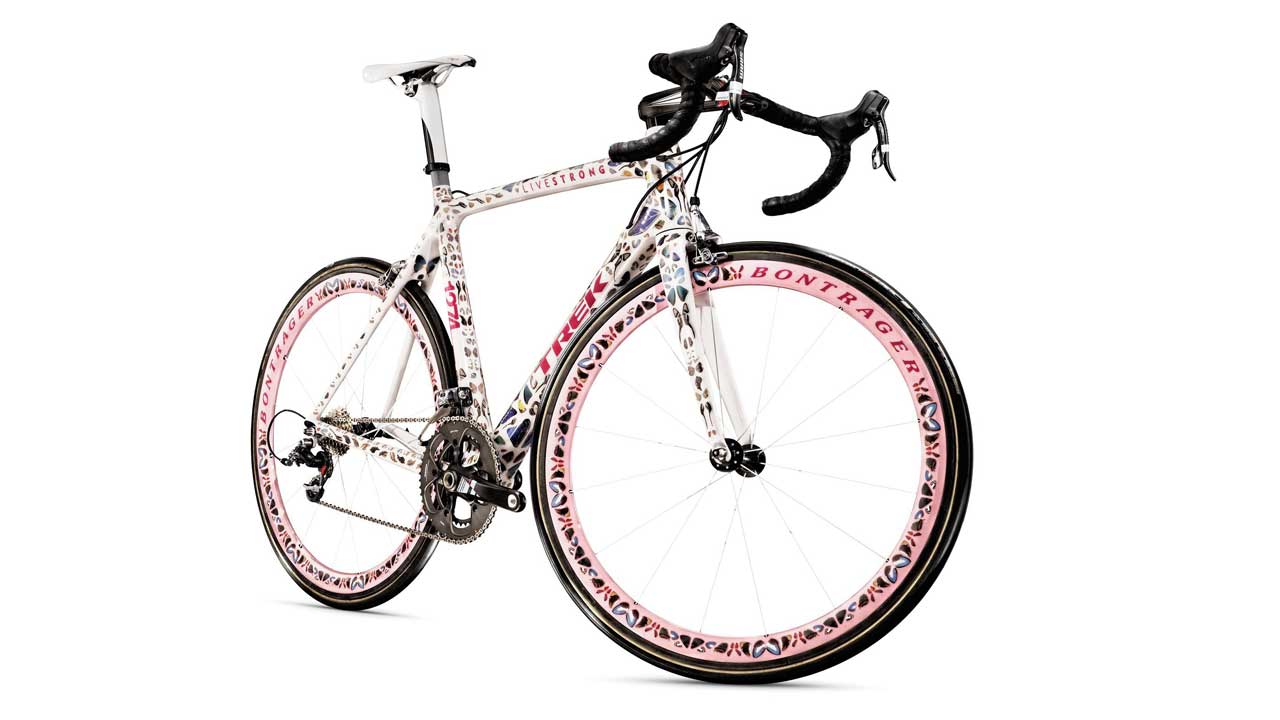 Did you miss: World's Expensive Luxury Cars in 2020
Lance Armstrong used this bicycle in 2009 at the Tour de France race. The use of butterfly wings attracted the wrath of PETA (People for the Ethical Treatment of Animals) which termed it in a horrific barbarity.
03. Trek Yoshimoto Nara
Price: $200k USD
Brand Name: Trek Yoshimoto Nara
Specification: A cartoon theme of kids in boxing gloves, flying UFOs, and a Livestrong logo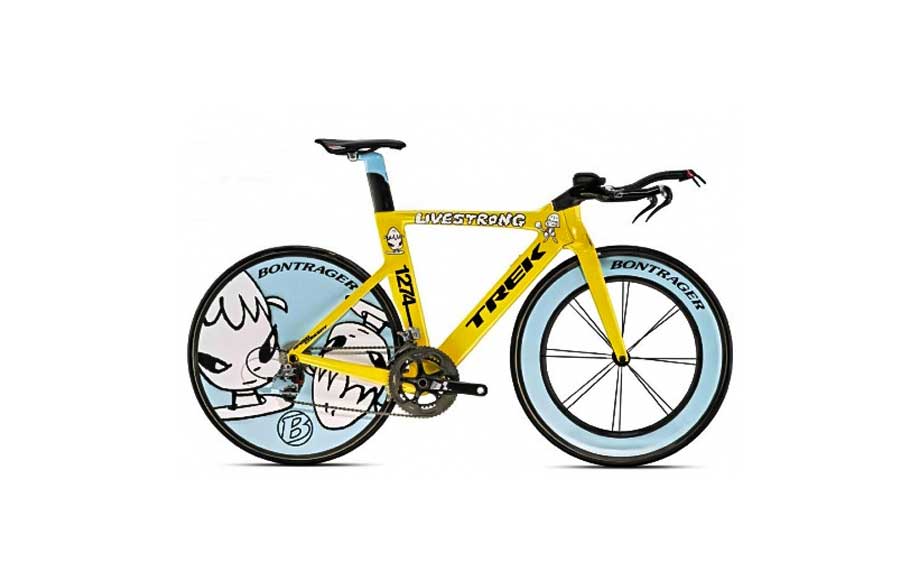 This bike is sold for $200,000 at a Sotheby's charity auction. Yoshimoto Nara established it with a cartoon theme of kids in boxing gloves, a Livestrong logo, and flying UFOs. Lance Armstrong used this bicycle in the 18th stage of one of the Tour de France races. In the same Sotheby's auction, Trek sold many other bikes for about $800,000. These vehicles were designed by very famous artists.
See more: Most Expensive Gadgets in the World 2020
04. Kaws-Trek Madone
Price: $160k USD
Brand Name: Kaws-Trek Madone
Specification: Kaws' signature chomper teeth design on its frame as well as wheel rims
Kaws-trek Madone fetched a handsome $160,000 at an auction. This proves that the bicycles associated with Lance Armstrong get a fortune. The bike features Kaws' signature "chomper" teeth design on its frame as well as on wheel rims. It also boasts excellent aerodynamics, splendid accessories, and loads high. So now, you know the reason for it's worth the astronomical price tag.
Let's see: Most Expensive Shoes in the World in 2020
05. Auramania Crystal Edition Gold Bike
Price: $114k USD
Brand Name: Auramania Crystal Edition Gold Bike
Made in: French Company Auramania
Specification: Gold-plated frame, wheels, and spokes, and the Swarovski crystals.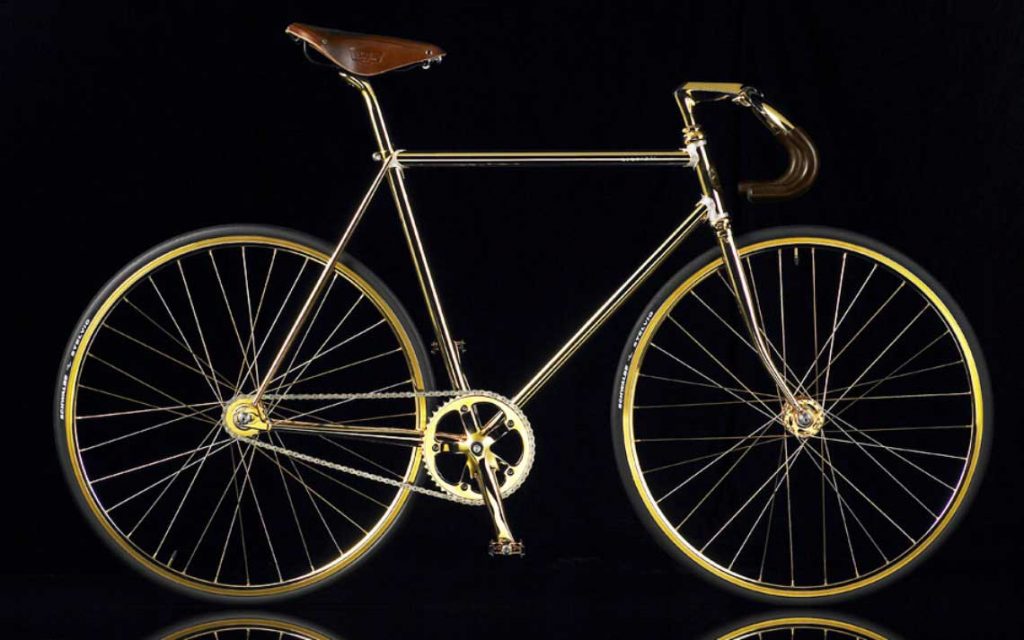 Auramania, a French company came up with this beauty that goes for a commanding $114,000. We are thankful for its gold-plated frame, wheels, and spokes, and the Swarovski crystals. The grips and saddles are made of leather and a leather badge at the front of the bicycle that displays the limited-edition number.
06. Trek Madone 7-Diamond
Price: $75k USD
Brand Name: Trek Madone 7-Diamond
Made in: New York
Launched: In 2005
Specification: Spoke pattern with stunning diamonds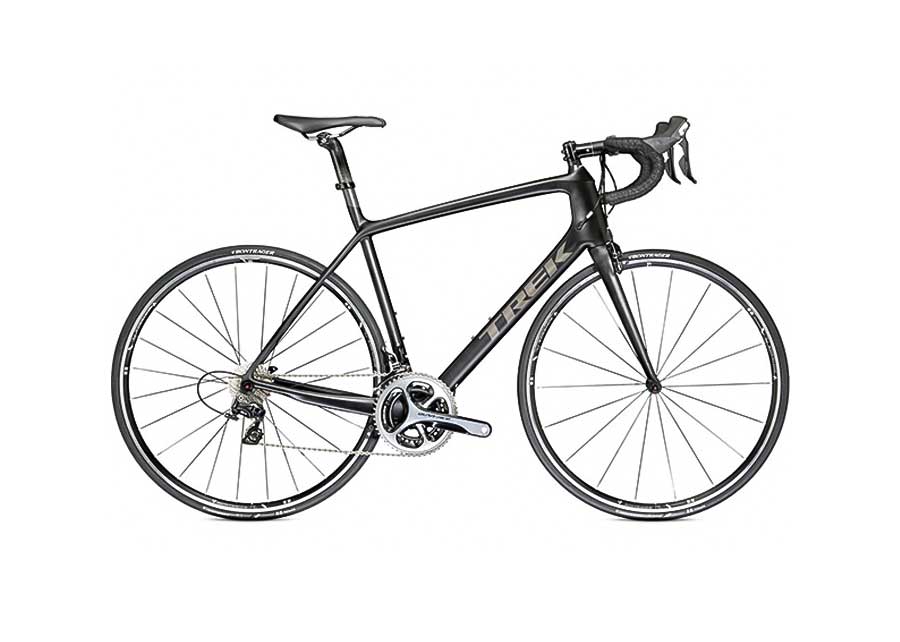 Diamond 7 was auctioned at the annual Lance Armstrong Foundation Gala in New York in 2005 and went for $75,000. The high price is because of its precious embellishments such as a Diamond 7 emblem set in a spoke pattern with splendid diamonds. And there is a Diamond 7 plaque in 14-carat yellow and white gold studded.
07. Rare Tiffany & Co. Silver Mounted Lady's Bike
Price: $70k USD
Brand: Tiffany & Co.
Made in: USA
Launched: 2008
Specification: Gold and Diamonds made
Rare Tiffany & Co Silver Mounted Lady's Bike was made by the reputed jewelers Tiffany and Company in 1890. It was made with silver. In 2008 at New York, the cycle was auctioned off by Bonhams. The cycle was established as a classic by the bicycle enthusiasts in the world. The name of the bicycle was chosen for females. Price marked with $50,000.It has a monogram of Tiffany. The cycle was adorned with carved ivory handles and plush Leather seats. The height of the cycle is 4ft 2inch (106.7cm) and the length is 5ft 3 inch(160cm).
08. Chrome Hearts X Cervelo Mountain Bike
Price: $60k USD
Brand Name: Chrome Hearts X Cervelo Mountain Bike
Made in: USA
Specification: CH motif plugs, leather seat, a silver cross, and artwork finish.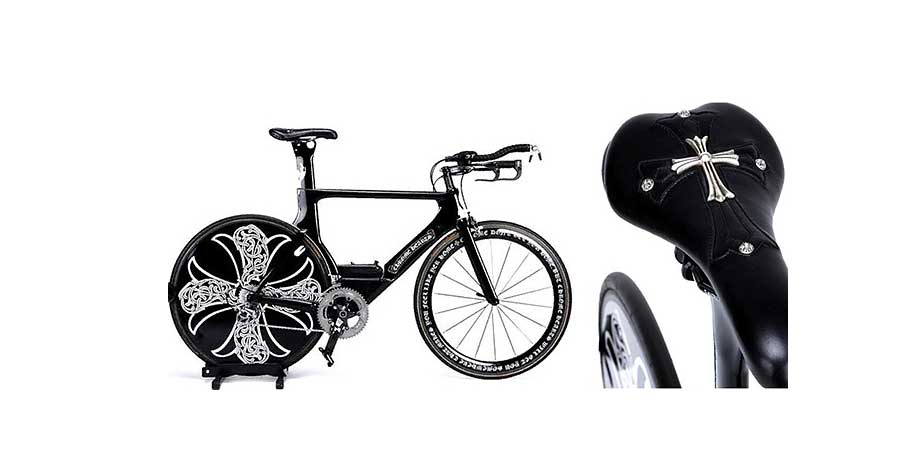 This charming bicycle is worth the lavish price tag because of its mind-blowing design and workhorse efficiency. It is highlighted by it's CH motif plugs, a silver cross, leather seat, and artwork finish. Cervelo is a famous maker of racing bikes. And they have collaborated with Chrome Hearts to dish out this beauty. It looks like a mashup of a Harley Davidson and a time trial bike.
09. Montante Luxury Gold Collection
Price: $46k USD
Brand name: Montante Luxury Gold Collection
Specification: leather saddle, traditional dynamo, road brakes
This is a women's bike and has an impressive design such as a leather saddle, traditional dynamo, road brakes, and hand-sewn python leather grips. The expensive materials embedded in the bike lift its price to $46,000.
10. eRockit Electric Assist Bicycle
Price: $44K USD
Brand Name: eRockit
Specification: It has no separate handle or acceleration pedal as a motorcycle has.
Another attraction of this bike is the battery that can last up to l0 years. This modern bicycle is ideal for bikers who do not wish to pedal all the time and wealthy. Though most of the e-bikes retail for between $1,000 and $5,000, this one commands a luxurious price tag of $44,000 because of its extra stunning features.
This bike is called a human-hybrid machine. Your pedaling effort charges the bike's motor and battery. Surprisingly the faster you pedal, the quicker you go. Its weight is approximately 100 kilos which means you need to find a parking spot as you wouldn't be able to carry it up to your house.
11. Lightspeed Blade
Price: $40,788 USD
Brand Name: Lightspeed blade
Specification: Massive tube, and knife-edged backbone.
This innovative lightspeed blade bike offers unmatched quality and stoutness. It provides an excellent cycling experience with its well-shaped head tubes that enhance performance and reduce aero drag, massive tube, and knife-edged backbone. This bike is the result of the combination of Litespeed and Merlin in the late 1980s. Famous European bike brands such as Eddy Merckx have sold this bicycle.
12. Factor Aston Martin One – 77
Price: $39k USD
Brand: Factor
Made in: UK
Launched: 2013
Specification: carbon fiber frame, carbon fiber wheelset, advanced computer system, impressive sensors, track speed, crank position sensor, GPS, speed sensor, heart rate sensors
Aston Martin one-77 is the most popular and top ranking bicycle when it was launched AstonMartin was made up team with Factor bike and established a different cycling market by creating Factor Aston Martin One-77. They applied the best technology. Priceis $39,000. Like Aston Martine car it had been manufactured with loads of carbon Fiber to maintain lower possible weight .It has diaphanous features. Marvellous sensors make it amazing for instance, GPS location ,rear wheel speed sensor, crank position sensor, LED light , altitude ,heart rate and electric display. It is also able to infer biometric data measurements for ECG respiration rate and core body temperatures.
13. Phanuel Krencker's 'Bicyclettes de Luxe'
Price: $34,425 USD
Brand Name: Phanuel Krencker's 'Bicyclettes de Luxe'
Specification: It includes custom parts and a frame made by Cyfac.
Besides carbon fiber as well as chrome, this bike includes custom parts and a frame which is made by Cyfac. The cycle has a shiny, reflective appearance because of chrome paint and mirror-polished parts. The rear and front disc brakes are making this attractive bike an example of creative design and outstanding parts.
14. KGS Tier 3 Custom Bike
Price: $30k USD
Brand: KGS
Made in: USA
Launched: 2014
Specification: Gold, Metal, Silver Made
KGS Tier 3 custom Bike is mostly known as Cannondale's most versatile mountain bike. Texas-based bike maker Kevin Saunders launched this luxury model "KGS Tier 3 custom Bike". It cost about $30,000. The price of it included it in the list of the most expensive bicycle in the world. The cost is almost equivalent to a car. The bike is etched with fine woodwork. Comfortable back seat and handles. It is very much suitable for competitive sports, travelling for recreation, also a form of exercise.
15. Beru Factor 001
Price: $30k USD
Brand: Factor
Made in: UK
Launched: 2016
Specification: carbon fiber monocoque, carbon-ceramic brakes
Beru Factor 001 is well known as a pinnacle road bike. British F1 engineering firm BERU F1 system manufacturer the Beru Factor 001. Only hundreds of units of this cycle was available. Having a carbon fiber monocoque frame, it will easily adjust with rider's physical demands, carbon ceramic brakes. It's weight is less than 7Kg. Features include ultra strong 8- spoke wheels. Performed equally different weather. LCD touch screen that shows biometrics and various other readings. The cycle is decorated with multiple channel econometric data recording systems, etc.
16. Storck Fascenario.3 Platinum Aston Martin
Price: $19k USD
Brand: Storck Bicycle
Made in: Germany
Launched: 2017
Specification: Carbon Fiber Reinforced Made
Aston Martin Storck is very popular in the market for its fastest speed. Splendor sports car manufacturer Aston Martin has associated with reputed bicycle manufacturer Storck in order to originate a distinct featured road bike. Only 107 pieces of this were manufactured. Special feature is showing the luminous colours that seem to be changed when seen from different points of view. One medium-sized frame is only 770 grams and a complete bicycle bears only 5.9 kilograms. Most amazing feature is wireless gear shifting technology. Carbon fiber is used in TMH brakes and ZIPP wheels.
17. Cervelo P5X Dura Ace Di2
Price: $18k USD
Brand: Cervelo
Made in: Canada
Launched: 2016
Specification: Carbon Fiber Frame Made
Cervelo P5X Dura Ace Di2 is a unique creation for speed, fit and usage. It is one of the most excellent bikes in the world by Monocoque carbon construction. There are two colors of bikes Black and Red. It is available in 04 sizes (S,M,X,XL). All the electronic operators are equipped perfectly. Shifting of gear occurred smoothly. No need to pay any attention with derailleur cable, it will be replaced itself automatically. Modular storage makes it more comfortable and an excellent long riding bike with SES full carbon wheelset.
18. Pinarello Dogma F12 Disk
Price: $14k USD
Brand: Pinarello
Made in: Italy
Launched: 2017
Specification: Carbon Fiber Made
Pinarello Dogma F12 can bring pleasure like the tour de France. Treviso based Italian bike manufacturer redesigned this Flagship road bike and exposed a novel experience with the road bike Dogma F12. Thirteen sizes are gainable in the market (42, 44, 46.5, 47, 50, 51.5, 53, 54, 55, 55, 57.5, 59.5, 62 cm). The weight is 7.11kg. Brand name is pinarello. Frame material used as Carbon monocoque. Riding Characteristics are agility, playful, strong stability, balanced handling, lively fun factor, and comfortable riding. It has better air channels that decrease the impact on front wheel turbulence. It also has excellent slipstreaming tricks. Extra cabling, and super stopping power.
19. Trek Madone SLR 9 eTap Project One
Price: $14k USD
Brand: Trek
Made in: USA
Launched: 2020
Specification: Carbon Fiber Made
The Trek Madone SLR 9eTap Project was established itself as a racing bike with unique features. Eight different sizes are available in the market. Iso speed technology makes it more comfortable. Decoupled seat mast and seat tube are well adjusted. Most surprising thing in it is a hidden compartment with suitable space. Multiple tools and tire levers exist in it. Sensors placed on the chainstay. It collects speed and cadence that automatically transfers to phone screen or bike monitor screen. The stem and bar are easily changeable.
20. Spyker Aeroblade
Price: $12k USD
Brand: Spyker
Made in: Netherlands
Launched: 2006
Specification: titanium frame and aluminum front fork
Spyker Aeroblade are most popular for being comfortable and used for racing. Bespoke Dutch renowned car builder Spyker teamed up with koga-Miyata and innovated this exclusive titanium frame that added a supreme texture. Wheel-set and mudguards were made from aluminum glass fibre coated carbon composite (aluminum front fork). Dutch renowned tanners, Hulshof handover the handle bar grips and saddle. Luxurious speed hub gear transmission of Rohloff 14 used in it. There are optional elementary opportunities, special arable wheels, leather colour, padel and so on. Entire bike weighs only 12.8 kg. The bicycle shape is acknowledged as a spyker.
Final thoughts
These above bicycles are the most expensive bicycles in the world and these are the dream bicycles of us. Moreover, Cycling helps one to look younger, improve one's brainpower, live longer, beat illness, and save the planet. As well as you can ward off cancer, reduce pollution, lose weight, boost sporting performance, develop lung capacity, and improve a positive addiction. For these reasons, cycling has become more popular all over the world.
# Here is the top 10 most expensive bicycles in the world in 2020
| Rank | Name | Price | Country |
| --- | --- | --- | --- |
| 01 | 24k Gold Extreme Mountain Bike | $1 Million | United States |
| 02 | Trek Butterfly Madone | $500k USD | France |
| 03 | Trek Yoshimoto Nara | $200k USD | United States |
| 04 | Kaws-Trek Madone | $160k USD | United States |
| 05 | Auramania Crystal Edition Gold Bike | $114k USD | United States |
| 06 | Trek Madone 7-Diamond | $75k USD | United States |
| 07 | Rare Tiffany & Co. Silver Mounted Lady's Bike | $70k USD | United States |
| 08 | Chrome Hearts X Cervelo Mountain Bike | $60k USD | United States |
| 09 | Montante Luxury Gold Collection | $46k USD | United States |
| 10 | eRockit Electric Assist Bicycle | $44K USD | United States |