Welcome to the list of the biggest expensive houses in the world in 2023. This list only includes the luxurious & most expensive houses in the world till this year.
These most extravagant homes will give you the best experience of the world's expensive luxury homes. Home is the world's best relaxing place and the ultimate destination of a man. You cannot imagine how expensive a house can be. Don't miss: Dream Homes 2023
Today's list of the world's most expensive houses till 2023 will make you a crazy fan of this post. Every home is precious but depending on the price and historical background a home can be worth a price beyond our imagination. In terms of luxuriousness rich people always strike with their money. You may like: 10 Luxurious Tiny Homes
We described the list of biggest and most expensive homes in 2023 in the world including all the information of price, build cost, location, expensive owner, luxury bedrooms, bathrooms, kitchens, furniture, gold & diamond luxury, attractions, environments, etc.
#Here is the list of the most expensive houses in the world in 2023 including price and images
01. Buckingham Palace
Value: $5 Billion USD
Location: Westminster, London, United Kingdom
Owner: King George III (1761)
Architects: John Nash, William Winde, Edward Blore, Aston Webb, Thomas Cubitt
Space: 829,000 sq ft
Size: 39 acres
Floors: 5 Floor
Construction Started: 1703
Completed: 1705
Attractions: 775 rooms, Changing of the Guard, State Rooms, Royal Mews, Queen's Gallery, Cavalry Museum

Buckingham Palace is the most expensive & beautiful house in the world ever built but it is not personal property. It is situated in the center of the state occasions and royal hospitality place in the City of Westminster. Before 1730 the property was known as Buckingham House. After that, it was in private ownership for at least 150 years.
Then it was taken by King George III in 1761 as a private residence for Queen's Charlotte and became known as The Queen's House. Right now Buckingham Palace has served as the official London residence of the UK's sovereigns since 1837.
It has 775 rooms. In total, the palace has 19 staterooms, 52 guest rooms, 188 staff rooms, 92 offices, and 78 bathrooms. In measurements, the building is 108 meters long across the front, 120 meters deep and 24 meters high. Let's see: World's Most Luxurious Cars
02. Antilia

Value: $2.6 Billion USD
Location: Altamount Road, Cumballa Hill, Mumbai
Owner: Mukesh Ambani
Architects: Perkins and Will
Space: ​400,000 sq ft
Size: Height-173 m (568 ft)
Floors: 27 Floor
Lifts: 10
Construction started: 2006
Completed: 2010
Attractions: Three helipads, 168-car garage, a ballroom, 50-seat Theater, terrace gardens, spa, a temple, gym

Antilia is the most expensive house in the world in 2023 because it is the biggest private property ever built on the earth. The interior designs are more beautiful than the exteriors.
Antilia is a 27-storied, 570 feet-tall, and 400,000 square feet, and with amenities such as three helipads, a 168-car garage, a ballroom, 50-seat Theater, terrace gardens, spa, and a temple, the skyscraper-mansion is one of India's largest and most elaborated private homes.
It owns by the businessman, engineer, the chairman, managing director Mukesh Ambani. It is located on Altamount Road, Cumballa hall in Mumbai. The name of the building is actually a mythical island named Antillia. You may check: Luxurious Lifestyle in Dubai
03. One Hyde Park

Value: $1.59 Billion USD
Location: London, United Kingdom
Owner: Project Grande (Guernsey) Limited
Architects: Richard Rogers, Graham Stirk
Contractor: Laing O'Rourke
Space: 385,000 square feet floor area
Floors: 14 Floor
Construction Started: January 2007
Completed: December 2010
Size: Total 14 Floor, 8,500 square feet with 5 bedrooms, 6 full and 2 half bathrooms per floor.
Attractions: Private Spa, 21m ozone swimming pool, Saunas and steam rooms, Two private studios, Squash court with digital scoring, State of the art gym, Spa, Wine storage

The One Hyde Park is one of the biggest houses in the world in 2023 including luxury accommodation and super-duper technology. It is environment friendly with large spaces. The buildings are earthquake resistant and a highly expensive houses in the world. For this type of giant construction, the investor often hires professional realty services for better reliability and authentic structural design.
London must be blessed for having the largest expensive green place which is The One Hyde Park. No bluff, but this house has a separate fan base and pride among the people around London and outside as well. It is said that the beauty of the One Hyde Park is immensely shown at night. And about the security system of the house, it is updated with CHt features. This assures a high-security system with total precautions.
Besides, this complex is quite fulfilled with the touch of contemporary and ancient arts, design, and landscape which are then approached by the biggest architects. With smart construction solutions by CHt and 24 hours service facilities by 60 staff members have made the house worth billions of dollars.
04. Villa Leopolda

Value: $750 Million USD
Location: Villefranche-sur-Mer, France
Owner: Lily Safra
Architects: Ogden Codman Jr.
Space: 80,000 square feet
Size: 18 acres (400m2)
Floors: Floor
Construction started: 1929
Completed: 1931
Attractions: Historical attractions, tourist attractions, Antic attractions

Villa Leopolda is one of the biggest houses in the world with antic interior design. It is situated in Cote D'Azure, France. The price of the property is $750 Million.
This 50-acre estate includes a commercial-sized greenhouse, a swimming pool and pool house, an outdoor kitchen, a helipad, and a guest house larger than the mansions of most millionaires.
The house was famously used as a set in the 1955 Hitchcock classic To Catch a Thief. The owner of the beautiful property is Lily Safra who is a Brazilian philanthropist and widow of Lebanese banker William Safra. Her husband died when another one of the couple's homes burned down, apparently due to arson. Exclusive: Elements of Luxurious Lifestyle
05. Tour Odéon

Value: $387 Million USD
Location: La Rousse/Saint Roman, Monaco, France
Owner: SCI Odeon, subsidiary of Groupe Marzocco
Architects: Alexandre Giraldi
Designer: Alberto Pinto Agency
Space: 35,673 square feet
Size: 49 Floor, Height 558 ft
Floors: 49 Floor
Construction started: 2009
Completed: April 2015
Attractions: Wellness center including spa, 259 residences, a fitness center, and a swimming pool, Restaurant and offices, 10 subterranean levels with 543 parking spaces, including 62 for-sale private luxury residences (including 2 Sky Duplex apartments of 1,200 m² each and 1 Sky Penthouse of 3,500 m² over 5 floors), 157 lower floor apartments, entered via a separate entrance, are for social housing.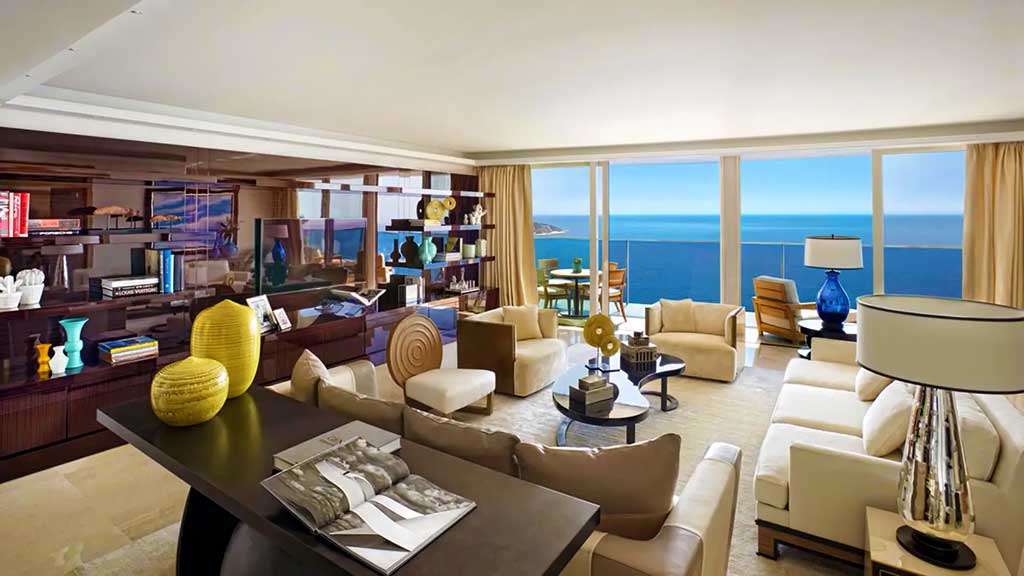 This captivating expensive house is the next level of beauty and luxury. You will never understand the definition of real beauty until you visit the Tour Odeon. The residence is taking the lives of the residents to a new level of the era providing the highest standard lifestyle with a homely environment.
With the shiny water of the Mediterranean, the Tour Odeon seems like a heaven floating on that water. The house has shown its dedication by providing glass walls from floor to ceiling. Also, the luxurious bedrooms give an essence of calmness and it evokes a notion of high satisfaction. One must agree that the way Alberto Pinto had designed the interior of the house is timeless and precious.
06. The 8th Wonder of the World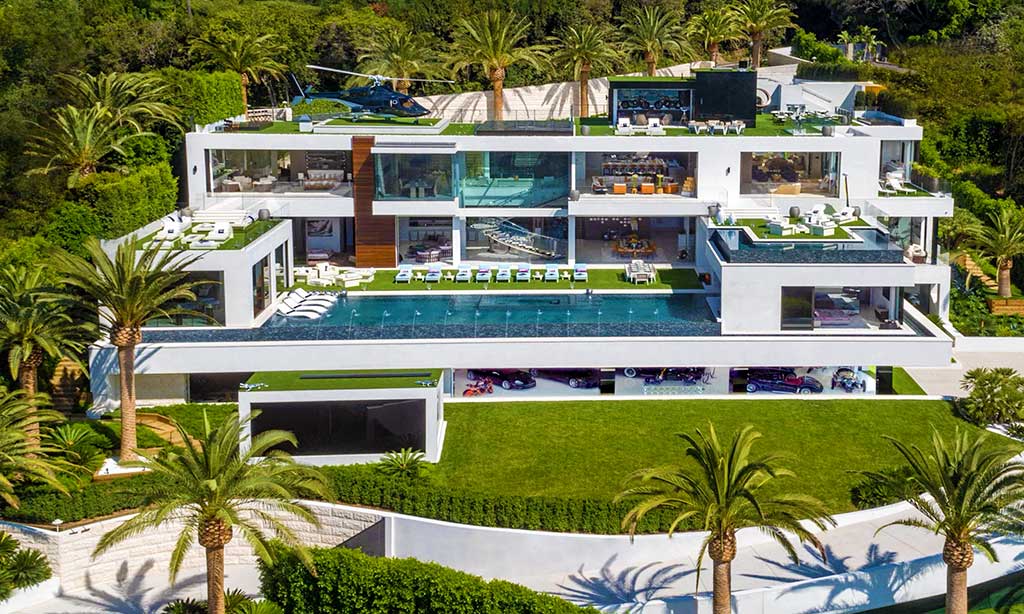 Value: $250 Million USD
Location: United States
Owner: Bruce Makowsky
Architects: Jørn Utzon
Space: 38,000 square feet
Attractions: 12 bedroom suites, 21 bathrooms, three gourmet kitchens, 85-foot infinity swimming pool, Spa, five bars, 40-seat movie theater.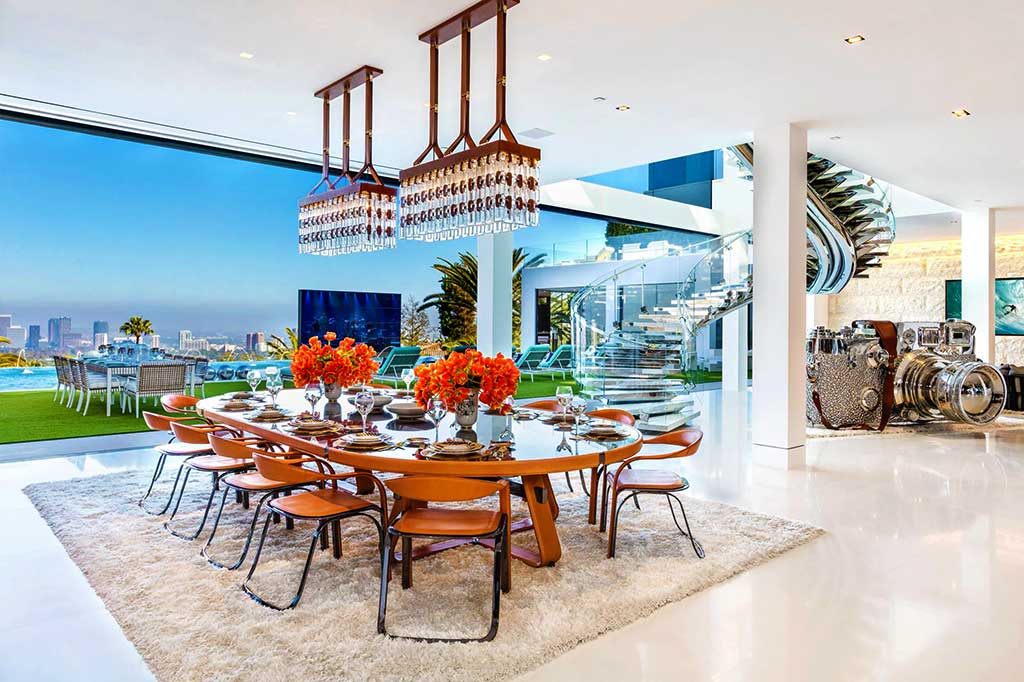 Well, you heard it right. The 8th wonder of the world house is a masterpiece of its own. With a view of snow-covered mountains angling around from 270 degrees, this house spreads a sensation of heaven in every bit.
Visit the place once and you'll never lose the proper adjectives for the house. Bedrooms, gourmet kitchens, movie theaters, exotic spas, rare expensive cars, huge swimming pools are the main attractions of the house.
Besides, the amenities of the house are mesmerizing as well. From the best masseuse to the best food chef, you'll never run out of the facilities unless you don't have the house. Also, the design of the house from top to bottom was based on incredible wonder to impress people in a wide range.
07. Fair Field Pond

Value: $267-500 Million USD
Location: Sagaponack, NY 11962, USA
Owner: Ira Rennert
Architects: Chicago-based architects Perkins and Will
Space: 110,000 sq ft
Size: 63 acres
Completed: 2003
Attractions: 91ft long dining room, a bowling alley, basketball court, 29 bedrooms, 39 bathrooms, two tennis courts

This beautiful house is situated in Sagaponack, New York. The present value of the property is $248.5 Million. This has 29-bedrooms sits on 63 acres and has its own power plant.
This huge property comes with 39 bathrooms, a basketball court, bowling alley, tennis courts, squash courts, three swimming pools, and a 91 foot long dining room. The Owner of the house is Ira Rennert who is the owner of Renco Group, a holding company with investments in auto manufacturing and smelting. He also has holdings in metals and mining. Let's have a Luxurious Tour in Maldives
08. 18-19 Kensington Palace Gardens

Value: $222 Million USD
Location: Kensington, London W8 4QQ, UK
Owner: Taj Mittal, Lakshmi Mittal
Architects: Sir Charles Barry, Grissel & Peto
Space: 55,000 Square feet
Size: Pair of large houses (18 and 19 Kensington Palace Gardens)
Completed: 1846
Attractions: Antic Interior design,12 bedrooms, Turkish baths, indoor pool, the parking for 20 cars

Kensington Palace is another property on Billionaires Row, 18-19 sits alongside the home of Prince William and Kate Middleton. This particular residence has 12 bedrooms, Turkish baths, an indoor pool, the parking for 20 cars. The owner of this palace is Lakshmi Mittal. The head of Arcelor Mittal, the world's largest steel manufacturer and according to Forbes, one of the 100 richest in India. Check: Luxurious Kitchen Elements that Must Have
09. Villa Les Cedres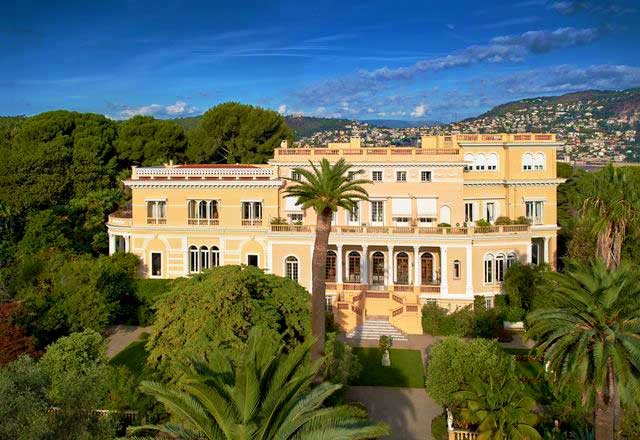 Value: $413 Million USD
Location: French Riviera, France
Owner: Campari Group
Space: 18,000 square feet, 35 acres
Attractions: swimming pool, ballroom, and stables for 30 horses, 10 luxury bedrooms, concierge, and Olympic-sized pool.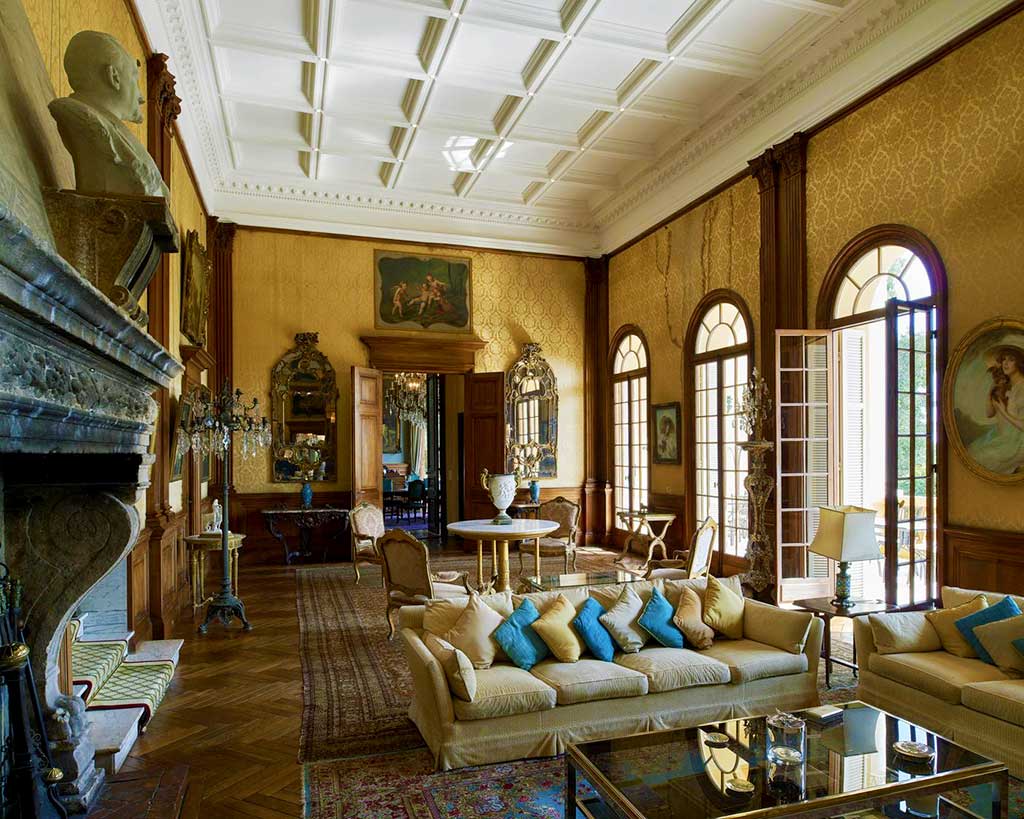 The expensive mega-mansion explodes an immense beauty by surrounding itself with stunning sea beach scenarios.
Among the several rooms of recreation and privacy and kitchen, the house has owned a huge library as well. The library is primal at botanical sectors for having a great collection of books on nature and flora. The house is exceptional for having blessed with the ocean views from inside.
However, the house gives a sense of pure art and an introduction of rising civilization by the pictures and designs of the furniture and exclusive collection of carpets. Although the house has gained name because of its location, the house never fails anyone to drop their jaws with amazement.
10. Ellison Estate

Value: $200 Million USD
Location: Woodside, California, USA
Owner: Larry Ellison (Oracle founder)
Architects: William Wurster
Space: 8,000-square-foot main house
Size: 23 acre (with 10 buildings)
Completed: 2004
Attractions: a man-man lake, koi pond, tea house, the bath house, etc

Ellison Estate is situated in Woodside, California. The current value of the house is near $200 Million. This basically less a house than a compound, this 23-acre property is home to 10 buildings, a man-man lake, koi pond, tea house, and the bathhouse. The owner of the house is Larry Ellison who is the co-founder of Oracle and the third-richest man in the world in 2013, according to Forbes.
11. Chartwell Estate

Value: $245 Million USD
Location: CA, United States
Architects: Sumner Spaulding
Space: 25,000 square feet
Attractions: 75-foot swimming pool, Spa, and a secret underground tunnel, 5 bedroom guest house,

The Chartwell Estate, which is also famed for having the name "The Beverly Hillbillies" for airing the show, has been the most expensive house in the US for quite a long time.
Recently, the house and all its apartments have been announced closed due to the outbreak of coronavirus. But before the outbreak of the coronavirus, even dogs were welcomed to every sector of the house except the gardens.
It would be a treat to the eyes if you could explore the house and feel the vibe of the home life of Sir Winston Churchill. It is by no means a place of showing off, rather the place has got real amenities that will give a poignant extraction. The rose gardens, toilets with lavish toiletries, and bedrooms are the main attraction of the whole house.
12. Manalapan Residence

Value: $195 Million USD
Location: United States
Space: 67,672 square feet
Attractions: 6,140 sq. ft. master bedroom suite, 14 bedrooms, 24 bathrooms, 2 swimming pools, 18 car garage, aquarium ceilings and walls, casino and club room with stunning aquarium wet bar.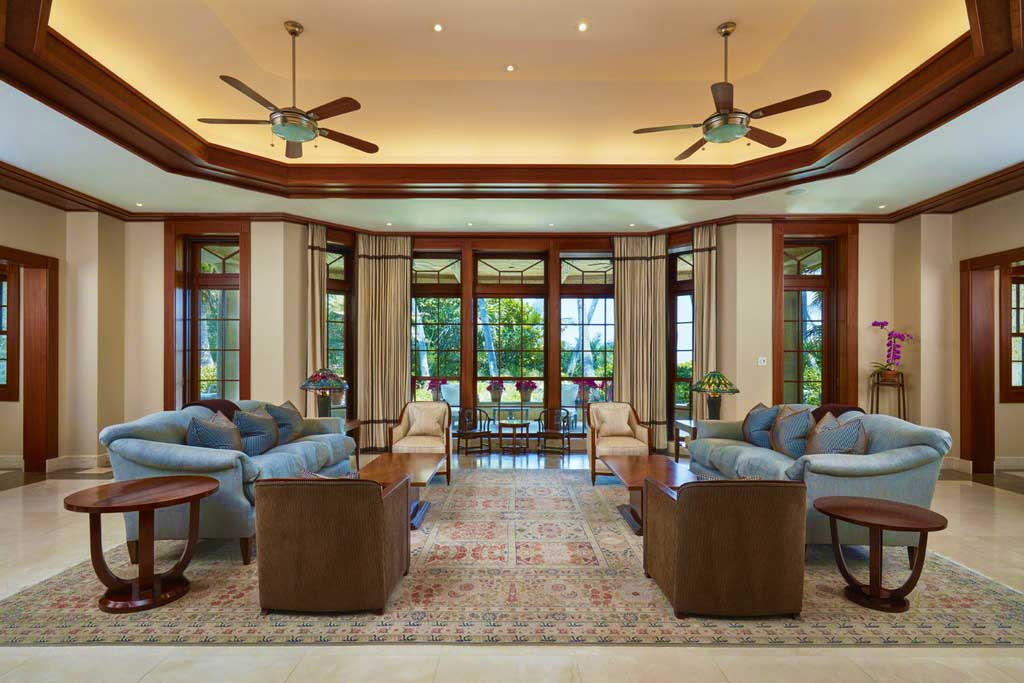 The Manalapan Residence is the complete combination of classical and jazz songs it is compared to t genre of songs. Well, a place that gives you a strong sense of songs is a place you must observe.
With the amenities of 21 century, the house is ruling the town Manapalapan at a straight. This three-story home is perfect to give you an ocean view at a certain angle. It has an aquarium ceiling and its polished floor rushes calmness from your toe to your heart.
Anyone can enjoy the unlimited lavish facilities including having a summer kitchen and recreational Grand Rotunda room. Around the residence, the Boca Raton and Palm Beach create an extra sensation to the whole yard on which the Manalapan Residence stands.
13. Palazzo di Amore

Value: $195 Million USD
Location: California, USA
Owner: Jeff Greene
Architects: Bob Ray Offenhauser
Space: 53,000 square feet of living space
Size: 25 acres
Attractions: Library, Inlaid Tile Floors, Dining Area, Wine Storage, ballroom with a DJ, 50-seat home theater, swimming pool, 128-foot reflecting pool, spa, bar area, tennis court, 12 bedrooms, and 23 bathrooms, four-bedroom suites, including one VIP suite, silk-upholstered walls, full kitchen,

Alberto Pinto's other creation Palazzo di Amore has left no inch to make its viewers of the great sight of it. It's been keeping up its pace with the other expensive residences for a long time.
Like other extremely expensive houses, this house has also sprinkled its amusement in every design of the furniture and every decorated corner. With a wine cellar and carved ravine terrace, this house looks beautiful on moonlit nights.
With master-sized bedrooms suits and extraordinary bathrooms, outdoor stations for barbecue partying and a huge pool have been decorated with the highest passion and desiccation by the designer.
14. Hearst Castle

Value: $191 Million USD
Location: San Simeon, CA 93452, United States
Owner: William Randolph Hearst
Architects: Julia Morgan
Space: 5,350 square feet (546 m²) of floor space (main)
Size: Area more than 90,000 sq ft (8,400 m2) 127 acres
Completed: 1919–1947
Attractions: attracts the star-struck, celebrity-seekers, flourish, skies, night tour, elephant seals

Hearst Castle is situated in San Simeon, California. The current value of this beautiful house is $191 Million. Blockbuster movie The God Father was made here in a 27-bedroom castle.
It has also hosted some famous men like John and Jackie Kennedy, Clark Gable, Winston Churchill, and other famous figures. The property was built by the country's first newspaper magnate named William Randolph Hearst's trustees. This beautiful castle is now a heritage and tourist site and under the California Park System.
15. Villa Firenze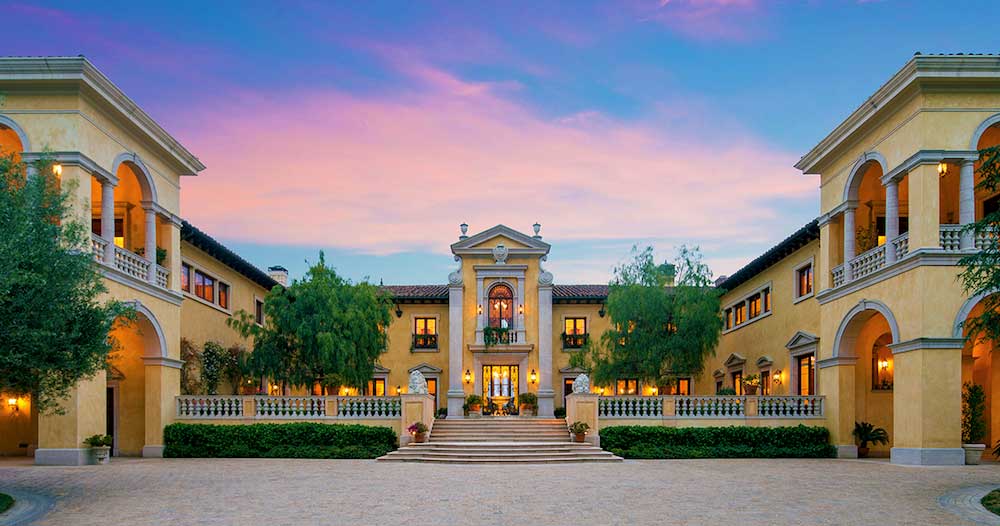 Value: $165 Million USD
Location: California, United States
Owner: Tony Nicastro
Architects: William Hablinski
Space: 30,000 square feet
Attractions: swimming pool, pool house, tennis court, two-bedroom guest house, walking/jogging trail, 40 foot tall Canary Island palms,

The mega-mansion Villa Firenze has achieved the reputation of being on the list of the expensive houses quite by large. The house has been built with an air of modern gesture.
Inside the house, one can feel the luxury of being in a lavish home like Villa Firenze. With optimum standard, the house has maintained the high quality of a warm lifestyle. The house is mainly situated in between the Arua lake and Sapiranga Forest.
With a big size volleyball area, two master-sized swimming pools at the right place provide an extra benevolence of the big mansion. Besides, the security system of the house is so tight and it assures the privacy level to its level best.
16. Le Palais Royal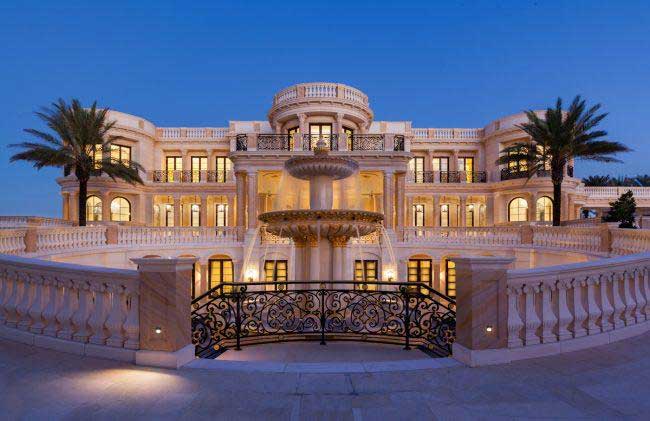 Value: $159 Million USD
Location: Florida, United States
Owner: Robert Pereira
Architects: Joseph Leone
Space: 60,000+ square feet
Attractions: 11 bedrooms & 17 bathrooms, made entirely of poured concrete 4,500 square foot infinity-edge pool, plunge pool, private 18-seat IMAX theatre with 50, garage space up to 30 vehicles

The Le Palais Royal, which used to be a significant part of the French Royal family, is now ranked as among the other expensive houses in the whole world.
Nevertheless, the house is considered as one of the many wonders in Paris because of its inside and outside appearance. Well, the Le Palais Royal is not open to the general people but the outside glance is quite an eye satisfying.
The gardens and the building itself evoke a rising civilization-type air and the authenticity is shown through its brick and courtyard. The ancient history is symbolized fairly through the whole artwork of the house.
17. Seven the Pinnacle

Value: $155 Million USD
Location: Big Sky, Montana, USA
Owner: Edra and Tim Blixeth, Yellowstone Club
Architects: Locati Architects
Space: 20,000-square-feet Upper East Side Mansion
Size: Area of 57,000 square feet
Completed: 2000
Attractions: Everything is either green or covered in snow, Heated floors, multiple pools, a gym, a wine cellar, ski lift, etc

The property is the largest one in the Yellowstone Club. It has a private ski and golf community for the ultra-rich people. The house has heated floors, multiple pools, a gym, a wine cellar, and also its ski lift.
Edra and Tim Blixeth is the owner of this beautiful home. They work as Real Estate Developer. Timber Baron and Tim Blixeth cofounded the Yellowstone Club but the club's bankruptcy, divorce, and other troubles have seriously reduced his wealth in recent years.
18. Spelling Manor

Value: $150 Million USD
Location: CA, United States
Owner: Petra Ecclestone
Architects: James Langenheim & Associates
Space: 56,500 square feet (5,250 m2)
Attractions: 123 rooms, screening room, gym, bowling alley, three rooms for wrapping presents, four two-car garages, tennis court, swimming pool. The parking lot accommodates 100 vehicles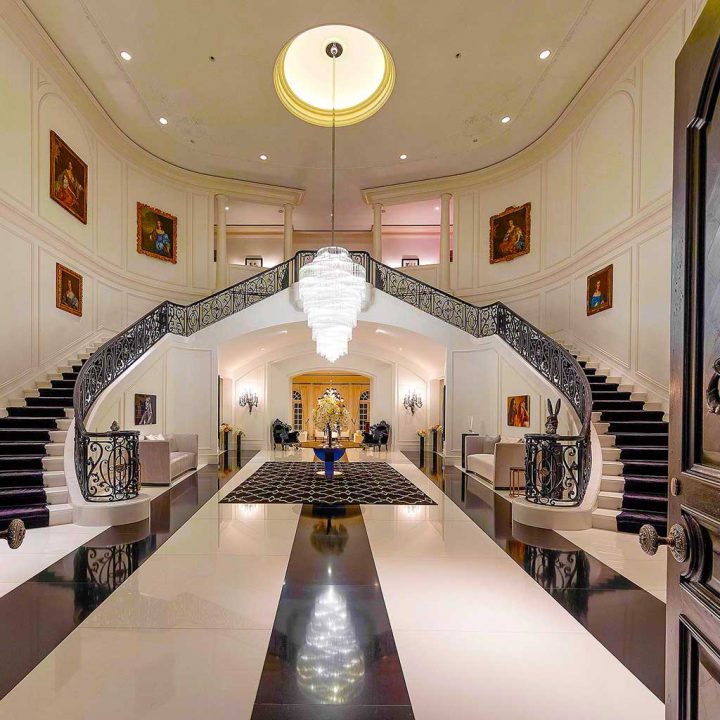 There are many interesting facts you should know about the expensive house Spelling Manor. This house hit largely in 1988 to the whole market of Los Angeles just because of the design of the interior and exterior.
Especially for creating so many rooms for several purposes, the Spelling manor is quite a famous house. The 123 rooms for several reasons are quite jaw-dropping information.
The house has two staircases and the marble flourished floor gives a sophisticated look to the whole house. With a giant-sized kitchen, a suitable beauty salon, and exotic collections of cars have given the house completion.
19. Kensington Palace

Value: $140 Million USD
Location: Kensington, London, England
Owner: Queen Elizabeth II in right of the Crown
Architects: Christopher Wren, Nicholas Hawksmoor
Space: 5200 square feet
Size: 265 acres
Completed: 1605 by Sir George Coppin
Attractions: Tennis court, health center, auto museum, large garden, etc

This palace is situated in London's Billionaires Row. In the underground, it has a tennis court, health center, and auto museum. The owner of the palace is Roman Abramovich a Russian billionaire and owner of the private investment firm Millhouse LLC. He's probably best known in the West as the owner of the English Premier League's Chelsea Football Club.
20. Blossom Estate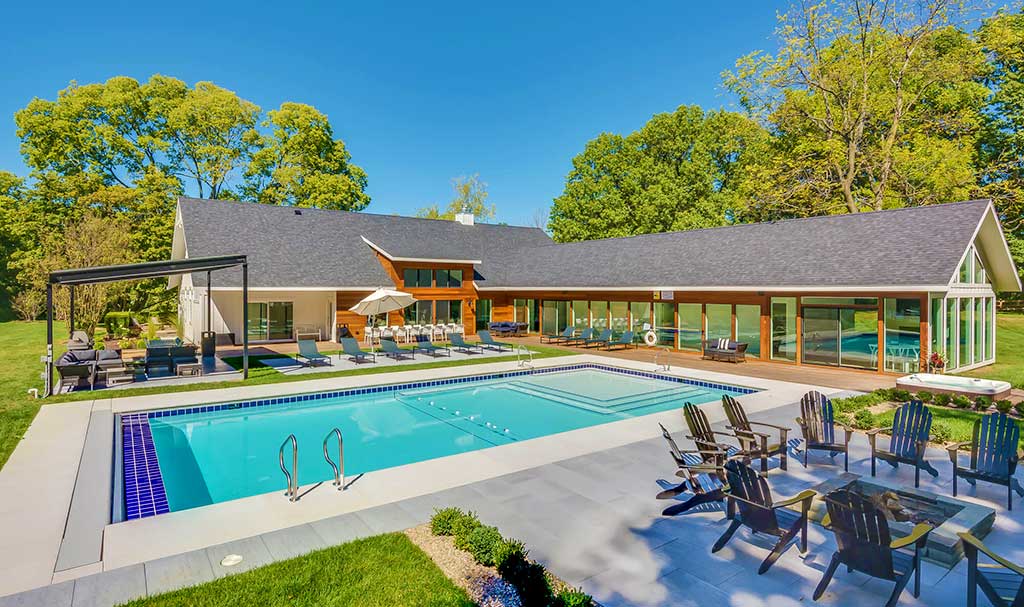 Value: $130 Million USD
Location: Palm Beach, Florida, USA
Owner: Ken Griffin
Architects: George Lainhart
Space: 27,000 square feet
Attractions: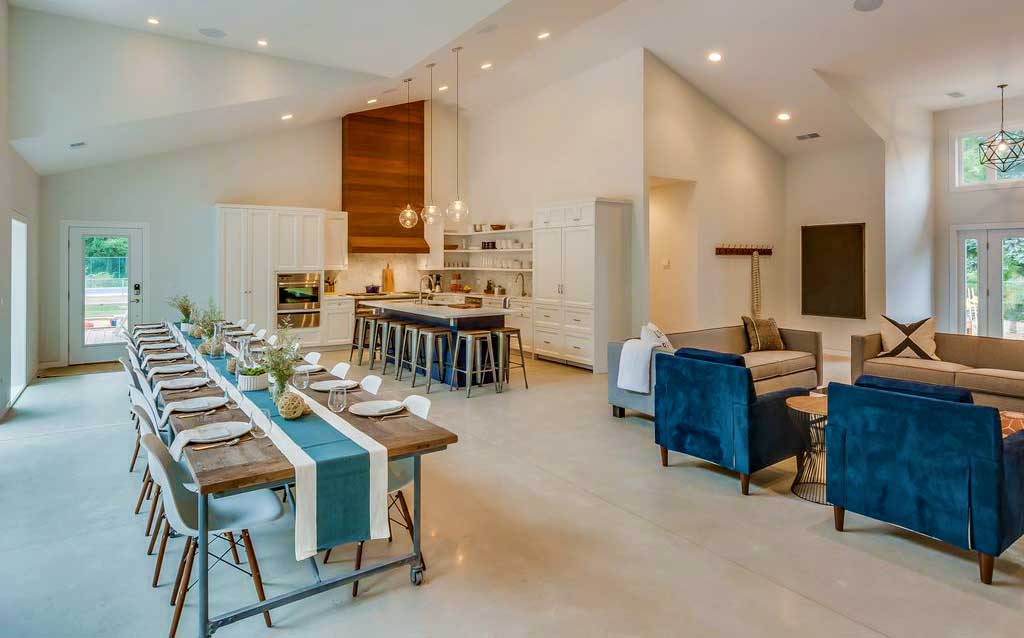 Blossom Estate is one of a kind house that is included as one of the world's most expensive houses. The property offers you rooms, bathrooms, dining halls, and everything.
The villa is featured and built-in following the modern diagram. The Blossom Estate is a house where you will find a combination of pure art and dramatic nature.
The floors, terrace, roof, door and everything about this property are extraordinary. You will be amazed at both its interior and exterior decorations. Thus, taking a view of this property is like wandering in heaven.
21. 7 Upper Phillimore Gardens

Value: $128 Million USD
Location: Kensington, London, UK
Owner: Olena Pinchuk
Architects: Vickie DensmoreGarden
Space: 4,520 sq ft.
Completed: 1997
Attractions: Underground swimming pool, sauna, gym, panic room, etc

This building has a 10-bedroom prep school turned mansion has an underground swimming pool, a sauna, gym, cinema, and even a panic room. The interior of the 7 Upper Phillimore garden is just fabulous.
Total interior covered with marble stone, with gold in somewhere and with priceless artworks everywhere. The owner of the house is Olena Pinchuk who is the daughter of Leonid Kuchma, Ukraine's second president. She is known for being the founder of the ANT
22. Xanadu 2.0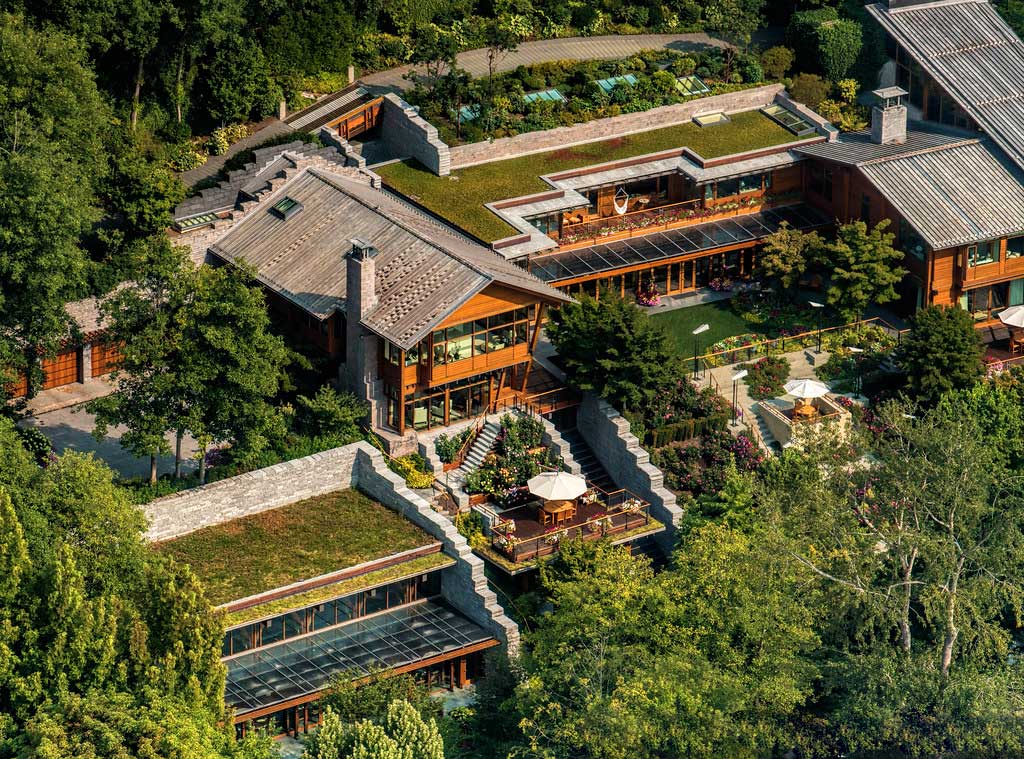 Value: $125 Million USD
Location: Washington, USA
Owner: Bill Gates (Founder of Microsoft)
Architects: Bohlin Cywinski Jackson
Space: 66,000 square feet
Attractions: private library, dome-shaped roof, and oculus, swimming pool, underwater music system, 2,500 square feet gym, 1,000 square feet dining room, heated floors

Xanadu 2.0 is the house owned by Bill Gates, however among the list of the most expensive houses worldwide. The rich owner of the house tried to create the house with a sense of modern culture along with technological vibes.
The reception hall that Gates possesses can bear 200 guests at a time. And you'll feel a little queer knowing that the number of bathrooms is more than the number of bedrooms and the number of kitchens is as much as the bedroom. Well, don't get confused now. You will be surprised with modern kitchen elements also.
But the interior decorations will attract all your senses for sure. And for this, the high-tech functioning lights are always ready to produce the atmosphere regarding the weather. With a great artificial system, the whole mansion runs amazingly.
23. Baroque Palace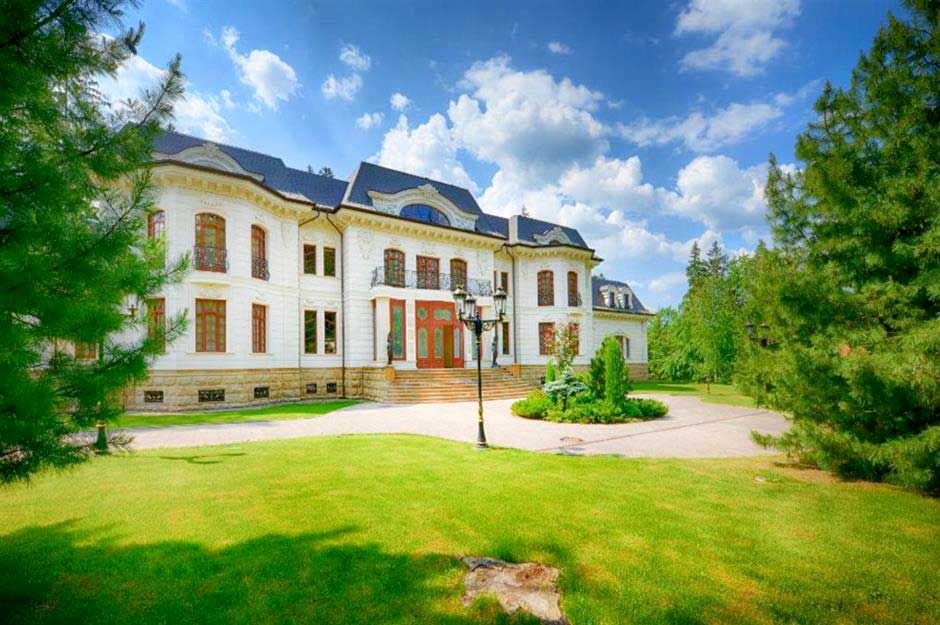 Value: $109 Million USD
Location: Rublyovka, Russia
Owner: lovePROPERTY
Attractions: 9 bedrooms, 2 swimming pool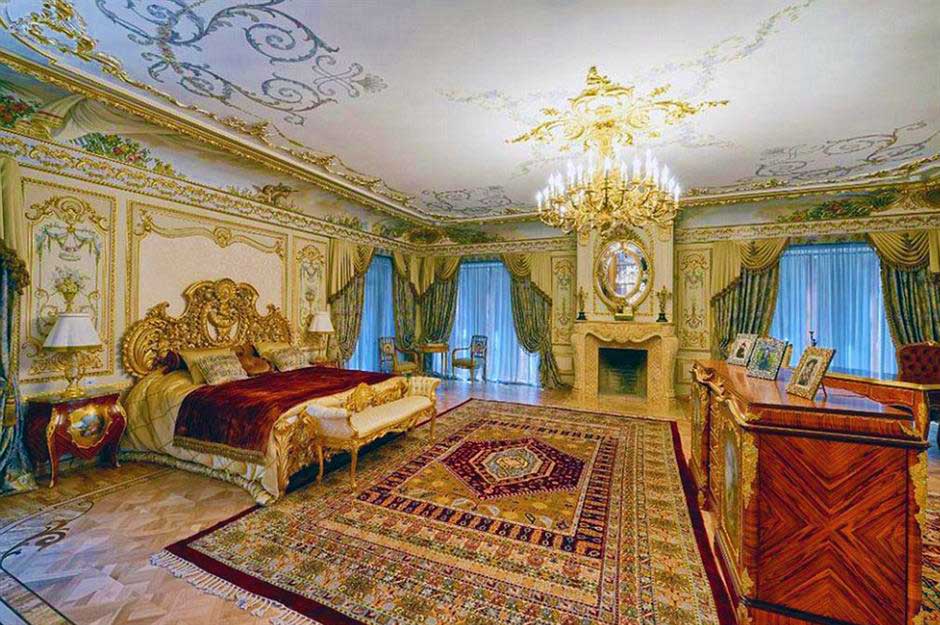 This excellent house has a grim touch of tradition, norms, and outstanding ancient features. The whole house is a palace exposing the aesthetic ancient arts through the designs and producing a strong sense of luxury all around.
Its high ceilings are also not out of dexterity. However, the whole place is situated on the art of Baroque and the theatrical type of appearance of the palace is a result of the finest architecture.
24. The Fleur de Lys Mansion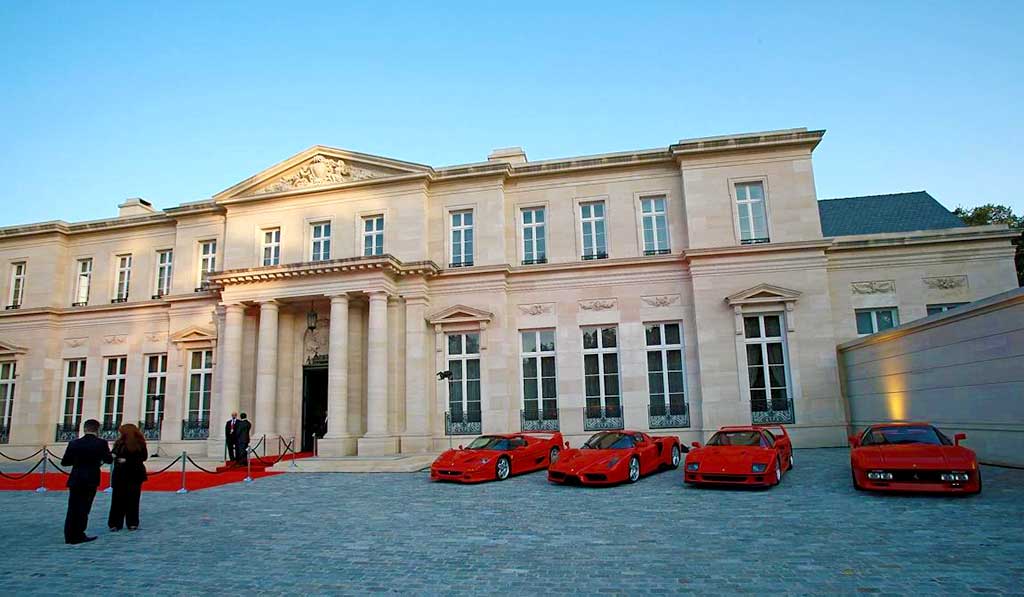 Value: $102 Million USD
Location: Los Angeles, USA
Owner: David I. Saperstein
Architects: Richardson Robertson III
Space: 35,046 square feet
Attractions: 12 bedrooms, 15 bathrooms, twelve bedrooms, fifteen baths, fifty-seat theater, gym, pool house, ballroom, 370m running track, guest house, tennis court.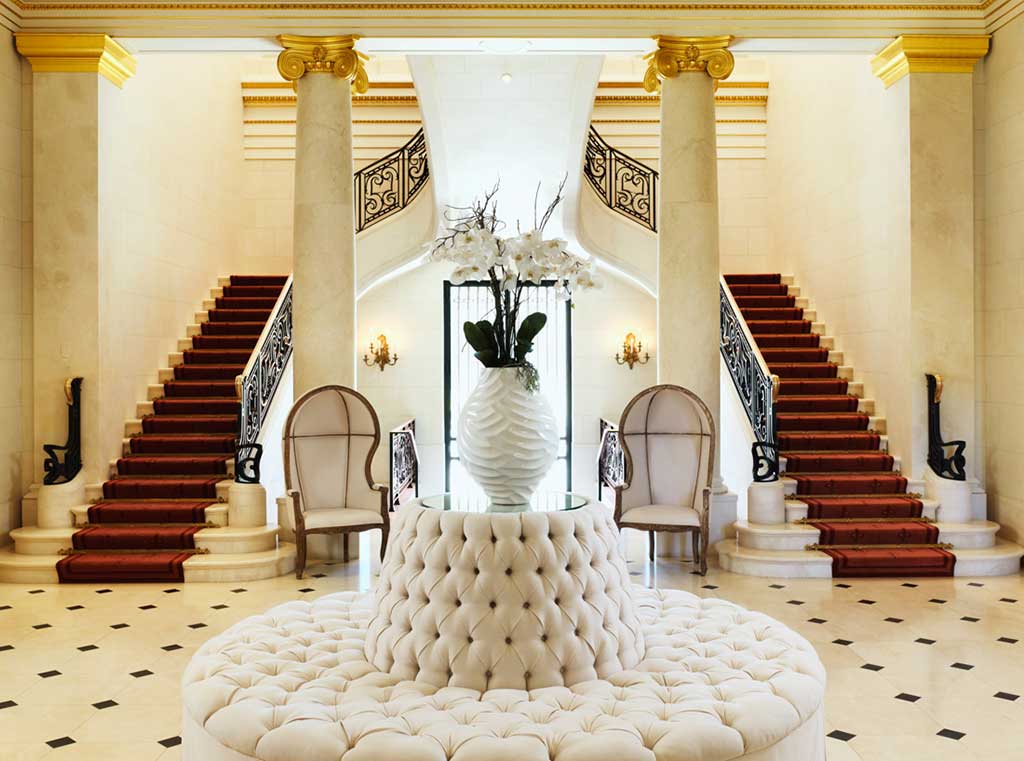 With all kinds of modern convenience and amenities, Fleur de Lys mansion is a historic house. In a word, this house is a gem. Comfort and happiness are found easily in this house.
Both the environment and the owners are way too friendly. The rooms, snacks, breakfast, and everything in the mansion represent luxury only. Those who visited this place are wondering about their services and foods. The mansion has guest rooms that are appointed luxuriously.
Moreover, the sheets and pillows are super comfortable. The aesthetic artwork and crystal inside the mansion that is expensive and valuable will blow your mind.
25. Silicon Valley Mansion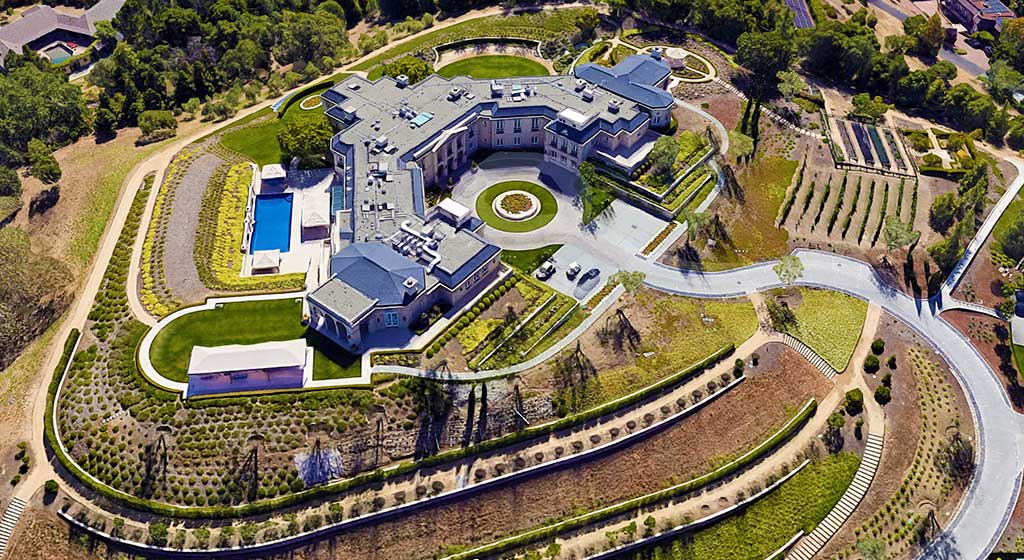 Value: $100 Million USD
Location: Los Altos Hills, California
Owner: Yuri Milner
Architects:
Space: 32,000 square feet living space
Attractions: Amenities, swimming pool, spa, gym, sport court, Special lighting, home theater, five huge bedrooms, guest house, wine room.

Silicon Valley mansion is extremely luxurious with too many contents. The mansion includes a luxurious indoor pool, an executive center, and a movie theater that contains fifteen seats.
Though the mansion was offered to sell at a price of $88 million, nobody actually bought it. Hence, after four years they lessened the price in half. The mansion has five huge bedrooms that are filled with extremely expensive accessories.
With amenities that are opulence in an impressive amount, this mansion is quite large. The master room is featured with a fireplace with modern vibes. Also, the living room has hanging light that is sculptural and eye-catchy. Overall, with the indoor pool, billiard table, modern kitchen, and everything else this mansion is worth its expensiveness. Let's see why the kitchen is the most important room in a home?
26. Opus, Beverly Hills, CA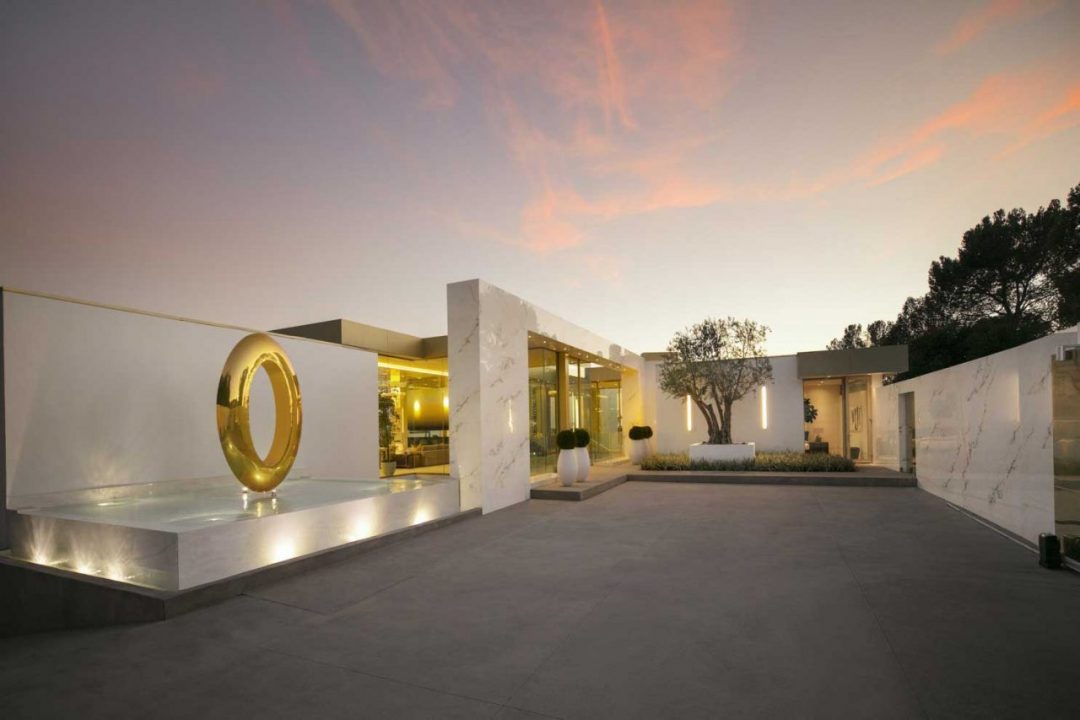 Value: $100 Million USD
Location: Beverly Hills, California, United States
Owner: Nile Niami
Architects: Paul McClean
Space: 20,500 square feet
Attractions: 7 bedrooms, 11 bathrooms, VIP Master Suite, 170 bottle cristal champagne vault, glass dining room, 20 feet glass waterfall 2 swimming pools, 944 bottle wine vault.

Opus, Beverly Hills is the most expensive and luxurious property for its amenities full of art. In a word, this house is like a dream home of art. You will be stunned listening to the interiors of this house.
With a 'Wine Station,' this house has two huge bars. The entire flooring of the house is done with Roberto Cavalli flooring. It has a fifteen-seat screen theatre, gourmet show kitchen, and also a brewer coffee machine that can be controlled by iPad.
In the case of security, this home offers totally extraordinary technology. It has a private entrance and other home automation and security systems. Including separate catering, golden sculptures, and everything else inside of this house is a visual representation of luxury.
27. Playboy Mansion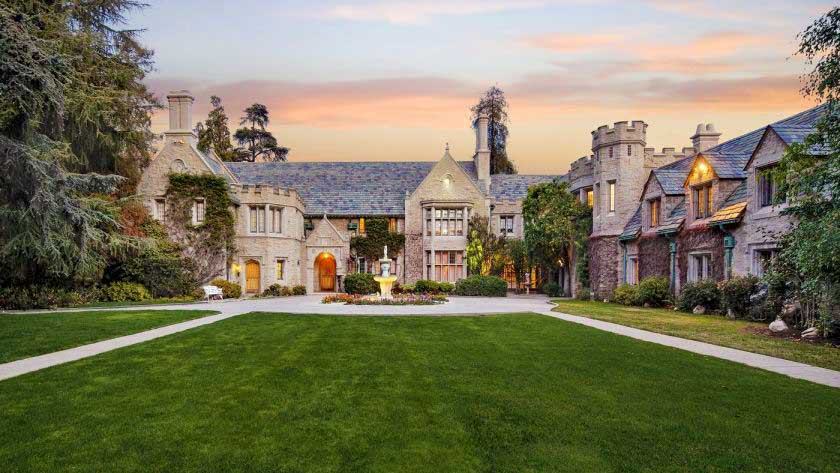 Value: $100 Million USD
Location: California, USA
Owner: Daren Metropoulos
Architects: Arthur R. Kelly
Space: 21,987 square feet (2,042.7 m2)
Attractions: 29 rooms, wine cellar, secret door, game room, tennis/basketball court, screening room, waterfall, gym, swimming pool area,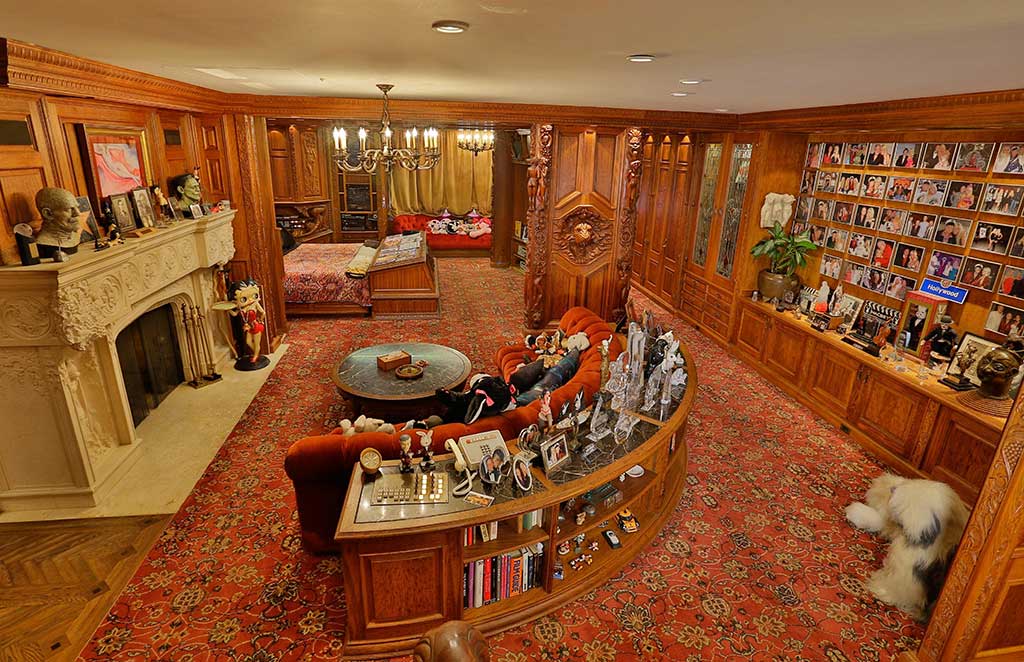 With actually twenty thousand square feet, the Playboy Mansion has created its niche in the list of the most expensive houses. The mansion includes multiple numbers of dining, bedrooms, bathrooms that are built-in modern ways. Hollywood's many legendary parties are held in this mansion.
Also, the fun fact is that this mansion owns a zoo license. Different types of birds, pets, and monkeys have been guests in this mansion. It has a pet cemetery too. In Los Angeles, the Playboy mansion has a fireworks permit that is permanent. Though there were rumors about the underground tunnel of the mansion, yet the house is a dream house. You may like the world's most luxurious shower curtains.
28. Swish Super Mansion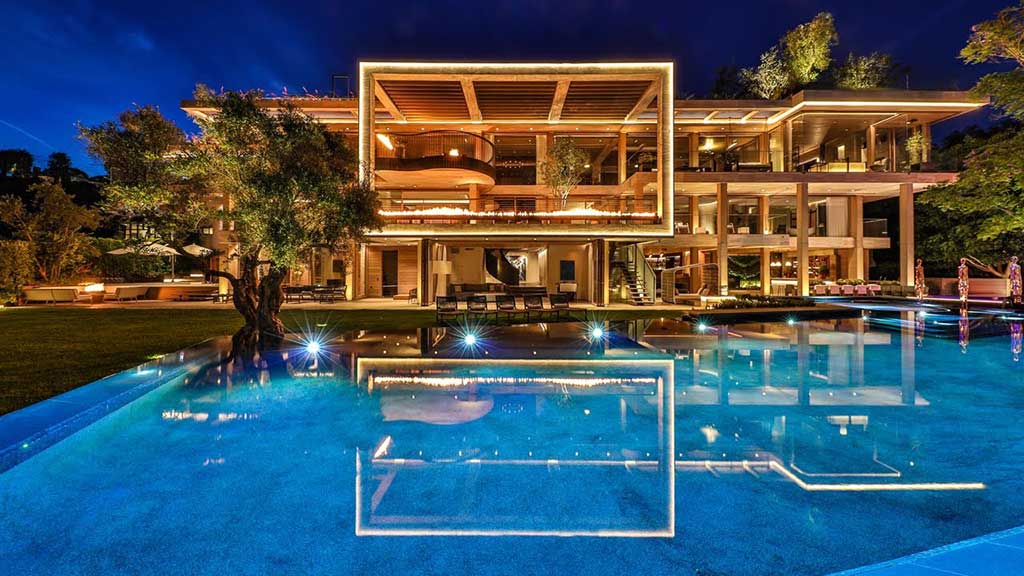 Value: $88 Million USD
Location: California, USA
Owner: Williams & Williams
Architects: Williams & Williams
Space: 25,000 square feet, outdoor space 20,000 square feet
Attractions: library, art studio, gym, temperature-controlled wine cellar, billiards room, petrol heads, glass car elevator, 15 luxury bathrooms, private home spa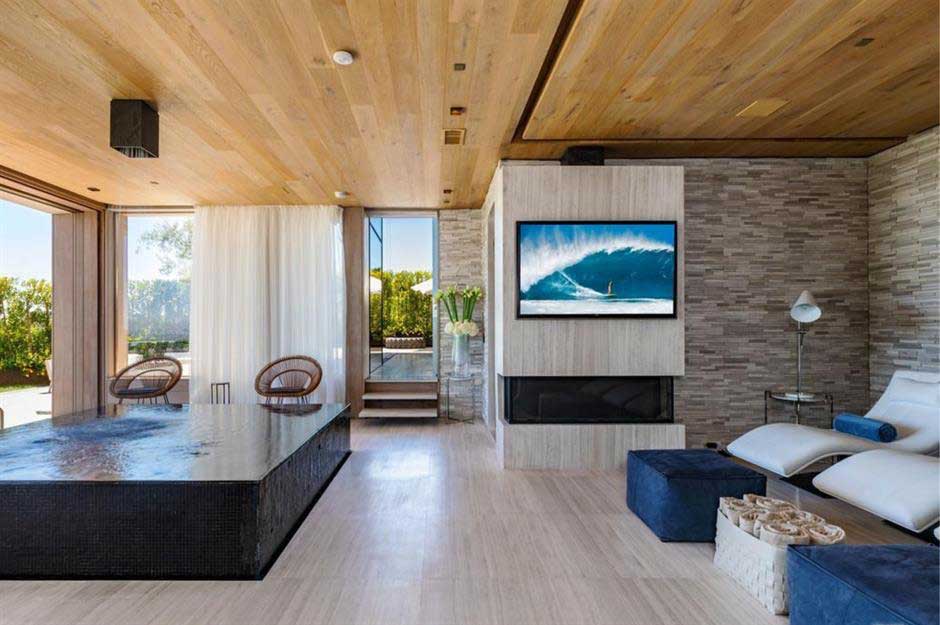 Swish Super Mansion is a mega-mansion that is enlisted as the most expensive house in the world. The property is stunning in case of both its exterior and interior design.
It includes nine massive bedrooms, an art studio, a movie theater, a spa, and a steam room, a massage room. Moreover, this property has a deck on its rooftop and a two-story covered deck at the backside of the house. The whole house is built with luxurious amenities and modern built-in features.
The house also has a game room and the outside is designed beautifully with a garden, patios, and decks. Those who have visited this place are great admirers of it. Every corner of this mansion is built with valuable materials, thus, it is so expensive.
29. Promised Land

Value: $88 Million USD
Location: Montecito, CA, USA
Owner:
Architects:
Space: 23,000 square feet
Attractions: 3 guest houses, swimming pool

The Promise land is a property that is designed with Neo-Georgian style. For its design and huge property, this mansion is on the list of most expensive houses in the world.
All its bedrooms and bathrooms are built-in luxurious materials. It owns a gourmet kitchen and the food is awesome. The mansion has fireplaces that are ten in numbers and featured in an extremely modern way.
It also has a wine cellar. Though this mansion doesn't happen to have a swimming pool in its backyard, yet with the theater, library, and others this house is too expensive.
30. Modern Mega Mansion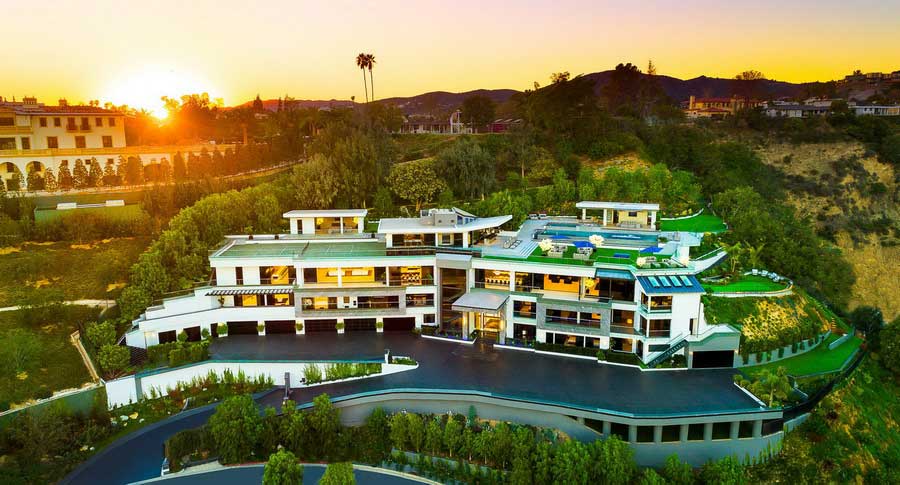 Value: $70 Million USD
Location: California, USA
Owner: lovePROPERTY
Architects:
Space: 23,000 square feet
Attractions: luxury bedrooms, 15 bathrooms, swimming pools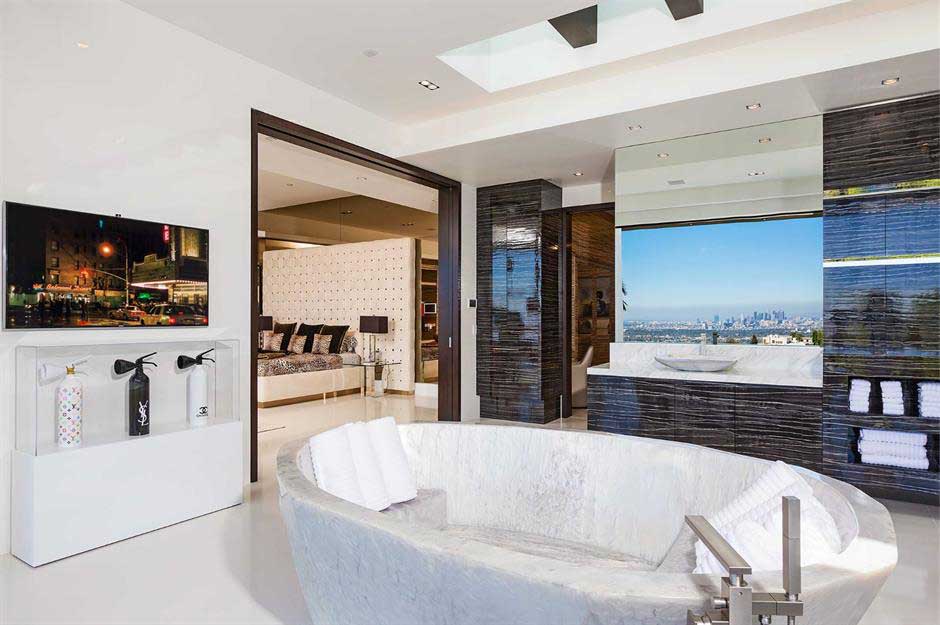 With exuberant amenities, the Modern Mega mansion is the pinnacle of luxury. Thus, it is one of the world's most expensive houses. The modern mega-mansion is a property that is designed with a totally different kind of style.
The metal, marble, and concrete of the indoor are stunning! The outdoor concept of the mansion is also enchanting too. It is needless to say that the house has everything for its member's convenience and comfort. Thus, the value of the mansion is worth the luxury.
31. Versailles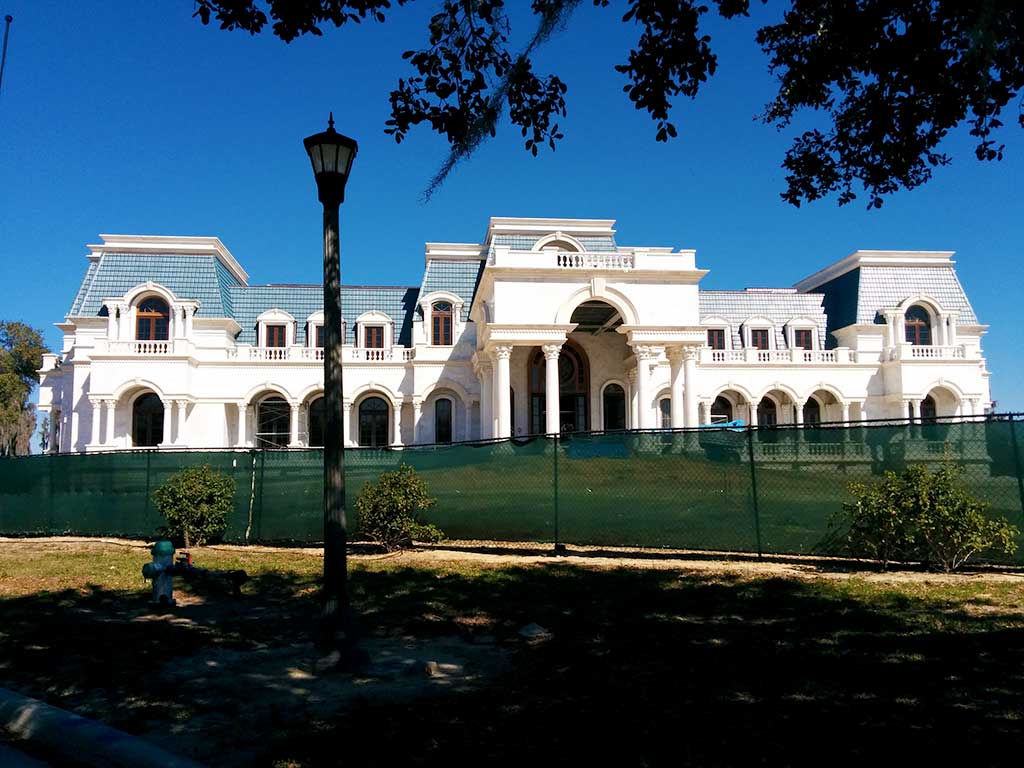 Value: $65 Million USD
Location: Florida, USA
Owner: David A. Siegel, Jackie Siegel
Architects:
Space: 85,000 square feet
Attractions: 32 bathrooms, 14 bedrooms, 11 kitchens, 30 car garage, bowling alley, 3 indoor pools, 2 outdoor pools, two movie theaters, spa, yoga, wine caller.

With a perfect combination of nature and art, the Versailles palace is one of the world's expensive houses. The whole palace is designed with maintaining the legacy of its tradition and art.
Before this palace, it was a hunting lodge. The palace of Versailles illustrates an absolute monarchy and royal abode. It carries an immense amount of gold in its several corners.
Though it was a palace for kings before, now this property is used as a museum. Only the outdoor garden of the palace has covered thousands of acres and it includes hundreds and thousands of sculptures and fountains. Now you guess the expensiveness of this property!
32. Casablanca Estate

Value: $35 Million USD
Location: Cape Tow, South Africa
Owner: lovePROPERTY
Architects:
Space: 33,723 square feet
Attractions: eight bedrooms, 12 bathrooms, spa, master suite, massage room,

With meticulous design Casablanca Estate is also one of the world's most expensive houses. The whole property is decorated and designed with a great inviting style. The property has a dining hall, private gym, tennis and paddle court, swimming pool, bar, and what not!
The house also has a terrace that is covered expansively. The guests have access to many of its sectors. The villa possesses a simple yet stunning design. The Sandy Lane Golf Course and the landscaped gardens have acquired a lot of admirers from its visitors. Overall view of the whole villa gives ultimate satisfaction to your eyes.
33. Lavish Bel Air Mansion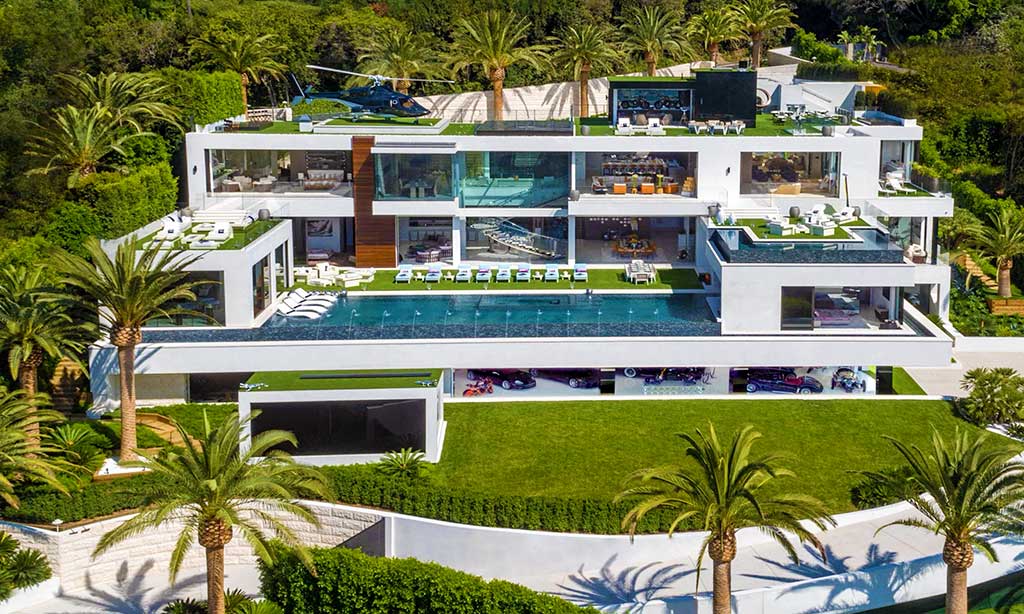 Value: $30 Million USD
Location: California, USA
Owner: lovePROPERTY
Architects:
Space: 42,000 square feet, four floors
Attractions: 17 bedrooms, 21 bathrooms, 100 art installations, infinity pool, games room, four-lane bowling alley.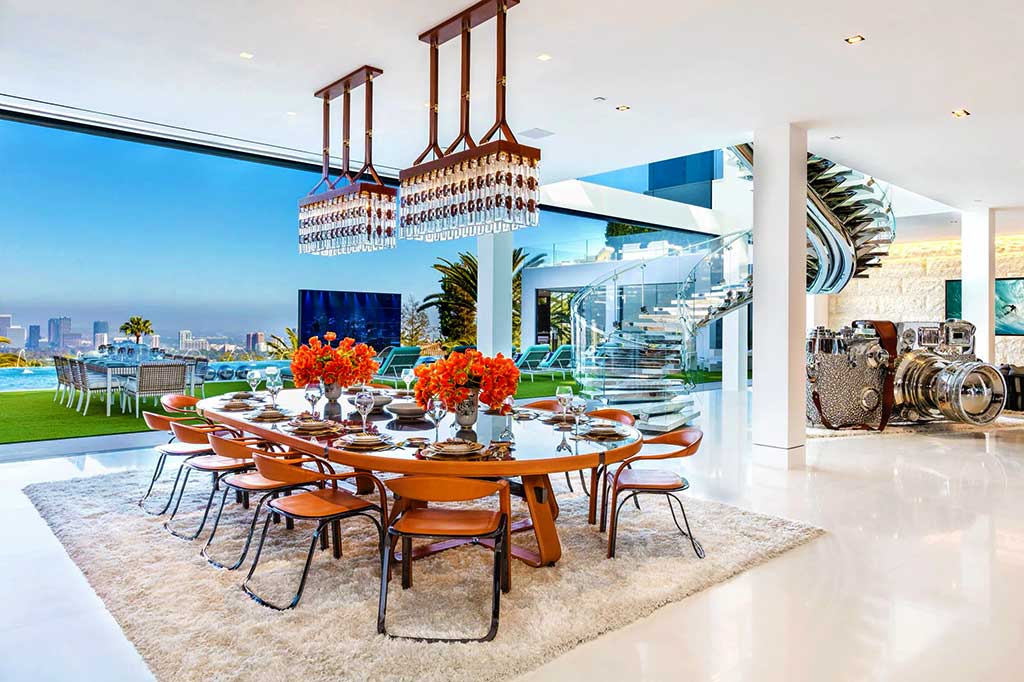 Lavish Bel Air Mansion is another world's most expensive house that is famous for its magnificent look. The garden of the mansion offers a breathtaking view of the outside.
The mansion is designed in Tuscan-style. The whole property is featured and finished with materials that are exclusive and expensive. The customized woodwork, exclusive stones, imported marble, Corinthian columns have enhanced its beauty for a thousand times.
The villa includes a billiard room, pools, fireplaces, home theater, and everything else. Inspired by Roman baths it has a spa and indoor pool too. That is so a lavish one!
34. Exclusive Luxury Villa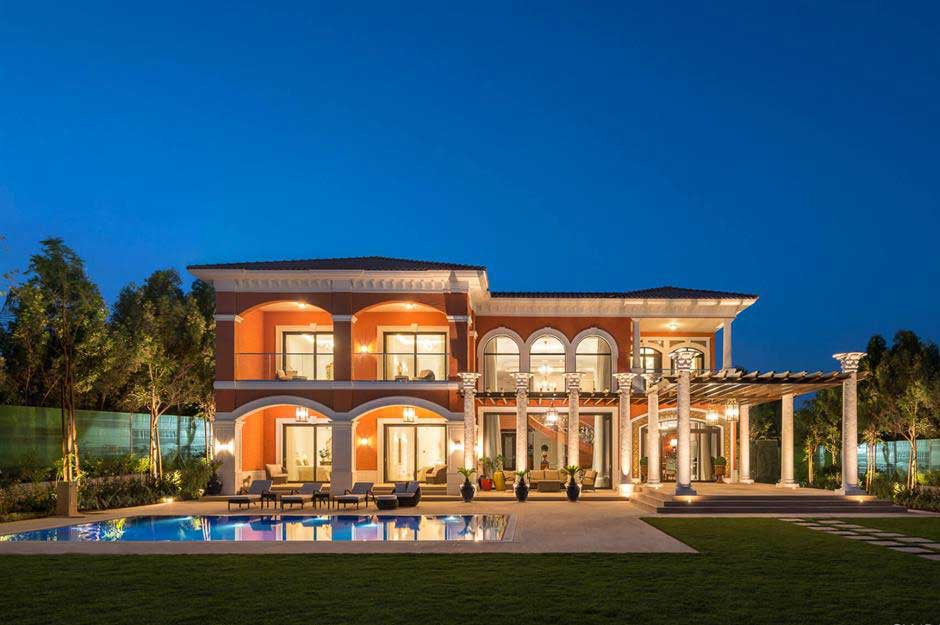 Value: $10 Million USD
Location: Dubai, UAE
Owner: love PROPERTY
Architects:
Space: 9,600 square feet
Attractions: floor-to-ceiling marble to 18-carat gold finishes, most luxurious rooms.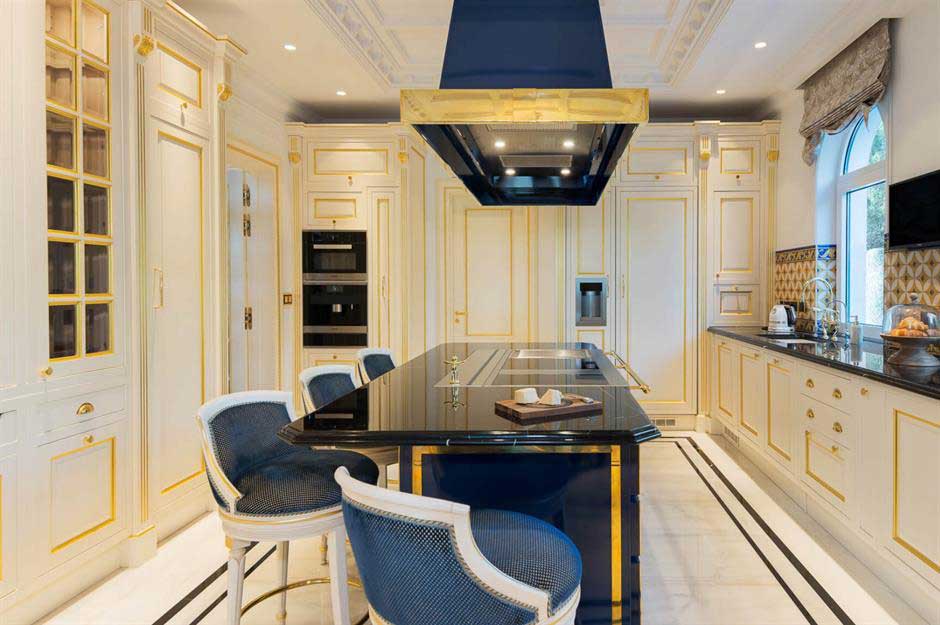 Exclusive Luxury Villa is a stunning property as one of the world's most expensive houses. The villa is designed with amenities that are extremely pure, valuable, and expensive.
The villa includes everything that is eye-catchy and attractive. Both the outdoor and indoor of the villa offers you views that are breathtaking enough. You cannot compromise with luxury right?
The whole property is signified with modern utilities and you will get everything inside it. Everything about this villa is worth its value.
35. Luxe Swiss Chalet

Value: $3.7 Million USD
Location: London, UK
Owner: lovePROPERTY
Architects:
Space: 5,478 square feet
Attractions: two hand basins carved from marble and 24-carat gold, Italian-designed kitchen,

Luxe Swiss Chalet is a fault-free home and has been placed on the list of the world's most expensive houses. No doubt, seeing only the pictures you can realize how beautiful and tremendous this property is.
Along with its bedrooms and bathrooms, the house includes many other sectors for maximum comfort. Both the indoor and outdoor of the property is designed with multiple sculptures and lights. Every material of this house is valuable. Thus, wandering around this house blesses your eyes!
You may like:
Best Kitchen Appliance Brands
Best Refrigerator Brands
Luxurious Clothing Brands
#Here is the top 10 most expensive houses in the world in 2023
| Rank | House Name | Value | Location |
| --- | --- | --- | --- |
| 01 | Buckingham Palace | $5 Billion | United Kingdom |
| 02 | Antilia | $2.6 Billion | India |
| 03 | One Hyde Park | $1.59 Billion | United Kingdom |
| 04 | Villa Leopolda | $750 Million | France |
| 05 | Tour Odéon | $387 Million | France |
| 06 | The 8th Wonder of the World | $250 Million | United States |
| 07 | Four Fair Field Pond | $267-500 Million | United States |
| 08 | 18-19 Kensington Palace Gardens | $222 Million | United Kingdom |
| 09 | Villa Les Cedres | $413 Million | France |
| 10 | Ellison Estate | $200 Million | United States |
Top 10 most expensive houses