Redesigning a small bathroom in 2023 can cost you $3000 to $9000 USD only. If you have a small bathroom but you want to make it special, then it is really a puzzling and hard work. Today I am sharing some excellent ideas with you, about redesigning a bathroom.
A minor step can make a huge change to your bathroom. You just need to follow some strategic ideas. You can also see Bathroom Design Ideas in 2023 to make your home look attractive.
Let's see the list of the best ideas of renovating a small bathroom in 2023 including cost, materials, images & attractions.
01. Install a Skylight
Cost: $600 to $1600
Attraction: looks like a window in the roof, if you give different shape to the skylight window, it will look more attractive.
Benefit: Works as the ventilation, solves the odor problem, enough amount of light and air gets way to come in
Best skylight models: Sunoptics SUN skylight, velux 14, velux FCM skylight, FAKRO FWU egress roof window.
Who can do the work: for doing this you need an expert hand. Otherwise, it will be a problematic one. Your roof can be damaged and of course, a great amount of money can be wasted.
Caution: it is a tricky work so you have to be very careful with the work. Remember that a bad installation can weaken your roof, your roofs age should be kept in your mind too and most importantly, you need a building permit to install it in your roof.
Time Duration: your roofs type determines that how much time it will take. At least 1 day is needed to do the inner side's work.
A skylight is an open place in the roof of your bathroom. Which can be windowed by glass. This skylight will allow more sun light and air to enter into your room. Natural light and air will solve your bathroom's odor problem, Makes the room look bigger. Even a skylight can be a solution of having a bathroom without a window. If you can buy a luxurious skylight window, it will level your bathroom up and it will brighten up your bathroom. Often we suffocate, and feel the lack of oxygen, in such kind of situation; this thing can be very helpful. However, some users say that it makes room hot in summer days. However, choose the middle of the bathroom's roof to install it. This is very tough job, which cannot be done without a professional worker. You have to remember that this is not just cutting a hole into the roof.
Did you see? Luxurious Bathrooms in the World in 2023
02. Extend Shelving
Cost: $200 to $500
Attraction: makes your bathroom more organized, looks simple and gorgeous
Benefit: helps you to find things fast, keeps things protected, keeps clean, gives a personal space for everyone, and helps to keep different kind of product in different shelves.
Caution: don't make much shelves if you do not have that much space in your bathroom
Who can do the work: you need pro workers for doing the job.

Never miss: Luxurious Bedrooms in the World
Shelves are the most important thing, which you need in your bathroom. Try to extend it as much as you can because it will keep your bathroom clean and simple. Otherwise, everything will remain so scattered. On the other hand, you can install a wall cabinet to save your room's space or just hang a coat rack instead. Floating shelve is now the most trendy thing.
03. Creativity in the shower area
Cost: $500 to $2000
Attraction: your shower area looks highlighted. In addition, your bathroom will look classy if your shower is an exceptional one.
Who can do the work: you need home decorating company for the job. This is not an easy thing to do. Huge planning is needed for this.

Wonder! Dream Homes in the World (Amazing)
Only plastic curtain can be used as the partition of your shower area. You can change the shape of your shower platform, try an oval or circle shaped platform instead of a regular square one. Different tiles or marble can be used which will highlight the space for sure. On the other hand you can decorate it in a country way or you can make it bold by using dark colors.
4. Make everything white
Cost: $200 to $1000
Attraction: the room will look bigger and peaceful. You will be able to find any kind of dirt in the room easily. According to a survey, white color decreases the mental pressure. Therefore, a white bathroom may become a place of meditation and relaxation for you.
Benefit: room looks bigger and standard. White color will automatically make your room look very clean
Who can do the work: it can be done by you or by the workers. If you want any professional touch in the room or any professional wall painting in the wall then you have to contact with the company.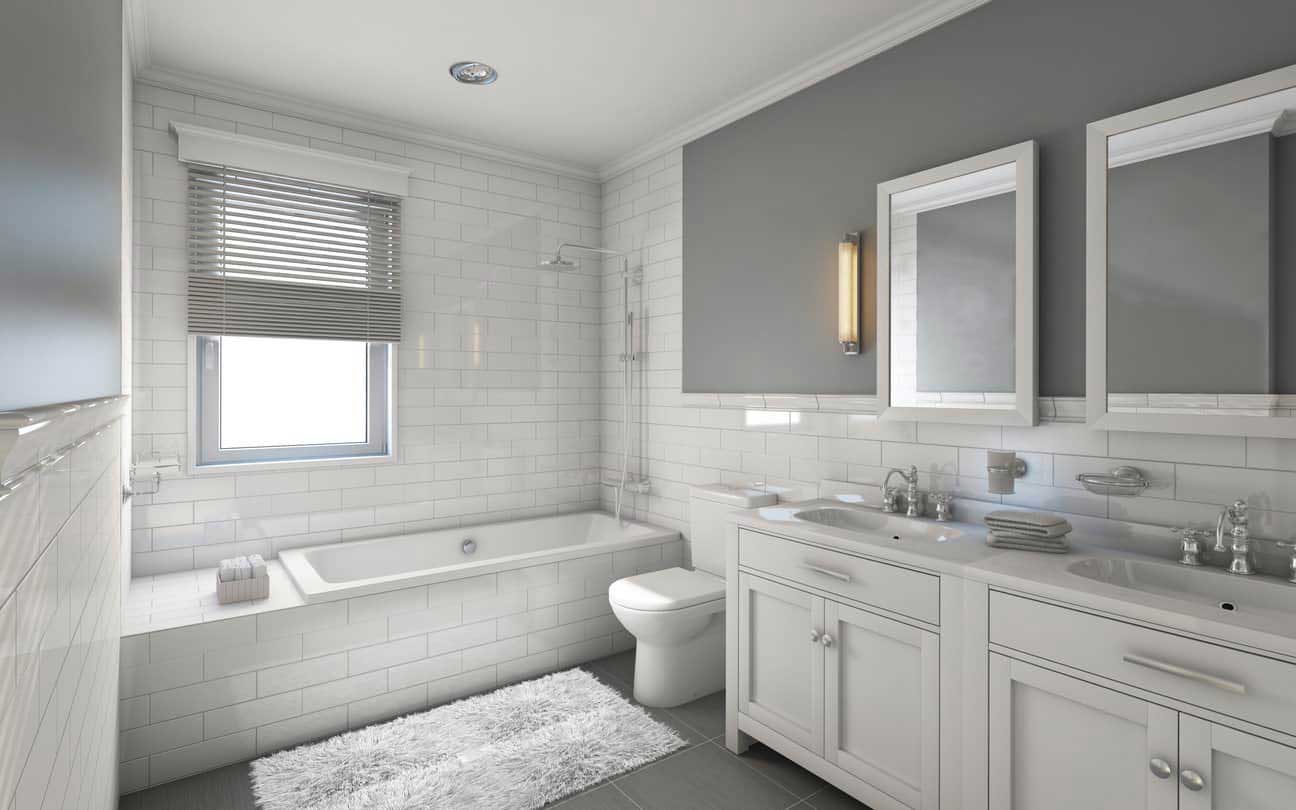 Have a look: World's most expensive houses
Colors have a direct influence in our mind and body. A white room has the ability to take away your mental pressure. Color specialist john Hassen says that. On the other hand, if your bathroom is not that much big than using white all over the room will definitely make your room look bigger and shiny than its actual condition.
5. Try Sinks of different shapes
Cost: $600 to $3000
Attraction: a different sink will change your bathrooms full outlook. It shows your personality.
Who can do the work: you have to buy the sinks and for doing the other work, you have to call plumbers.
Best brand for sinks: Villeroy and Boch , Kohler , Kraus , Moen etc.

There are many brands in the market who manufactures many beautiful
sinks. These sinks can change the whole face of your bathroom. Because not
everyone has a taste of having sinks like that. Usually everyone uses a oval
shaped sink, but you can go for the customized piece. However, you have to make sure that you are taking care of it regularly otherwise; it can be damaged and non-useable forever.
6. Get luxurious towel bars
Cost: $200 to $600
Attraction: towel bars are going to talk about your luxuriousness. Even gold plated bars can be used in your bathroom.
Benefit: cabinets are not useful when you have to keep your towel or dress. In this case, a bar is very important.
Best towel bar models: The Moen DN8418bn preston, JQK Double bath towel bar, KES sus 304 etc.

A towel bar is the best thing to keep your bathrooms floor free. On the other hand, a towel bar helps to keep dresses dry. You can go for a 5feet to 8 feet bar for redesigning a standard size bathroom.
7. A small table in the bathroom
Cost: $100 to $8000
Attraction: it will increase your bathrooms gorgeousness and reveal your bold personality.
Benefit: you can keep your small accessories when you are taking a bath such as your small finger ring, earring, watch, glass or body products etc.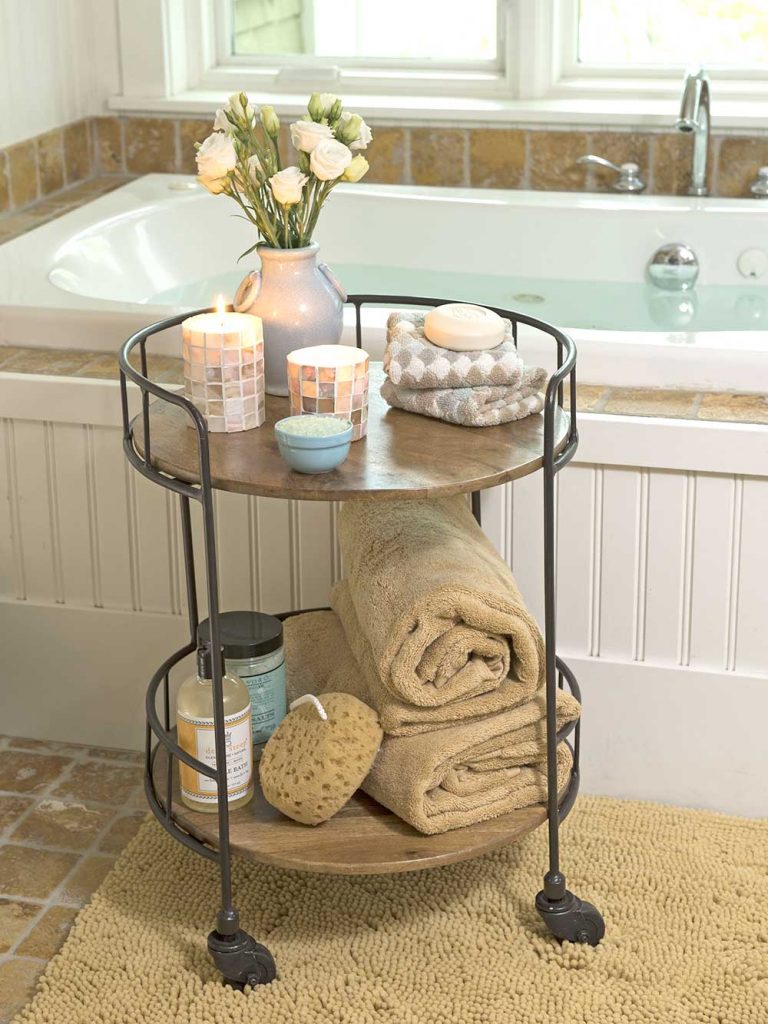 Buy a single table, which matches with your interior design. You can find them in online shops in a reasonable price. Wooden table, marble based table or stainless steels table will be very suitable for the room. You can put the table beside the bathtub.
8. Make the windows free
Cost: $200 to $300
Attraction: it will make your bathroom brighter, cleaner and bigger. Windows makes room hygiene and the openness will give your bathroom a hotel like vibe.
Who can do the work: you can do this.

If your window is blocked by any furniture, curtain or any kind of unnecessary heavy things then you should make the place free. Windows are the important thing for bathroom because keeps the environment clean and hygienic.
9. Add more Mirror
Cost: $400 to $1000
Attraction: Makes the room reflective and everyone knows reflections are always gorgeous.
Benefit: small room looks bigger by using the mirror.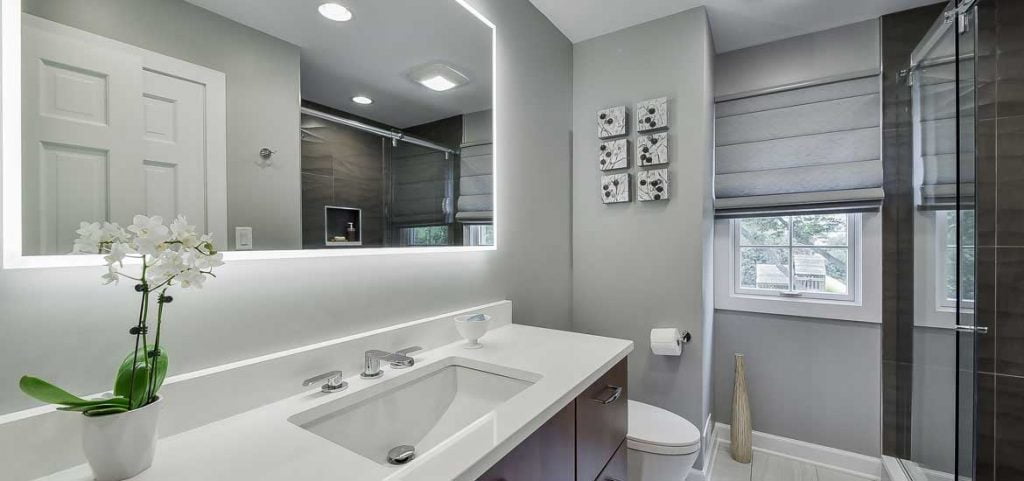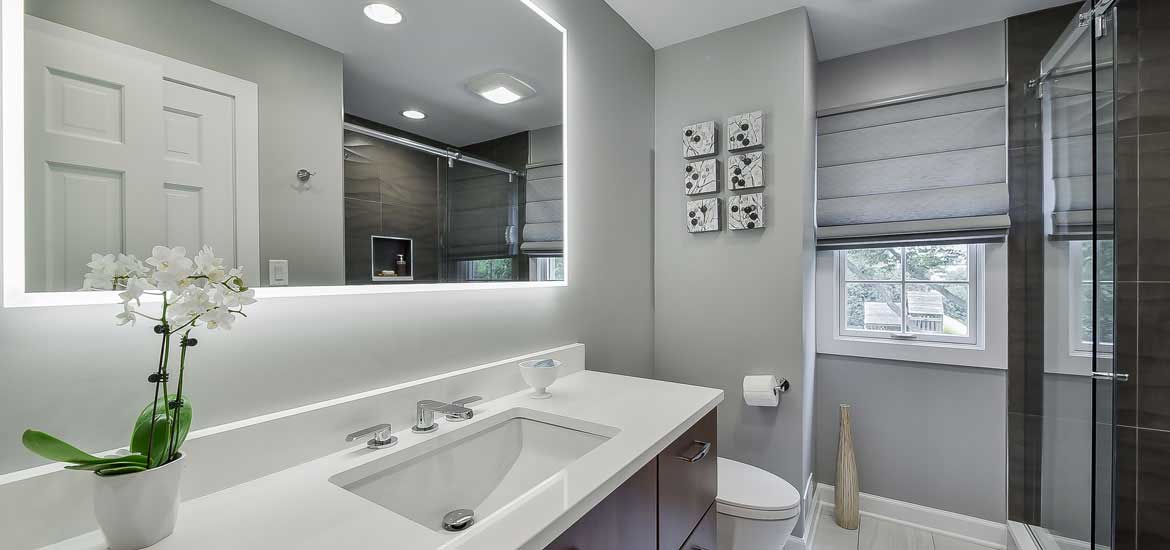 Mirror is an important thing for bathroom but it can decorate the room as well. Using lots of mirror will help your room to look bigger. It reflects lights and makes the room very bright. So if you are thinking of redesigning the bathroom, go for the idea.
10. Creativity in the door
Cost: $1000 to $3000
Attraction: everyone has a regular door but if you install a rarest one, it is going to change your standard just in a second.
Who can do the work: Homemaker Company
Do Experiment with your bathrooms door: You can go for an antique door in your bathroom. This is a very rare thing to do because an antique door is not an available thing. Painted glass, heavy work on wooden door, board door these are also a good and smart choice.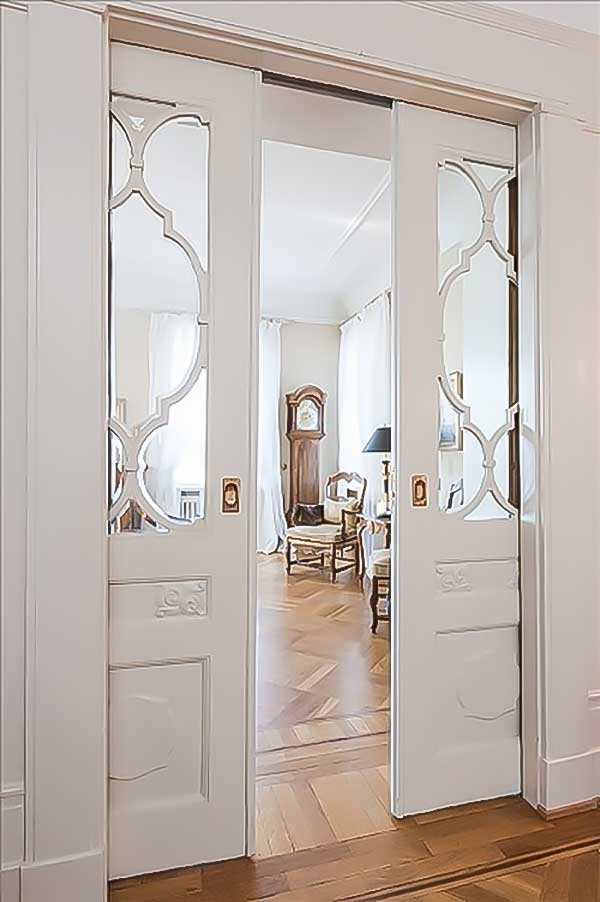 11. Skip the shower door
Cost: $100 to $200
Attraction: Excluding the door, you are going to make the room smarter.
Benefit: if you do not have much space just skip the door with cleverness. It will save your place and make your home more up to date.
Who can do the work: you need home décor company for the work.

This door less shower, which is also known as walk in shower, is now the trendiest design of doors. This kind of shower is multifunctional; I mean, they can do double duty. You can use it as a walk way and a shower at the same time. Cool right?
12. Install a corner sink
Cost: $300 to $1000
Attraction: it saves spaces of your room and makes your room trendy.
Benefit: you do not have to walk a distance from shower to the sink if you install a corner sink.
Who can do the job: you have to call the plumber to do the job. It is a tricky one and you cannot do it by yourself.
Best corner kitchen sink: Elkay DE217323 , Ruvati RVH8400, Houzer LCR -3221 -1, Dax etc.

Beside your shower area, you can choose a corner to install this trendy thing. It will also increase your bathroom's beauty.
13. Hang Arts in the wall
Cost: $100 to $ 600
Attraction: it will speak for your artistic mind.
Caution: you have to take serious care about the frame. You cannot use anything in your bathroom where water is a common thing. So be very careful about the frame otherwise, it is going to ruin the artwork and money.

Canvas is a good idea in bathroom. You can create a small gallery in any wall of your bathroom. In this case, you need a big bathroom. However, you can hang designed mat in the wall which will give you a classical Indian look in your bathroom
14. Use dark color
Cost: $900 to $1500
Attraction: dark room is always a standard choice. It reveals your bold personality.
Benefit: this dark color will hide the lacking of the room when it will get old

Dark decoration is also known as the Moody bathroom. This the most popular design now. To make your room dark, you have to bring all the
bold things. Dark sinks, dark bathtub, dark wall, dark chair, dark curtain,
everything should be in the shade of darkness. However, don't forget to do
light works in this kind of bathroom because you will need enough light here in this room.
15. Go Raw
Cost: $4000 to $10,000
Attraction: it gives a bold impression.

A raw bathroom is a stylish and a useful one also. Raw bathroom demands Metal roofing. This metal roof consumes heat and keeps the room cool. A metallic bathtub can be placed here. It will certainly increase the gorgeousness. For wall decoration bricks- out design will be suitable more.
16. Use Tiles
Cost: $2000 to $3000
Attraction: makes the bathroom attractive and suitable for a luxurious home.
Benefit: By changing the tiles, you can make the room new again.
Best tiles: ceramic tiles is the best for bathroom.
Caution: remember to buy some extra pieces because tiles tend to break. You may need this when you are inserting it in your floor.

Change the tiles and bring new. As a result, this will change the whole pattern of your bathroom. Ceramic tiles are water and dirt resisting so this is good for bathroom. Only by changing the tiles, you can change the interior design totally. One more important thing is, you should choose the tiles size according to the size of your bathroom. Go for the big size, it makes room look bigger.
17. Install a Sound System
Cost: $100 to $300
Attraction: sometimes we feel listening our favorite songs when we are taking bath. Therefore, it is a very good idea to install a sound system in the bathroom. It is smart and necessary also.
Benefit: helps us to spend a quality time with relaxation in the bathtub.
Who can do the work: you yourself can do the work.

You can simply buy a sound box and set it by yourself in the bathroom. For keeping this safely, you can bring a table and put the sound system there. Enjoy the music.
18. Go for the Wall Painting
Cost: $400 to $800
Attraction: gives a new life to the walls.
Who can do the work: if you are a good painter, go for it. Don't worry, if you are not a good artist. In that case, you can contact with the interior designer company.

Customized paintings on the wall is very trendy one. Wall colors are water resting, so don't worry about the colors life time. Just go for the painting, which goes with your desire.
19. Keep a kids' Corner
Cost: $500 to $700
Attraction: gives a luxurious effect.A bathroom is used by everyone. So, this will be very useful for kids. You can add a small bathtub, matt floor that is not be slippery, small rides, rainbow colored shower, lights, music system for your kids. As a result, these will make your child take shower every day and certainly, it will reduce your pressure of taking them into the bathtub regularly with a great effort.

20. Floating Sink
Cost: $500
Attraction: saves places, looks simple, trendy and smart.
Benefit: makes room look bigger. Gives free space to keep more things that are necessary.
Available in: Amazon, Wayfair etc.
Color: Choose color according to your bathrooms wall. You can make a contrast between two or three colors.
Who can do the work: You need a professional hand for this job.

Floating sinks are now the most popular one because this sinks takes very small place as its body is not visible. These kinds of sinks are made up of ceramic, concrete, copper, marble and so one. The price depends on which sink you are choosing. It makes room look bigger by creating an illusion of free space. If you want a modern bathroom, floating sink should be in your list.
21. Wallpaper
Cost: $ 400 to $800
Attraction: makes room very luxurious. You can get any print of any color and can make your bathroom trendy.
Benefit: it takes less money but makes a room smarter than any other room decoration ideas.
Who can do the work: you need professional worker for this. Otherwise, you will not be able to handle the hard peel and stick wallpaper.
Best wallpaper designer brands: Anaglypta , Arte , Arcadia, Ailanto etc.

For redesigning a room, wallpaper is the best idea. You can
make your bathroom cloudy, romantic, fanciful or rustic, whatever you want only by using wallpapers.If you think that you don't want to use wallpaper all over your room then you can use them in some specific area such as, the background of the sink or beside the bathtub etc. As, a bathroom is a mostly used room, make sure your wallpaper is a plastic made one.
22. Be wise to choice furniture and accessories
Cost: $700 or more.
Best bathroom appliance brands: Kohler Company, Roca, Duravit etc.
Attraction: if you can choose everything, which will match with each other, you will get a harmonious effect on the room. The will look so organized and standard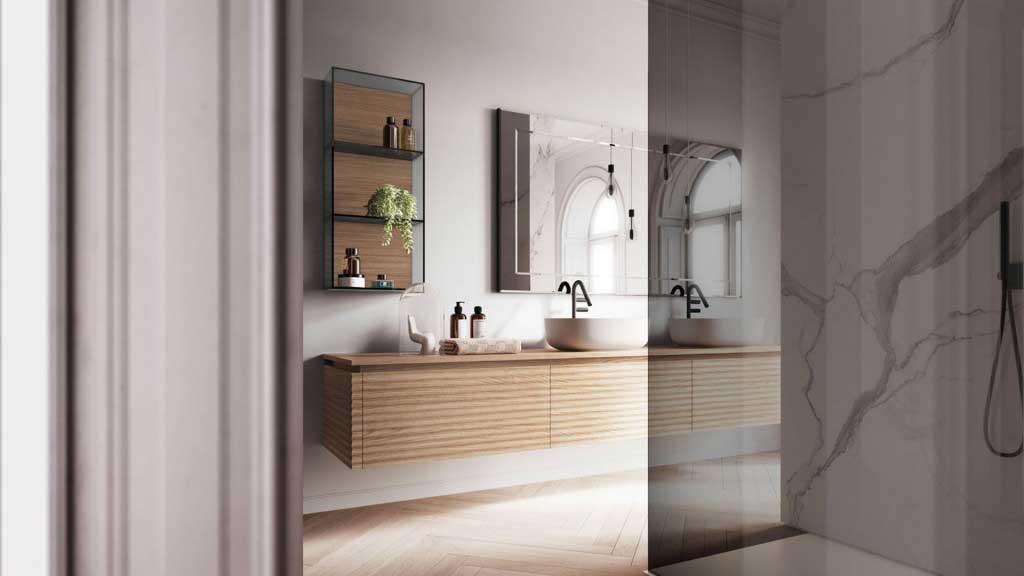 If you think your bathroom is not looking good and rhythmic, maybe the problem is with the selection of furniture and appliances. You should maintain a link between all the things, which you are going to keep in the room. For example if you have dark color in your room, then you must have to bring every product, from a mirror frame to the little table, dark. Not only choosing but also organizing them nicely is important. You have to think about the size and color of furniture and appliances, when you are decorating the room.
23. Extend the area of your bathroom
Cost: $1000 or more
Attraction: a large bathroom is always very relaxing; you can bring a hotel like feeling by customizing everything in that way in a large bathroom.
Who can do the work: workers.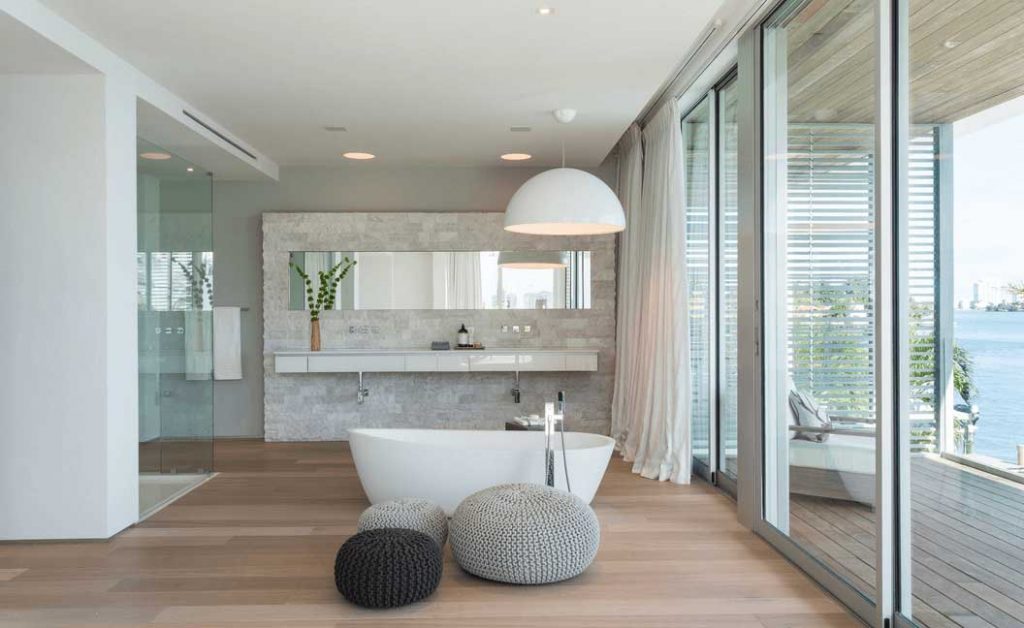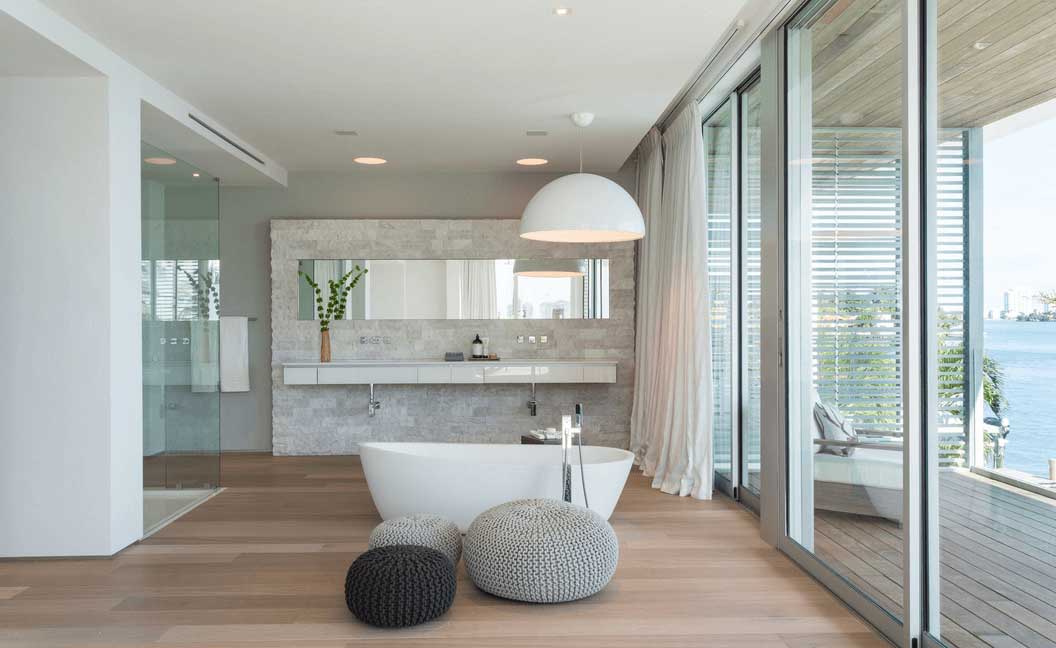 If you have the way to extend your bathroom, you should extend it. A large bathroom is always a better one. You can customize it in any way you want. If possible, keep a large window in the wall, buy a large bathtub, make a kids area, arrange a shower place etc.
24. Make it Floral
Cost: $400 to $1000
Attraction: it gives the touch of nature; everything looks colorful, joyful and fresh.
Benefit: a research says that colorful place makes us happy and relaxed.

If you are a flower, color and nature lover, let's jump into the idea. On the other hand if you have a kid, this suitable design for you. You can go for floral painted wallpaper, tiles, curtains, floral painted bathroom appliances or wall painting etc. Wayfair, Amazon etc are some famous online shops
from where you can buy anything you need to make your bathroom floral.
25. Make a shelf above the bathtub
Cost: $200 or a bit more
Benefit: adds some storages in a small bathroom
Attraction: the curve looks very luxurious.
Who can do the work: youneed home décor company here.
Best home décor company: Gilt home, Joybird, Parachute etc.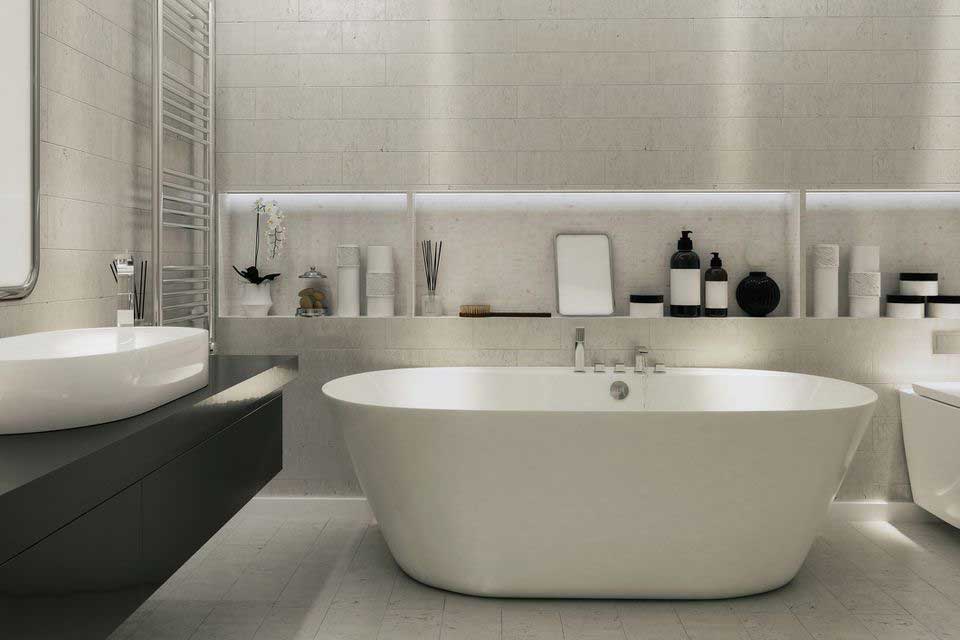 A shelve above the bathtub is not only a luxurious or wonderful thing to see but a useful one also. If you doesn't have any table in your bathroom to keep your ornaments and shower friendly products than you badly need this above the tub. Where you can keep any product dry. You can curve the wall itself, glue a shelf, hang a coat rack or install a wall cabinet to make the storage.
26. A Sunken Bathtub
Cost: $500 to $1000
Attraction: it is the smartest idea of a bathtub now
Benefit: yourbathroom will look very simple or you can say it will look like empty and bigger.
Best manufacturer: Villeroy and Boch

This is the latest invention. It looks like a bathtub inbuilt to the floor. It's very amazing. As a color, you can choose the same, which is the color of your bathrooms floor, or you can go for a completely different color, which will highlight the spot.
27. Wooden floor
Cost: $900 or more
Attraction: it will give you a feeling of old wooden house. It looks very classy.
Benefit: it is less slippery, helpful for your baby and old family members.
Best durable woods: Oak, Maple and cherry

Floor demands a special treatment from you. You can build different
kind of floor but wooden floor has a separate demand in the trendy world. There are many online-based shops who are selling woods for flooring purpose. Oak maple and cherry is the best wood for flooring but these are very expensive. If you have a good budget, then go for it. Maybe you are planning to redesign your old small bathroom, which is no more a trendy one. For making your home match able with your wonderful home, you can apply our ideas.