Here I will show you the list of top 10 luxury tv 2023 in the world to uphold the expensive luxury of the passionate people. Do you know luxurious television controls our life in many ways? Televisions can control our social value as well because if you have one of a television set from the list I am sharing, you are going to be treated specially. Many of us are happy with just an affordable useful TV. But some of us have different thoughts about this matter.
Let's have a look on the list of expensive luxury tv in the world 2023 including price, brand, screen sizes, display types, resolutions, processors, technology, box included, warranty, etc.
01. Samsung 98 inch QLED Smart 8K UHD TV
Price: $60k USD
Screen size: 98 inch
Display: 98″ QLED 8K
Type: QLED 8K TV
Resolution: 7,680 x 4,320 (8K)
Speaker: 4.2CH, Dolby
Weight: 87kg
Model: QN98Q900RBFXZA
Color: 100% Color Volume with Quantum Dot
Specialty: Quantum Processor 8K, Game Mode, Woofer, Multiroom Link, AI Technology, Bluetooth Headset, Wireless Connectivity, Smart Hub, Smart TV with Bixby Voice, Apps and Full Web Browser, Alexa, Google Assistant etc.
Warranty: Parts: 1 Year, Labor: 1 Year
Connectivity: Wi-Fi Connectivity, Bluetooth Headset, USB HID, HDMI, USB, Ethernet, Digital Audio Out etc.
The extraordinary depth, detail, and high-resolution of the Samsung QLED 8K Q900 transport you into a new world of unprecedented picture quality. With AI2-developed automatic up scaling, QLED 8K increased details and sharpness. With 8K-level picture quality, decreased noise, and improved definition, you may enjoy clear and exact images. Thanks to an 8k Quantum Processor which customizes content recommendations, optimizes sound for each scenario, and adapts lighting to the room's atmosphere.
From vibrant color to the deepest, darkest details, Quantum HDR 32X is the greatest Samsung HDR picture. It provides the super-large screen clarity you've been looking for. Enjoy the impression of total immersion, even up close, with fewer visible pixels. With only one remote, the elegant and thin OneRemote recognizes and controls all compatible connected devices and entertainment. You can control your TV with only your voice. Inquire about Bixby's knowledge by asking a question.
02. Sony MASTER Series Z9G
Price: $60k USD
Screen size: 98 inch
Display: 98 inch, 8K X-Reality PRO, LCD
Type: 8k LCD, HDR10
Resolution: 7680×4320 (8K)
Speaker: Acoustic Multi-Audio, Dolby, DTS Digital Surround
Weight: 74.5 kg
Model: XBR-98Z9G
Color: Super bit mapping HDR, TRILUMINOS Display
Specialty: 8K X-Reality PRO, X-Motion Clarity, Auto mode, Storage: 16GB, Voice Search, Google Play Store etc.
Warranty: 1 Year
Connectivity: Wi-Fi Certified, Ethernet inputs, Bluetooth, mouse/keyboard connectivity, Smartphone connectivity, HDMI, HDMI CEC, Digital Audio Output, Headphone Output, USB ports etc.

Enter the world of Sony 8K, which is powered only by the X1TM Ultimate processor. With four times the resolution of 4K and high brightness specifically built for 8K, you can enjoy immersive big-screen entertainment. The images have a lot of depth, texture, and detail, and they fill your field of view with unrivaled realism. Images are upscaled closer to genuine 8K quality utilizing the 8K database with 8K X-RealityTM PRO. Pictures are enhanced and exposing previously unseen elements in the architecture of the structure bring out the shadows and highlights.
Its' 8K X-tended Dynamic Range ™ PRO ensures dark scenes are darker and bright situations are brighter, with up to twenty times the contrast of normal LED TVs. The TRILUMINOSTM™ Display's true shades and hues may be enjoyed from any angle thanks to the X-Wide Angle technology; one can see rich real-world colors even from the corners.
03. LG SIGNATURE ZX
Price: $30k USD
Screen size: 88 inch
Display: 88 inch, 8K OLED, HDR10, 120Hz Refresh Rate
Type: 8K OLED, HDR10
Resolution: 7,680 x 4,320 (8K)
Speaker: 4.2 Channel, AI Sound Pro, Surround, Dolby Atmos
Weight: 104kg
Model: OLED88ZXPUA
Color: Billion Rich Colors, Intense Color, True Color Accuracy Pro, Advanced Color Enhancer
Specialty: A9 Gen 3 AI Processor 8K, LG ThinQ AI, AI Picture Pro, Google Assistant, Alexa, Apple Airplay 2, Apple Homekit, webOS, Web Browser, Surround Mode etc.
Warranty: 1 Year Parts & Labor
Connectivity: NEXTGEN TV (ATSC 3.0), Wi-Fi, Bluetooth 5.0, IP Control, HDMI, TV Tuner, Smart Phone Connectivity, USB Ports, Headphone Out, Ethernet Input etc.

During the 2020 CES, LG SIGNATURE's OLED TV ZX garnered important accolades for design and technology superiority. Deepest blacks, richest colors, and most realistic picture quality are attributed largely to over 100 million self-lit sub-pixels. Again, it outperforms the competition in terms of blue light and flicker. As it supports the HEVC, AV1, and VP9 codecs, it can deliver sharper images with less noise and improved sharpness. LG OLED is the perfect choice for gaming setup because it was the first TV in the industry to enable NVIDIA G-SYNC Compatible.
Better frame rate, Variable Refresh Rate, Auto Low Latency Mode, and Enhanced Audio Return Channel are all new capabilities that comply with HDMI 2.1 regulations, allowing for faster-moving material in higher quality and smooth, synchronized graphics. Its' HGiG provides the game visuals most suited to your TV's specifications and performance levels. So, it provides a more realistic game experience.
04. Sharp 80 inch 8K UHD android TV
Price: $23k USD
Screen size: 80 inch
Display: 80 inch 8K UHD
Type: 8K UHD
Resolution: 7,680 x 4,320 (8K)
Speaker: Dolby Audio, Stereo System, Surround
Weight: 60.5kg
Model: 8T-C80AX1X
Color: Real Colour Pro
Specialty: Smart tv, Web Browser, HTML5, AquoMotion, YouTube, Netflix, Voice Control, Google Voice Search, Wireless Connectivity, Google Play Store etc.
Warranty: 3 Year
Connectivity: HDMI, USB, Video in, Digital Audio Output, Analogue Audio out, Headphone, External USB-HDD ready, FAT32, NTFS, Bluetooth, Ethernet LAN, WiFi etc.

It features a trendy design that includes quality materials such as back brush aluminum and a symmetrical arched stand design. This television is equipped with a newly developed image processing engine, the 8k Al Revelation Engine, which utilizes fine processing semiconductor technology and has an 8.8 time*2 processing capacity compared to traditional models. This technology is utilized to offer huge capacity 8k video at 120 Hz, as well as upscale content from the television broadcast and 2k/Ultra HD Blue-ray to high-resolution 8k video.
It has a resolution of roughly 33 million pixels and has 16 times the pixels of Full HD (2k). Its high dynamic range (HDR) is combined luminance to create lovely light in images. It contains Eilex PRISM audio perfection technology, combines advanced algorithms and a 3D matrix of sound measurements to produce studio-quality precision and accuracy, and we can hear it with the help of Eilex PRISM.
05. VIZIO P-Series Quantum X
Price: $17k USD
Screen size: 75 inch
Display: 75 inch 4k Ultra HD
Type: 4k Ultra HD, HDR10, 240Hz Refresh Rate,
Resolution: 3840 x 2160 (4K)
Speaker: 15W x 2, Dolby
Weight: 36.09 kg
Model: PX75-G1
Color: Quantum Color Spectrum
Specialty: 75″ 4k HDR10, Wireless Connectivity, Octa-Core Processor, Quantum Color Spectrum, Dolby Vision, VIZIO SmartCast, Full Array LED
Warranty: 1 Year Parts, Labor. Free Lifetime Technical
Connectivity: HDMI Ports, Component, Ethernet, USB Ports, TV Tuner, Digital Audio Out etc.

The VIZIO P-Series® Quantum X 75″ Class (74.5″ Diag.) 4K HDR Smart TV is the ultimate home theater experience. UltraBright 2700 produce fiery highlights that smolder up to a stunning 2700nits for a contrast that approaches perfection, while Active Full Array® uses 480 zones of local dimming to maintain black levels pristine. Dolby Vision HDR mixes ultra-bright and ultra-dark to provide an extraordinarily detailed visual quality.
Furthermore, cinematic quantum-dot technology displays up to 165 percent more shade than regular 4K TVs, bringing over one billion hues to life. Streaming, controlling, and exchanging your favorite shows has never been easier thanks to VIZIO's SmartCast with Apple AirPlay 2 compatibility and Chromecast Built-in. No other streaming devices or remotes are required. Its' ProGamingTM Engine boosts gameplay by reducing stutter, tearing, and video latency with smoother, quicker graphics. So, the P-Series® Quantum X is the ideal centerpiece for any home's entertainment system.
06. Panasonic TC-77EZ1000C
Price: $10k USD
Screen size: 77 inch
Display: 77 inch OLED 4K Ultra HD
Type: OLED 4K UHD, HDR
Resolution: 3,840 x2,160 (4K)
Speaker: Dynamic Blade Speaker, Surround
Weight: 44kg
Model: 77EZ1000C
Color: Vivid
Specialty: OLED 4K UHD, Ultra Bright Panel, Studio Color HCX2 Processor, Noise Reduction, isf Mode, Surround, Voice Assistant, Wireless etc.
Warranty: 2 Year
Connectivity: Wireless LAN, Web Browser, DLNA, Bluetooth, HDMI, USB, Ethernet, SD Card, Digital Audio Output etc.

With groundbreaking Absolute Black Filter, the Panasonic TC77- EZ1000 enhances OLED's remarkable capabilities by reducing reflections and absorbing ambient light. Panasonic's greatest video processor, the Studio Color HCX2 (HCX stands for Hollywood Cinema Experience), was also utilized. The EZ1000 can now show approximately 100% of the DCI P3 color space with reference-grade fidelity across the spectrum thanks to enhancements in white balance and shadow detail.
The technology has been tweaked by a Hollywood colorist to produce picture quality faithful to the filmmakers' vision. The TVs capture every subtlety and detail of the original film thanks to Panasonic's expert "3D lookup table" color management and next-generation OLED display. This is the only TV that earns the THX 4K display certification mark after passing 400 THX lab tests in 30 different areas. So, their high performance requirements and pristine picture quality ensure that you get the full experience of the filmmaker's vision.
07. Hisense 120 l10 Series
Price: $8.9k USD
Screen size: 120 inch
Display: 120 inch (4k) 60 Hz Refresh Rate
Type: 120 inch 4K UHD
Resolution: 3840 x 2160p (4k)
Speaker: Embedded Harman Kardon speakers
Weight: 22kg
Model: 120L10E
Color: DCI-P3 (>95%)
Specialty: 120 inch 4K UHD, Smart tv, 60 Hz Refresh Rate, Harman Kardon Sound, Wireless Connectivity, Alexa, Noise reduction etc.
Warranty: 2 Year
Connectivity: WiFi, Ethernet, Bluetooth, HDMI, USB, Audio Output, Audio Input etc.

A dual-color laser in the Hisense 4K UHD Smart Laser TV with Wide Color Gamut creates a cinema-like picture with rich, bright, and true-to-life colors. Images are smooth and clear thanks to the fluid motion of quick fast-moving images for uninterrupted viewing, which is designed with DLP technology. On a massive 100-inch screen, 4k Ultra HD displays nearly 8 million pixels, creating a startling impression. The Ultra Short Throw Laser TV displays vibrant and bright 4K images on a screen with a 100 ambient light rejection rating, making it ideal for viewing in any room.
This 120-inch Smart Laser TV with no panels is a superb blend of movie-theater technology, stunning aesthetics, and a simple table-top setup. This Laser TV has 3000 lumens, a UHD Upscaler to bring your material to near 4K quality, Wi-Fi, popular music and movie apps, and numerous features for a fantastic and premium viewing experience.
Price: $5.7k USD
Display size: 65″
Design: flat
Display type: OLED
Resolution: 4k
Specialty: HDR 10+, HCX pro Video processor,dolby vision,professional edition OLED panel,2.0 HDMI,WiFi, Bluetooth
Audio: 140w
ports: USB, Ethernet
Weight: 34 kg

You will feel the difference between this one and the other OLED TV in the market just after a watch. Ports are neatly hidden behind a plastic back part. You can easily fixed it on any furniture because of it's light weight.The sound and picture quality is going to amaze you certainly. HDR 10+ helps you getting sharp and detailed images.
The GZ2000 feels colder to the touch than other OLED TVs, which are due to Panasonic's modification of the screen and which includes the use of a metal back plate to transport heat away from the display. In terms of sound, the GZ2000 is equipped with a Techniques-tuned sound bar as well as an up-firing audio solution that is intended to unlock some of the Dolby Atmos potentials. Customers are highly satisfied with its gaming experience as well. Though, its' poor app support is disappointing.
09. Sony Bravia AF9
Price: $5.2k USD
Display: 65″
Resolution: 4k
Weight: 23.8 kg
Technology: Android
Storage: 16 GB
Ports: 1 Ethernet input, 1 RF connection input,2 IF connection, USB port
Audio: 13w output, Actuator and Sub woofer speaker
Connectivity: Bluetooth version 4.2, Wi-Fi

Sony Bravia AF9 is another craze maker of the market. This smart luxury TV is powered by android and picture processor x1, with its unrivaled processing capacity, identifies hundreds of distinct items on screen and automatically boosts brightness, detail, and color so that everything you watch is crisp, brilliant, and stunningly lifelike. The device is very light with much updated features. You can touch the beauty of everything you see in it. AF9 has contrast and color booster which gives it master class clarity.
It has three actuators and two strong subwoofer speakers which take the sound into multiple dimensions that transport you to a new level. It supports HDR10 and Dolby VisionTM, and can play HDR content from a variety of services. The Sony Bravia AF9 TV delivers you the thrills of 4K HDR movies and games. Users are very satisfied with its service. This TV is available in online platforms.
10. LG C9 (Luxury TV)
Price: $4,997 USD
Screen size: 77 inch
Display type: OLED display
Resolution: 3840
Pixel: 2160
Processor: a9 Gen 2 intelligent processor
Specialty: LG Thinq Al, Google assistant, apple airplay, Alexa, Dolby vision, Dolby atmos,HDMI 2.1 connectivity
Thickness: 0.1 inch
Weight: 55.6 pounds
Technology: webOS 4.0
Ports: 4 HDMI 2.1, 3 USB
HDR: Dolby Vision, HDR10, HLG
Audio: eARC improved version

This super-smart OLED TV comes in 3 different sizes with 3 different price tags. This is one of the positively rated luxury tvs in the market. A highly qualified sound system and picture quality take it to another level. Though some of the consumers often complain about the price. It has a bezel-less complete brushed metal finishing with web OS technology. It doesn't have much weight and the device is so thin, so you can fix it anywhere you want. Famous product reviews say that this extraordinary slimness will make you look at it twice.
It has a super-fast intelligent processor, Netflix, Google play store, amazon video, Alexa is applicable here. HDMI will provide a great gaming experience. You can connect it easily with any apple device and can enjoy a wireless sound system. Consumers can easily book their one from amazon. It is one of our top recommendations.
11. Samsung QLED 8K – Luxury TV
Price: 8K regulation $3,499 / 4K regulation $1,798
Screen size: 82 inches
Box included: 1 box with internet, HDMI, USB
Display type: 16 times better than FHD
Pixels: 33 million
Warranty: 10 years
Resolution: 8k
Processor: Quantum processor
Technology: Quantum HDR 8, 100% ACQ LED technology
Specialty: ambient mood supportive, Google assistant, apple airplay, office 65

This is the most powerful luxury television in the world now. It has started the era of smart TV. This device will give you a great experience. The device has 33 million pixels and 8k resolution so the details is very sharp. And picture quality is astonishingly clear. Everything looks real for it's Quantum HDR 8 technology. This technology helps us getting HDR option up to 10+ including great dynamic range. This super powerful device has 100% color volume. You are unable to miss any smaller details or shades of color in this TV.
Color quality is very vibrant and life like specially the black level is very intensified. You can use this TV in different moods it's not only a TV. You can match the wallpaper of your TV with the color of your room's wall. When it is in ambient mood it consumes less power. It has a remote controller with premium and sleek look along with Google assistant, apple airplay, office 65, which makes your TV more than a mere TV. You can install different apps as well. Some customers complaints about their storage but still it is one of our best recommendations for you.
12. LG E9
Price: $3,297 USD
Display size: 65″, 4k class
Resolution: 4K Ultra HD (3,840 x 2,160)
Ports: USB ports
Specialty: glass body,LG,dolby vision, Dolby atmos,alexa, google assistant, magic remote, Netflix connectivity, HDR10, Object Depth Enhancer, intelligent voice recognition
Processor: LG α9 Gen 2 Intelligent Processor
Audio: 60w output
Connectivity: Wi-Fi, Bluetooth, IP control, HDMI, smart phone connectivity

LG never disappoints its customers. E9 is one of their best products. This smart device has every important thing you need. Its' sleek and stylish model will amaze you certainly. Shadow detail is brought out in the darkest areas by perfect black and limitless contrast. 8.3 million independently lighted pixels in LG E9 TVs have that kind of power. With NVIDIA G-SYNC®, VRR, and ALLM support, LG E9 TVs deliver the best graphics with a minimal stutter and experience PC gaming as you've never seen it before.
That is why it is called the best gaming TV according to the customer's rating. Object depth enhancer gives a 3D effect while watching. You will get enough inbuilt app and the fastest browser. This can be a living room-friendly object for your home. This provides great sound quality. Password can be used as there is voice recognition. Don't worry it has the coolest processor.
13. Samsung PS63B680 – Luxury TV
Price: $3.1k USD
Screen size: 63 inches
Type: plasma
Color: ruby black
Warranty: 7 years
Resolution: 1920
Pixel: 1080
Display: FHD, 3D comb filter
Specialty: stereo playback, Google assistant, Bluetooth 5.0, HDMI, HDR
Speaker: 2 speakers with 30w output
Weight: 52.9 kg
Connectivity: HDMI input,VGA input, USB port

This luxury TV has a stunning look. It will increase the beauty of your living room and change the experience of enjoying TV. This plasma has the great features ever, though this is a little heavy. The Samsung plasma screen will provide you with a high-definition picture of remarkable quality with a 600Hz scanning frequency, a brightness of 1,500 cd/m2, and a contrast ratio of 2,000,000:1. Its display is 3D supporting and a full HD one. HDR supportive technology gives the display a sharp look and clear image.
It uses a variety of image enhancement technologies, including Dual XD Engine with 600 Hz Sub-Fields Driving helps to get the heart of what you're viewing. You also get a Dolby Digital-compatible audio system, ensuring that all of your entertainment sounds great. This feature-rich, frameless HD-Ready 1080p plasma TV is the ideal focal point for a spectacular home theater setup.
Let's see: Luxury Expensive Mobile Phones Ever Built in the World
14. TCL Class 8-Series
Price: $3k USD
Screen size: 75 inch
Display: 75 inch 4K QLED Dolby Vision HDR
Type: 4K QLED
Resolution: 3840 x 2160 (4k)
Speaker: Dolby Atmos / Dolby Digital Plus
Weight: 49.7 kg
Model: 75Q825
Color: 1.07 billion
Specialty: Quantum Performance QLED HDR 4K, Wireless Connectivity, Easy Voice Control, Google Assistant, Amazon Alexa, Roku Voice etc.
Warranty: 1 Year
Connectivity: Wireless Connectivity, Wi-Fi, AV Input, VGA, RF Input, Ethernet, USB, HDMI, Audio Output Headphone etc.

For a superior TV experience, TCL's 8-Series blends spectacular 4K HDR and QLED technology in a distinctive, brushed metal design. It has Quantum Dot technology for even more authentic colors and performance that is closer to human vision's limits. Quantum Contrast technology optimizes the image across highly localized zones using powerful and precise quantum dot LEDs, resulting in a dramatic contrast between light and dark areas. The 8-Series is the world's first TV to have mini-LED backlighting.
More than 25,000 high-performance mini-LEDs provide smooth, uniform, and brilliant illumination, as well as very precise local dimming — unparalleled performance compared to any LED-LCD TV. Its' AiPQ Engine optimizes color, contrast, and clarity with machine-learning algorithms for an unparalleled 4K HDR experience and Dolby Atmos cinema surround sound will bring your movies, TV shows, and games to life with astonishing realism, turn your home into a stylish theater.
Price: $2k USD
Display size: 55″
Technology: android 9.0
Weight: 22.5 kg
Specialty: Netflix, google assistant,alexa,tv lightshow technology
Dimensions: 71 x 123 x 5cm
ports: 4X HDMI, 2X USB

If you want an improved TV watching experience go get the model. This is going to give you a sharp and vibrant feeling. It will increase the beauty of your living room by its super thin bezel-less and light body.Again, movies and games are more immersive with Philips Ambilight.Only Philip has the TV light show technology which creates a special sense of cinematic view. Colors are vivid as well andthe screen will appear to be larger. In real-time, intelligent LEDs around the edges of the TV project on-screen colors onto the walls and into the room, which will perfectly calibrate ambient illumination.
Another reason is to adore your TV. This is a great audio device as it supports Dolby's premium sound and video formats, the HDR material you view will look—and sound—amazing.Some customers are not satisfied enough with the dark details and the Motion processing.
16. OnePlus TV Q1 Pro (Luxury TV)
Price: $1,250 USD
Screen size: 55 inches
Display type: QLED bezel less display
Type: smart TV OS, android, web OS
Warranty: 8 years
Resolution: 4k
Pixel: 2160
Processor: Gamma color magic processor
Technology: Quantum DOT technology, miracast screen, mirroring supporting
Specialty: Dolby vision, Dolby Atmos, receives software update for 3 years, Google assistant, apple airplay, office 65, Bluetooth 5.0, Amazon Alexa, voice control, HDMI, HDR, smart volume control
Speaker: 8 Speakers with 50w output
Thickness: less than 10 mm
Powered by: MediaTek MT5887

The one plus TV runs on Oxygen OS TV along with android TV OS TV. It is the first launched Android TV device of One plus.This luxury tv support HDR Which gives us great picture quality with a sharp details. The new technologies, like as High Dynamic Contrast, Super Resolution, Noise Cancellation will ensure that the TV is capable of playing HDR 4K video content. The TV will be equipped with a powerful chipset and a fast graphics processor. It has 8 speakers.
The device can be controlled by remote and voice. Alexa and google assistant is also available. The remote has a dedicated prime video button. It has google play store for apps and a 3GB Ram. It's bezel less display has a Kevlar finishing at the back. This device automatically reduces its volume when a phone call comes. Ports are hidden very neatly behind a magnetic back plate
Let's see: Most Expensive Gadgets in the World 2023
17. Sharp LB 1085 – Luxury TV
price: $1,200 USD
Screen size: 108 inch
Display type: LCD
Brightness: 400cd
Type: smart TV
Warranty: 10 years
Resolution: 1920
Pixel: 1080
Aspect ratio: 16:9
Processor: quantum processor
Specialty: DVI digital input, HDMI, HDR, smart volume control
Speaker: 3 speaker with 50 watts
Weight: 429 lbs.

This is one of the best smart luxury TV with eye protecting feature. It has a black premium look. This one has a top fan base in online market. It cancels noise and presents a great life like picture. The brightness it gives is going to increase your watching experience. The LB-1085 uses Advanced Super View low-reflection black TFT LCD to produce excellent image quality that is unaffected by sunshine or strong ambient light. Furthermore, the panel's 176-degree viewing angle enables for clear viewing of on-screen graphics.
It is equipped with PC and AV connections that let it to connect to a variety of device such as HDTV recorders, Blu-ray Disc players, and HDMI-compatible computers.Its' AV Mode function allows you to choose from a variety of screen modes. Survey says that this product has 89% customers' positive review. This is world's largest commercially available LCD screen available in Amazon.
Let's see: Expensive Laptops Ever Built in the World till 2023
18. Philips 5704 series Android TV
Price: $899 USD
Screen size: 75 inch
Display: 75 inch 4KUltra HD, LCD, HDR10
Type: 4KUltra HD, LCD, HDR10
Resolution: 4096 x 2160 (4K)
Speaker: 5-bands, Stereo, SAP, Dolby Audio
Weight: 26kg
Model: 75PFL5704
Color: Real Colour Pro
Specialty: 75 inch 4K UHD, OLED, HDR10, Android TV Services, Android Oreo, Google Assistant etc.
Warranty: 1 Year
Connectivity: Wireless Connectivity, HDMI, AV 1, USB, Bluetooth etc.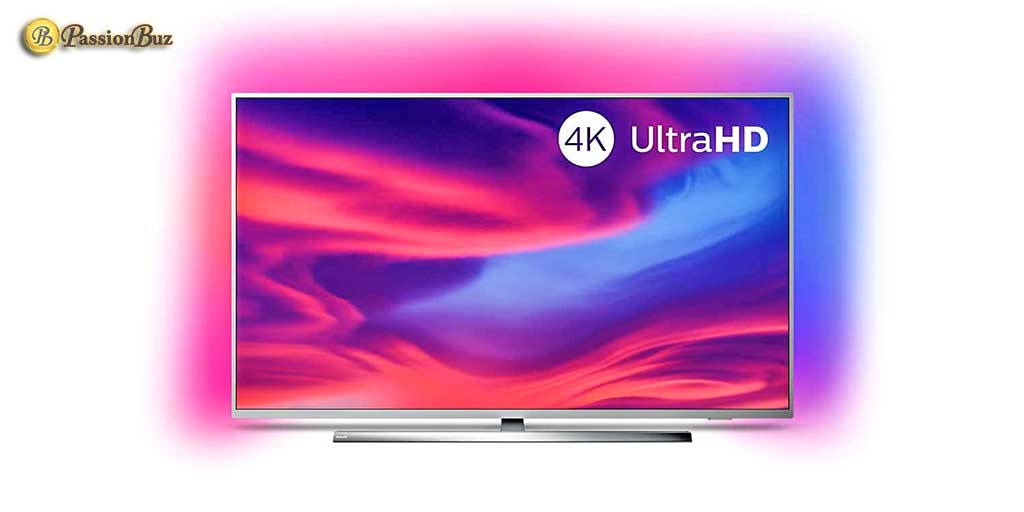 Philips 5704, 75" inch, 4K Ultra HD resolution is four times that of Full HD, elevating your viewing experience to new heights. It enriches your visual experience by adding more details and brilliant colors when combined with our High Dynamic Range (HDR) technology. More brilliant colors, darker blacks, and whites those are brighter which bring your entertainment closer to reality. Your Philips TV is set up to take advantage of the HDR10 video format to its full potential.
Shadows will be darker, whether it's in a must-see series or a new movie and bright surfaces will catch the light and colors will be more accurate. Overall, the Philips 5704 4K Android Smart TV is a fantastic choice for most applications. It's ideal for viewing movies, sports, or games in a dark room, and it's also a terrific option for watching TV shows during the day.
19. Mi TV 4X
Price: $855 USD
Screen size: 65 inch
Display: 65 inch 4K HDR, 60Hz Refresh Rate
Type: 4K HDR, 60Hz Refresh Rate
Resolution: 3840 x 2160 (4k)
Speaker: 20W speakers Dolby+ DTS-HD
Weight: 18.2 kg
Model: Mi TV 4X
Color: WCG
Specialty: 4K HDR 10-bit display with WCG, 20W speakers Dolby, Netflix & Amazon Prime Video, Google Assistant, Android TV, RAM:2GB DDR, Storage:16GB eMMC etc.
Warranty: 2 Year
Connectivity: Wireless Connectivity, WIFI, LAN, HDMI, Tuner, USB, AV, Earphone Out etc

The Mi TV 4X comes pre-installed with Android Pie 9.0., preserves the color quality and vibrancy with 4K HDR, as well as deep contrast and excellent brightness. The Mi TV 4X's DolbyTM+ DTS-HD® technology produces a rich sound that complements the crisp pictures. For a complete entertainment experience, powerful room-filling sound is used. Content discovery is now more intuitive thanks to new UI upgrades, better animation, a new typeface, and horizontal scrolling. With a single click on PatchWall, users may search for content across all OTT apps in the TV Access portfolio.
This operating system includes improvements to navigation, an attractive visual interface, and streamlined controls. This significant upgrade to the Mi TV 4X allows you to watch 3 times more video content without having to worry about data usage. This Android TV includes Google Assistant, which lets you complete a variety of activities using only your voice.
Price: 65″ $599.99 / 50″ $379.99
Display size: 55″, 4k
Display type: ultra HD, OLED
Pixel: 8 million pixel
Ports: 2 USB ports
Specialty: Dolby vision, Dolby atmos,alexa, 4 HDMI, 1ARC,smooth motion, google assistant, Netflix connectivity, HDR10,deep black 10 bit color depth, 178 degree angle of visibility
connectivity: Wi-Fi, Smart phone, Bluetooth

This device gives the best view from any angle. They say that every pixel is important and they provide 8 million pixels for their device. This is almost insane. You will be able to enjoy super cool color quality. Every shade is visible. This device is super slim but durable. They claim that their product is 50% faster than other's. It is no more a problem if your cable network doesn't work anymore because it is the era of smart TV such as Hisen O8B, you can simply brows in Netflix, prime video, G5 and on such things.
They claim that you can see everything clearly from anywhere, as they cover 178 degree customers say that it has sharp picture quality, great audio system, very stylish, easy to operate but some negative comment is also there for example their poor motion processing, color quality, weak darkness. But still this is One of a great TV you can have.
So, these are some coolest, smartest and luxurious TV which you can have in your collection in the year 2023.
# Top 10 Luxury TV in the World 2023
Samsung 98 inch QLED – Price: $60k USD
Sony MASTER Series Z9G – Price: $60k USD
LG SIGNATURE ZX – Price: $30k USD
Sharp 80 inch 8K – Price: $23k USD
VIZIO P-Series Quantum X – Price: $17k USD
Panasonic TC-77EZ1000C – Price: $10k USD
Hisense 120 l10 Series – Price: $8.9k USD
Panasonic GZ2000 – Price: $5.7k USD
Sony Bravia AF9 – Price: $5.2k USD
LG C9 – Price: $4,997 USD