Let's see 2021's most expensive gadgets in the world with extreme luxury gadgets products. Each gift of the modern technology never fails to amaze us just like a magic.
Science and technology are the new sorcery of the 21st century. It's embedded with flawless logic, accurate coding, genius and construction. As the clock ticks away a new upgrade is ready to be introduced.
Better specifications come with higher price tags, the most expensive gadgets in the world till 2021 are:
Price: $25 Million
Brand: Chopard
Made in: Switzerland
Launched: 2000
Specifications: 874 high-grade diamonds
When the spring-loaded mechanism in the piece is pressed, the three heart-shaped stones open like flower petals exposed to sun, the pave-set watch face being exposed, yellow diamonds get visible. The full body of the watch is an amazing structure of diamonds placed most tastefully.
Let's see: Luxurious Clothing Brands in the World
02. IPhone 5 Black Diamond
Price: $15 Million
Brand: Apple (buy cheap price iPhone)
Made in: UK
Launched: 2016
Specification: IOS 10.3.4
This masterpiece took 9 weeks of detailed intricate work which was fully done by hand. It was prepared by Stuart Hughes. It contains 26 sets diamond, most unique to replace the home button, the chassis was inlaid with a circa of 600 diamonds with gold dressing, the logo contains 53 diamonds and contains 135 grams of 24ct gold and sapphire glass set.
03. IPad 2 Gold History Edition
Price: $7.8 Million
Brand: Apple
Made in: UK
Launched: 2011
Specification: IOS 4, upgradable to iOS9.3.5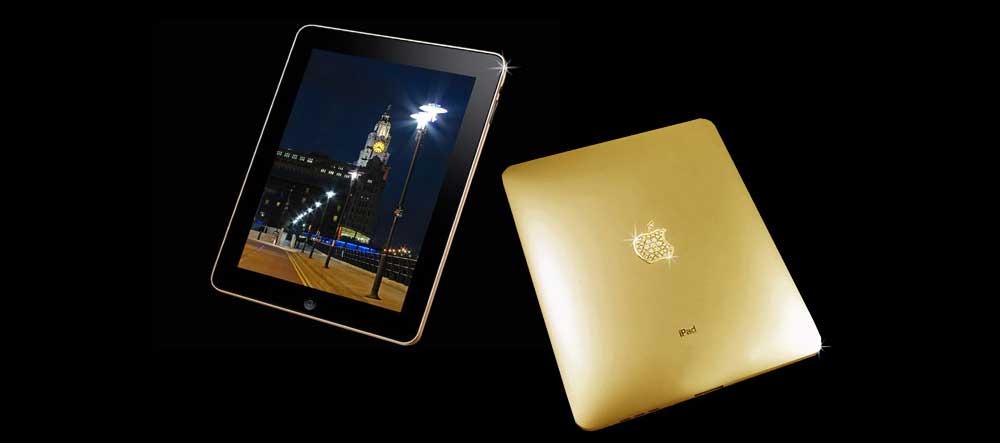 This is said to be the world's most unique gadget as it contains sections of a 65 million years old T-REX Dinosaurs thigh bone and a 75 million years old rock in the form of ammolite and diamonds and gold. The name is legitimately suited to the specifications. A prestigious gadget with true honor.
04. Hart Audio Gold Speakers
Price: $4.7 Million
Brand: Hart Audio (Buy speaker)
Made in: England
Launched: 2012
Specification: 18k gold aural pleasure three speaker drive loudspeakers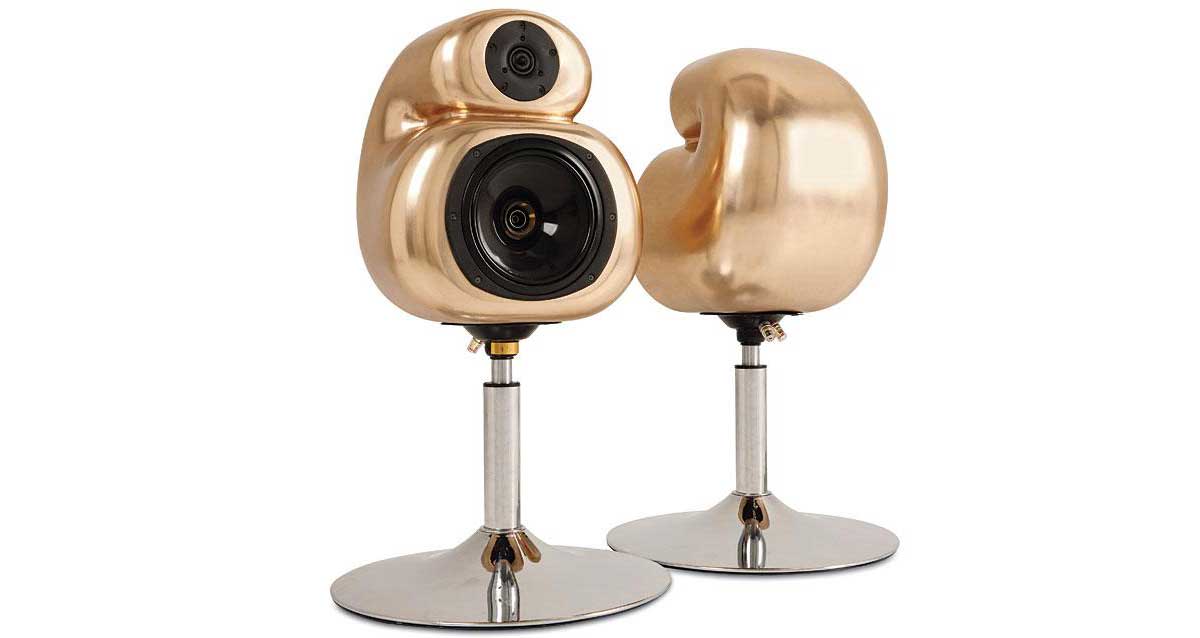 Well, its functions are like any other speaker but it's built-in gold. Each weighs around 50kg and it's very prestigious to get a hold of these majestic speakers. And as for the sound Hart Audio has maintained its great reputation in these models as well. The majestic sound being produced from an aristocratic body what more can be asked for?
05. Triton Personal Submarine 3300-3
Price: $2 Million
Brand: Triton
Made in: Florida
Launched: 2018
Specification: diving depth 1000 meters, the capacity of 3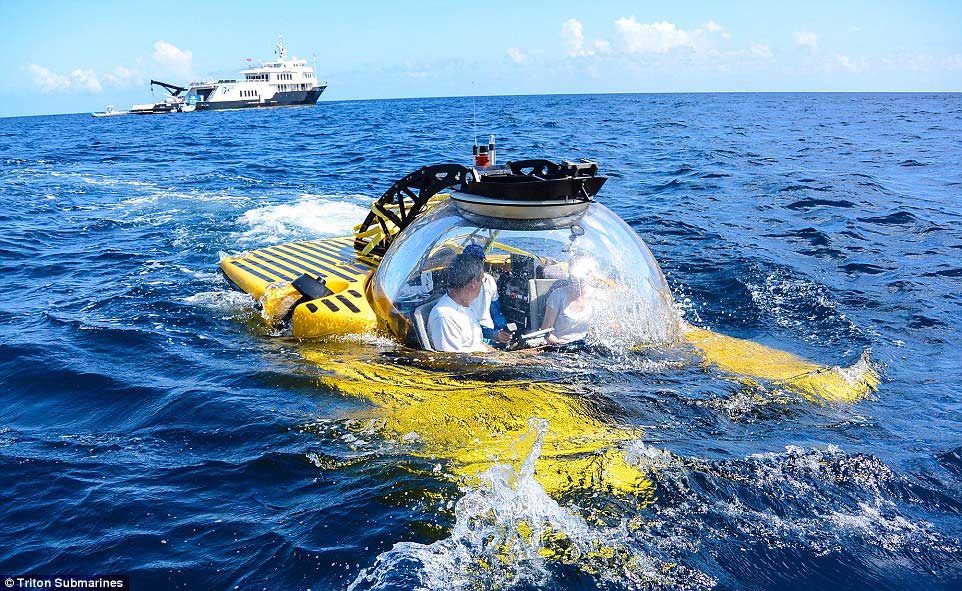 This will take you to a whole new world underwater, it was this submarine that allowed the first encounter of man with the giant squid. This is a very cool gadget to look up to. It can help you explore with your friends the world of oceans and different species of life underwater which is very fascinating.
06. Dark Knight Home Theatre
Price: $2 Million
Brand: Elite Home Theatre
Made in: Canada
Launched: 2012
Specification: 180-inch screen, elevators, etc
It is completely inspired by Batman with every high-tech feature one can imagine right from the Batmobile hidden behind a secret bookshelf to the life-size Batsuits that one can wear. There is also a secret exit that goes through a tunnel but sadly no Alfred with this home theatre. All the bat lovers can think of bringing this in the home.
07. Giant Robot Warrior
Price: $1.35 Million
Brand: Kuratas
Made in: Japan
Launched: 2013
Specifications: human ride robots, four-wheeled
08. Amphibious Truck
Price: $1.19 Million
Brand: Amphibious
Made in: United States
Launched: 1805
Specifications: aluminium alloy, fibreglass bodytub, integral hard plastic, balloon tires
09. Camael Diamonds iPad
Price: $1.2 Million
Brand: Apple
Made in: London
Launched: 2014
Specifications: 18 carat gold and 300 carat diamonds back, Home button and Apple logo using black diamond's made, weighs over 1kg
10. Jarre iPod and iPad Docks
Price: $560k USD
Brand: Jarre technologies
Made in: France
Launched: 2011
Specification: 11ft, 10,000-watt Aero Dream One speaker dock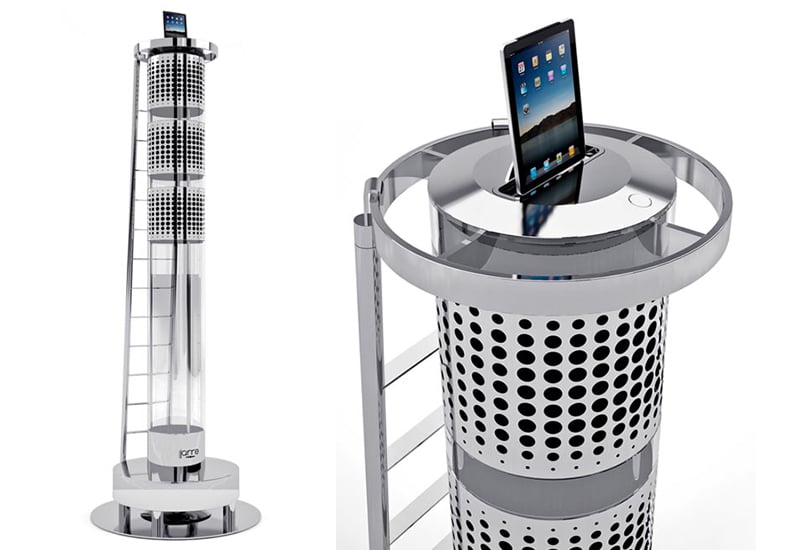 This is the ultimate doc ever created by musician Jean Michel Jarre, it weighs around 871 pounds and is 11 feet tall. Every technological marvel you can think of is incorporated in this aero dream doc. It is not just limited to Apple devices, any other devices can be used by using the USB port. This is a majestic home entertainment system you can look for.
Want to see: Most Expensive Gadgets in the World 2021
11. TF-X Flying Car (Buy)
Price: $350k USD
Brand: Terrafugia
Made in: USA
Launched: 2023
It's supposed to be launched in 2023 and a gadget worthy of mentioning. This will serve the purpose of a car and plane at the same time, bored of the roads or there is heavy track fly your vehicle around and land on the road again, how interesting will that be! The first fully autonomous flying car.
12. Hammacher Schlemmer Hovercraft
Price: $190k USD
Brand: Hammacher Schlemmer
Made in: USA
Launched: 2012
Specifications: flying Hovercraft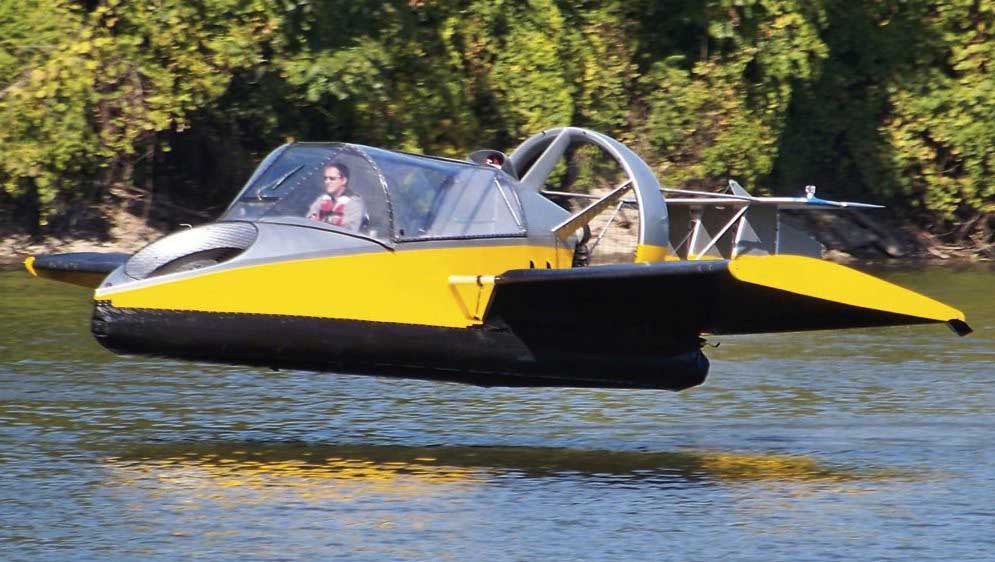 This hovercraft is unlike any other, this fly hovercraft can get up to 20 feet off ground and hit a top speed of 70 mph. It contains a 130 hp twin cylinder and a liquid-cooled gas engine. It contains a thrust propeller and a lift fan to help it leapfrog over obstacles like floating logs. The craft can operate in different waters. The hull is made from fiberglass and PVC to keep it light. It can carry up to 600 pounds of people or cargo and boasts a 160-mile range.
13. Yalos Diamond TV
Price: $140k USD
Brand: Keymat
Made in: Italy
Launched: 2006
Specifications: 103 inch LCD TV
It's a beautiful amalgamation of technology and design. The perfect measurement of this luxury tv will not be in inches rather in carats. This tv contains 160 diamonds, around 20 carats in total. It's popular for the prestige and honor it brings and the glory it enhances for the elites. This gadget is majestic to have.
14. Focal Utopia by Tournaire
Price: $120k USD
Brand: Focal
Made in: France
Launched: 2016
Specifications: 18-karat gold mounted with 6.5 carats of diamonds
15. Aurumania Gold Bike
Price: $104k USD
Brand: Aurumania
Made in: Sweden
Launched: 2008
Specifications: genuine 24 carat gold made
16. Poison Dart Frog Watch
Price: $103k USD
Brand: MB&F
Made in: South American
Launched: 2012
Specifications: 18K gold screws and 22K gold rotor-framed, aluminum
17. Hasselblad H4D-60
Price: $32k USD
Brand: Hasselblad
Made in: Sweden
Launched: 2010
Specifications: 60 Megapixel, HC 80mm f/2.8 Lens, CCD Sensor, 3.0″ 24-Bit Color LCD, Global Image Locator
18. Interactive Pool Table
Price: $25k USD
Brand: Not Founded
Made in: Not Founded
Launched: Not Founded
Specifications: Not Founded
19. Samsung Ballie
Price: N/A
Brand: Samsung
Made in: South Korea
Launched: 2020
Specifications: Intelligent Robots, Ballie utilizes AI, security robot, smart devices
20. Segway S-Pod
Price: N/A
Brand: Segway
Made in: China
Launched: 2021
Specifications: Self-balancing Driving, Assistive Navigation Panel, Full Unblocked View for Riders, 24.8 mph Top Speed, 43.5 Miles Loading Range, 10° Hill Grade, Weight Load 330.7lbs
Final Thoughts
The 21st century has yet a lot more to offer and the gadgets mentioned in this list may be found in museums in no time, but they all have significance in their technological way. The world of gadgets is like an ocean containing different species of creatures. Each species consists of subspecies. There are different gadgets for every single gadget and with the regular upgrades, the number is almost infinite.
# Top 10 Most Expensive Gadgets in the World 2021
| Rank | Name | Price |
| --- | --- | --- |
| 01 | 201 Carat Chopard Watch | $25 Million |
| 02 | iPhone 5 Black Diamond | $15 Million |
| 03 | iPad 2 Gold History Edition | $7.8 Million |
| 04 | Hart Audio Gold Speakers | $4.7 Million |
| 05 | Triton Personal Submarine 3300-3 | $2 Million |
| 06 | Dark Knight Home Theatre | $2 Million |
| 07 | Giant Robot Warrior | $1.35 Million |
| 08 | Amphibious Truck | $1.19 Million |
| 09 | Camael Diamonds iPad | $1.2 Million |
| 10 | Jarre iPod and iPad Docks | $560k USD |