Let's see 2023's most expensive gadgets in the world with extreme luxury gadgets products. Each gift of modern technology never fails to amaze us just like magic.
Science and technology are the new sorcery of the 21st century. It's embedded with flawless logic, accurate coding, genius, and construction. As the clock ticks away a new upgrade is ready to be introduced.
Better specifications come with higher price tags, the most expensive gadgets in the world till 2023 are:
01. 201 Carat Chopard Watch
Price: $25 Million
Brand: Chopard
Made in: Switzerland
Launched: 2000
Specifications: 874 high-grade diamonds
Check Current Prices
201 Carat Chopard Watch is the most expensive gadget in the world. It contains diamonds of different colors consisting of pink, blue, white, and yellow, covered in 874 high-grade diamonds of numerous sizes. At the center of this watch, a solid fancy pink diamond can be seen which is heart-shaped and weighs 15.37 carats.
There are also heart-sized blue and D-color (white) diamonds and the quantity of them are gradually 12.79 and 11.36. Each of them consists of a cluster of 260 diamonds and 91 round solid diamonds. They are D-colored, pear-shaped, perfect diamonds that weigh a total of 10.29 carats and are arranged into flower shapes.
At the center of that a round-shaped yellow diamond, carries 8.81 carats. Moreover, the numbers of the pear-shaped yellow diamonds are 26 in total and they carry 17.07 carats which interspersed throughout the bracelet.
When the spring-loaded mechanism in the piece is pressed, the three heart-shaped stones open like flower petals exposed to the sun, the pave-set watch face being exposed, the dazzling yellow diamonds get visible. The full body of the watch is an amazing structure of diamonds placed most tastefully. It is the best gadget for a timekeeper who loves to wear as well as jewelry as it works for both fashionable jewelry along with the time.
Let's see: Luxurious Clothing Brands in the World
02. IPhone 5 Black Diamond
Price: $15 Million
Brand: Apple
Made in: UK
Launched: 2016
Specification: IOS 10.3.4
buy cheap price iPhone

IPhone 5 Black Diamond is also one of the most expensive gadgets in the world till date. This masterpiece took 9 weeks of detailed intricate work which was fully done by hand.
It was prepared by a U.K based designer Stuart Hughes. It contains 26 carat of black diamonds, most unique to replace the home button which belonged to a Chinese businessman who sanctioned this phone from Stuart Hughes, a luxury product creator.
The expense of 26-carat diamonds itself is $208.795. The main key point of the black- and gold- iPhone 5 has the black deep cut diamond which is single and flawless, supersede the home button. The body of this handset is woven with solid and pure gold, mainly the outside casing.
The chassis was inlaid with circa 600 white diamonds with gold dressing. On the other hand, there is an expensive logo of Apple on the rear back of the phone that contains 53 diamonds and contains 135 grams of 24ct gold and sapphire glass set.
To make the front display screen and to cover the lens of the camera, the same material, sapphire glass has been used. It comes with a 4.0- inch IPS Retina Display and its resolution is 1136 X 640 pixels, 16/32/64 GB of internal storage, 1 GB ram, A6X dual-core processor, GPRS, EDGE, EV-DO, HSPA, HSPA+, DC- HSDPA, 3G, 4G LTE and wifi, GPS, Bluetooth no expandable memory, 720p front-facing camera resolution, 8-megapixel rear camera with 1080p HD recording and 1,440mAh battery power. This highly extraordinary edition is the most expensive but there are some other cheap versions too which are made with gold, and cost $33,800.
Let's see the top mobile phone brand in the world
03. IPad 2 Gold History Edition
Price: $7.8 Million
Brand: Apple
Made in: UK
Launched: 2011
Specification: IOS 4, upgradable to iOS9.3.5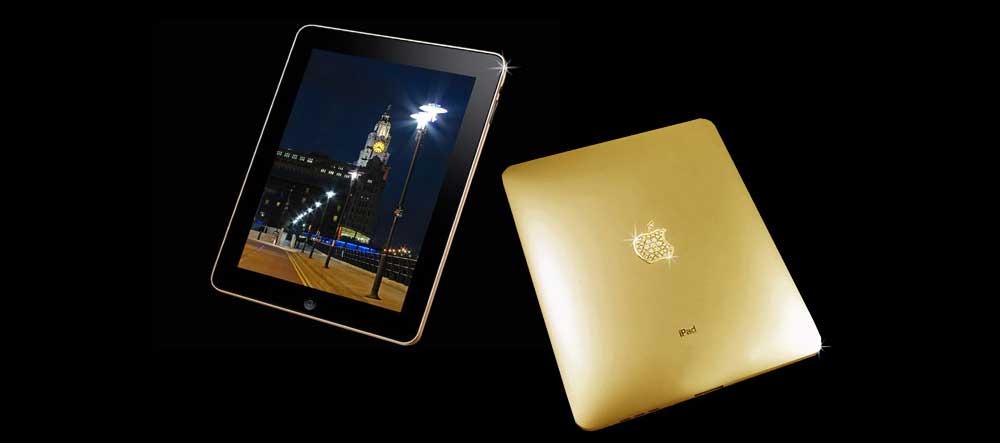 This is said to be the world's most unique gadget customized by Stuart Hughes. It contains sections of a 65 million years old T-REX Dinosaurs thigh bone and a 75 million years old rock in the form of Ammolite diamonds and gold.
It has a back that is made of 24k gold, a total weight of 2,000 grams. Again, the apple logo of the back is crusted with I'F' 53 internally flawless diamonds weighing 12.5 carat. The most interesting part is its front frame that is made by the Ammolite.
The source of this rainbow-colored ancient stone is from Canada. With these two ingredients, the Ammolite stone and silvers of "T-REX" Dinosaurs thing bone give the shape of the frame of fiery marble in the shades of brown, green and red colors.
After finishing the bling factor, a single cut of solid diamond of 8.5 carats studded in its platinum in the frame which is surrounded with 12 outer flawless diamonds. This gadget is a limited edition as only two units of this edition have been created by Stuart and 57 grams of T-REX bone,16.5 ct diamonds, 750 grams of Ammolite stone, 8.5 ct single diamonds along with 2000grams of solid 24k gold is the material specification. The name is legitimately suited to the specifications also. It is called a prestigious gadget with true honor.
Let's see the Best Tab Brands in the World
04. Hart Audio Gold Speakers
Price: $4.7 Million
Brand: Hart Audio
Made in: England
Launched: 2012
Specification: 18k gold aural pleasure three speaker drive loudspeakers
Buy speaker in low price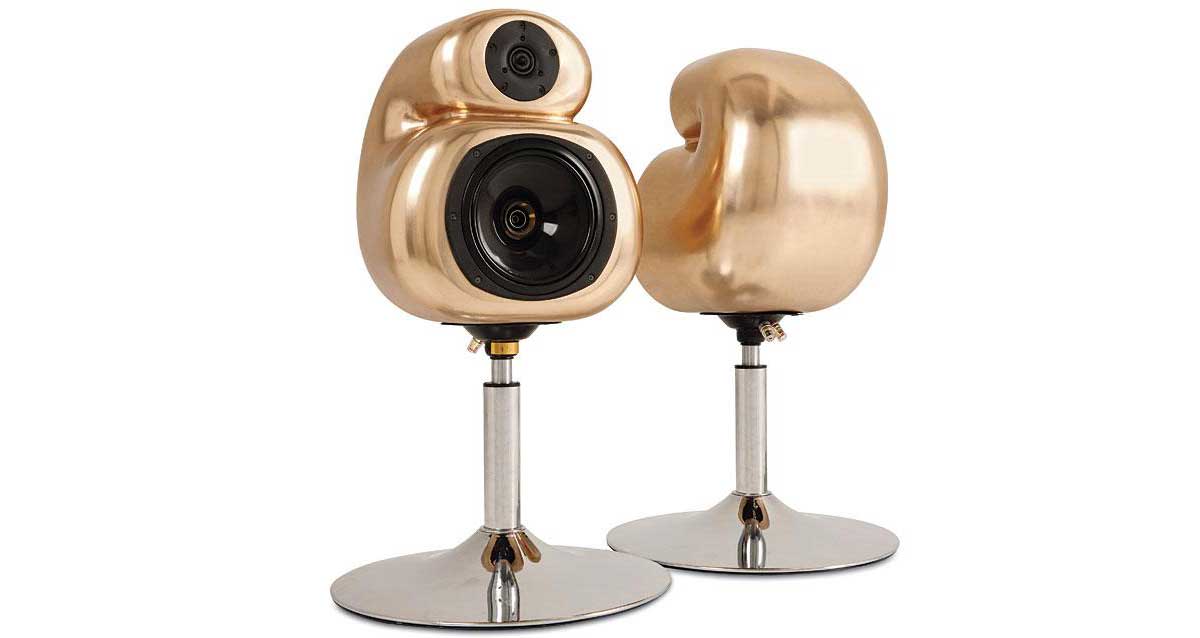 Well, its functions are like any other speaker but it is built-in gold. Each weighs around 50kg or 110 Lbs without drivers and it's very prestigious to get a hold of these majestic speakers. The Hart Audio's gold speakers or D&W Aural Pleasure runs on three speaker drive units which produce the most controlled, clean, clear, and overall well-balanced audio signal.
Among them, the main driver offers bass and midrange sounds. There is a high-frequency unit that remains at the center which drives the treble. To disclose the whole dynamic and effectiveness of the latest high-resolution audio formats, the super tweeter enlarged the bandwidth of this speaker.
And the low-end frequencies of this speaker are mainly because of the unique creation and aid to control the bass beautifully. On technological access, the feature of the speakers is an impedance of 5 Ohms and their range of frequency remains from 47 Hz to 37 kHz (+– 4dB & 39 Hz – 47 kHz +– 10db), a sensibility range of 97 dB at 1 meter.
So, these are numerous good reasons to place it in the corner of a room. There is only one pair of Hart Audio Gold Speaker can be found till now in the whole world which is made of 18-carat gold. Again, five sets of silver speakers can be founded that cost $315,000 and 99 pairs of bronze speakers cost $63,000. So, as for the sound Hart Audio, it has maintained its' great reputation in these models as well. The majestic sound being produced from an aristocratic body what more can be asked for?
05. Triton Personal Submarine 3300-3
Price: $3.5 Million
Brand: Triton
Made in: Florida
Launched: 2018
Specification: diving depth 1000 meters, the capacity of 3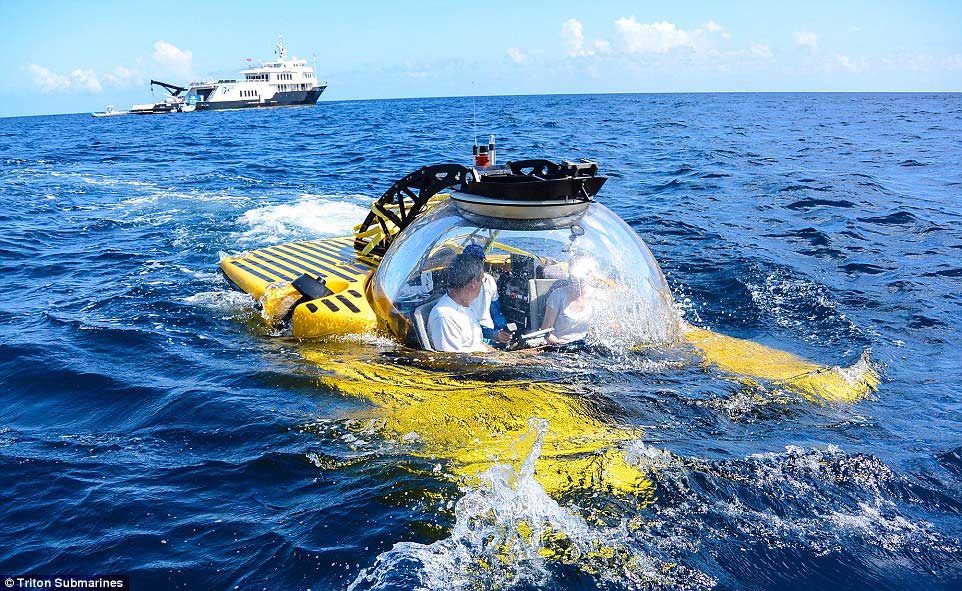 Submarine 3300-3 is also one of the most expensive gadgets in the world. This will take you to a whole new world underwater; it was this submarine that allowed the first encounter of man with the giant squid. This is a very cool gadget to look up to. It can help you explore with your friends the world of oceans and different species of life underwater which is very fascinating.
It is susceptible to diving into depths of 3,280 feet. Its fine-grain control system and the platform flexibility, dependability, and endurance are beyond description. The control system is so smooth and fine that through it one can easily follow the creatures of oceans like fish, octopus, and so on.
It can help to shoot better footage that means one can execute the smooth and controlled movements of the camera. Through this submarine, notable projects like BBC's Galapagos, Discovery's and BBC's Blue Planet II, and Sir David Attenborough's Great Barrier Reef have been filmed. Again, Titanic's sister-ship, Britannic has also explored with the help of it.
The technical specifications of the submarine are its payload – 1,760 Ib/ 800 kg, speed – 3 km, endurance – 12 hours, main ballast – 8,030 Ib/ 3,650 kg, variable ballast – 396 Ib/ 180 kg. Its' length – 13.1 ft/4 m; width – 9.8 ft/3 m; height – 8.5 ft/2.6 m; weight – 17,640 Ib/8,000 kg; pressure hull inner – 69.5 in/1,766 mm and hatch inner – 21.7 in/550 mm.
Some other functions are: 24 V supply – Dual supply with an emergency, main battery – 57 kWh, main Thrusters – 2 × 5.5 kW, maneuvering thrusters – 2× 5.5 kW, control – joystick, touch screen & manual override, external lights – 6+ × 20,000 lumen LED and life support – oxygen + CO2 scrubber. Like other Triton submarine models, it also has a VHF radio with GPS that works on the surface of the water. At the time of diving, those onboard can connect with the main ship through a dual-frequency underwater telephone.
06. Dark Knight Home Theatre
Price: $2 Million
Brand: Elite Home Theatre
Made in: Canada
Launched: 2012
Specification: 180-inch screen, elevators, etc

Dark Knight Home Theatre is also one of the most expensive gadgets in the world. It is completely inspired by Batman with every high-tech feature one can imagine right from the Batmobile hidden behind a secret bookshelf to the life-size Batsuits that one can wear. The home theatre is a concept by Elite – HTS (Elite Home Theatre Seating), a Canadian company, which has built-in Greenwich within a 12,000 sq. ft (1,115- square meter) private home and they had finished making the design in a couple of weeks.
The room subsumes with the accessories that are inspired by the film's Batcave, the secret underground location consists of cave-like walls, cylinder-shaped elevator, fireplace, "Batcomputer" stations, gothic lighting, a stately grandfather clock, and gargoyles with the glowing bat symbol. Again, the seats of the theatre are mainly designed to resemble what is the inside of the batmobile. There is also a secret exit spanning about 30 feet that goes through a tunnel but sadly no Alfred with this home theatre. All the bat lovers can think of bringing this in their home.
You may like our recent publication Most Expensive Mobile Phone in the World
07. Giant Robot Warrior
Price: $1.35 Million
Brand: Kuratas
Made in: Japan
Launched: 2013
Specifications: human ride robots, four-wheeled

The robot named RX-78-2 has been made from the popular 1970s anime series, 'Gundam' that can move independently. It stands 18 meters or 60 feet tall and its weight is 24 tons.
In the footage, it has shown the robot raising its limbs, kneeling, and even raising a finger slowly. It was launched in the port city of Yokohama, Japan. Though it looks like a robot inside it, there is just a mechanical system that maintains it. An amazing technology that looks pretty terrifying but it can defend us only at the time of a robot's takeover of our planet.
08. Amphibious Truck
Price: $1.19 Million
Brand: Amphibious
Made in: United States
Launched: 1805
Specifications: aluminium alloy, fibreglass bodytub, integral hard plastic, balloon tires

The Amphibious truck was first used for military applications. Its features are mainly Gibbs' proprietary HAS (High speed Amphibian) technology including large road capacity, off road capability and rapid response capability.
In natural disasters like earthquakes and tsunamis, it is extremely beneficial. Amphibian trucks' great capability is they have high speed, they replace the need of boats or other tow vehicles and they perform on plain water in excess of 30 mph. It gives a revolutionary and very effective change in transportation for the growing demands of today's generation.
09. Camael Diamonds iPad
Price: $1.2 Million
Brand: Apple
Made in: London
Launched: 2014
Specifications: 18 carat gold and 300 carat diamonds back, Home button and Apple logo using black diamond's made, weighs over 1kg

Cameal Diamonds has indeed disclosed a staggering item, Camel Diamonds IPad, which is ornamented with the flawless diamonds and confirmed by a main authorized goldsmith.
10. Jarre iPod and iPad Docks
Price: $560k USD
Brand: Jarre technologies
Made in: France
Launched: 2011
Specification: 11ft, 10,000-watt Aero Dream One speaker dock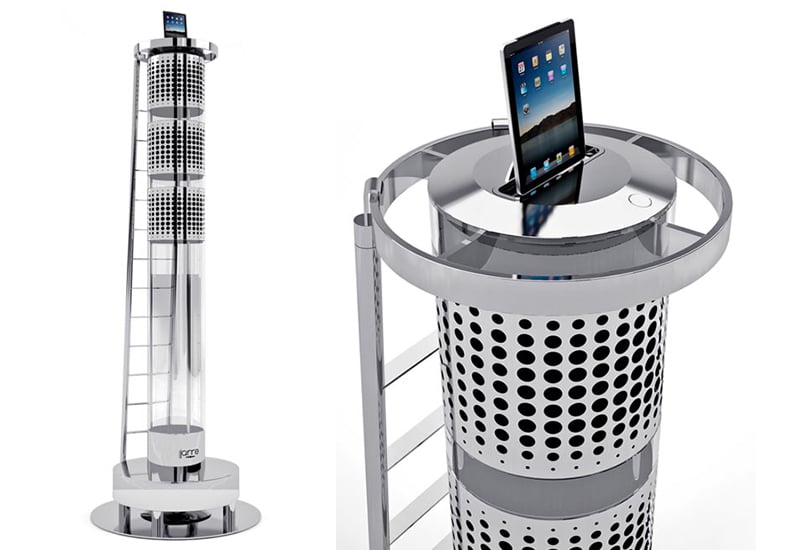 This is the ultimate doc ever created by musician Jean Michel Jarre, it weighs around 871 pounds, is 11 feet tall and a 16.3 inches diameter. Every technological marvel you can think of is incorporated in this aero dream doc. It is not just limited to Apple devices, any other devices can be used by using the USB port.
It is available in three colors. It is not made with any shiny crystals like gold or diamonds. It is a complete technological invention that produces 10,000 watts of output. An interesting part is it has built-in a ladder. That is why one can dock his iPhone or IPad on the top of it and other electronic devices can also connect through the 6.35 mm jack or the USB port. At last, this is a majestic home entertainment system one can look for.
11. TF-X Flying Car
Price: $350k USD
Brand: Terrafugia
Made in: USA
Launched: 2023
Buy this flying car

It's supposed to be launched in 2023 and a gadget worthy of mentioning. The TF-X is equipped for seating 4 grown-ups which is normally the limit of a normal half and half vehicle. It has a foldable part like wings. Moreover, it has a rotor edge moved aeronautical framework which is fueled by a gas motor.
The rotor sharp edges will charge the battery of the electric engine while they are running. The wings, situated on top of the backside, overlap into the side of the vehicle. The rotor cutting edges with a variable approach is situated at the tips of the wings. At that point when the pilot wishes to remove, the foldable wings send at the press of a catch which is surprisingly fast.
The guiding wheel of the vehicle creases in and out pops a flight stick to control the aeronautical frameworks. The rotor sharp edges go upwards to give an upward push to a straight vertical departure discrediting the prerequisite for a runway. Once it is noticeable all around, the edges go ahead to give forward push. When the vehicle arrives at its pinnacle speed at voyage speed, the propellers shut off to save energy.
Terrafugia, a car company claims that preparation to fly the TF-X requires just 5 hours in any case, there is a convenient autopilot framework that will take over for one on the off chance. And, when the vehicle is prepared to land (vertically), it folds to diminish the speed and the cutting edges get back to the vertical situation to give a delicate and smooth landing. This will serve the purpose of a car and plane at the same time, bored of the roads or there is a heavy track, fly your vehicle around and land on the road again, how interesting will that be! The first fully autonomous flying car.
12. Hammacher Schlemmer Hovercraft
Price: $190k USD
Brand: Hammacher Schlemmer
Made in: USA
Launched: 2012
Specifications: flying Hovercraft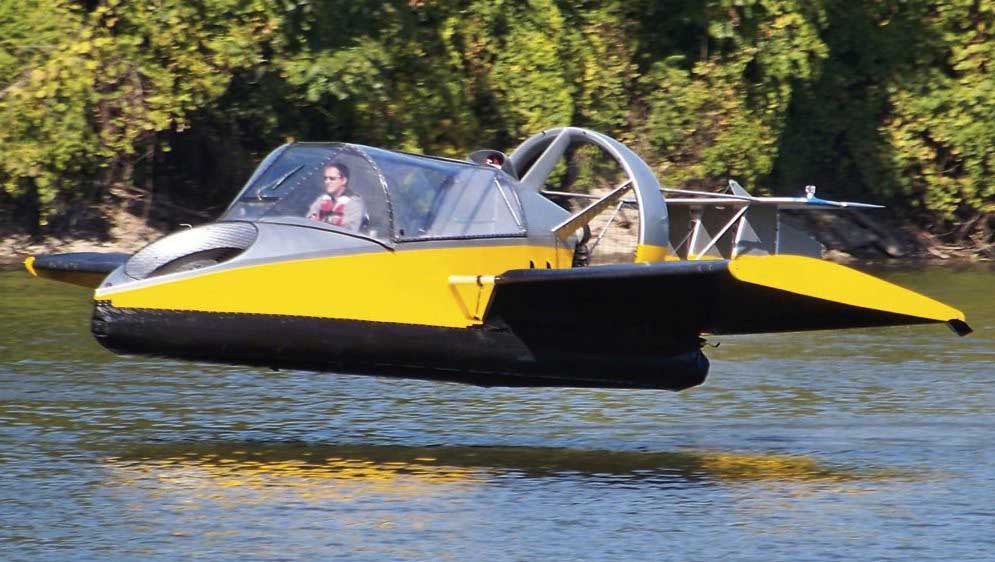 It is a concept of an inflatable creation that can move over land and water on a This hovercraft is unlike any other, this fly hovercraft can get up to 20 feet off ground and hit a top speed of 70 mph. It contains a 130 hp twin cylinder and a liquid-cooled gas engine which is fuel injected and turbocharged.
And it drives it's 60" timber/carbon composite associated thrust propeller, another side, 1,100- rpm 34" lift fan inflates its vinyl-coated nylon skirt for floating above the surface. It contains a thrust propeller and a lift fan to help it leapfrog over obstacles like floating logs.
The craft can operate in different waters and other surfaces such as snow, sand and swamps covered streets. Three vertical rudders, the elevator, a numerous drive system of it are controlled by a joystick. The hull is made from fiberglass and PVC to keep it light as it can operate in winds up to 25 mph and waves up to 6' in its flight mode. It can carry up to 600 pounds of people or cargo and boasts a 160-mile range.
13. Yalos Diamond TV
Price: $140k USD
Brand: Keymat
Made in: Italy
Launched: 2006
Specifications: 103 inch LCD TV

It is a beautiful amalgamation of technology and design. The perfect measurement of this luxury tv will not be in inches rather in carats. But still, its maximum size is 46 inches with numerous screen sizes. The picture format is 1080i and 720p high definition and the picture contrast ratio is 1200:1.
This tv contains 160 diamonds, around 20 carats white gold in total. That is why it looks like sitting in a sky full of stars. Its' frame is smooth and plain black color and the setting of diamonds is on the black frame. It looks more than a jewelry display box because of its finishing line with the white gold plating. It is popular for the prestige and honor it brings and the glory it enhances for the elites. This gadget is majestic to have.
14. Focal Utopia by Tournaire
Price: $120k USD
Brand: Focal
Made in: France
Launched: 2016
Specifications: 18-karat gold mounted with 6.5 carats of diamonds

The design of this headphone which is extremely exceptional was customized by the jeweler and crafted by the father and son named Philippe and Mathieu Tournaire. It carries a mark of a trilogy that has a symbolic meaning as it represents the evolution of life, links between past, present, and future. This is entirely handcrafted and needs more than one year of hard work to create.
15. Aurumania Gold Bike
Price: $104k USD
Brand: Aurumania
Made in: Sweden
Launched: 2008
Specifications: genuine 24 carat gold made

It is a marvelous 24 gold-plated bicycle with 600 shiny crystals and a fully handmade gadget. It was created by a famous company named Aurumania and is limited to just 10 units. Chocolate-brown hand-sewn leather has been used to make its handlebar grips. On the other hand, the saddle is made with molded Brooks leather. A limit-edition number is discreetly engraved with a gold leaf, set into a leather badge. After finishing the setting, it was placed on the front of the bike and displayed the Aurumania logo on the crossbar. The company has produced 50 bikes without the crystals for those who don't like the bike's gleam. It would appeal to those who are wealthy and support environmentally sustainable transportation.
16. Poison Dart Frog Watch
Price: $103k USD
Brand: MB&F
Made in: South American
Launched: 2012
Specifications: 18K gold screws and 22K gold rotor-framed, aluminum

MB&F, a Swiss watch company has designed a limited edition HM3 watch on the poison dart frog. Black and yellow are the color combination of the watch. The high-tech zirconium case of this watch is feigned by a smooth black layer of PVD.
The speculating fact of the watch is that the wearer can easily see the time from a variety of angles, even if he does not need to turn the wrist. This is the quality of amphibious frogs, they can see in various directions without turning their head.
The weight of the dome is just over 0.5 g and 0.28 is the weight of the paper-thin wall. In each dome, there remains a semi-spherical sapphire crystal and solid aluminum which is chosen for its appeasement strength for the accurate ratio of weight. There are only 10 pieces Poison Dart Watch has produced worldwide.
17. Hasselblad H4D-60
Price: $32k USD
Brand: Hasselblad
Made in: Sweden
Launched: 2010
Specifications: 60 Megapixel, HC 80mm f/2.8 Lens, CCD Sensor, 3.0″ 24-Bit Color LCD, Global Image Locator

There are some other features of this expensive camera: true focus and absolute position lock, 16- bit color definition, focus software included, Hasselblad raw 3R file format, compatible with h-system components. A massive 3" TFT 24-bit color monitor that has a wide-angle with double view (460.320 pixels) allows one to easily watch images almost anywhere.
The Hasselblad H4D-60 allows one to choose between working tethered or untethered and ones' images on a compact flash card are the options available with this gadget. Approximately, 50 images can be stored on a 4GB wallet. The H4D-60 has true focus with APL (Absolute Position Lock), making the focus more accurate and substantially easier.
Also, it has wide ISO flexibility (ISO 100-800), and a flash that syncs up to 1/800th of a second. There are also options of GPS and Perspective control modules, optics from 28mm wide-angle to 300mm telephoto, which support the H-system in it. The high resolution of 60 Megapixels provides the basis for optical corrections and advanced lens performance.
18. Interactive Pool Table
Price: $25k USD
Brand: Not Founded
Made in: Not Founded
Launched: Not Founded
Specifications: Not Founded

It was created by Obscura Digital. The system delivers three visual modes; Mercury, Inferno, and Reveal. Because of using Mercury's visual mood, it transforms the table into a virtual water surface that creates waves as the balls move over it.
In the Inferno mode, the flames flaring from the balls because of its rolling. A high-resolution image is displayed in the last mode, Reveal mode when the balls pass over. This mode was used to view the most recent magazine cover for Esquire's Ultimate Bachelor Pad. It is expensive with an interesting game of pool one can ever play.
19. Samsung Ballie
Price: N/A
Brand: Samsung
Made in: South Korea
Launched: 2020
Specifications: Intelligent Robots, Ballie utilizes AI, security robot, smart devices

Samsung Ballie is an intriguing combination, designed as a small ball and a personal fitness assistant. It follows one around, has cameras and sensors and can monitor smart home features such as taking pictures, reminders about many things.
Using a mobile interface on AI capabilities, voice activation, assisting in various household tasks, in-built camera to assist its' user by responding and recognizing them. Overall, the device Ballie can be an all-rounder life partner.
It responds to spoken commands in the same way as a pet does, but it can also be used as a wake-up call, a workout assistant, to capture moments, or to control other smart home devices like TVs. The yellow colored ball is said to match with a character of Star Wars named BB-8 droid.
20. Segway S-Pod
Price: N/A
Brand: Segway
Made in: China
Launched: 2022
Specifications: Self-balancing Driving, Assistive Navigation Panel, Full Unblocked View for Riders, 24.8 mph Top Speed, 43.5 Miles Loading Range, 10° Hill Grade, Weight Load 330.7lbs

It is a self-balancing vehicle that is an egg-shaped ride-able chair. The motivation of Segway creation is from the Gyrosphere in Jurassic World. It has a center of gravity control system that synthesizes with the speed.
The S-pod, in contrast with a car, does not need the rider to lean their body to accelerate. Rather they can relax in their seats while they turn their knob on a navigation pad. At last, Sageway S-Pod emphasizes the product's ability to provide wide-angle views, implying that sightseeing tours are the key market for the product.
Final Thoughts
The 21st century has yet a lot more to offer and the gadgets mentioned in this list may be found in museums in no time, but they all have significance in their technological way. The world of gadgets is like an ocean containing different species of creatures. Each species consists of subspecies. There are different gadgets for every single gadget and with the regular upgrades, the number is almost infinite.
# Top 10 Most Expensive Gadgets in the World 2023
| Rank | Name | Price |
| --- | --- | --- |
| 01 | 201 Carat Chopard Watch | $25 Million |
| 02 | iPhone 5 Black Diamond | $15 Million |
| 03 | iPad 2 Gold History Edition | $7.8 Million |
| 04 | Hart Audio Gold Speakers | $4.7 Million |
| 05 | Triton Personal Submarine 3300-3 | $2 Million |
| 06 | Dark Knight Home Theatre | $2 Million |
| 07 | Giant Robot Warrior | $1.35 Million |
| 08 | Amphibious Truck | $1.19 Million |
| 09 | Camael Diamonds iPad | $1.2 Million |
| 10 | Jarre iPod and iPad Docks | $560k USD |