Journey by the world's most luxurious train is one of the greatest experiences of a human life. This list of expensive & luxury trains will give you a divine view of luxurious journey.
We have made a collection of top 10 most luxurious trains in the world. Our collection includes the world's best passenger trains including heavy comfort suits and aristocratic interior design.
From the very first days of railway travel, fastidious have rejoiced in the royal magnificence of luxurious trains such as Scotland's Royal Scotsman, India's Maharaja's Express and Russia's Golden Eagle Trans-Siberian Express.
Here is the list of world's most luxurious trains till 2023 based on per night fares, location, interior & exterior designs.
01. Deccan Odyssey
Price per night: Deluxe Cabin: $7,320, Presidential Suite $15,855 USD
Location: Mumbai
Operated by: Indian Railways and Maharashtra Tourism Development Corporation (MTDC)
Features: 40 deluxe cabins, 4 presidential suites etc.
Attraction: 40 deluxe cabins, 4 presidential suites, 2 restaurants, 1 Conference business center, stocked bar, spa, mini gym.
Deccan Odyssey is one of the most luxurious trains in the world. This train rides through the Maharashtra route to expand tourism in Maharashtra Provision. This train is operated by MTDC known as Maharashtra Tourism Development Corporation and Indian Railways. This luxury train was built in Chennai in 2003 and launched in 2004. There are so many luxurious and attractive features such as deluxe cabins and presidential suits. Per night cost in the deluxe cabin is around USD 7320 and the presidential suite is USD 15,855. Gym, bar, spa, 2 restaurants, 40 deluxe cabins, 4 presidential suits are the main attraction of this luxurious train.
02. Seven Stars in Kyushu
Price per night: $5,400 USD
Location: Japan
Operated by: Kyushu Railway Company (JR Kyushu)
Features: 77 series coaches and two deluxe suites etc.
Attraction: Seven star luxury trains, 226-square-foot room, boasts a 5-foot panoramic window.

Seven Stars in Kyushu is the most amazing luxurious train on this planet. This Japanese train is also an important reason to visit Japan to experience this beautiful journey. Kyushu Railway Company operates the seven stars. There are two deluxe suites and series coaches are available on this train. If you are thinking of traveling on this train you may cost USD 5400 per night. This luxury seven-star train is full of attractions such as 5-foot wide view windows, 226 square foot rooms.
03. Maharajas Express, India
Price per night: $3,385 USD
Location: India
Operated by: IRCTC (Indian railway catering and tourism corporation)
Features: 23 coaches and accommodates up to 88 guests
Attraction: One Presidential Suite, 18 junior suites, 20 Deluxe Cabins and four suites

The Maharajas' Express train can be chartered to corporate individuals, agencies and executives for holding marriages, conferences and other events. The train has won the WTA world's leading luxury train award in 2012 and 2013, twice in a row. In the train, the presidential suites feature a living cum dining room, two bedrooms with attached baths and are furnished with double bed, LCD television, mini bar, luxurious interiors, climate control system and dial telephone.
04. Golden Eagle Trans-Siberian Express
Price per night: $2,140 USD
Location: Russia
Operated by: Golden Eagle Luxury Trains
Attractions: Royalty, luxury gathering, dining, AC room, luxury bathroom, etc.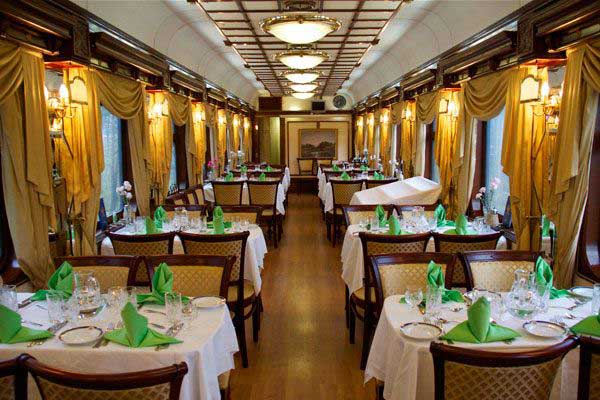 This luxurious train charges as much as $2,140 per night in it's gold class for single occupancy. The Trans-Siberian Express travels across Russia from east to west. It is operated between Moscow and Vladivostok on 15 day/14 night voyages. The train has imperial suites, gold class and silver class. The features of the suites are a king size bed, dressing table, dedicated seating area and large power shower. All accommodation classes have air conditioning, audio and video entertainment and wardrobe.
05. Royal Scotsman
Price per night: $2,126 USD
Location: Great Britain
Operated by: Orient Express hotels
Attraction: Thai foods, modern suite, expressway, WiFi, AC, etc

This Scottish luxury train Royal Scotsman collects an average charge of $2,126 a night per person for its 8 days/7 nights Grand Tour of Great Britain. It carries just 36 guests. The luxurious train, Scotsman features are five state-room cars, two dining cars, one observation car, and a crew car. The sleeping cars are divided into 14 twin cabins, and four single State Cabins and two double cabins. All the rooms are furnished with lower beds, dressing table, full-length wardrobe, climate control, ceiling fans, opening windows as well as an attach bathroom with shower, high-quality toiletries. The open-deck carriage is furnished with couch or armchair seating for passengers to relax and enjoy the sceneries of countryside and coast.
06. Rovos Rail Pride of Africa, South Africa
Price per night: $2,075 USD
Location: South Africa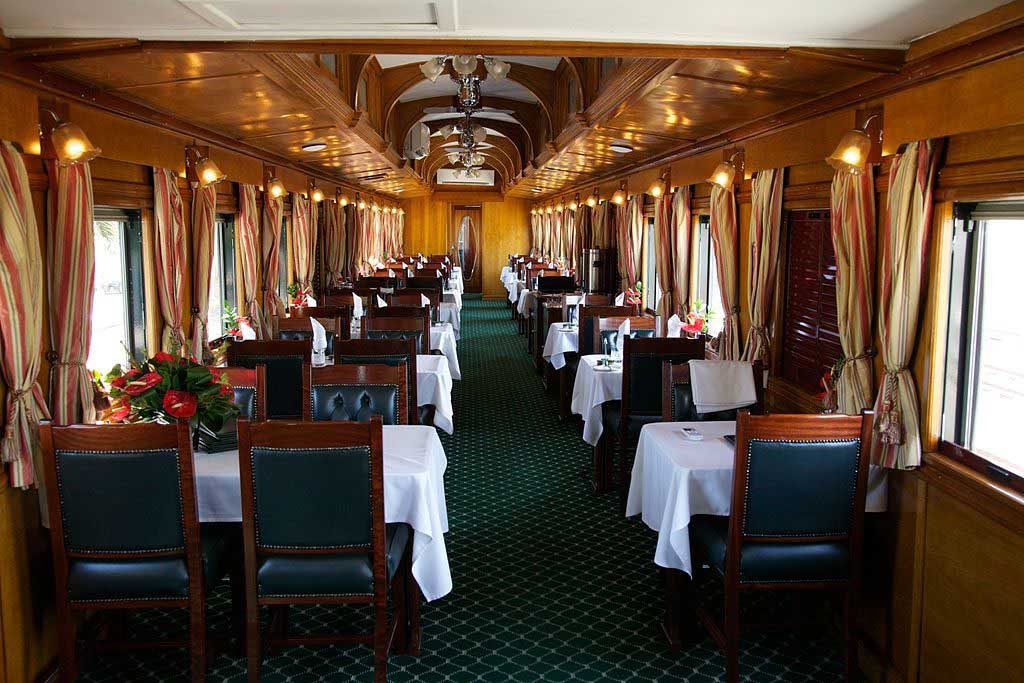 The train offers weekly voyages between Cape Town and Pretoria and can carry 72 guests. The luxurious train constitutes sleeper coaches, a lounge car that can accommodate 26 guests, two 42-seat dining cars, a kitchen car, smoking lounge, an observation car, a staff car, and a generator car powered by a locomotive. Accommodation is provided in three categories and they are Pullman suites, Royal Suites, and Deluxe Suites. All the suites are air-conditioned and feature twin or spacious double beds, and attach bathrooms furnished with hot shower and elegant toiletries.
07. Venice Simplon Orient Express, Europe
Price per night: $1,900 USD
Location: Europe
Operated by: Orient Express Hotels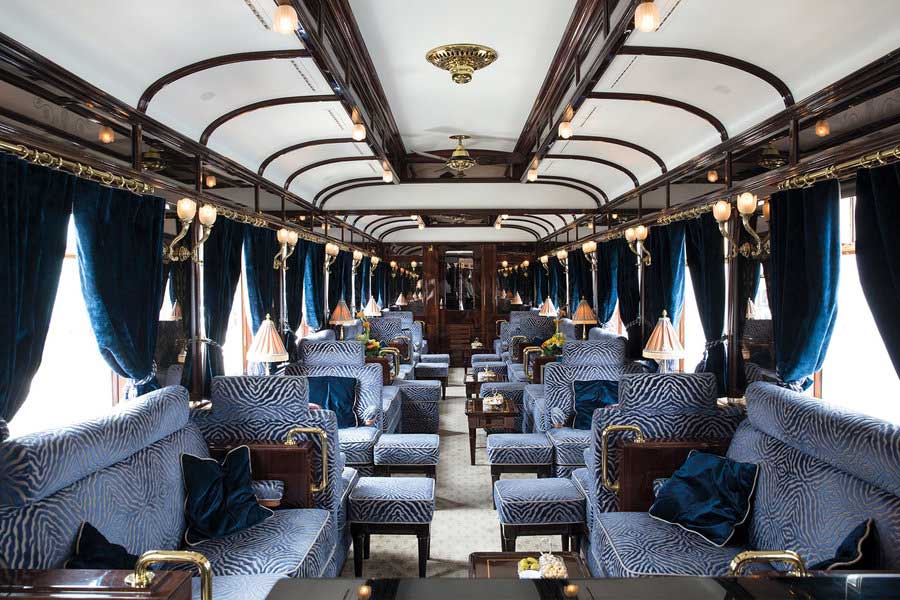 The Venice Simplon Orient Express (VSOE) luxurious train, operating across famous European destinations is owned by Orient-Express Hotels. The train fare is $1,900 a night per person for its 6-day/5-night voyages between Paris-Istanbul and Istanbul- Venice. That's making it one of the world's most expensive trains.
The train has 17 excellently styled first-class carriages for catering to 188 passengers onboard. Accommodation is provided in double cabins and Cabin Suites. Each Cabin Suite includes two cabins that are interconnecting which can be furnished with single lounge. The Double Cabin is modified as lounge in day time and can be converted into a bedroom at night. The train's dedicated Bar car and restaurant Cars offer drinks as well as set menus.
08. Eastern & Oriental Express, Asia
Price per night: $1,583 USD
Location: Asia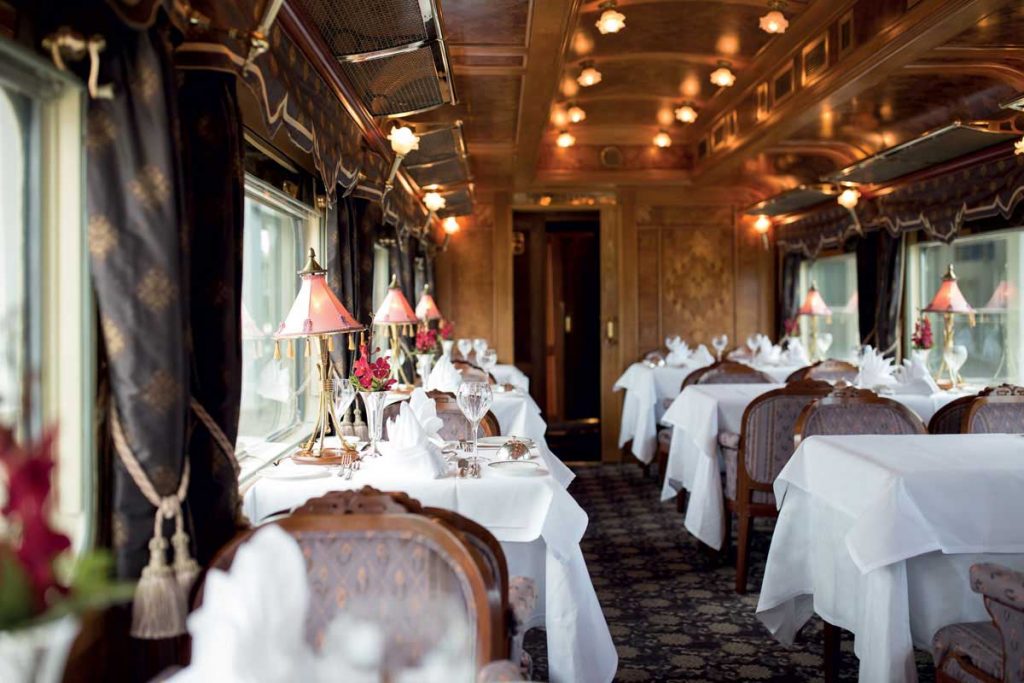 The luxury train operating through Singapore, Malaysia, Thailand and Laos charges $1,583 per night for its 7-day/6-night voyages. It is the sister train of the Venice Simplon-Orient-Express. This train's accommodations are listed into Pullman Cabins, State Cabins and Presidential Cabins. The wood-panelled cabins with delicate marquetry are furnished with beds, banquette-style sofa, shower and lavatory, and huge observation windows.
The two Restaurant Cars onboard serve lunch and dinner, while breakfast, fruits, coffee, tea and juices are supplied into cabins daily. Cocktails, liquors and aperitifs are served by piano bar and a bar in the Observation Car. The train also features a boutique and saloon car.
09. Danube Express
Price per night: $1,535 USD
Location: Europe

It is one of the most expensive private luxury trains operating in Europe. The over-night stay in Deluxe Single En Suite of Danube Express charges of $1,535 per person. Dubbed as "Hotel on Wheels, the luxury train offers voyages for some of the most tempting destinations in the continent.
The Danube Express is furnished with four deluxe sleeping cars, a classic sleeping car, a restaurant car, lounge car, and staff car. The train carries around 50 passengers in a variety of accommodation categories. Each Deluxe sleeping coach incorporates five wide air-conditioned en suite compartments which are featured by two comfortable lower beds, cupboards, armchairs, and a private bathroom with a shower, water closet and washbasin.
10. Royal Canadian Pacific
Price per night: $1,442 USD
Location: Canada
Operated by: Canadian Pacific Railway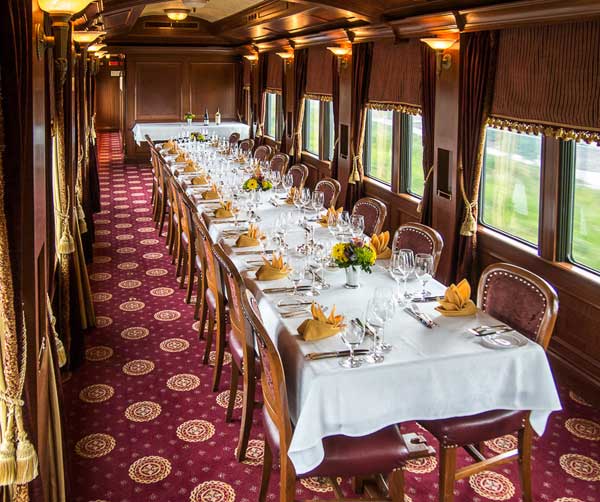 The per person price for a single night of a Royal Canadian Pacific's 6 day/5 night luxury rail cruise is $1,442 that's making it one of the world's most expensive journeys. The luxury train is operated by CPR (Canadian Pacific Railway). The train accommodates passengers in luxurious staterooms privately. The train has 3 executive business cars and 2 sleeper cars offering eighteen On-board Staterooms to accommodate almost 30 guests.
Each stateroom is modified with three-piece private en-suite, single beds or double beds, bathrobes, in-room safe, Aveda amenities, and internal telephone. These are the world's most expensive and luxurious trains in 2023.
#Here is the Top 10 Luxury Trains in the World 2023
| Rank | Train Name | Tickets Price | Country |
| --- | --- | --- | --- |
| 01 | Deccan Odyssey | $15,855 USD | Mumbai |
| 02 | Seven Stars in Kyushu | $5,400 USD | Japan |
| 03 | Maharajas Express, India | $3,385 USD | India |
| 04 | Golden Eagle Trans-Siberian Express | $2,140 USD | Russia |
| 05 | Royal Scotsman | $2,126 USD | Great Britain |
| 06 | Rovos Rail Pride of Africa | $2,075 USD | South Africa |
| 07 | Venice Simplon Orient Express | $1,900 USD | Europe |
| 08 | Eastern & Oriental Express | $1,583 USD | Asia |
| 09 | Danube Express | $1,535 USD | Europe |
| 10 | Royal Canadian Pacific | $1,442 USD | Canada |