Expensive & Luxury electric cars are becoming popular nowadays in 2020. There are lot of reasons behind this and the environment friendly future system is one of the most important causes among them. People always run after luxury and comfort.
Let's see the world's best luxury electric cars in 2020 along with their price, special features, brands, location, etc.
01. Tesla Models (3, S)
Price: $73k to $133k USD
Brand name: Tesla
Headquarters: Palo Alto, CA, USA
Founded: 2012 till now
Founder: Martin Eberhard and Marc Tarpenning
This is an all-electric five door lift back car of Tesla, Inc. running from 2012 to present. Martin Eberhard and Marc Tarpenning were the founder of this models. It is one of the most exhilarating saloon cars, mostly aluminum body structure and has EPA range of 370 miles. The special feature of two independent motors which digitally control the torque of front and rear wheel which ensures the far better handling and traction control.
So, no chances of getting stuck in the road. Its super charger network and all models have a fantastic cabin under a mammoth touchscreen infotainment system. To win this super car, one has to spend $75000 to $133000 for several version of Tesla S, 3 Model. In 2015 and 2016, it was top selling electric car.
You may like:
1. World's Luxurious Car Collection
2. Luxurious Car Restoration
3. Popular Car Brands in the World
02. Jaguar I-Pace
Price: $69k to $85k USD
Brand name: Jaguar Land Rover
Headquarters:  Magna Steyr in Graz, Austria
Founded: 2018 – present
Founder: Jaguar Land Rover
British automobile company Jaguar Land Rover produces Jaguar I-pace under their Jaguar Marque. It is the first electric SUV from a premium European automobile. It is a compact luxury 5 doors battery-electric crossover SUV. It has capacity to run for 200-275 miles on its full charge and able to accelerate from 0-60 mph in 4.5 seconds. It has first-rate interior quality with revolutionary exterior design. Its twin 197 bhp motors deliver quite strong performance and set the standard for EV ride. The price range of Jaguar I-pace is about $69000 to $85900. It received 62 international awards in the glory of its very first year.
See more: Luxury Car Brands in the World 2020
03. Audi E-tron Quattro
Price: $74k to $81k USD
Brand name: Audi
Headquarters: Ingolstadt, Germany
Production: 2019 – present
Founder: August Horch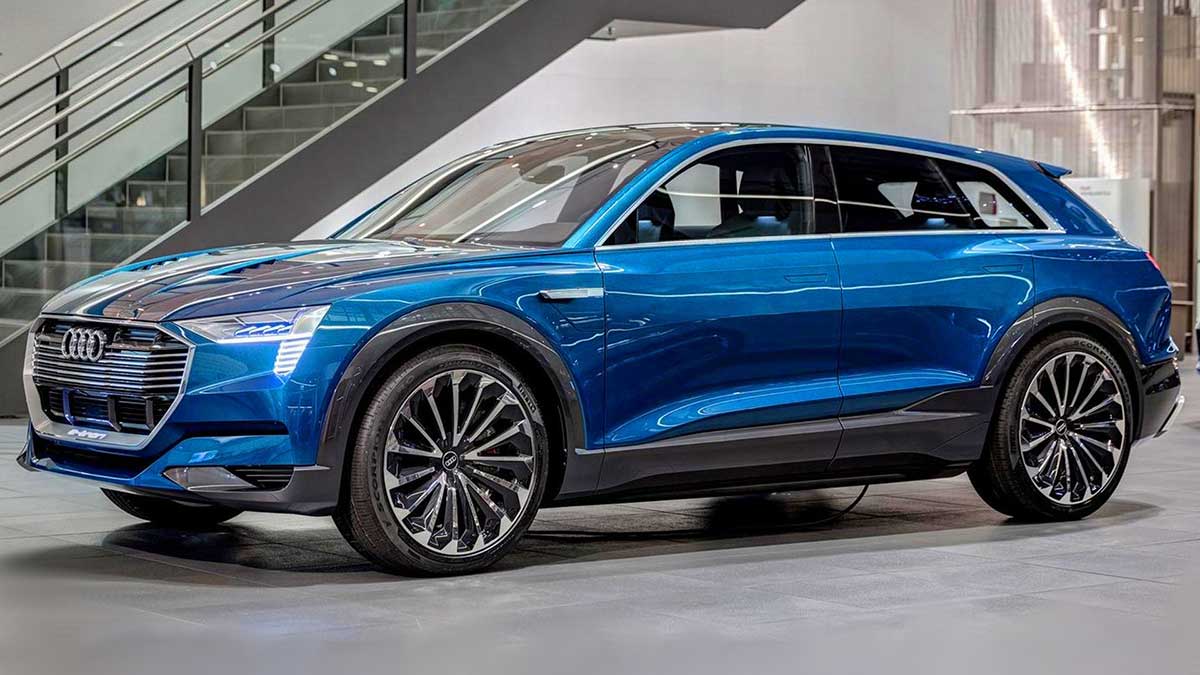 This is a series of electric and hybrid cars by Audi and was first delivered in 2020. It is fully electric mid size luxury crossover SUV. This car boasts a high tech interior and refined engaging service. It possesses duel motor and four wheel drive. Its range is 204 mile up to 402 horsepower and has the ability to accelerate from 0-60 mph in 5.5 seconds. Audi e-tron is offering 95 kwh of storage. It has super battery of 95 kwh lithium ion (83.6 kwh usable). This electric vehicle comes with rear parking sensors, side assist, a top-view camera and rear cross traffic alert. The MSRP range of Audi e-tron Quattro is $74,800 to $81,800.
Like: Most Luxurious Buses in the World in 2020
04. BMW i3
Price: $44k to $51k USD
Brand name: BMW
Headquarters: Leipzig, Germany
Production: 2013 – present
Founder: Camillo Castiglioni
BMW i3 is a ranked luxury hybrid and electric car developed by BMW group, assembled in Leipzig, Germany. It has new exterior colours and interior trim option. The driving range is more than 200 miles with 170 – 181 horsepower. It has large 42-kwh battery provide 153 miles of range. It has two complete sets of rear-seat LATCH connections. The front and rear parking sensors and BMW's connected drive service are standard. The MSRP range of BMW i3 is $44,450 to $51,500.
Let's see: Most Expensive Bike Brands in the World in 2020
05. Porsche Cayenne Hybrid
Price: $79k USD
Brand name: Porsche AG
Headquarters: Stuttgart, Germany
Production: 2003 – present
Founder: Ferdinand Porsche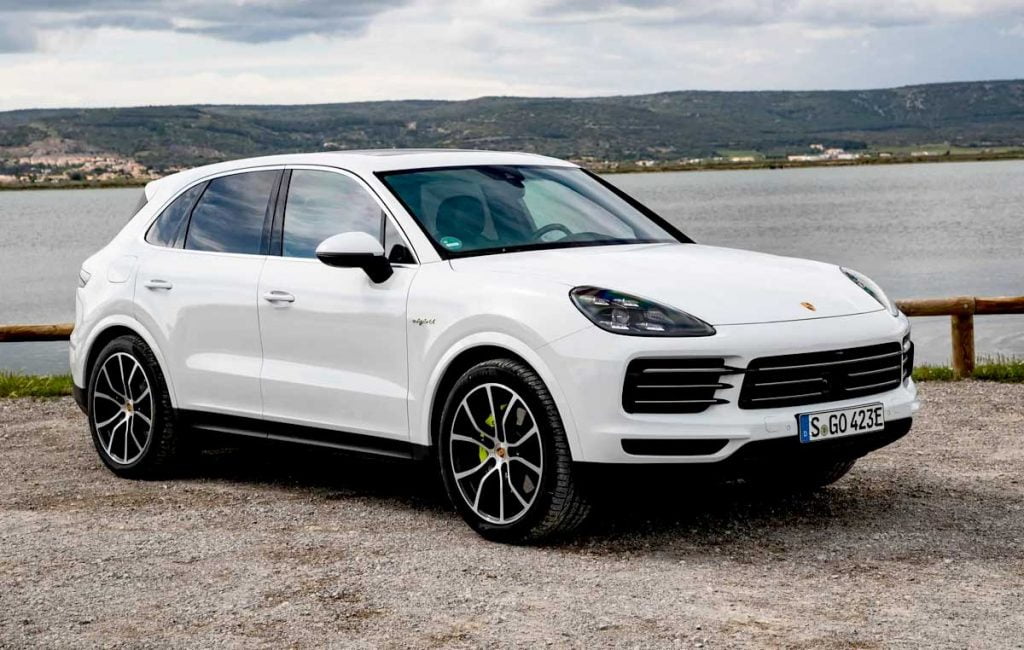 Porsche Cayenne Hybrid is one of the top luxury and electric SUVs produced by German manufacturer Porsche. The owner of Porsche is Volkswagen AG, founded by Ferdinand Porsche. Cayenne Hybrid deliver a terrific combination of performance and luxury. It is a plug-in hybrid contains a 455 – horsepower power train comprising a twin – turbo V6, an electric motor, and en eight – speed automatic transmission. Cayenne Hybrid includes a Wi-Fi hotspot, satellite radio, front and rear parking sensors, a rear-view camera, navigation and apple CarPlay. The price starts from $79,900.
06. BMW i8
Price: $75k to $80k USD
Brand name: BMW
Headquarters: Germany: Saxony, Leipzig
Production: 2014 – present
Founder: Camillo Castiglioni
BMW i8 is a plug-in hybrid sports car developed by BMW which is assembled at Leipzig in Germany. It has a sharp modern look with its beautiful butterfly doors. BMW i8 has both electric and fuel option supported by 357 horsepower. The range is 500km (310 miles) in comfort mode, 600 in Eco pro mode. Its electric motor is 98kw provide electric range 37km. It has two speed automatic transmission system (Aisin F21- 360 FT EOP). Price of this vehicle is around $75000 to $80000.
07. Tesla Model X
Price: $82k to $138k USD
Brand name: Tesla
Headquarters: Palo Alto, CA, USA
Production: 2015 – present
Founder: Martin Eberhard and Marc Tarpenning
Tesla, Inc. Manufactures Tesla Model X which is assembled in US, Europe and Netherland. It has blistering acceleration, terrific handling and lots of cargo space.
It offers more than 300 miles of all electric driving with 518 horsepower. The Falcon wing doors make it more useful even in a tight place. The interior is full of quality materials and soft touch surface. One needs to spend $82,000 to $138,000 based on MSRP for a Tesla Model X.
08. Land Rover Range Rover
Price: $89k to $209k USD
Brand name: Land Rover
Headquarters: Whitley, Coventry, United Kingdom
Production: 1970- present
Founder: Jaguar Land Rover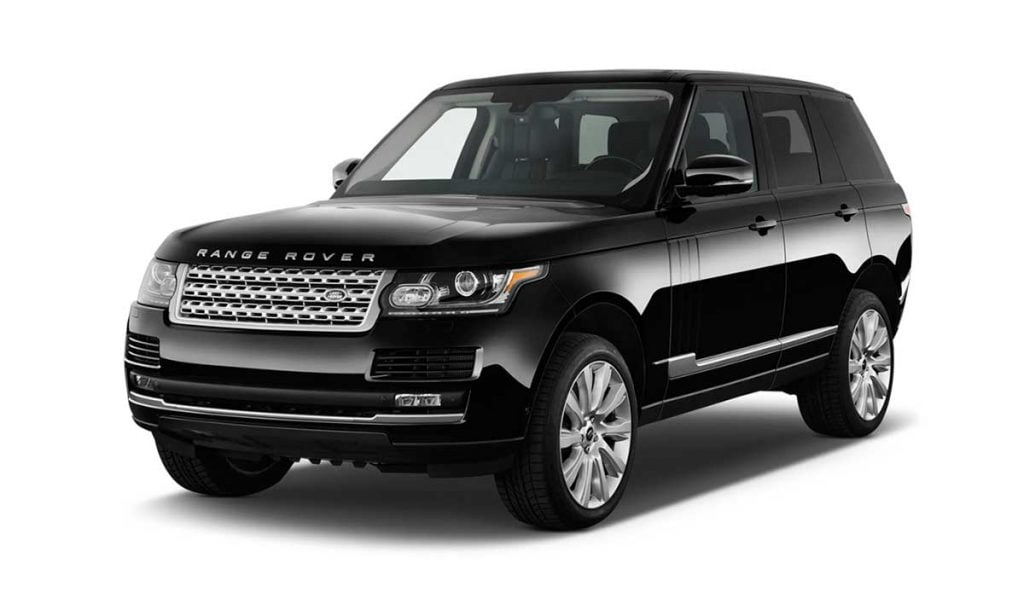 Land Rover Range Rover is a luxury car brand, owned by British multinational car manufacturer Jaguar Land Rover, which has been owned by India's Tata Motor since 2008.
It is beautifully crafted and abound with top – notch m materials. It offers several engine choices, ranging from 340 – horsepower super charged V6 base engine to a 557- horsepower supercharged V8. The standard features include the touch Pro duo infotainment system. Again, available features include a panoramic sunroof, a rear – seat entertainment system, 19- and 29- speaker meridian audio system. It MSRP range is $89,500 to $209,500.
09. Volvo XC90
Price: $47k – $104k USD
Brand name: Volvo Cars
Headquarters: Gothenburg, Sweden
Production: 2002 – present
Founder: Subsidiary of Geely
Volvo XC90 is a luxurious SUV by Volvo Car which is owned by Zhejiang Geely Holding of China. With full battery, it will cover up to 28 miles. It has exceptional passenger space and cargo room. Every XC90 comes with a rear view camera adaptive cruise control, following distance indicator, blind spot monitoring, rear cross traffic alert, speed limit recognition and many more specialty. One need to pay $47,700 – $104,900 for a Volvo XC90.
10. Mercedes – Benz GLE
Price: $53k to $76k USD
Brand name: Mercedes – Benz
Headquarters: Stuttgart, Germany
Production: 1997-present
Founder: Karl Benz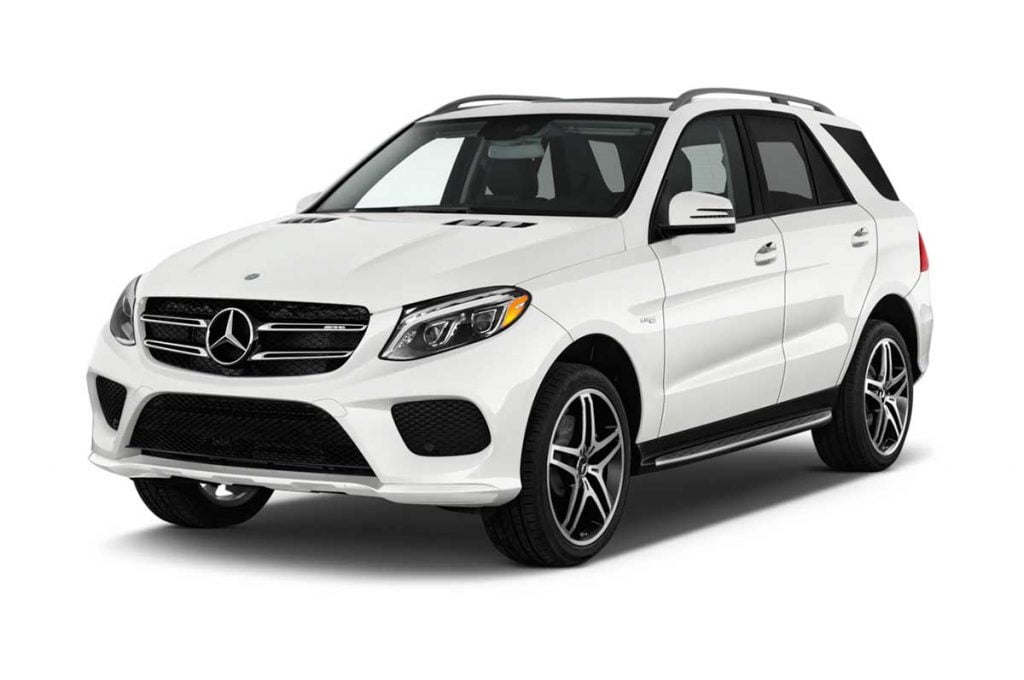 Mercedes- Benz GLE- class, the top rated luxury SUVs of Mercedes-Benz. The founder of Mercedes-Benz is Karl Benz Gottlieb Daimler which headquarter is in Germany. It is redesigned car which gets all of the latest and greatest innovation and upgrade. It is a four-door midsize SUV. For the newly available third row seat expands the total seat capacity to seven. The seats live up to Mercedes' reputation for luxurious comfort. It has luxurious interior quality boast excellent craftsmanship, solid – feeling hardware, and mostly first class materials. The unique feature of 2020 Mercedes-Benz GLE- class is the innovative new E – active body control suspension option. One has to spend $53700 to $76800 for getting this luxury.
11. Karma Revero GT – $135k
Price: $135k USD
Launched: 2020
Brand: Karma
Brand Country: United States
Engine: Electric
Horse Power: 536 hp
Top Speed: 125 mph
Fuel Type: Electric Battery
Fuel Capacity: 28 kWh
12. Porsche Taycan – $103K to $185k
Price: $103k to $185k USS
Launched: 2020
Brand: Porsche
Brand Country: Germany
Engine: Electric (2 AC Synchronous Electric Motors)
Horse Power: 562 to 750 hp
Top Speed: 162 mph
Fuel Type: Electric Battery
Fuel Capacity: 79.2 to 93.4 kWh
Technology: wheel drive control, two electric motors, recuperation system, Apple Music, Taycan touchscreen display etc.
13. Honda Clarity Fuel Cell – $58.4k USD
Price: $58.4k USD
Launched: 2020
Brand: Honda
Brand Country: Japan
Engine: Electric
Horse Power: 174 hp
Top Speed: 120mph
Fuel Type: Electric Battery
Fuel Capacity: 103kW
Seat Quality: Comfortable and supportive
Technology: Heated Side Mirrors, Efficient Engineering, Distinctive Lines, LED Taillights, Smart Wiper System
14. Hyundai Kona EV – $37k to $45k
Price: $37k to $45k USD
Launched: 2020
Brand: Hyundai
Brand Country: South Korea
Engine: Electric
Horse Power: 201 hp
Top Speed: 150 mph
Fuel Type: Electric Battery
Fuel Capacity: 64 kWh
15. Volkswagen e-Golf – $31k to $38k
Price: $31k to $38k USD
Launched: 2019
Brand: Volkswagen
Brand Country: Germany
Engine: Electric
Horse Power: 134 hp
Top Speed: 150 km/h
Fuel Type: Electric Battery
Fuel Capacity: 35.8 kWh