These most expensive motor bikes 2020 will show you the world's top list of the 10 best expensive luxury motorcycles to buy in the world. The high-technologies are being added in the functioning of a motorcycle by the grace of modern science. It is making it more tempting and appealing to the impulsive lovers of motorbikes at the very same time.
The famous brands of motorcycles are working very hard to satisfy the customer's demands and putting their valuable toils on making high comfortable and convenient bikes which most likely may create a history someday!
Who does not have a passionate love for high-modified and expensive luxury motorbikes in 2020, especially among boys? So, without lingering to the intro anymore, here, some top expensive bikes have been illustrated for the bike lovers, according to their convenient demands:  
1. Kawasaki Ninja H2R
Price: $50K USD
Brand: Kawasaki
Brand Country: Japan
Launched: 2015 to Running
Class: Sport bike (Track only)
Stroke: 76mm by 55mm
Torque: 156 Nm
Engine: 998cc, in-line 4 DOHC, 2-speed centrifugal with supercharging power
Horse Power: 310 hp
Weight: 216 kg
Seat Height: 32.7 inch
Compression: 8:3:1
Fuel Capacity: 17.03 liter
Manufacturer: Kawasaki Motorcycle and Engine Company
Headquarters: Chuo-ku, Tokyo, Kobe Minato, Japan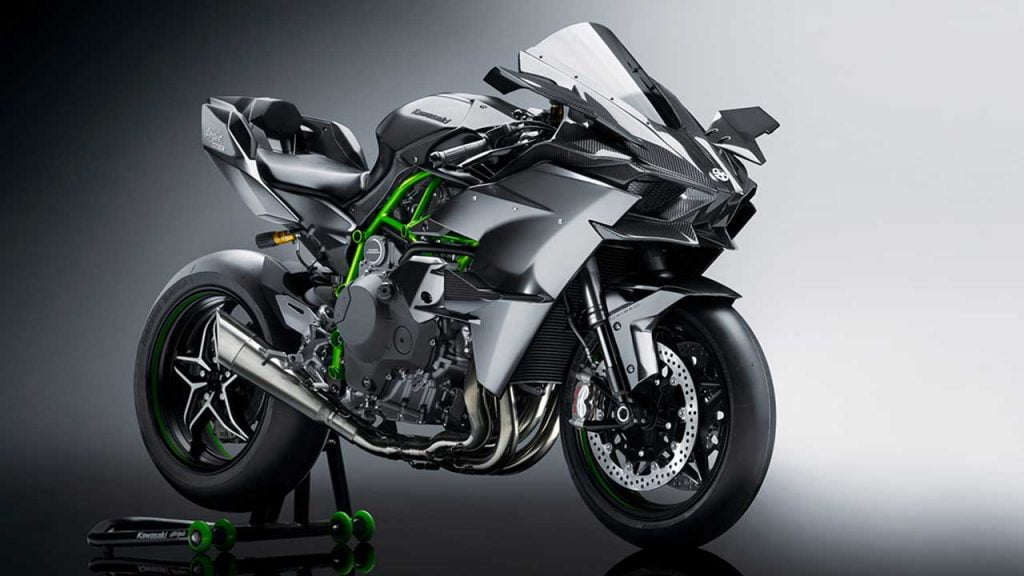 Kawasaki is one of most expensive and popular Japanese brand of motorcycles in this era of great technology. This motorcycle manufacturer is not only the most luxurious and expensive one but also champion of many superbike racing competition. With the high quality of liquid-cooled type engine and at the same time four stroke in-line with supercharged Kawasaki Ninja H2R is the number one fastest bike of this brand in the whole world. The accuracy of the compression ratio and the valve system this company manufactures the fastest bike ever and owns many championships in the superbike racing competitions. This most premium machine is manufactured with hand-made carbon fiber and hand painted in Japan. Its suspension is KYB telescopic fork front which is fully adjustable with steering damper and the rear is also single sided swingarm and its brake is Radial type which is Brembo mono-block. This eye catchy motorcycle with high configuration can easily attract you to have a ride on it!
Let's know: Most Expensive Bike Brands in the World in 2020
2. BMW K1600 GTL
Price: $25,595 USD
Brand: BMW
Brand Country: Germany
Launched: March, 2011 to Running
Class: K1600 GTL (Tourer)
Stroke: 72mm by 67.5 mm
Engine: 1,649 cc -6-cylinder in-line
Horse Power: 160 HP at 7,750 RPM
Weight: 350 kg
Compression: It is a superbike with the compression of 12.2:1
Fuel Capacity: more than 7 US gallons
Cylinder: In this motorcycle the cylinder bore is 72.0mm with the forward angled by 55 degree and distance between the each two centers is 77mm
Manufacturer: BMW Motorrad
Style Elegance: It is a real dynamic product with chrome slipstream deflectors, paint finish Pullox metallic, finishing of monolith metallic matt with the storage compartment lid and front mudguard with chrome bracket satthe
Headquarter: Munich, Germany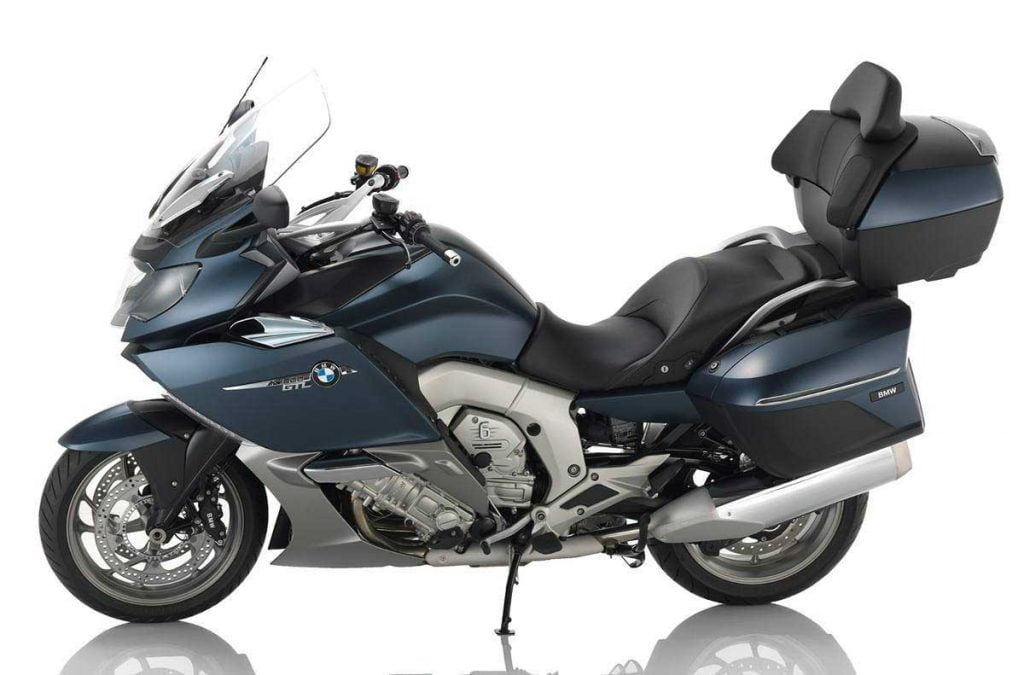 Bayerische Motoren Werke (BMW) which is also known as Bavarian Motor Works is the second most expensive and luxurious motorcycle brand across world and it is also a well reputed company of engine manufacturing and automobiles that deal also with mini cars. Among all the motorcycle models of this brands BMW K1600 GTL is the most powerful, more lighter, has a bigger fuel tank and gets better gas mileage. It has the transmission number of 6 speed and helical gearbox with shaft drive system. It has led rear lights and adaptive xenon headlights that shine onto a mirror and keeps the beam level according with the pitching of the bike with the improved hillside set-off convenience. So you can see that, with the combination of all high quality features this model of motorcycle of this brand is very much attractive and also comfortable for riding and goes with this modern era.
Let's know: Expensive Luxury Bicycle Brands in the World in 2020
3. Ducati Diavel 1260 S
Price: Starts $20K USD
Brand: Ducati
Brand Country: Italy
Launched: 2019
Founder: Adriano and Antonio Cavalieri Ducati
Class: Cruiser
Stroke: 106.0mm by 67.9mm
Engine: Liquid-cooled, 1262cc, L-twin
Cylinder: Radial master
Power and Speed: 159PS at 9500rpm, 162hp with the top speed of 169 mph
Weight: 234 kg
Frame Type: Its frame type is steel trellis rear is sub-frame with casting aluminum
Tires: Rear part is 240/45 ZR17 and the front part is 120/70 ZR17
Compression: Its compression ratio is 11.5:1
Fuel Capacity: 17 litter
Torque: 129Nm at 7500 rpm
Seat Height: 30 inch
Headquarter: Bologna, Italy
This 2019 version of the world's third most expensive brand is more of a devil with the combination of part cruiser, part superbike and part naked which is properly new. With a new chassis and more sophisticated electronic suite and top-shelf suspension from Ohlins with totally new surface it is the best creation ever! This luxurious motorcycle is not only faster than before but also it is now easier to ride in the traffic. It is imaginable that how much the Ducati's Engineers have worked to establish this mighty of a motor super-bike with high configuration materials. Its electronic ignition type and suspension of Aluminum single sided swing-arm it this model creates another level of satisfaction for the super-bike riders. Also it has 28 degree of rake and trail with the wheelbase of 1,590mm and 6-speed constant mesh wet of transmission this model is super expensive and luxurious one.
Let's know: Most Expensive Bicycles in the World in 2020
4. Yamaha YZF-R1
Price: $17K USD
Brand: Yamaha
Brand Country: Japan
Founder: Torakusu Yamaha
Engine: 998cc,twin engine with OHV of 48 degree, air-cooled and liquid-cooled
Horse Power: 200 hp
Weight: 200 kg (approximately)
Seat Height: 855MM
Wheels: 17 inches, Front breaks are double disc ABS with 320 MM and the rear break with the single disc of 220 MM
Torque: 112 NM
Fuel Capacity: 17.0 liters with the fuel tank of 140 miles of range and 38 (EST) MPG
Cylinder: consists of 4 cylinder
Transmission: 6 speed
Headquarter: Shizouka, Hamamatsu (Japan)
It is the coolest bike ever with ABS as standard and different riding modes under the brand Yamaha exemplifying the chassis technology over 20 years. Bikers of all level can easily feel the comfort of this dynamic product with a suite of electronics which is easy to ride even in the compact, blisteringly fast and lightweight roads. This super model bike is not intimidating at all, rather it is the faster and safer bike ever for the real bikers! The all brand new compact ABS unit and the integrated harmonious design of this motorbike feature creates a sleek new bodywork that makes it more aerodynamic. Providing the greater control and adjust-ability this model is the real confidence booster that transforms the rider's inputs into motion. The updated electronic features, air-box, intake system, cylinder head, intake system, stainless steel front lines and track-focused braking hardware ensure the true racetrack ready traction makes the balanced road feel with the proper handling.
Let's know: Most Luxurious Cars in the World 2020
5. Suzuki Hayabusa GSX1300R
Price: $15K USD
Brand: Suzuki
Brand Country: Japan
Founder: Michio Suzuki
Stroke: 4-stroke
Engine: 1340cc, liquid-cooled, 4-cylinder engine
Horse Power: 200hp
Weight: 268 kg
Transmission: 6 speed
Torque: 155 NM
Fuel Capacity: 21 liter
Cylinder: 4-Cylinder
Frame: Twin-spar aluminum frame which is rigid and lightweight
Seat Height: 805 mm
Ground Clearance: 120 mm
Headquarter: Shizuoka, Japan
This masterpiece of Suzuki Motor Corporation is a total package of massiveness and sexiness and it is a super attractive ultimate sport-bike with its twisted throttle and super acceleration as well as the unbelievable top end charge. Its smooth flowing on the road through the wind like in a peregrine falcon and its super handling and controlling powers ensure the smooth riding on the highway and extreme stability in sweeping turns for the all type of riders. The refined model of Suzuki Hayabusa since 1985 is only getting way better than ever maintaining its legacy and expensiveness. You can grab the attention of people on the road easily while riding it and the most interesting part is that you can take the speed from 0 to 60 in 2.7 seconds and 0 to 100 in just 3 seconds.
6. Honda Gold Wing Tour
Price: $27K USD
Brand: Honda Motor Company Ltd
Brand Country: Japan
Launched: 2018 to present
Founder: Takeo Fuzisawa and Soichiro Honda
Class: Touring type
Stroke: 73.0 mm by 73.0 mm
Torque: 170 Nm
Engine: Water-cooled, 4 valves per cylinder and flat 6 SOHC with PGM-FI and 1,833 cc
Horse Power: 125 hp
Weight: 379 kg
Seat Height: 29.3 inches
Compression: 10.5:1.0
Fuel Capacity: 20.8 liter
Wheel-base: 66.7 inches
Ignition: Digital electronic type
Headquarter: Tokyo, Japan
This dynamic product is a total luxury on two wheels with extremely comfortable sofa system seats and with a highly impressive look! With different technological displays on it and with super controlling and handling power this gold wing is a tremendous massive product which is the first Japanese production of motorcycle that has 4 stroke water cooled engine system. The aluminum die cast and twin tube frame and front tire with 130/70R and rear tire with 200/55-16 this model creates its own class of expensiveness. With the dimensions of 101.4 inches length, 35.6 inches of width and 56 inches of height it creates 30.5 degrees/109 mm rake or trail. This thing needs no introduction because it is known by almost everyone who do not even ride a bike and it is made for all type of people. Though the price is extremely high of this massive thing but there is an old thing you know, 'you get what you have paid for' and trust me the price is totally worth it.
7. Triumph Rocket 3
Price: $26K USD
Brand: Triumph
Brand Country: Japan
Launched: 2004 to present
Founder: Nick Bloor
Cylinder: 3-cylinder
Full Speed: 233 km/ hour
Stroke: 4 inches by 3.71 inches
Torque: 196 Nm and 2,750 rpm
Engine: Liquid-cooled, 3-DOHC (straight) and 2,294 cc
Horse Power: 127.1 hp
Weight: 362 kg
Seat Height: 29 inches
Fuel Capacity: 24 liter
Wheel-base: 66.7 inches
Manufacturer: Triumph Motorcycles Ltd
Headquarter: Japan (Hinckley, Leicestershire)
There will be two models of this most expensive and luxurious triumph rocket in 2020 and those are rocket 3 R and Rocket 3 GT. At low RPM its engine makes an unbelievable awesome amount of huge torque with a very comfortable riding position with a big and wide seat. Rocket has handle bars with the most controlling power that you can hold up for a long period easily. This incredible model with massive size is extremely stable in the open high-way and the length of it helps to keep it stable. Its length is 98 inches and the width is 38 inches that makes it more striking and fascinating and the tires with 150/80 R17 and 240/50 R16 makes it more engaging!
8. Aprilia RS4 125
Price: $5K USD
Brand: Aprilia
Brand Country: Italy
Launched: 2011 to present
CEO: Rocco Sabelli
Class: Naked sports
Stroke: 4-stroke
Engine: Air-cooled, 124.2 cc, 4-valve DOHC
Top speed: Approximately 122 KMPH
Mileage: Approximately 35 KMPL
Power: 14.8 BHP at 10500 rpm
Transmission: Multi-disk with oil bath clutch and 6-speed
Suspension: Front- Telescopic and Rear- Asymmetric swingarm
Wheel-base: it is 1353mm
Seat Height: 32 inches
Fuel Capacity: 14.5 liter
Cylinder: Single cylinder
This legendary model of the brand Aprilia is the most expensive with rich configuration that is very much eye soothing and attractive at the same time. It has the battery of about 12 volt and head lamp with halogen with LED and the tail lamp and turn lamp are LED and clear lens type respectively. The digital speedometer of this model proves its rich equipped technology. With the break system of disc on both front and rear it has the supercharged and most controlling stability that makes your ride extremely comfortable and reliable.
9. Moto Guzzi MGX-21 Flying Fortress
Price: $22K USD
Brand: Moto Guzzi
Brand Country: Italy
Founder: It has three founder and they are Angelo Parodi, Carlo Guzzi and Giorgio Parodi
Stroke: 4-stroke
Torque: 120 Nm
Engine: 1380cc, SOHC, 4-valves per cylinder, air and oil-cooled
Horse Power: 96 hp
Weight: 314 kg
Compression: 10.5:1 ratio
Fuel Capacity: 20.5 liters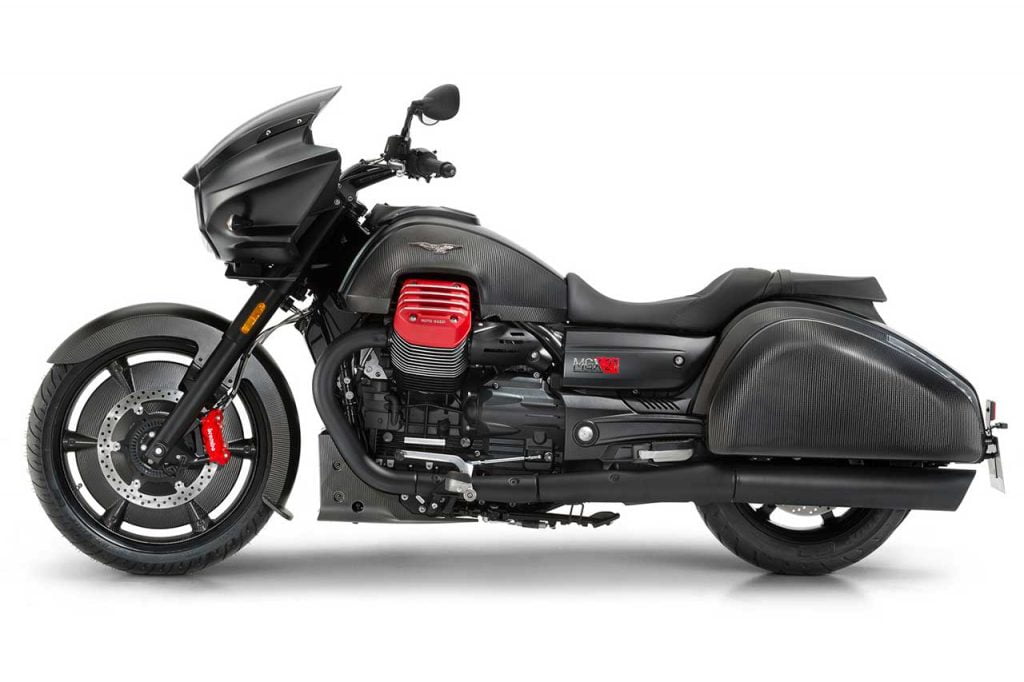 So this absolutely standard model of this Moto Guzzi brand is made on its purest form with the design of both on taking whether the long distance routes or the everyday short distance routes. With the motto 'A new adventure is about to come' it came making a history of most expensive motorcycle of this brand. This motor bike is specially designed for those who love to put finger in any corner of the map and start riding. It has wet sump lubrication and accurate timing system diagram. The ignition of this motorcycle is standardized with multi point sequential injection and its battery is about 12v to 18 Ah. So, you must can imagine how super comfortable and enchanting this motorcycle is!
10. Harley Davidson Road Glide
Price: $21,699 USD
Brand: Harley Davidson
Brand Country: USA
Founder: Matthew Levatich
Stroke: 4.5 inches
Torque: 150 NM at 3250 rpm
Engine: Air-cooled, Milwaukee 8, 1202 cc
Tires, specification: Front: 130/60B19 61H and rear: 180/55B18 80 H
Tire size: Front: 19 inch and rear: 18 inch
Wheelbase: 1625 mm
Weight: 388 kg
Seat Height: 695 mm
Compression: The ratio is 10.5:1
Fuel Capacity: 22.7 liter
Fuel System: ESPFI that is Electronic Sequential Port Fuel Injection
Headquarter: Wisconsin (Milwaukee), USA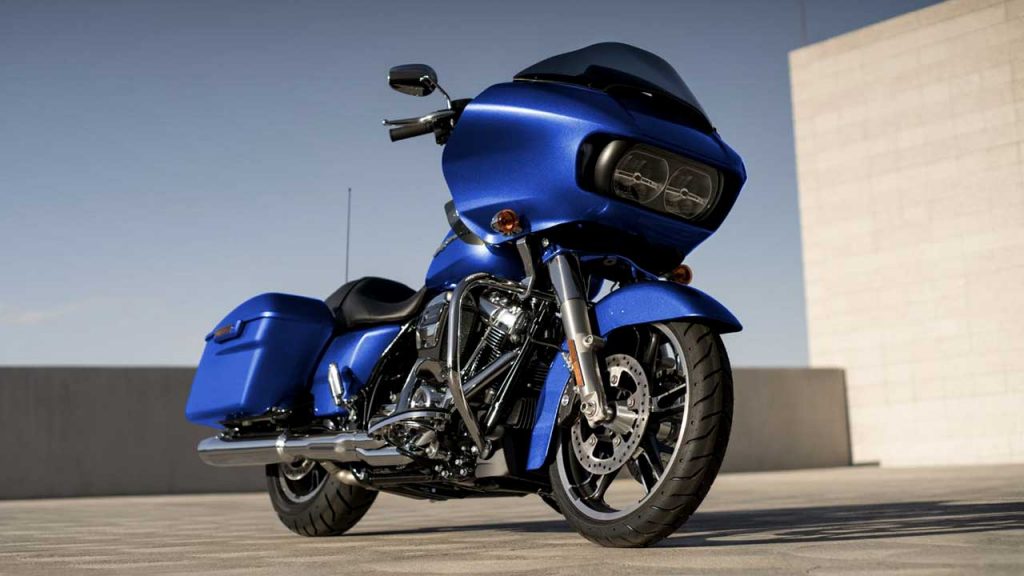 Here comes the last but not the least at all, Harley Davidson Road Glide Special one from the brand Harley Davidson which is the most expensive, lucrative and luxurious brand under this brand. With the dimension of 2430 length it is the most stable motorcycle on the high-way and also it can easily grab the attention of people with its LED type of both headlamp and tail lamp. Its digital odometer and analogue speedometer creates another level of satisfaction for the riders of it. It actually feels like home as soon as you start riding this expensive and massive gem!
Other Customized and Special Bikes
Neiman Marcus Limited Edition Fighter = $11 Million USD
1949 E90 AJS Porcupine = $7 Million USD
Ecosse ES1 Spirit = $3.6 Million USD
The Yamaha BMS Chopper = $3 million USD
Harley Davidson Cosmic Starship = $1.5 million USD
Dodge Tomahawk V10 Superbike = $550k USD
Legendary British Vintage Black = $400K USD
Ecosse Founder's Edition Ti XX = $300K USD
Ducati Desmosedici D16RR NCR M16 = $235K USD
Ducati Testa Stretta NCR Macchia Nera = $225K USD
Suzuki AEM Carbon Fiber Hayabusa = $200K USD
Honda RC213 V-S = $185K USD
MTT Turbine Streetfighter = $175K USD
Icon Sheene = $172K USD
NCR Leggera 1200 Titanium Special = $148K USD
NCR MH TT (Mike Hailwood) = $130K USD
MV Agusta F4CC = $120K USD
Vyrus 987 C3 4V = $105K USD
Energica Ego 45 Limited Editon = $70K USD
So, these are the top 10 expensive bikes for the die-hard fans of bikes. Some of the companies that make bikes also take customize orders from the rich or celebrity type figures and try to fulfill their demands. However, one can easily get his bike in his garage by giving a little glance of these expensive bikes that are given above.