The most luxury car brands 2020 emphasize on cosseting ride, extensive levels of technology and refinement. They also consider the level of prestige they bring, the aristocracy they provide and the comfort they produce. The revolutionary era of automobile industries has introduced us to a new generation of wonderful cars.
Here are the top ten most expensive & luxurious car brands in the world 2020. The goal is to introduce a class comprised of a significant proportion of the most comfortable saloons in which one chooses either to drive or to be driven in.
1. Rolls-Royce
Headquarters: Goodwood Circuit in Goodwood, West Sussex, England, United Kingdom.
Parent Organization: BMW
Founded: March 15, 1906, Manchester, United Kingdom.
Products: Phantom, Cullinan, Ghost, Wraith, Dawn.
Best Creation: Phantom
Price: starts at $450,000 USD (MSRP)
Rolls-Royce, this aristocratic car brand is at the top of our list for its majestic luxury and popularity among the elites. Its cars are comprised of the most comfortable saloons which are widely chosen for its luxury to drive or to be driven in.
Although the Rolls-Royce brand was started in 1906, the Rolls-Royce Motor Cars subsidiary of BMW AG had no direct relationship to Rolls-Royce branded vehicles produced before 2003 after that the Rolls-Royce brand cars were produced by BMW. The different models of Rolls-Royce cars soon reached the peak of popularity and now is recognized among the top brands for luxurious cars.
The grandest and greatest luxury conveyance was introduced by Rolls-Royce as Phantom. Superbly relaxing and singularly isolating ride comfort can be sampled and is like nothing else you'll encounter in a car. The supreme refinement and flexibility of its V12 engine will assure you your desired satisfaction and privilege followed by the smaller Ghost four-door sedan, Wraith two-door Dawn convertible, and the Cullinan SUV.
2. Mercedes-Maybach
Headquarters: Stuttgart, Germany.
Parent Organization: Daimler AG
Founded: 28 June 1926
Products: Maybach S-Class, Mercedes AMG S-Class, Mercedes-Benz S-Class etc.
Best Creation: Mercedes-Maybach S650
Price: starts at $198,700 USD
This brand is widely popular for its luxury vehicles and with providing so many different versions of wonder cars it's in number 2 of our list. Mercedes-Benz offers a great variety of cars with prestigious saloons to comfortable drivability. It's one of the Ace industries in the automobile world.
Maybach Motorenbau used to be a German car manufacturer which today is a sub-brand of Mercedes-Benz. In 1960, Maybach was acquired by Daimler-Benz. The name stood as an ultra-luxury car brand in the late 20th and early 21st century. After slow sales, Maybach ceased to be a standalone brand by 2013, and it became a sub-brand of Mercedes-Benz. As of 2018, an ultra-luxury edition of the Mercedes-Benz S-Class was produced under the Mercedes-Maybach name
Mercedes-Maybach S650 is the richest and most special car that was universally respected and admired as limousine range in the world. The S650 is the modern standard-bearer for Daimler's Maybach super-luxury brand. It was as much S-Class as Maybach to judge by appearances, and that's the result of Daimler's strategic decision. This decision was taken a few years ago to broaden the reach of the Maybach marque by creating 'halo' Maybach models across some of its more normal Mercedes passenger car ranges. Mercedes AMG S-Class, Mercedes-Benz S-Class are some of its other luxury cars.
3. Bentley
Headquarters: Crewe, England.
Parent Organization: Volkswagen
Founded: 18 January 1919
Products: Continental Flying Spur, Continental GT, Bentayga, Mulsanne
Best Creation: Mulsanne
Price: starts at over $310,000
This British automobile manufacturing brand has been producing one of the most ultra-luxurious cars in the world. It's at number 3 in our top 10.
Bentley Motors Limited is a British manufacturer that produces luxury cars and SUVs since 1998. It's a subsidiary of the Volkswagen Group. Prominent models extend from the historic sports-racing to its current model line including the Continental Flying Spur, Continental GT, Bentayga, Mulsanne which are marketed worldwide with China as its largest market as of November 2012.
One of the best creations of Bentley; Mulsanne is the limousine that's singularly majestic and its presence announces itself from hundreds of yards away.
Deliberately, more modest and discreet in its appearance than a certain key British limousine rival, the Mulsanne is a top-level luxury four-door. The material quality, natural appeal of its wood veneers and the tactile allure of so many of its fittings are second to none.
Let's see : Luxurious Car Restoration in the World
4. Lamborghini
Headquarters: Sant'Agata Bolognese, Italy
Parent Organization: Audi
Founded: 1963
Products: Aventador, Huracan, Urus, etc.
Best Creation: Aventador
Price: $203,764 USD
This Italian brand is the manufacturer of luxury sports cars and SUVs. In 1996 the company gained a lot of praise for the Miura sports coupe. It further established rear mid-engine, rear-wheel-drive as the standard layout for high-performance cars of this generation. Lamborghini grew rapidly during its first decade and after some ups and downs this brand is back with full might with cars like Aventador, Huracan, Urus, etc. And it also produces engines for offshore powerboat racing.
Among the amazing designs of Lamborghini Aventador holds a majestic place in the realm of luxury sports cars. Its breathtaking march is a treat to the eyes without any doubt and what's more, is needed when the steering of such a beast is in your hands.
Let's see: World's most Expensive and Luxurious Cars today
5. Porsche
Headquarters: Stuttgart, Germany
Parent organization: Volkswagen AG
Founded: 1931
Products: Cayman, Panamera, 911, Macan, Cayenne, Taycan
Best Creation: Panamera
Price: starting just over $87,300
This German automobile manufacturer specializes in producing luxurious sports cars, SUVs and sedans, giving high performance its utmost importance. With luxury to brilliant performance, it stands at number 5.
Porsche sold a total of 218,983 cars, 28,953 (13.22%) as domestic German sales, and 190,030 (86.78%) all over the world. in recent times. Porsche has been highly successful and indeed claims to have the highest profit per unit sold of any automobile company around the globe in 2015. Porsche's current lineup includes Cayman, Panamera, 911, Macan, Cayenne, and Taycan.
There is a debate between the most luxurious Porsche, whether it is Panamera or Cayenne and the ultimate precision goes to Panamera. The best feature of this car is it comes with high performance and luxury at the same time. The interior features that help the Panamera to be a luxury machine include Porsche's PKS system, Porsche Traction Management (PTM), and the custom Porsche communication management (PCM) console. This vehicle is built to do all the heavy lifting as you desire it to.
6. Aston Martin
Headquarters: Gaydon, Warwickshire, England, United Kingdom
Parent Organization: Aston Martin Lagonda Global Holdings plc
Founded: 1913
Products: DB5, V8 Vantage, DB7, DB9, Rapide, etc.
Best Creation: Vanquish S
Price: around $298,000 USD
This manufacturer of luxury sports cars and Grand Tourers is one of the most prestigious brands of automobile industries. It received the Queen's Award in 2003 being recognized as the enterprise for outstanding contribution to international trade. Aston Martin has over 150 car dealerships over 50 nations around six continents. They have announced their intention to turn themselves into being a global luxury brand.
Among its wide variety of cars introduced by Aston Martin, the Aston Martin Vanquish is a Grand Tourer that has manufactured as a successor to the Aging Virage range in 2001. And later it was developed into the Vanquish S model. It appeared in 2002 in James Bond's film "Die Another Day". It earned the number three spot on the list of Best Film Cars.
7. BMW
Headquarters: Munich, Germany
Founded: 7 March 191
Products: F22, F23, F40, F45, F46, G21, G22, G14 etc.
Best Creation: BMW M760i
Price: $156,700 USD
This multinational brand is one of the most famous automobile industries that manufactures a wide variety of racing cars, touring cars, etc. Though not being an exact luxurious car brand but for the facilities it provides, it stands proudly at number 7.
BMW stands for Bayerische Motoren Werke. The company was founded in 1916 as a manufacturer of aircraft engines, which is produced from 1917 until 1918 and again from 1933 to1945.
In 2015, BMW emerged as the world's twelfth largest producer of motor vehicles; 2,279,503 vehicles were produced by them. BMW has been named the world's most sustainable automotive company by the Dow Jones Sustainability Index every year since 1999. It is among the three automotive companies to be featured in the index every year. The BMW Group also enlisted itself to the United Nations Environment Program, the UN Global Compact, and the Cleaner Production Declaration.
BMW M760i is the most expensive BMW car which is justifiable by its amazing specifications. In an era of powertrain downsizing and electrification, the mighty V-12 is a rare commodity these days, found primarily amongst the ranks of exotica and super-luxury. The M760i is delightfully well-balanced for a car of its size. It fulfills the role of road-going Gulfstream quite nicely, whether you're in the front seat or one of the VIP thrones in back. In a world without speed limits, this would be the perfect car to cross a continent, kicking back and listening to the stellar stereo while letting the exemplary seat massagers do their business.
8. Bugatti
Headquarters: Molsheim, Alsace, France
Parental Organization: Volkswagen
Founded: 1909
Products: Bugatti Chiron, Bugatti Divo
Best Creation: La Voiture Noire
Price: $18.5 million
This French high-performance luxury automobiles manufacturer and a subsidiary of Volkswagen AG now holds one of the most expensive cars La Voiture Noire. Bugatti has always attracted a lot of attention with their beyond cool designs and high-performance vehicles that has started a new era of automobile revolution.
La Voiture Noire is one of the most expensive cars in the world in which Bugatti developed. This supercar is undoubtedly a treat to the eyes and a teaser of what the future has yet to bring. Only one car was built and was developed to mark Bugatti's 110th anniversary. The company said the six-tailpipe "hypercar" represents the pinnacle of Bugatti's production line. The 8-liter engine has 16 cylinders and 1500 brake horsepower. A new generation of wonder car is here.
9. Jaguar
Headquarters: Whitley, England
Parent Organization: Jaguar Land Rover
Founded: 26 October 1933
Products: E-Pace, F-Pace, I-Pace, F-Type, XE, XF, XJ
Best Creation: Jaguar XE SV
Price: Starts from $1,47,500 USD
Jaguar is a very popular luxury vehicle brand of Jaguar Land Rover a British multinational car manufacturer. Jaguar has never failed to surprise with producing luxurious sports cars and is one of the most favorites in these areas.
Among different models, XJ has received a lot of attraction it is a full-size luxury saloon at a reasonable price. Its exterior styling departed from previous XJ models, with a more youthful, advanced, following the design shift that they developed previously with the company's XF and XK models.
10. Land Rover:
Headquarters: Whitley, Coventry, United Kingdom
Parent Organization: Jaguar Land Rover
Founded: 1948
Products: Range Rover
Best Creation: Range Rover SVAutobiography
Price: $177,500 USD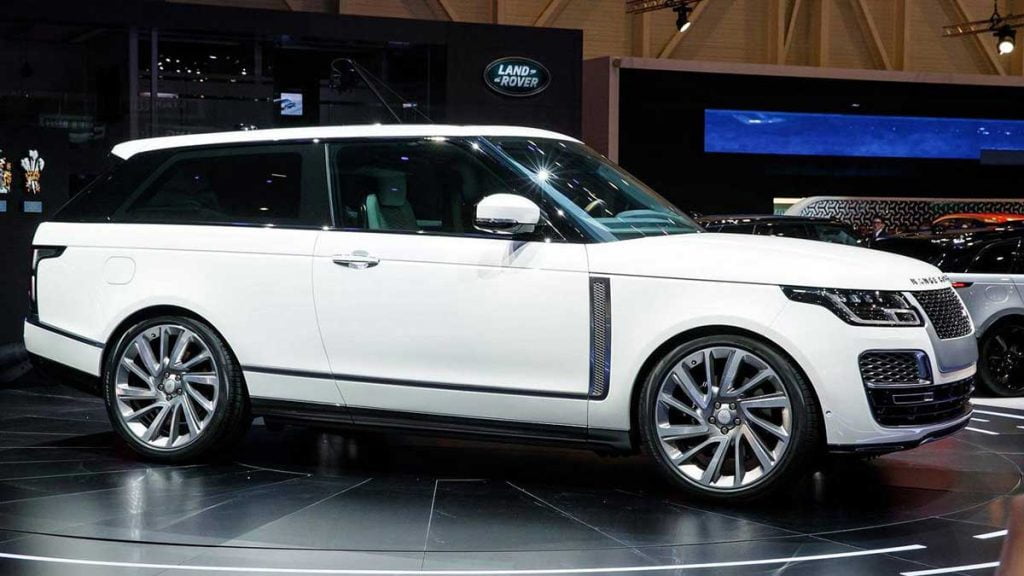 Land Rover is a luxury car brand that specializes in four-wheel-drive vehicles which have become very popular among the globe. The Land Rover is regarded as a British icon and was granted a Royal Warrant by King George VI in 1951 and In 2001 it received the Queen's Award for Enterprise for outstanding contribution to international trade.
Among its other models, Range Rover SV Autobiography has attracted a lot of attention and is regarded as one of the most luxurious cars in the world. The top-rung, long-wheelbase Range Rover has come a long way as a luxury car since the genesis days of the famous SUV upon which it's based. The modern SVAutobiography, hand-finished Land Rover, Special Operations based near Coventry, is a car that's now fully 5.2 meters long and 2.6 tonnes in weight at its heaviest. It was conceived to take full advantage of the embryonic market for super-expensive SUVs and the high regard some have for the Range Rover brand, and it does so quite effectively.
Final words:
Luxury cars have traditionally emphasized higher levels of comfort & safety and all these brands provide the best luxuries in automobiles. This list took in brands that are not only majestic by looks but also a total consideration of performance, prestige, aristocracy, and coolness. Now let's see what the future has yet to bring.