These top 10 best refrigerator brands in the world 2023 will change your fridge buying decision. World's top fridge companies are gradually creating competition in the refrigerator market with their latest technologies.
Who does not want to have an updated refrigerator to make their life easier? Of course, if the brands of the refrigerator provide their best gadgets and equipment at affordable prices, then who does not want to grab them? You may like: Best Kitchen Appliances Brands
So, here, we are going to hand you the top 10 best refrigerator brands in 2023 to open up your eyes. If you take a glance at this whole article thoroughly, you would surely come up with ideas that are of great use for an easy-going life.
Related: Why Kitchen is the Heart of a Home?
Let's see the world's best & top refrigerator brands in 2023 with brand ranking.
01. Whirlpool Corporation
Net Worth: $21 Billion
Brand Country: United States
Founded: 11 November 1911
Founders: Emory Upton and Louis Upton
Chairman and CEO: Marc Bitzer
Headquarters: Michigan, Benton Charter Township, US
Number of Employees: 92,000 People
Popular Models: 36-inch Wide Counter Depth French Door Refrigerator – 24 cu. ft. ($4.110 USD)
Best Product: 36 Inch 4-Door French Door Refrigerator WRX735SDBM
Manufacturing Faculties: 9 in the US (Cleveland, Tennessee; Amana, Iowa; Clyde, Ohio; Findlay, Ohio; Fall River, Massachusetts, etc)
This huge corporation of Whirlpool is largely a famous brand for its manufacturing of refrigerators and freezers. 29% of the selling portion is made by this category of whirlpool corporation.
Around 70 million of the products of a whirlpool are sold annually with lofty profit. Again, this classic brand functions at its highest peak with the utmost facilities the latest refrigerator can provide. You should really go for this refrigerator brand if you want refrigerator accessories, and qualitative, high functioning advantages. Let's see the small but luxurious kitchen design ideas.
02. KitchenAid
Net Worth: $6 Billion
Brand Country: United States
Founded: 1919
Founders: The Hobart Manufacturing Company
Owner: Whirlpool Corporation
Previous owners: Hobart Corporation
Headquarters: Benton Harbor, MI
Products: Kitchenware, major and small appliances
Area limitation: worldwide
Ambassadors: Whirlpool Corporation, Meyer Corporation (bake and cook warnings), Lifetime Brands Inc for gadgets.
Number of Employees: 16, 700 People
Company number: 346 companies
Manufacturing faculties: South Carolina, Indiana, Arkansas, Mississippi, Ontario, Quebec, North America, China, etc.
Best Products: 9-speed digital hand mixer, professional 600 series stand mixer, pro line series blender, 4-slice toaster with manual high lift lever and digital, display, 2-speed hand blender, etc.
Best KitchenAid Refrigerator: KitchenAid 29.5 Cubic-Foot Black Stainless Refrigerator
Major Brands: KitchenAid itself is a major brand under Whirlpool Corporation.

This brand, though works under the Whirlpool Corporation, has done so many inventory pieces of electronic advantages that it now stands as a discrete brand. Again, it has already raised a fund of around 10 million US $ just to help to find out the cure for breast cancer.
If you want to keep your food fresh and optimum living, the KitchenAid serves the greatest service on it. High-quality accessories and specious food preserving service along with the premium balance of the temperature of any weather are the main advantages of this brand. Let's check this year's Must have Modern Kitchen Elements.
03. LG Electronics
Net Worth: $50 Billion
Brand Country: South Korea
Founded: January 5, 1947
Owner: Kwang-Mo Koo
Founder: Koo In-hwoi
CEO: William Cho
Headquarters: LG Twin Tower 128, Yeouido-dong, Yeongdeungpo District, Seoul, South Korea
Products: Home appliances, electronics, power generation, and other appliances
Area limitation: Internationally
Number of Employees: 75k+ People
Best Products: LG InstaView ThinQ Smart Refrigerator, LG Top Load Washer and Dryer Pair featuring LG SideKick with SmartThinQ, LG SIGNATURE OLED TV 4K HDR Smart TV (W8), LG OLED TV 4K HDR Smart TV etc.
Best LG refrigerator: LG 420 L 4 Star Free Double Door Refrigerator
Joint Ventures: Hitachi-LG Data Storage
Brand Ambassadors: David Warner, Akshay Kumar, and Akshay Khanna

LG is the short form of Lucky Goldstar. But it is mostly acquainted with the short form and it is famous worldwide because of its innovative and high qualitative manufacturers. This Korean brand has earned a reputation as it gives more facilities at less cost which is of great advantage for the middle-class people.
This brand is adept at providing the best service with spacious storage and robust shelves. Already this brand has got the highest rank with the 4.4 rates and got many special reviews from the customers which are of great value. If you want to go to a brand whose first priority is honesty to its customers, then you should go for LG brands blindly.
Related: Let's Redesign a Small Kitchen with your Budget
04. Samsung Electronics
Net Worth: $500 Billion
Brand Country: South Korea
Founded: January 13, 1969
Founder: Lee Byung-Chul
CEO: Kwon Oh-Hyun
Key people: Young Sohn (president)
Headquarters: Samsung digital city, Yeingtong District, Suwon, South Korea
Products: LCD and LED panels, NAND flash, mobile phones, commercial refrigerators, etc.
Area limitation: Whole world
Revenue: $221.6 Billion
Operating Income: $53.5 Billion
Net income: $40.3 Billion
Total assets: $308.5 Billion
Number of Employees: 287,439 People
Best Products: Side-by-Side Refrigerator, Best Style: Samsung 4-Door-Refrigerator with Flex Zone, Samsung French Door Freeze, etc.
Best Samsung refrigerator: Best Samsung Side-by-Side refrigerator
Manufacturing Factory: South Korea

Samsung refrigerators are not congested as an optimum freeze. This Samsung brand supplies all the frequent facilities which are needed to cope up with the weather to its customers. Its refrigerators are well spaced, have no deficiency of energy, economic in nature, and are fantastic to look at. This brand has already earned its next era by uploading new features and models to convince the customer with the most reasonable price.
05. Panasonic Corporation
Net Worth: $64 Billion
Brand Country: Japan
Founded: March 13, 1918.
Founder: Konosuke Matsushita
CEO: Kazuhiro Tsuga
Headquarters: Kadoma, Osaka, Japan
Popular Models: Commercial refrigerators, televisions, air conditioners, projectors, broadcasting and audio equipment, and so on.
Area limitation: worldwide
Number of Employees: 259,385 People
Best Products: portable television UN-19Z1, Compact camera DMC-TZ100, FM-AM 2 Band Receiver RF-TJ20, Stereo Headphones Technics EAH-T700, Oral irrigators, etc.
Subsidiary companies: 580
Best Panasonic refrigerator: Panasonic 342 Ltrs NR BU 343 MNX4 Frost Free Double Door refrigerator
Manufacturing Factory: Okasa, Japan.

This Japanese company has brought the products which are wholesome of an easy life. It has made a milestone in the path of creativity in technology. From electric brush to electric easy hand refrigerator, this company got its customers as happy as a bee with honey.
It has invented the largest flat-screen TV with the tolerable radiance of the light to the eyes and got many winning prizes as well. This company is wholesome itself and on its way to being ranked in the first row of electronic machines and gadgets.
Related: 27 Ways to Redesign your Small Bathroom
06. Hitachi
Net Worth: $51.66 Billion
Brand Country: Japan
Founded: 1908
Chairman: Hiroaki Nakanishi
Founders: Namihei Odaira
CEO: Toshiaki Higashihara
Headquarters: Chiyoda Ku Tokyo, Japan
Products: Telecoms, information systems, mechanical equipment, refrigerators, etc.
Area limitation: Worldwide
Number of Employees: 380,714 People
Best Products: Hitachi Refrigerator R-BG410P6PB (GBK), Hitachi RSB418AAD 1.5 Ton Split Air Conditioner, Refrigerator R-V420P3PB (SLS), Hitachi CH 10 DL (CG)-Set Akku-Heckenschere/ Grastrimmer 456, etc.
Best Hitachi Refrigerator: Hitachi R-W720FPND1X 638 Ltr Double Door Refrigerator.
Manufacturing Factory: Chiyoda, Tokyo, Japan

Hitachi refrigerators are playing a good service in terms of rigidity and its spacious service worldwide. From the designing of the outside materials to the optimum cooling performance of the inside machines, Hitachi plays as a superb player. The inverter that the corporation uses is also effective to the current flow. Different shapes have been made as per the cost of each refrigerator. Along with refrigerators, this brand is being reputed by its other electronic services as well.
07. Electrolux
Net Worth: kr$84.23 Billion
Brand Country: Sweden
Founded: 1919
Chairman: Staffan Bohman
Owner: Investor AB
Founders: Alex Wenner-Gren
CEO: Jonas Samuelson
Headquarters: Stockholm, Sweden
Products: major and minor appliances (refrigerators, dishwashers, Vaccum cleaners, etc.)
Area limitation: worldwide
Number of Employees: 48,652 People
Best Products: PURE F9 vacuum cleaner, Electrolux quick select dishwasher, AEG VX9 vacuum cleaner, Clean and Green rack type dishwasher, etc.
Best Electrolux Refrigerator: Electrolux 524L French Door
Manufacturing Factory: North America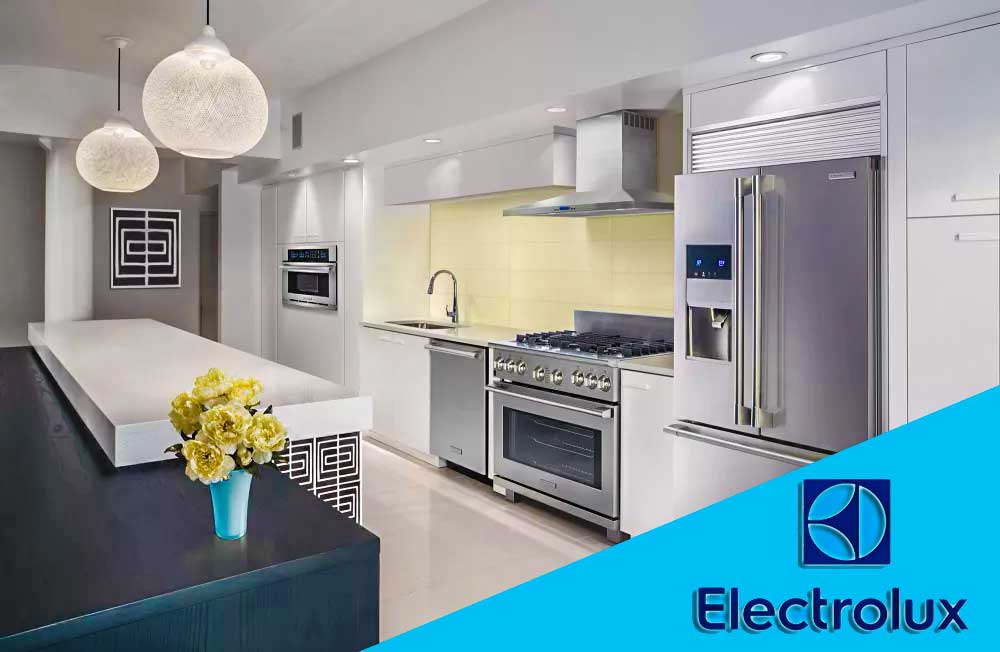 Since 1919 this Electrolux brand has been holding its legacy going through another level. This brand expresses its motive through a slogan which is "Shape living for the Better". With an emphasis on the word "Better", this brand inspires its origin to descendants to go a long way to serve the world a better treatment by electronic equipment. This brand has earned its name by providing refrigerators with high function and efficient energy.
08. Robert Bosch GmbH
Net Worth: $60.17 Billion
Brand Country: Germany
Founded: 15 November 1886
Founders: Robert Bosch
CEO: Stefan Hartung
Headquarters: Robert-Bosch-Platz 1, 70839 Gerlingen, Germany
Products: engineering electronics, refrigerators, power tools, small and major appliances, etc.
Area limitation: Worldwide
Number of Employees: 395,000 People
Best Products: Bosch GWS 600 Professional Angle Grinder, Bosch GSB 600 RE 13mm 600 Watt Smart Drill Kit, Bosch Screwdriver, Bosch 2.607.017.357 All-in-One Metal Hand Tool Kit, Bosch KDN43VU30I 347 L 3 Star Frost Free Double Door Refrigerator.
Best Bosch Refrigerator: Bosch KAD92SB30 639 L Inverter Frost Free Side by Side Door Refrigerator
Manufacturing Factory: Gerlingen, near Stuttgart, Germany
Subsidiary Company: at least 17, including; Neff, Thermador, etc.

This refrigerator brand puts its focus on making life healthier, fresher, and stunning by providing the best equipment. The materials this company uses are made with good hands.
The products are highly rigid and their vivid structures are really of worth appreciation. On one hand, it is able to give you your picture-perfect and top-notch elements. On the other hand, it is affordable and easy to use.
09. Haier
Net Worth: $16.3 Billion
Brand Country: China
Founded: 1984
Founders: Zhang Ruimin
CEO: Zhang Ruimin
Headquarters: Qingdao, China
Products: small and major elements, commercial heating, air cooling, and refrigerators.
Area limitation: Worldwide
Number of Employees: 76,400 People
Best Products: Haier 270 L 3S Double Door Refrigerator, Haier 139 cm 55 inches 4K UHD LED TV, Haier 8Kg Semi Automatic Top Load Wash, etc.
Best Haier Refrigerator: Haier HRD-1954BS-R Refrigerator
Manufacturing Factory: Qingdao, China
Subsidiaries: 5

If you are looking for a budget-friendly refrigerator and don't know which brand you should go with, then this brand is surely a suitable option for you. This affordable company still manages to be ranked with the top ten refrigerator brands with total hard work. This top-notch brand is adequate enough to satisfy your demands with reasonable cost and high functioning methods.
10. Maytag
Net Worth: $20 Billion
Brand Country: United States
Founded: 1893
Parent: Whirlpool Corporation
Founders: Frederick Louis Maytag
Headquarters: United States of America
Products: all kind of appliances
Area limitation: in the whole world
Number of Employees: 2,500 People
Best Products: The Maytag side-by-side Refrigerator (WRS586FLDW), The Maytag Amana Side by Side Fridge, The Maytag Glass-Shelved French Door Fridge, etc.
Best Maytag Refrigerator: The Maytag 4Door French Door refrigerator.
Manufacturing Factory: United States (Newton, Illinois, Arkansas), Mexico etc.
Subsidiaries: at least 6/7

Under the Whirlpool Corporation, this Maytag brand has earned its individual fame by its innate creativity. The refrigerators it provides are of high quality and in high demand. It has a lifetime of 14 to 17 years at a stretch. Including its highly developed techniques, this brand is trying to reach the goal where its parent is living. Besides, the interiors they design are easy to keep products fresh and healthy enough. Its other products give the same service with reasonable price.
11. Frigidaire
Net Worth: $10 Billion
Founded: 1918
Founders: William C. Durant
CEO: Jonas Samuelson
Brand Country: United States
Headquarters: Charlotte, North Carolina, United States
Products: refrigerators, freezers, room air conditioners, dishwashers, ranges, dehumidifiers, microwave ovens, clothes washers, and dryers
Area limitation: Worldwide
Number of Employees: 55,400 People
Parent Organization: Electrolux
Best Refrigerator: Frigidaire FFHD2250TS, Series FGHB2867TF, Series DGHF2360PF, Series FGHG2366PF, Series FGHF2367TF
Manufacturing Factory: United States

Once Frigidaire was the number one top refrigerator brand in the world. With the high-end performance and the lowest amount of service calls, Frigidaire is still recognized as the top refrigerator brand among the other leading competitors.
This commercial appliance brand is made in the USA and it was inaugurated by Nathaniel B. Wales and Alfred Mellowes in 1916. From the beginning to the mid-air of the nineteenth century, the brand started to get its highest recognition. Inattention let's check: Why Kitchen is the Heart of the Home
Their electric self-contained refrigerators are very much demandable globally. The Frigidaire Gallery Series DGHF2360PF is till now stands out among all other best refrigerators. With a storage capacity of 22.6cu ft, the fridge comes with an extraordinary Smudge-Proof finish. Also, the Frigidaire Gallery Series FGHG2366PF and the Frigidaire FFHD2250TS are also the best ones. With high-end LED lighting, a Cool-zone drawer, and everything else these are economical-to-operate refrigerators.
You may like: Luxurious Cruise Ship in the World
12. Beko
Net Worth: $2.44 Billion
Founded: 1955
Founders: Vehbi Koç, Leon Bejerano
CEO: Hakan Bulgurlu
Brand Country: Turkey
Headquarters: Istanbul, Turkey
Products: Refrigerators, Laundry machines, Dryers, Freezers, Room air conditioners, Dishwashers, Kitchen stoves
Area limitation: Worldwide
Number of Employees: 30,000 People
Parent Organization: Koç Holding
Best Refrigerator: Beko Lxsp1545b Tall Fridge, Beko BFBF3018-IM, BFBF3018SS, BFFD3620, French Door Refrigerator – Stainless Steel (BFFD3624SS)
Manufacturing Factory: China

Being the all-time free-standing house appliance brand Beko has been serving since 1954. Till now it has offered immense high-quality built-in refrigerators thinking about its customers' demand. Its CXFP1582D1S refrigerator is slaying the market with its great specifications.
The Beko fridges are elegant with their thin yet spacious appearance. Offering a handy water dispenser, the refrigerators are great to go with. Again, Beko Pro CFG1790DS 50/50 fridge freezer and Beko CF50150 are also complete free-standing fridges from the brand Beko. With the capacity of 120 liters, your food remains fresh for months inside a Beko refrigerator.
Related: World's Luxurious Bedrooms
13. Hotpoint
Net Worth: $2 Billion
Founded: 1911
Founders: Earl Richardson
CEO: Marc Bitzer
Brand Country: United Kingdom
Headquarters: Peterborough, Cambridgeshire, United Kingdom
Products: Refrigerators, freezers, washing machines, dishwashers, cookers, tumble dryers
Area limitation: Europe
Number of Employees: 1,000 People
Parent Organization: Haier, Whirlpool Corporation
Best Refrigerator: Hotpoint HPS15BTHRWW, HPS16BTNRWW, HPS18BTH, HPS18BTNRWW, HPS16BTNLWW
Manufacturing Factory: Louisville

Being the affordable one the brand Hotpoint offers no-frills refrigerators to its customers. Since 1911, Hotpoint is considered one of the best refrigerator brands for its services of reliable domestic appliances. Lasting more than 19 years the Hotpoint refrigerators keep all the fruits, vegetables, and proteins fresh and juicy.
The Hotpoint HPE16BTNRWW and the Hotpoint HPS18BTNRWW are counted as the best among all Hotpoint Refrigerators. With the basic sizes of 17.6cu ft, 15.6cu ft, and 14.6cu ft the fridges are equipped with pocket handles. With a wire shelf and two-door bins, the frost-free freezer option is amazing. Overall, with a temperature control up-front, the Hotpoint offers the best refrigerators. You may like our recent publication on World's Most Expensive Showers.
14. Miele
Net Worth: $5 Billion
Founded: 1899
Founders: Carl Miele, Reinhard Zinkann
CEO: Jan Heck
Brand Country: Germany
Headquarters: Gütersloh, Germany
Products: Refrigerators, Dishwashers, Ovens, Cooktops, Ranges, Coffee Machines, Washers, Dryers
Area limitation: Worldwide
Number of Employees: 20,944
Best Refrigerator: Miele KFNF9955IDE, KFN15943DE, Miele 1903, MasterCool K1803, Miele K1913
Manufacturing Factory: Germany

With multiple good options, the Miele brand will provide you with the best refrigerators you deserve. Since 1899, the company has been struggling to offer the best and most high-end commercial equipment as well as domestic appliances. Offering both the built-in and freestanding models the Miele refrigerators have stainless steel and panel ready finish.
The Best French Door Miele Refrigerator KF2981SF and the Best Bottom Freezer Miele Refrigerator KF2801VI are the two best ones from Miele. With dual compressor and push, 2 Open door features the refrigerators are a home owner's dream to have. Advancing some models with the DuplexCool pro, Miele refrigerators are always good.
15. Thermador
Net Worth: $500 Million
Founded: 1916
Founders: William E. Cranston
CEO: Guillaume Robin
Brand Country: United States
Headquarters: Irvine, CA, United States
Products: Refrigerators, microwaves, built-in coffee machine, ovens, cooktops, dishwashers, ranges, rangetops, ventilation, warming drawers
Area limitation: Worldwide
Number of Employees: 10,000+ People
Parent Organization: BSH Home Appliances Corporation
Best Refrigerator: Thermador Stainless Steel Built-In Bottom-Freezer Refrigerator, 2 Door Bottom Freezer, Fresh Food Column, 36 Inch Built Door Bottom Freezer, T30IB800SP
Manufacturing Factory: California

Thermador brand is a completely owned subsidiary of the BSH Hausgerate GmbH and running since 1916. Among all other cooking appliances, the brand also focuses on manufacturing the best refrigerator possible. Offering custom options the company is trying hard to introduce new high-end featured fridges to its customers. With the Sleek and professional internal and external features the refrigerators are spacious.
The Thermador T24UC910DS double drawer refrigerator is also in the count. With excellent filtration, airflow, high-end dual compressors, and everything else, the Thermador refrigerators are a good choice.
So these are the top best refrigerator brands and these brands are working really hard to make the life of the people smooth and safe. To lead a life with fresh foods and to shorten your time these brands come up with products that are of different uses and suitable for the time.
You may like:
Worlds' Most Expensive Bathrooms
Most Luxurious Shower Curtains in the World
The 10 Luxurious Bathroom Design Ideas
#Here is the top 10 Refrigerator Brands in World 2023
| Brand Ranking | Brand Name | Brand Country |
| --- | --- | --- |
| 8.6 | Whirlpool Corporation | United States |
| 8.6 | KitchenAid | United States |
| 8.5 | LG Electronics | South Korea |
| 8.4 | Samsung Electronics | South Korea |
| 8.4 | Panasonic Corporation | Japan |
| 8.4 | Hitachi | Japan |
| 8.3 | Electrolux | Sweden |
| 8.2 | Bosch | German |
| 8.0 | Haier | China |
| 8.0 | Maytag | United States |
Best Refrigerator Brands List