We have arranged 2023's top 10 Luxurious Hotels and Resorts in the world because we came to know you are a luxury lover. These luxury hotels and resorts have been arranged by their popularity and user ratings all over the world.
Here is the list of the 10 most expensive and luxury hotels in the world including their locations, prices, attractions & special features.
01. Emirates Palace – UAE
Cost: $500 USD
Location: West Corniche Road – United Arab Emirates
Owner: Abu Dhabi Municipality
Build Cost: 3.9 billion USD
Residence: 394 total rooms, 92 general suits, 22 haven suits
Architect: Wimberly Allison Tong & Goo
Construction: Arabien Construction, Arabian Construction Company (ACC), Belhasa Construction, and Actor Electromech
Visiting this hotel can be the best option to get rid of tiresome life as this hotel is a multi flavored place where you will feel yourselves no less than a royal persona. The white sand beach has been always one of the most attractive parts for the clients. The total cost of that the government of Abu Dhabi has to pay to create this photographed beauty of this hotel is around $3.9 billion. The hotel includes 394 residences where 92 general suits and 22 residential suits are warmly prepared to show the heavenly beauty inside. The lobby is made with fascinating marble. The marble has been imported from 13 countries around the world. 1000 crystal clear chandelier will give you a rhinestone vibe.
Most of the suits are well adorned with gold and marble. Primarily an expansive marble floor is seen in the entry. A giant-size dome is picked in gold where the penthouse floor includes 6 rulers' residence which is always reserved for the royal dignitaries. It has 40 meeting rooms with exclusive serving. 2 spas are lavishly arranged along with a 1.3 km beach area and a marina. It has helipads and a huge royal ballroom where 2500 people can have their ball party arranged easily. The very famous fast and furious have some scenes shoot there. The luxurious shops on that royal hotel may snatch the eyes of the beholder for a few seconds.
Visit: Luxurious House In The World
02. Burj Al Arab – Dubai
Cost: $1800 USD
Location: Dubai, United Arab Emirates
Owner: Jumeirah Group
Build Cost: 1 billion USD
Residence: 212 rooms in 28 floors
Architect: Tom Wright
Construction: Multidisciplinary Consultancy Atkins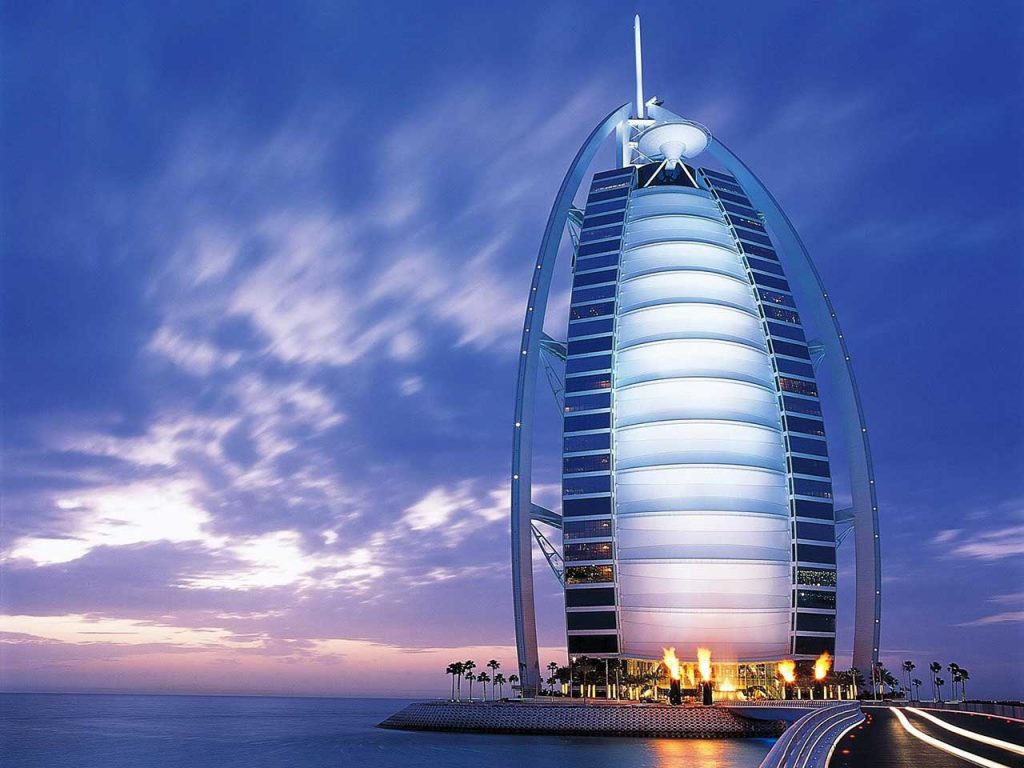 With an unforgettable welcome and intense care of this hotel show you the name of its meaning truly the honor of Arab. An on-call personal butler is 24/7 ready on your service, which really gives a royal vibe. This hotel includes 201 duplex suits along with Talise spa. Kids can have their time passed on the Sinbad's Kids Club. It has a personal beach too. The architecture and the complex engineering will give the right impression of a floating palace on the sea. With the winking of the sun, it looks like a sailing sheep indeed. The guest is given a different kind of card, with the touch of the cards the golden doors open automatically to show the inner beauties. All the windows are remote-controlled with rolling beds.
This is the fourth highest hotel in the world which includes 212 rooms on 28 floors. Tom Wright has painted the building using a mixture of western techniques of oriental folk. Classicism is found in the spiral staircases. Each room contains a TV, telephone, library, and internet and the most attractive thing is a 24-carat gold iPad which contains each detail of the hotel with menu cards too. Even a guest can buy iPads from the hotel authority. This royal hotel has 3 outdoor along with 2 indoor beaches. One can have their nightlife option luxuriously celebrated there. Now comes to their dine, Burj Al Arab has the most two coveted restaurants Al Mahara and Al Muntaha which foods are mouth-watering. The spa corner is famous for its Arabic geometric forms. The bathrooms look so very extravagant. This has the highest atrium lobby. The heliports, hovering tennis and the famous ballroom 'Al Falak Ball Room' fulfill the beauty of this masterpiece. One can easily get intoxicated with the beauty of this utopia.
Click Here: Expensive Paintings in the World
03. Titanic Mardan Palace – Turkey
Cost: $1330 USD
Location: Antalya, Turkey
Owner: Telman Ismailov
Build Cost: 1.4 billion USD
Residence: 560 suits, 17 bars
Architect: Unknown
Construction: Unknown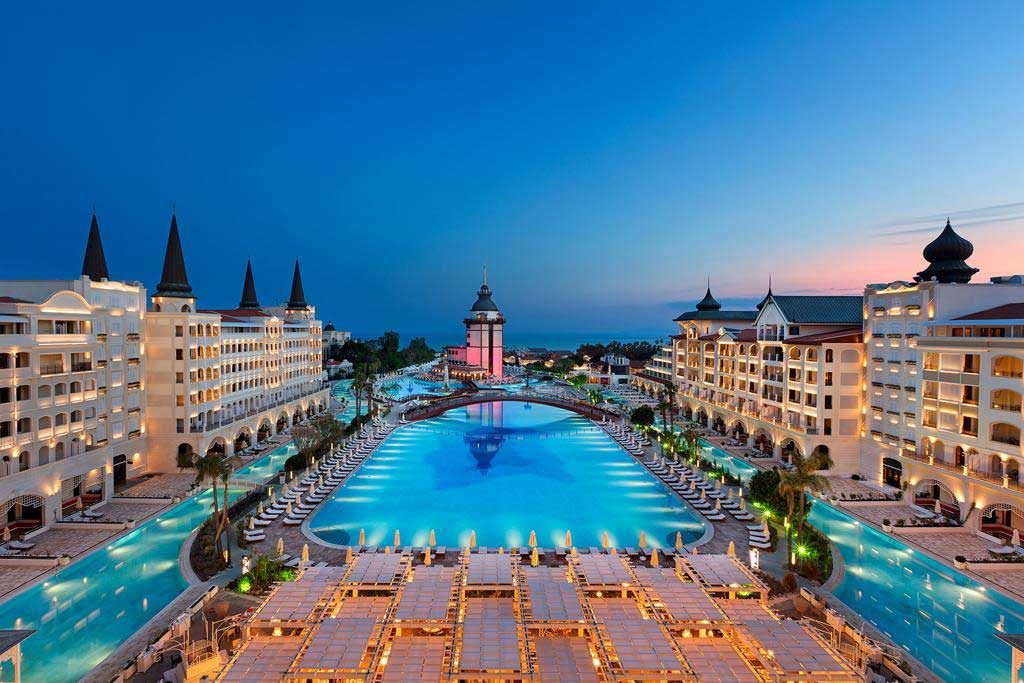 The largest swimming pool of 5 acres, adjourned with delicious seafood and 4 sunken aquarium that contains about 3000 fishes make this hotel of Turkey one of the most luxurious hotels in the world. Almost the cost of this hotel is near about $1.4 billion. It has a luxurious beach in which 900 tons of sand was imported from Egypt. It has a giant size spa which is 12,000 square feet. The hotel contains 560 suits. The construction of the building is mixed with gold which covers 10,000 meters square, the crystal covers 500,000-meter square, and the rest is covered by Italian marble which is 23,000 meters square. Including 17 bars it makes the hotel more luxurious. 24/7 personal butler service is also available there.
Visit to see: Most Expensive Food dishes in the World in 2023
04. Westin Excelsior – Italy
Cost: $511 USD
Location: Rome, Italy
Owner: Katara Hospitality (Management: Westin Hotels)
Build Cost: $1 billion USD
Residence: 281 rooms, 35 lavishly decorated suits
Architect: Aktiengesellschaft für Hotelunternehmungen
Construction: Aktiengesellschaft für Hotelunternehmungen

A perfect luxurious at the same time pocket-friendly combo. Containing 281 rooms and 35 lavishly decorated suits, for per night room costs $511 USD and suit costs $1120 USD. Situating in Rome, this was first built in 1906. It has the largest suite in Italy. The main attraction for the guests is Villa La Copula. This suit was modified again with the cost of $7 million dollars, contain the cocoon spans through the whole two floors. This is mesmerizing. The decoration is a fusion of ancient tradition with the touch of modern technology. The domes look like a cathedral. They have a private place for doing physical exercise. It has a huge dining room. If one wants to Stay Luxuriously in Rome this hotel should be the first priority.
05. Atlantis Paradise Island – Bahamas
Cost: $480 USD
Location: Paradise Island, Bahamas
Owner: Brookfield Asset Management LLC
Management: Marriott International's Autograph Collection Hotels
Build Cost: $480 million USD
Residence: 3,805 rooms, 392 villas, 600 luxurious suits
Architect: Kerzner International Resorts
Construction: Kerzner International Resorts

Including 6 suits named as The beach tower, Coral Tower, Harborside which contains 392 villas with a huge restaurant and a pool and a pool is organized there for children with fancy things, The reef is the newest among all, The Cove with mosaic restaurant contains 600 luxurious suits. The royal suits contain a Royal bridge suit, to stay there per night you have to spend $25,000 USD. Various water rides are there in the Mayan Temple Slides among them the adventurous one is the leap of faith which leads you to a lagoon filled with sharks from near about 60 feet. Exotic jungle and dark caves are also seen in this hotel.
The Power Tower is the highest level of adventure which is a ride from 120 feet from the surface. Starting with the abyss the next three steps are more deadly the drop includes 50 feet of total darkness then the fall and finally the surge tube comes. Splasher is the mini version of the Mayan Temple Slides which is specially made for children. The dig is the most traditional part of this hotel as it reminds the legendary lost Atlantis city. Including 50,000 aquatic living things and almost 250 Species. It takes the visitors through a total exotic taste. The whole water space area is 154 acres. It has a huge dining room where a chandelier is the main attraction as it is made with 24 Carat Gold. The hotel has a shopping center in the Marina Village. The last but not the least attraction of this peace of luxurious at the same time adventures hotel is their Golf where professional events are also held.
06. The Plaza – USA
Cost: $477 USD
Location: New York, USA
Owner: Katara Hospitality
Build Cost: 12.5 million USD
Residence: 282 rooms, 102 deluxe suits
Architect: Henry J. Hardenbergh, Thomas Hastings, et al
Construction: Henry J. Hardenbergh, Thomas Hastings, et al

Situating in New York from 1907 this hotel is the icon of royalty. The most attractive parts are the tea of the Palm Court, lavish Champion Bars, The Rose Club, and the Food Hall. Including 282 rooms and 102 deluxe suites. It has an ancient flavor. It has a world-class shop which is so very ritzy. Dramatic lighting, extraordinary flooring, bright chandeliers are the package of beauty. Salon, spa, and fitness center is also there to give the best availability to the guests. The ball room and the terrace are decorated with the Original traditional flavor. Like other luxurious hotels, Plaza offers a personal butler too.
07. Boulders Resort & Spa – USA
Cost: $170 USD
Location: Scottsdale, Arizona, USA
Owner: Columbia Sussex Corp (Former: Blackstone Group )
Build Cost: 12 million USD
Residence: 223 rooms
Architect: Unknown
Construction: Unknown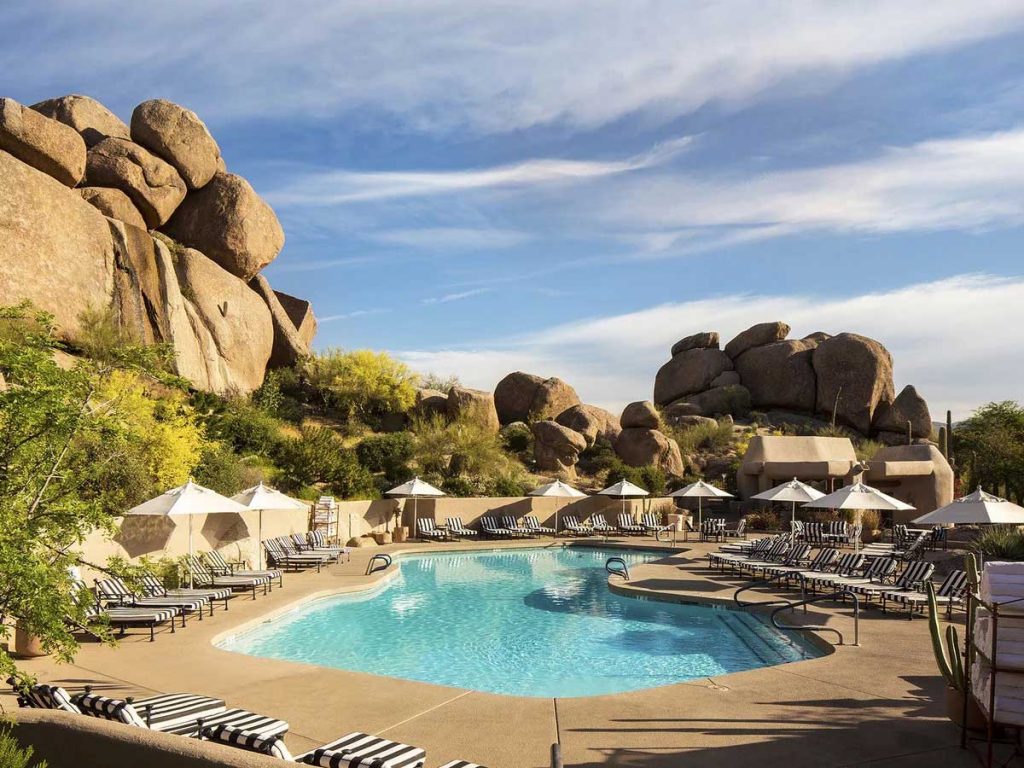 The soul-rejuvenating beauty of the luxurious hotel and Spa resort is praise-worthy. 12 million ancient rock formations can be seen there. Homestyle villa, exotic accommodation, meeting and event room on around 50,000 square feet, 33,000 square feet ritzy Spa, a full-service Salon, adventurous at the same time recreational activities as Hiking, Rock climbing, golf academy, a Tennis garden, an adult pool, and whatnot have made this one of the luxurious hotels in the world. A modern gym and mouth-watering restaurant complete the full desire of their guests.
08. Palms Casino Resort – USA
Cost: $296 USD
Location: Paradise, Nevada, USA
Owner: Station Casinos
Build Cost: 80 million USD
Residence: 703 rooms
Architect: Jon Jerde
Construction: Jon Jerde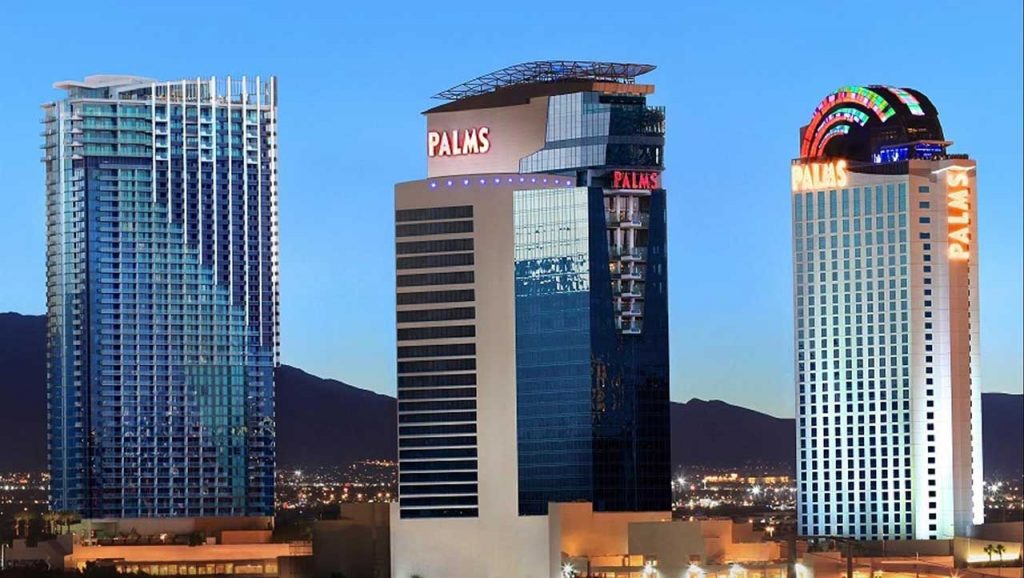 To grab the best experience in Las Vegas Palms Hotel and Spa is the best option. The hotel includes 599 luxurious guest rooms. Most of them include LCD or Plasma TV. Hot and whirlpool bathtub, outdoor pool, Sauna, and spa work as a relaxation to the guests. A fully air-conditioned area, with a nonsmoking zone, fitness club, warless Wi-Fi are some of the amenities. 24-hour room service and special care for disabled people. Their ritzy rooftop suits are the main attraction for the guests. A full Bar with a private elevator and rotating beds give the guests a perfect luxury.
9. Zemi Beach House – Anguilla
Cost: $640 USD
Location: West Indies, Anguilla
Owner: Goldstein Family
Build Cost: Over 40 million USD
Residence: 65 rooms
Architect: Sheldon, Jeffrey and Joshua Goldstein
Construction: Sheldon, Jeffrey and Joshua Goldstein

This is a perfect place to enjoy the extraordinary beauty of beaches. Fully air-conditioned, flat satellite TV, available Coffee machine, a buffet breakfast, attached closet, hair drier, and kids club are some amenities for the guests. To reduce the problems of the guests they offer ATMs and currency exchange for foreigners. Including 24-hour front desk with available room service, huge fitness center and some recreational activities as snorkeling and hiking are also there to give their guest the perfect peace of a vacation.
10. Rancho Valencia Resort & Spa – USA
Cost: $735 USD
Location: California, USA
Owner: Rancho Valencia
Build Cost: 30 million USD
Residence: 55 rooms
Architect: Prominent Builder
Construction: Prominent Builder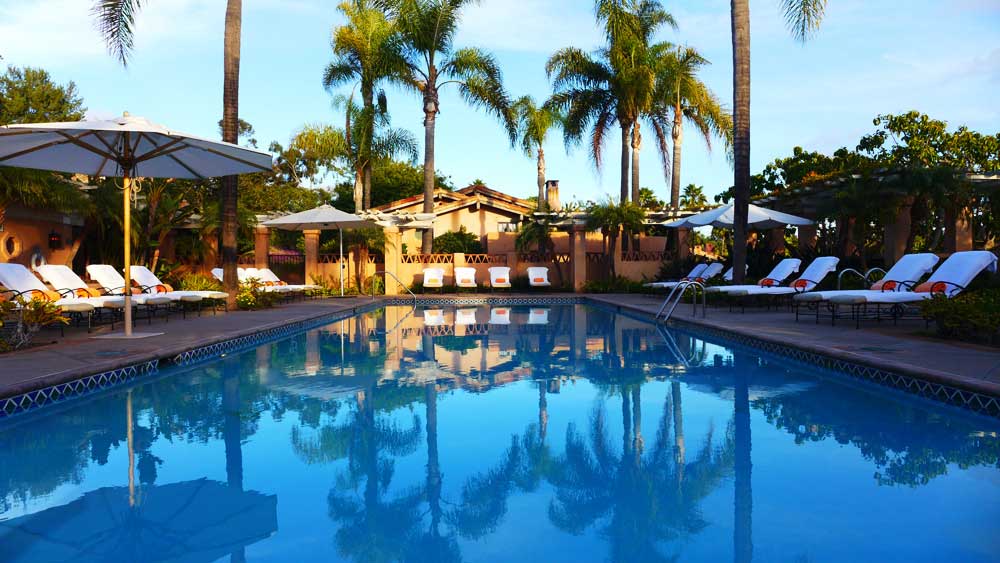 After reconstruction, they have introduced their guests with a lot of twists. Stunning new design, lavishly enhanced spa, fitness club, and luxurious dining including delicious foods. Natural beauty can be seen easily with the view from the hotel rooms. It has a Sheridan boutique. High beam roofs, arranged closets, ritzy bathtubs, huge bathrooms, fireplace, and luxurious living space make the hotel one of the best on the top-tier list.