Finally we have published the list of top 15 tourist attractions in USA in 2021. Who doesn't want to visit America? This is one of the most luxurious dreams of the common people around the world. People from different countries just like to have a visit there for the experience of modern life, culture, entertainment, scientific development, expensive cars, luxurious apartments and much more like this. At the same time some advance people from the world and the country itself like to visit the most attractive tourist places of USA.
Let's dive in to top ten tourist attractions of usa in 2021 including location address, visitors per year, attractions, images, site seeing, etc.
01. Grand Canyon
Cost: $35 per vehicle or $20 per person
Location: Canyon, Arizona
Visitors: 5 millions per year
Attractions: 6093ft. canyon, rafting, hiking, running, helicopter tours, ultra-marathon race, sky walk, etc.
An ancient place which is 5-6 million years old situated in Arizona State, Colorado river flows in the Canyon. The canyon is 447 km long and the wide is 29 km. Another most attractive part is the depth of the canyon which is 6093 feet. Visitors do not need any special occasion to visit this peace of heaven on the Earth. The place is the best place for hunting. Most of the visitors are the Native Americans. The south rim is opened all the year round, with weather permitting a visitor can easily roam at the south rim. North rim is opened on mid-May to mid of the October. Sight seeing is not only the main activities of the visitors rather they go for rafting, hiking, running, helicopter tours and much more. The Grand Canyon park's ultra-marathon race is so very exciting one. About 5 millions of visitors visit the place every year. Most of the visitors are of domestic arena and 83% of the visitors are from USA. Nowadays the main attraction of this beautiful place has become the Grand Canyon sky walk which is basically a bridge made of high quality glass. It is 400 km road distance from the Grand Canyon. The Grand Canyon is not actually the biggest or deepest Canyon of the world but still people come here for its mesmerizing sightseeing.
02. Las Vegas
Cost: USA Discovery Pass $35 or $46 (depending on age)
Location: Nevada State, United States
Visitors: 42 millions per year
Attractions: Casinos, Shopping, Dining, Roaming the narrow alleys, Neon lights Night, Museum, Cooler winter, street music & dance, etc.
The world of gambling, is the best phrase to describe the city of Las Vegas in Nevada State. The main attraction of the tourists is its' Casinos. The casinos are so luxurious and lucrative at the same time. Shopping, dining, roaming the narrow alleys are some common activities of the Visitors. This is a city where night life can be enjoyed at its best. At night the whole city looks like an illuminated plate where the glittering neon lights look like fireflies. Vegas is enriched with unique museum. The cooler winter temperature is the best weather for sight-seeing in Las Vegas.
03. Niagara Fall
Cost: $12 to $21.50 Tickets Fee (depending on age)
Location: Border between New York and Ontario, Canada
Visitors: 30 millions per year
Attractions: The Falls, Whirlpool Jetboat, Clifton Hill, Butterfly Conservatory, Hornblower, Butterfly Conservatory, Botanical Gardens, Fallsview Casino Resort, Nightmares Fear Factory, Hike the Niagara Glen, Fireworks, Whirlpool AeroCar, etc.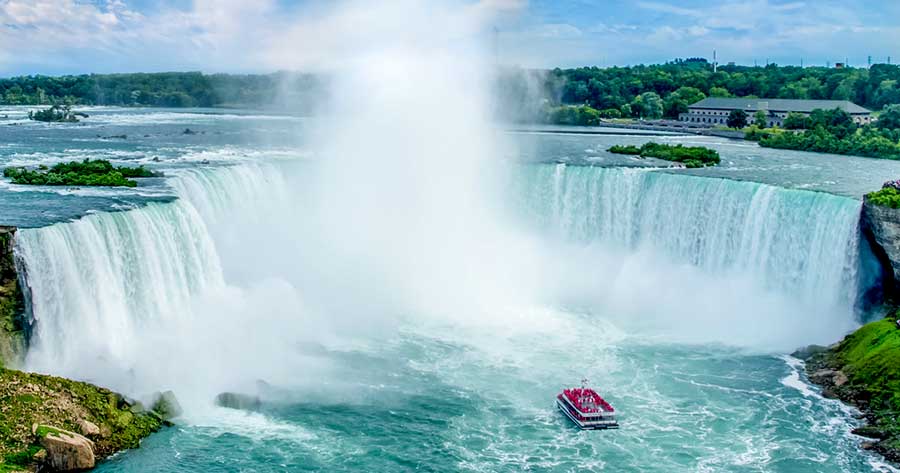 Three distinct sets of falls named American Falls, Horseshoe Fall and Bridal Veils Fall is actually Niagara Fall. Its height is 167 ft. situated between Canada and New York. The biggest fall Horseshoe is shared between the lands of these two provinces. And the rest two are entirely situated in USA. This is one of the best attractions to the tourists as 30 million people visit there per year. The whole natural setting of the place is outstanding. Summer time is the best time to feel the beauty of a day and a night as well. The Maid of the Mist boat cruising is also very famous here. In the night time the beautiful artificial lights make the fall best to enjoy with heavenly bliss.
04. Statue of Liberty
Location: New York, NY 10004
Visitors: 3.5 million per year
Attractions: National 9/11 Memorial & Museum, Manhattan Skyline , Ellis Island, One World Observatory, Central Park, Brooklyn Bridge, The Metropolitan Museum of Art, etc.
The largest statue in the world which is carrying the icon and symbol of not only the United States but also the world. This is a gift from France to the people of USA in 1886. Its height is 305 feet from the ground. The view of the statue is extraordinary. 3.5 million People visit the Statue almost every year. Visitors can have three types of tickets to visit this place. They are Crown tickets, Pedestal tickets and Ground tickets. Visiting USA without seeing this Statue is truly a blunder. Basically the statue represents USA.
05. White House
Location: 1600 Pennsylvania Ave NW, Washington, DC 20500
Visitors: 1.25 million per year
Attractions: White House, Northern Trail, Southern Trail, President's Park, White House Garden, National Christmas Tree, Kitchen Garden, Easter Egg Roll
Situated in Washington Dc, this white palace is one of the most attractions of the tourists. It is basically the home of the president of USA. Except George Washington all the presidents had lived there. It was build in 1792. The entry to this house has become very difficult after 9/11 incident. Still tourists desire to visit this historical white palace.
06. Yellowstone National Park
Location: Western United States in Idaho, Montana, and Wyoming.
Visitors: 7.2 million per year
Attractions: Geysers, Old Faithful, Mammoth Hot Springs, Norris, Hayden Valley, Yellowstone Lake, Grand Canyon, Lamar Valley, etc
The oldest national park of USA. It is in Montana, Idaho and Wyoming. The park was built to preserve the area of hot springs and a vast number of geysers. It has incredible thermal area, rugged beauty and wildlife. This stone park is a free roaming place for antelope, bison, sheep, black and grizzly bears. The yellow stone river also crave the visitors to visit this place.
07. The Golden Gate Bridge
Location: San Francisco, Marin County
Visitors: 10 million per year
Attractions: Fort Mason Center for Arts & Culture, Fort Point, Presidio Picnic, The Wave Organ, The Palace of Fine Arts, Andy Goldsworthy's Art, Crissy Field
Build Cost: Over billion us dollar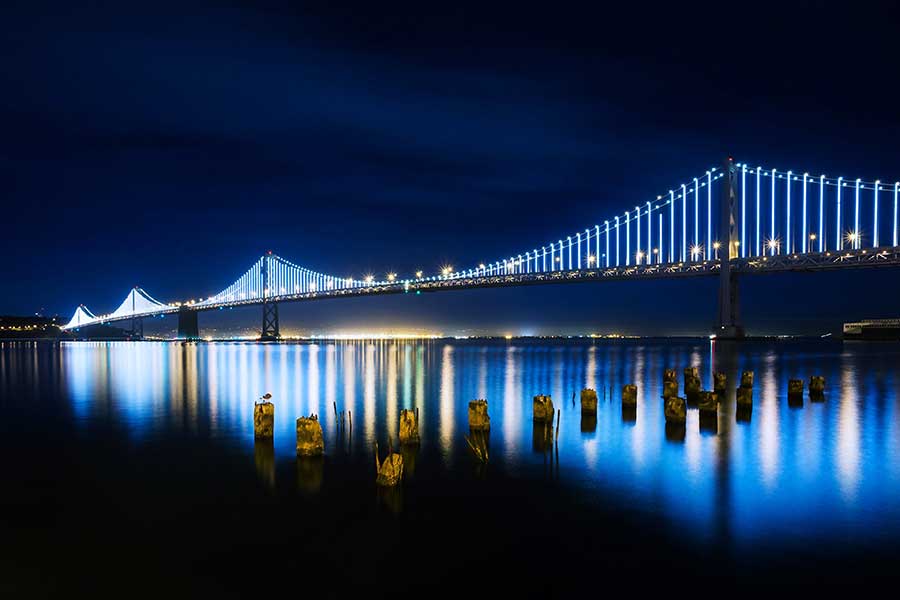 The symbol of San Francisco which connects San Francisco bay with Pacific Ocean. It is 1.6 km long bridge. The bridge looks different in summer and winter. The red lead color of the bridge makes it a more photographed one. The colorful beauty of the bridge covets the tourists to visit this place.
08. San Antonio Riverwalk
Location: 849 E Commerce St, San Antonio, TX 78205
Visitors: 11.5 million per year
Attractions: Riverwalk, iFly, Six Flags Fiesta Texas, Pearl Farmers Market, Brackenridge Park, Community Dining Boats, The Magicians Agency, Morgan's Wonderland, Natural Bridge Caverns
This is a place for exhausted people as they can have a tranquil river walk with scenic beauty. Situated in San Antonio, Texas. Every year millions of tourists visit the place because of its unique pedestrian street. Apart from the city vehicles one can enjoy plenty of restaurants at the edge of the river side. Traditional shops, bars, restaurants, art and what not are present there. In a nutshell it looks so tranquil which provides peace.
09. Florida Keys
Location: Series of islands extending from the southeastern tip of Florida (15 Miles)
Visitors: 3 million per year
Attractions: Duval Street, Coral Reef State Park, Key West, Bahia Honda State Park, Mallory Square, Dry Tortugas Park, Deer Refuge, Butterfly and Nature Conservatory, Ernest Hemingway Home and Museum, Key West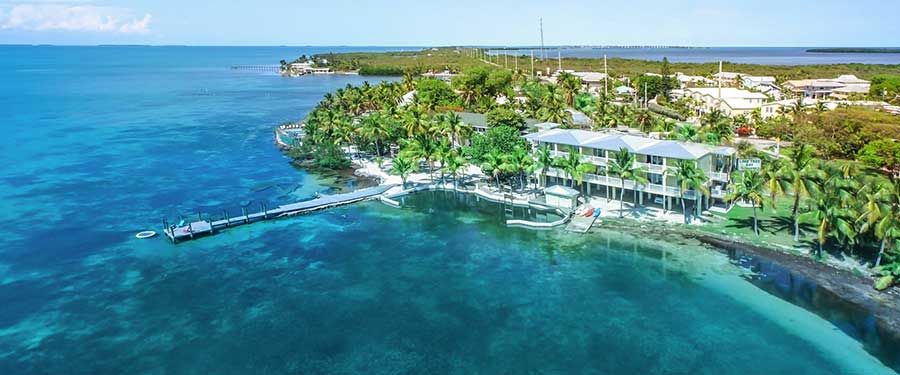 A tropical island located at the southern coast of Florida which is 120 mile long. It has a lots of bridges among them the Seven Mile Bridge is the main attraction of the tourists. Many films has been filmed there. The lined coconut trees with the glittering wave and indigo sky make it more fascinating to the tourists.
10. Waikiki
Location: Waikiki Beach, Oʻahu, state of Hawaii
Visitors: 9.4 million per year
Attractions: Waikiki, Ali`i Beach Park, Turtle Beach, Pearl Harbor, Hanauma Bay Nature Preserve, etc.
A perfect tourist destination. The most attractive beach of the Pacific. This gives the tourists both the vibes of a tropical island and modern life. The scenic beauty of this beach is praiseworthy. A cold wind with the palm trees refreshes your mind. It is the best place for monotonic tourists. Shopping, luxurious dining, spa, hotels make it more convenient to the tourists.
11. Walt Disney World Resort
Cost: $109 Tickets Fee
Location: Florida, United States
Visitors: 58 million per year
Attractions: four theme parks, two water parks, shopping and entertainment complex, dining etc.
12. Times Square New York
Cost: $43.84 per person (USA)
Location: New York City 10036, USA
Visitors: 50 million per year
Attractions: Hop On Hop Off Sightseeing Tours, Madame Tussauds New York, Ripley's Believe it or Not! Times Square, National Geographic Encounter: Ocean Odyssey, Big Apple's famous theaters.
13. Universal Orlando Resort
Cost: $40-65 Ticket Fee
Location: Orlando, Florida
Visitors: 21 million per year
Attractions: water theme park, Roller coasters, Motion simulators, Hogwarts Express, shopping and dining etc.
14. Mount Rushmore National Memorial
Cost: $87.45 Adult, $49.82 Children
Location: Pennington County, South Dakota
Visitors: 3 million per year
Attractions: Big Thunder Gold Mine, Black Hills region, Completed in 1941, 60-ft.-high, Rushmore Tramway Adventures, Rush Mountain Adventure Park, Presidential Trail etc.
15. Empire State Building
Cost: Main Deck tickets $36 adults, $31 children.
Location: New York City, New York, USA
Visitors: 4 million per year
Attractions: Height: 1,454 feet, skyscraper in Midtown Manhattan, 86 floor Observation Deck, 360° views of New York City etc.
# Top 10 Tourist Attractions in USA 2021
Grand Canyon
Las Vegas
Niagara Fall
Statue of Liberty
White House
Yellowstone National Park
The Golden Gate Bridge
San Antonio Riverwalk
Florida Keys
Waikiki