Top luxury bus manufacturers present the world's most expensive buses in each year. Competition among the luxury bus companies has brought some tremendous attractive buses in the market for the passionate people. Journey by bus has become a part of entertainment nowadays.
The top luxury bus manufacturers have been ranked by their outstanding services. Automotive business is the world's largest economic zone. The bus companies handle billions to maintain such a large project. Usually the third world gets public vehicles from these manufacturers of different countries.
Here is the list of top bus manufacturers in the world in 2023 including brand countries, owners, net worth, and luxury bus models.
01. Toyota Motors
Net Worth: $344 Billion
Country: Japan
Founded: 28 August 1937
Founder: Kiichiro Toyoda
CEO: Akio Toyoda
Employees: 366,283 People
Headquarter: Toyota, Aichi, Japan
First Bus: Toyota RU18
Popular Bus Models: hybrid electric buses, hydrogen fuel-cell vehicles
Produces: Luxury vehicles, commercial vehicles, engines, automobiles
Toyota is the top bus manufacturer in the world in 2023. This largest multinational automotive company created a workplace for more than 3,64,445 people. It serves worldwide. Almost every road in every country has a Toyota vehicle. It has been declared as the second largest company in the world. It produces 10 million different types of vehicles almost, in a year.

This is the biggest public company, which has been running for 37 years in the business world. Kiichiro Toyoda is the founder of this successful public automotive company. Toyota has 606 subsidiaries. It has been declared as the market leader. A type A engine was the very first product of this company. In the year, 1936 Toyota produced its very first passenger vehicle.
02. Volkswagen AG
Net Worth: $500 Billion
Country: Germany
Founded: 28 May 1937
Founder: German Labour Front
CEO: Herbert Diess
Employees: 307,342 People
Headquarter: Wolfsburg, Lower Saxony, Germany
First Bus: Samba
Popular Bus Models: Volkswagen Volksbus, Volksbus Flex
Produces: commercial vehicles, motorcycles, engines, machinery
Parent: Porsche and piech families

Volkswagen AG is another biggest multinational automotive company in the world. It manufactures commercial transports. By sale it is the world's largest automotive company. It sold 10.9 million vehicles in the year 2019. It has its biggest market in Europe and the company being able to hold it for over 2 decades. It made its place in the top list of Fortune Global 500. Volkswagen sells vehicles under different brands. Such as Bugatti, Lamborghini, SEAT, Audi, Bentley etc.
03. Volvo
Net Worth: $42.29 Billion
Country: Sweden
Founded: 1968
Founder: AB Volvo
CEO: Martin Lundstedt
Employees: 96,194 People
Headquarter: Gothenburg, Sweden
First Bus: B9M (1983)
Popular Bus Models: Volvo 9700 DD

Volvo is one of the best bus manufacturer in the world 2023. Volvo buses serve worldwide. This is a subsidiary of Volvo. This is one of the biggest bus manufacturers in the world. Volvo launched its first city bus in the year 1983 with the model B9M. Volvo 9700 DD is the
most developed double-deck bus of Volvo. This is the most comfortable, safe and flexible bus according to the customers which can carry 96 passengers together. Nowadays Volvo buses are manufacturing smarter buses with all the best features. Volvo bus sold 307 Prevost commuter buses in New York recently.

04. Daimler AG
Net Worth: $265.05 Billion
Country: Germany
Founded: 1926
Founder: Karl Benz
CEO: Ola Källenius
Employees: 288,481 People
Headquarter: Stuttgart, Germany
Produces: Automobiles, commercial vehicles
Parent Organizations: N/A

Daimler is a leading global bus manufacturer company in the world. It was founded in 1926. The headquarters of this company is situated in Stuttgart, Germany. The net worth is around $32.36 billion. Karl Benz is the owner of this company. Daimler is producing automobiles, commercial innovative vehicles, enviro-friendly products, and many servicing centers. With Mercedes-Benz, BharatBenz as well as Setra brands, Daimler is covering every part as a leading bus supplier in the global market. Daimler manufacturer is known for its efficiency, innovative production, environmental balance, and utmost safety that can fulfill customers' requirements.
05. Scania AB
Net Worth: $20.69 Billion
Country: Sweden
Founded: 1891
Owner: Volkswagen Group
CEO: Henrik Henriksson
Employees: 51,278 People
Headquarter: Södertälje, Sweden
Produces: Commercial vehicles, Diesel engines
Parent Organizations: Volkswagen Group
First Bus: Metropol (C50)
Popular Bus Models: N/A

Scania AB is one of the largest swedes automotive companies worldwide. It was established in 1891. The very first bus of this company was Metropol C50. Volkswagen Group, the automotive German company is the owner of this company. The estimated net worth is near $12.33 billion. The company is popular for its diesel engines and commercial advanced vehicles. Currently, Scania is providing its sales and financial services worldwide except North America. There are 52103 employees in this multinational company. Scania produces its product in different countries such as Argentina, Brazil, Russia, Poland, India, Sweden, Finland, etc.
06. ISUZU
Net Worth: $80.48 Billion
Country: Japan
Founded: 1916
Owners: Yoshisuke Aikawa
CEO: Susumu Hosoi
Employees: 37k+ People
Headquarter: Shinagawa, Tokyo, Japan
First Bus: DH100H-BU20
Popular Bus Models: Isuzu Novoultra 4HK1E6C, Novo – Tourism, Isuzu Gala Super Hi Decker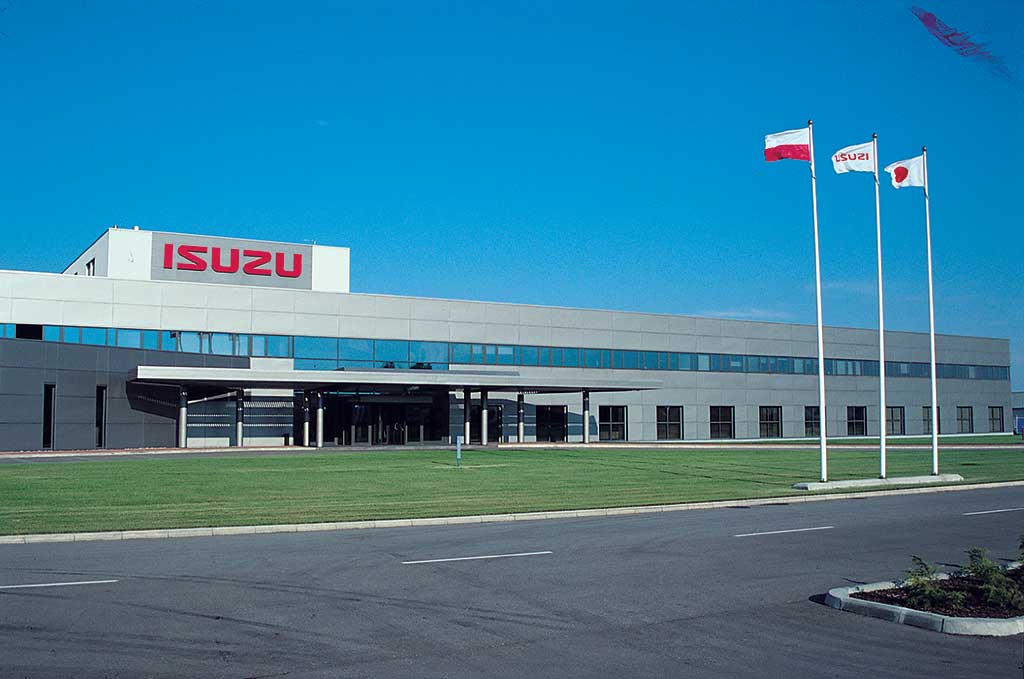 ISUZU is very popular and top class bus manufacturer in the world. This company first started 142 years ago as a petroleum company. Later it turned as it is today in the year 1934. Now ISUZU serves the whole world. It has its global market, and their product is widely used. A large number of people also work in the manufacturing section. The company has many subsidiaries. The product of this company is mostly seen out in the world. A survey of 2009 says that ISUZU had made 21 million diesel engines till the date and they sold it worldwide. In Asia ISUZU sells their trucks mostly.

07. Kamaz
Net Worth: $2.58 Billion
Country: Russia
Founded: 1969
Owners: Rostec (49.9%) Avtoinvest Limited (23.54%) Daimler (15%)
CEO: Sergey Kogogin
Employees: 36,000 People
Headquarter: Naberezhnye Chelny, Russia
First Bus: KamAZ Shuttle (2016)
Popular Bus Models: KamAZ-6282, KamAZ-2257E, NEFAZ-52994E, KamAZ "Shuttle"
Unique work: first electric bus

Kamaz is one of the oldest bus manufacturers who has been standing in a strong ground in the business world for the long 51 years. The company has introduced the automotive world with the electric bus for the first time in the year 2018. The bus has Lithium Titanate batteries. These super batteries could be charged fully in only 10 to 25 minutes. The bus has 27 seats, which is able to carry 85 passengers in it. Kamaz has signed an agreement of selling 511 electric buses and 462 large urban low floor buses to Moscow for 6.5 billion rubles.

The agreement says the company has to take the responsibility of the charging stations and the maintenance of the buses. The state corporation Rostec has the largest share of the company. The company has subsidiaries and affiliates over 110. KamazAZ-6282 is the best electric bus by this company. It has three doors, floor type is low entry, length 12 400mm, width 2 540 mm.
08. IVECO
Net Worth: $28 Billion
Country: Italy
Founded: 1999
Owners: Giovanni Agnelli
CEO: Alessandro Gianni BALDI
Employees: 25,000+ People
Headquarter: Turin, Italy
First Bus: Škoda 125 chassis
Popular Bus Models: Evadys H, Evadys HD, Magelys
Produces: Buses, Coaches
Parent: CNH Industrial

Ivaco manufactures buses in their secondary unit Ivaco-bus. This large automotive company makes different types of buses. The buses of this company have been awarded many times for its advanced outlook.

09. GAZ Group
Net Worth: $1.32 Billion
Country: Russia
Founded: 2005
Owners: JSC Russian Machines
CEO: Vadim Nikolayevich Sorokin
Employees: 40,000+ People
Headquarter: Nizhny, Russia
First Bus: GAZelle Next (2013)
Popular Bus Models: Kurgan Bus, Pavlovo Bus, Likinsky Bus (LiAZ)
Unique work: First Echo Friendly Bus
Parent Organization: Russian Machines Corporation

This Russian automobile company provides services in eight regions of the country and this is the biggest Bus manufacturer in Russia. It directly sells and gives services to the buyers. It has been in the business for 16 years. The company produces buses and trucks of every model for commercial purpose. In the year, 2015 companies produced 68,857 vehicles in total. The company has a fully different unit for making buses under the title GAZ Group Bus Division.

Moscow is going to receive 328 diesel buses this year. Moreover, the company is selling it for 5.5 billion rubles. GAZ group is also making electric buses now and they have supplied 2 Eco-friendly electric buses and a charging station to Vladivostok. This can be charged fully within 10 minutes. These two buses have heated windshields, which is specially manufactured for the rough weather of vladivostok. GAZ electric buses can carry 85 people in it. In addition, each bus has 2 asynchronous 125kW engines. The bus kneels in the bus stations. GAZ is the company, which developed the electric bus into an eco-friendly one.
10. Marcopolo S.A.
Net Worth: $1 Billion
Country: Brazil
Founded: 6 August 1949
Owners: Paulo Bellini
CEO: Jose Rubens De La Rosa, James Bellini(May 1, 2019)
Employees: 20,000+ People
Headquarter: Caxias do Sul, Brazil
Popular Bus Models: Marcopolo Viale BRT
Produces: Body of coaches, microbus, minibus, city bus, touring bus

This biggest automotive company works with more than 60 countries such as America, New Zealand, South Africa, Western Europe etc. More than 20,016 people work in this company but interestingly the company started its journey with 15 workers only. It has subsidiaries as well.

This company is also a very developed one in their technical side. In the year 1953 Marcopolo first started working with steel. In Karnataka, India, there is a joint company of Marcopolo with TATA Motors, named TATA MARCopolo Motors Ltd. It also manufactures buses and coaches. Marcopolo opened this company with TATA in the year 2008. In this company, Marcopolo shares 49%.
11. NFI Group
Net Worth: $1 Billion
Country: Canada
Founded: June 16, 2005
Founder: John Coval
CEO: Paul Soubry
Employees: 9,300 People
Headquarter: Winnipeg, Manitoba, Canada
First Bus: Western Flyer Coach
Popular Bus Models: New flyer Xcelsior
Produces: Motorcoaches and buses
Specialty: Vehicles; Carfair Composites; Motor Coach Industries

In America, NFI group is the best public company for manufacturing motor coaches and buses. However, the company only serves North America, Europe. In 1930 when the company started working for the first time, its name was Western auto and truck body works ltd. The company uses the symbol NFI for their business works. Xcelsior, is their best creation which is 35 feet long.

12. Anhui Ankai Automobile Co. Ltd
Net Worth: $500 Million
Country: China
Founded: April 21, 1997
Owners: Xianfeng Wang, Liya Yi
Employees: 3,000+ People
Headquarter: Hefei, Anhui, China
First Bus: HFF6110GS-1
Popular Bus Models: Ankai.SETRA
Produces: Coach, city buses, tourist bus, new energy bus etc.

The company sells their products worldwide. The company's first international business happened by selling a double deck bus which is a low- floor type bus, named, Anhui Ankai HFF6110GS-1. This is one of the biggest bus manufacturer companies in the world where 4000 employees work. Ankai.

SETRA is the most advanced bus in the world, which is made by them. China's ministry of communication has awarded the model the title of Large Type and Advanced-equipment coach. The bus is one of the most luxurious one worldwide. The company has a certificate for its standard quality also. Ankai has a business relationship with more than 40 countries.
13. Solaris Bus
Net Worth: $50 Million
Country: Poland
Founded: 1996
Founder: Krzysztof Olszewski
CEO: Javier Calleja
Employees: 2,300 People
Headquarter: Bolechowo-osiedler, Poland
First Bus: Solaris Urbino 12
Popular Bus Models: Solaris urbino 9, solaris urbino 15 and solaris urbino 18
Charity foundation: Green Dachshund Foundation
Produces: Bus, trolleybus and trams
Unique work: First low-floor bus, hybrid drive bus

Solaris has four different places for manufacturing. They sell their product worldwide. This is a famous company for making trams and buses. This is the company where the world's first low-floor bus has been produced. CAF is parenting the company. This old company launched their first city bus in the year 1999. Solaris makes buses of different kinds. The type differs in driving method, design and sizes. In the year 2017, their bus won an international title of the bus and coach of the year.

Solaris is providing training for better driving, from the year 2005, under the title of safe driver. Solaris is the first company to give professional training to the students. The company established a charity foundation in the year 2012 named the Green Dachshund Foundation to help the defenceless. Solaris Urbino 9, solaris urbino 15 and solaris urbino 18 are their best creations.
14. Zhengzhou Yutong Bus Co., Ltd.
Revenue: $4.47 billion
Country: China
Founded: 1963
Owner: Yuxiang Tang
CEO: Tang Yuxiang
Headquarter: Guancheng Hui District, Zhengzhou, Henan, China
Produces: Coaches, City Bus, Intercity Bus, School Bus, Airfield Bus, Special Bus etc.
Parent Organizations: N/A
First Bus: ZK6128HG
Popular Bus Models: ICE12, ZK6118HGA, ZK6121HQ, ZK6122HE9

Zhengzhou yutong is the largest chinese bus manufacturer company that is known for commercial electric buses. This company was made in 1963. Yuxiang Tang is the owner of Zhengzhou Yutong. The head office of this company is in Guancheng District, Henan. ZK6128HG was its first bus model. The current revenue is $4.47 billion. This company is currently producing many coaches, buses like school bus, intercity bus, the special bus as well as airfield bus. Among them, ICE12, ZK6118HGA, ZK6121HQ, ZK6122HE9 are the popular bus models of this company. It is one of the largest bus and coach supplier companies that's why it covers mainly bus business along with machinery construction and real estate investments.
15. Higer Bus
Net Worth: $1.65 billion (2015)
Country: China
Founded: 1998
Owner: King Long
CEO: Li Chun
Employees: 6,000+ People
Headquarter: Suzhou, Jiangsu, China
Produces: Commercial & tourism vehicles, Buses and coaches
Parent Organizations: King Long
First Bus: Higer H5C
Popular Bus Models: Higer Bus A80, A50, A30, A90, A98

Higer is a chinese leading bus manufacturer that provides more than three hundred commercial coaches and buses. The parent organization of this company is king long. Higer was established in 1998 and launched its first bus model Higer H5C. In Suzhou, Jiangsu. Headquartered in Suzhou, Jiangsu. $1.64 billion is the estimated revenue according to the report. The most popular bus models of higer are Higer Bus A50, A80, A90, A98, A30. Higer Bus company mainly produces commercial vehicles like tourism buses and coaches.
These were some of the very famous and biggest bus manufacturers in the world.
# Here is the top 10 bus manufacturers in the world 2023
| Rank | Company Name | Net Worth | Country |
| --- | --- | --- | --- |
| 01 | Volkswagen AG | $439 Billion | Germany |
| 02 | Toyota Motors | $344 Billion | Japan |
| 03 | Daimler AG | $265.05 Billion | Germany |
| 04 | Volvo | $42.29 Billion | Sweden |
| 05 | Scania AB | $20.69 Billion | Sweden |
| 06 | ISUZU | $80.48 Billion | Japan |
| 07 | Kamaz | $2.58 Billion | Russia |
| 08 | IVECO | $2 Billion | Italy |
| 09 | GAZ Group | $1.32 Billion | Russia |
| 10 | Marcopolo S.A. | $1 Billion | Brazil |