Despite the abrupt decline in popularity of land-based casinos, there are still dozens of luxury resorts that everyone should visit during their lifetime.
Yes, online casinos are more accessible and don't require you to travel to a different country to play. Still, gaming sites can't emulate the luxurious vibe of casino resorts – at least for now.
If you enjoy getting served by well-dressed waiters, drinking expensive cocktails at the pool, and playing high-stakes poker against world-class players, then you will love this article.
From Las Vegas to Puerto Rico, here are 10 of the most extravagant casinos on Earth:
Ritz Carlton – Puerto Rico
Address:
The San Juan Casino is located in the Ritz-Carlton resort, built on an 8-acre property in Puerto Rico. The luxurious casino offers its visitors a breathtaking view of the Atlantic Ocean and features a collection of elegant casino games, including over 300 slot machines, mini-baccarat, roulette and blackjack.
Wynn Palace – Macau
Address: MacaoR. Cidade de Sintra, MO Rua Cidade de Sintra NAPE
Website: wynnpalace.com
Wynn Macau is located in the Special Administrative Region in China and is part of the Wynn Resorts properties. Wealthy people from all over the globe visit this casino to enjoy the luxurious treatment and play high-stakes casino games.
The casino (which is worth $4.6 billion) has been operating for over a decade, and the owners constantly expanded its size to meet the increasing demand. Right now, the Wynn Macau has over 1000 luxury suites and a large gambling zone that has around 25,400 sq. meters, offering 850 slots and more than 500 premium table games.
Even non-gamblers can have fun at the Wynn. The hotel has a top-rated spa facility, fancy restaurants and a shopping area of 5,400 sq. meters, featuring the most luxurious brands on the market, including Ferrari, Armani, Chanel and Dior.
City of Dreams – Manila
Address: 1701 Metro Manila, Philippines
Website: cityofdreams.com.ph
Did you know that the Philippines is the home of one of the most luxurious casinos? Built-in 2009 at an estimated cost of $2.1 billion, the City of Dreams resort contains three 5-star hotels (Nobu, Crown Towers and Hyatt) and several gambling venues.
The main attractions for high rollers are the Li Ying VIP Club and the Signature Club. On top of that, the location offers 20 world-class restaurants that serve dishes from all over the world. Those that love the nightlife can spend their time at the Pangaea Ultra-Lounge, which treats its patrons like royalty and is widely known for having "the most exclusive bottle service on Earth."
Mohegan Sun – Connecticut
Address: 1 Mohegan Sun Blvd, Uncasville, Connecticut
Website: mohegansun.com
The 364,000 sq. foot resort is owned by the Mohegan tribe and has a modern architecture and design. Their gaming floor features over 6,500 slot machines, 377 table games and a racebook. You can play 3-card poker, baccarat, blackjack, roulette and craps.
The Mohegan Sun is also widely popular for its entertainment facilities, including an Elmis spa, a golf course, legendary concerts, and exclusive helicopter transportation between Manhattan and Uncasville. The resort also has a Comix Comedy Club and the Seasons Buffet (a mix of Seasons and Sunburst Buffet).
Atlantis Resort – Bahamas
Address: Paradise Beach Dr, Paradise Island, Bahamas
Website: atlantisbahamas.com
Atlantis is the most luxurious casino resort in the Caribbean. Their most expensive room, the Bridge suite, costs $25,000 per night. The casino floor features over 800 slots, Las Vegas-style sportsbooks and 78 premium gaming tables where you can enjoy the classic Caribbean stud poker, roulette, blackjack, craps and baccarat.
The remarkable thing about Atlantis Resort is the skylight and huge windows along the casino floor that offer you a mesmerizing view over the turquoise Caribbean sea. If you want to truly enjoy a luxury experience, you can go to the Atlantic Marina and rent a luxury yacht.
Borgata – Atlantic City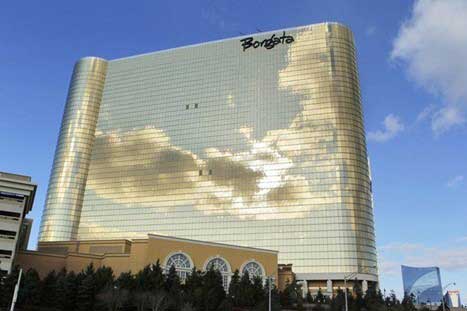 Address: 1 Borgata Way, Atlantic City, New Jersey
Website: theborgata.com
Owned by MGM Resorts International, the Borgata is the largest hotel in New Jersey, featuring 2800 rooms and over 161,000 sq. ft gaming area. The casino floor is one of the largest around the world, featuring over 4000 slots, 180 table games, a sportsbook, and 50 dedicated poker tables.
The Borgata organizes daily poker tournaments and high-stakes challenges in partnership with the World Poker Tour. The weekly events have buy-ins ranging from $30 up to $1,000, but there are also significant tournaments dedicated to high rollers.
Additionally, the Borgata offers an event center, the "Water Club" (a boutique hotel-within-a-hotel), a festival park and the famous music box where world-renowned artists sing regularly.
Luxor – Las Vegas
Address: 3900 S. Las Vegas Blvd, Las Vegas, Nevada
Website: luxor.mgmresort.com
Gamblers love ancient Egypt. The Luxor is a 30-story resort owned by MGM that is shaped like a pyramid with the Sphinx. Its gaming area is over 120,000 sq. ft, and it features 2000 slots and 90 table games. At night, the Luxor has a light show known as the Sky Beam, which is considered the brightest beam of light ever made. (visible from up to 443 km away)
The name comes from the city of Luxor (the ancient Thebes) in Egypt. The building costs were initially estimated at around $290 million, but they renovated several times, adding new features and expanding the room number to over 2000. In addition, the Luxor features four swimming pools, a wedding chapel, spa, 29 retail stores and the largest atrium in the world(by volume).
Caesar's Palace – Las Vegas
Address:3570 S Las Vegas Blvd, Las Vegas, NV 89109, USA
Website: caesars.com
The Roman-style luxury resort is one of the most iconic casinos in Las Vegas.
Located at the heart of the glamorous Strip, Caesar's Palace offers top-end marble columns, Roman spiral stairs, and an approximately 150,000 sq. feet gaming area. The casino features games like blackjack, craps, roulette, Pai Gow, slot machines, and mini-baccarat.
Their strategy is to attract high rollers, and they include authentic Chinese cuisine to satisfy the East Asian gambler who tend to be their wealthiest visitors.
Caesar's main attraction is the 24-hour poker rooms, where they organize the most important tournaments on Earth. Caesar's is truly an architectural wonder, featuring mosaics, Roman baths and every single detail is somehow inspired from Ancient Rome.
Wrapping up
If you're the kind of gambler that enjoys the luxury treatment, you're in luck.
The world has a vast range of fancy gambling resorts you can visit during your next holiday. It's all a matter of budget and personal preferences.
If you're on a budget, don't worry.
Not all the gambling destinations mentioned in our list come with a high price range. Some of them are more affordable, without cutting down on the benefits. Also, if you're a skilled gambler, you have a chance to return home with more money in your pockets.
Remember to have fun and set aside a sum that you're going to use exclusively in the casino. This way, you will ensure you're not spending more than you can afford, or, even worse, lose money that you need for other holiday expenses.